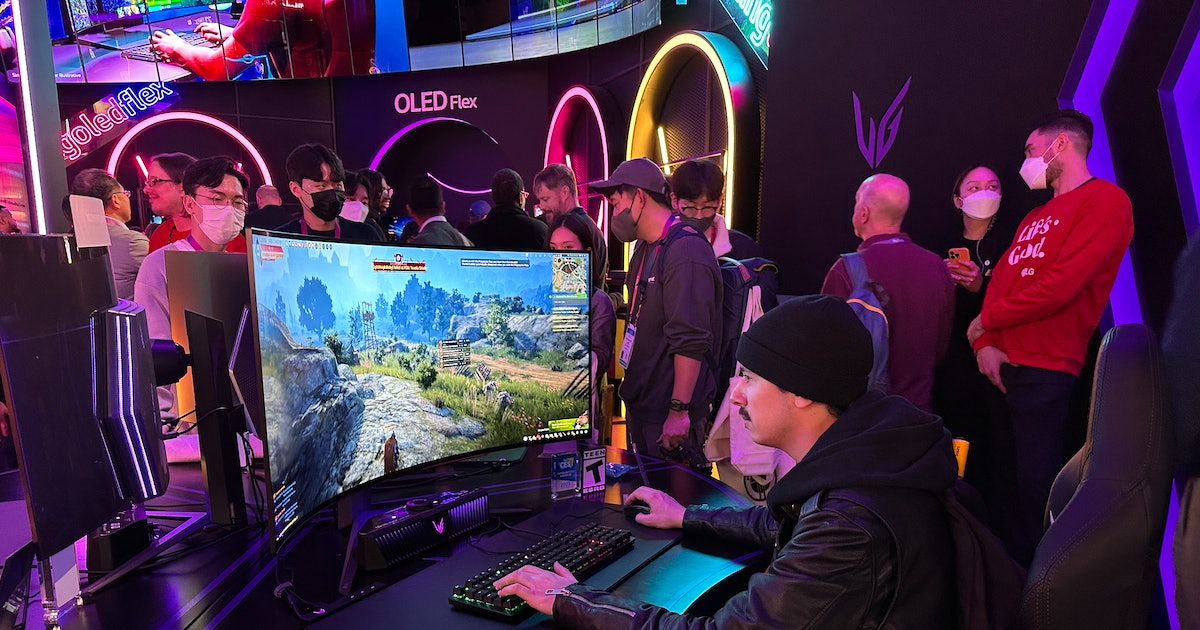 LG's 240Hz 45-inch curved OLED has ruined all other gaming monitors for me
When at CES 2023, take in all the big, bright TVs and gaming monitors. That's what I did at LG's CES booth where I got to bask my retinas in the glorious 45-inch OLED goodness of the company's 240Hz UltraGear 45GR95QE curved gaming monitor.
I'm already weeping at the thought of going home to my overpriced Apple Studio Display which is not curved, not OLED, and limited to a measly 60Hz refresh rate.
There's no way to prepare for the massive and smooth LG UltraGear 45GR95QE gaming experience. The second you sit down in front of its ginormous 45-inch screen, the 800R curvature all but envelops your peripheral vision. Unlike other super ultra-wide curved monitors with 32:9 aspect ratios that bend the screens so far outside of your immediate field of view, the 21:9 aspect ratio on the LG UltraGear 45GR95QE is so much more tolerable. You won't sprain your neck trying to look from one side to the other.
The OLED display itself is impressive — OLED for the deep blacks, HDR10 support, 98.5 percent DCI-P3 wide color gamut coverage, and 1,500,000:1 contrast ratio — but the real calling on this guy is the 240Hz refresh rate and 0.3ms response time. LG claims it's the "world's first 240Hz refresh rate OLED monitor."
This responsiveness married with the best-of-the-best picture technology means gaming is almost too fluid to fathom. My brain broke for a few seconds before I let the performance take over. Every gaming monitor announcement touts claims of defeating lag and the LG UltraGear 45GR95QE is no different. The CES show floor is hardly the best place to test that claim, but from what I could tell, that probably isn't far from the truth. (Though, reducing lag can come from many factors.)
LG's UltraGear 45GR95QE doesn't come cheap: $1,699.99 and it doesn't come with a webcam or speakers like my Studio Display. But then again, the webcam on my Apple monitor sucks.
INVERSE brings you everything from the weird, futuristic, and beautiful world of consumer technology at CES 2023. For all the latest technology coverage from the show, go to the INVERSE CES 2023 hub.
When at CES 2023, take in all the big, bright TVs and gaming monitors. That's what I did at LG's CES booth where I got to bask my retinas in the glorious 45-inch OLED goodness of the company's 240Hz UltraGear 45GR95QE curved gaming monitor. I'm already weeping at the thought of going home to my…
When at CES 2023, take in all the big, bright TVs and gaming monitors. That's what I did at LG's CES booth where I got to bask my retinas in the glorious 45-inch OLED goodness of the company's 240Hz UltraGear 45GR95QE curved gaming monitor. I'm already weeping at the thought of going home to my…