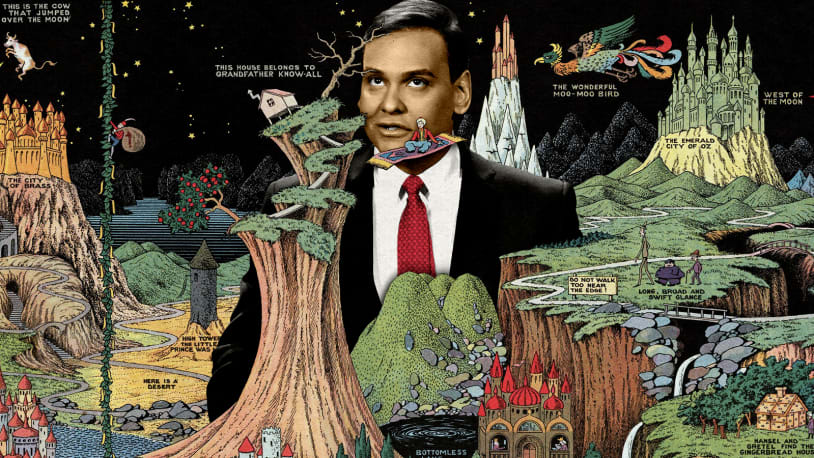 George Santos scandal: What has he lied about?
George Santos, the 34-year-old Republican elected in New York's 3rd Congressional District in the 2022 midterms, has said a lot of things about himself. And presumably, some of them are true. But after his victory, The New York Times uncovered a lot of falsehoods in his biography. "My sins here are embellishing my résumé," Santos told the New York Post two weeks before he was to take his oath of office. "I'm sorry." But his life story was only beginning to unravel. 
Here's a list of things Santos has said about himself that he now admits are not true or appear to be blatant fabrications:
He attended an elite prep school
Santos grew up in Queens, a child of Brazilian immigrants, and in 2019 and 2020 he said he attended the elite "Horace Mann preparatory school in the Bronx," but had to quit four months before graduation because "my parents fell on hard times" when their purported real estate portfolio imploded in the 2008 recession. A Horace Mann spokesman told CNN that a search of school records uncovered "no evidence that George Santos (or any alias) attended Horace Mann." 
He graduated from college
Santos said he graduated from New York City's Baruch College in 2010 with a bachelor's degree in economics and finance, and also attended New York University — but after officials at both colleges said they had no records of him attending, he came clean to the New York Post. "I didn't graduate from any institution of higher learning. I'm embarrassed and sorry for having embellished my résumé."
He worked at Goldman Sachs and Citigroup
Santos also admitted to the Post he "never worked directly" for Goldman Sachs or Citigroup, despite claiming to have worked for both on his campaign website. He chalked up that résumé "embellishment" to a "poor choice of words," telling Fox News that trying to explain the role he played as a middleman between the banks and clients would have been "way above the American people's head." 
He trashed Goldman Sachs at a financial conference 
In a June 2022 podcast, Santos bragged that he had "berated" his "employer," Goldman Sachs, on stage at Anthony Scaramucci's SALT conference. Goldman Sachs and Santos both agree now that he never worked there, and Scaramucci told CNN he has no record showing Santos was on the renewable energy panel he claimed to be on, or even attended the conference.
He founded an animal rescue charity
Santos claimed in his campaign biography that he started a nonprofit animal rescue called Friends of Pets United in 2013 that was "able to effectively rescue 2400 dogs and 280 cats." The IRS and attorneys general of New York and New Jersey said they have no record of a registered charity with that name, and the woman who hosted the one known fundraiser Santos held for his charity told the Times she never received any of the raised funds. 
He owns property
Santos claimed in February 2021 that he and his family owned a portfolio of 13 properties they "worked hard to acquire," but the Times found no records that he owned any real estate. "George Santos does not own any properties," he confessed to the Post, adding that he currently resided at his sister's place on Long Island. He also confirmed the Times' report that he was twice evicted for not paying rent and said he still hasn't paid $12,000 he was ordered to give one of the landlords. 
He's half-Black 
Santos wrote on Twitter in 2020 that he identifies as "bi-racial," and when pressed to elaborate, he said he's "Caucasian and Black." Though both his parents were born in Brazil, he said his father has roots in Angola and his "White Caucasian mother" had "fled socialism in Europe" as "an immigrant from Belgium."
He's Jewish
Santos has claimed to be a nonobservant "proud American Jew" and a "Latino Jew." His maternal "grandparents fled Jewish persecution in Ukraine, settled in Belgium, and again fled persecution during WWII," his campaign biography began. Santos was listed as one of two Jewish Republicans elected in 2022 at a Republican Jewish Coalition convention in Las Vegas in November, and tweeted Nov. 3 that it "was an honor to address fellow members of the Jewish community." He told Jewish Insider he embraced both "my mother's Jewish background beliefs" and "my father's Roman Catholic beliefs" as his own and treasured his four trips to Israel. "I never claimed to be Jewish," Santos told the Post. "I am Catholic. Because I learned my maternal family had a Jewish background I said I was 'Jew-ish.'" 
His grandparents are Holocaust survivors
Santos tweeted in 2000 that he's "the grandson of Holocaust refugees," said in a 2021 campaign video that his "grandparents survived the Holocaust," and suggested in a February 2022 interview that his family changed its "Ukrainian last name," Zabrovsky, like many "World War II refugees or survivors of the Holocaust." But both his maternal grandparents were born in Brazil decades before World War II, The Forward reports, and they don't "appear in Brazilian immigration cards in the 1930s or 1940s, or in the databases of Yad Vashem or the U.S. Holocaust Memorial Museum, which list European Jewish refugees." Gea Sierdsma, a distant Dutch relative of Santos who has researched the family's genealogy, and professional genealogist Megan Smolenyak both found no evidence of Jewish or Ukrainian roots in the Santos family tree.
He lost employees in the Pulse nightclub shooting
Santos told WYNC in November 2022 that his company "lost four employees" who "were at Pulse nightclub" in Orlando during a tragic 2016 mass shooting. But a "review of news coverage and obituaries found that none of the 49 victims appear to have worked at the various firms named in his biography," the Times reports.
His mother was a financial executive
Santos also claimed on his website that his mother, Fatima Devolder, "came from nothing, but worked her way up to be the first female executive at a major financial institution," and "was in her office in the South Tower on September 11, 2001, when the horrific events of that day unfolded." But contemporaneous articles and interviews with Santos' friends and former roommates describe Devolder as a cook and house cleaner "who spoke only Portuguese," the Times reports, and none "could recall any instance of her working in finance."
His mother died in the 9/11 attacks
Santos tweeted in July 2021 that "9/11 claimed my mothers (sic) life." His campaign biography amended that to say "she survived the tragic events on September 11th, but she passed away a few years later when she lost her battle to cancer." Devolder died in 2016.
'I am not a criminal'
Santos has not been convicted of a crime, but he is under investigation in two countries — and he admitted to breaking the law in Brazil when he was 19, the Times reports. Police and court records show he used a stolen checkbook to make fraudulent purposes in 2008, confessed to the crime in 2010, and was charged in 2011, the year he moved back to New York. Brazilian prosecutors suspended the case when they couldn't find him, but reopened it after his serial lies as a congressman-elect allowed them to locate him. That makes his statement to the Post, that "I am not a criminal here — not here or in Brazil or any jurisdiction in the world," suspect at best.
He voted against the House omnibus bill
Santos claimed on his website Jan. 4 that he voted "nay" on the House fiscal 2023 spending bill that passed on Dec. 23, more than two weeks before he was to be sworn in as a congressman. At the time he made that claim, he still hadn't been sworn in, because the House had not yet elected a speaker. Nevertheless, he also put out a statement a day earlier announcing that he had been sworn in as a member of Congress — though in this case, it seems to be less a lie and more a failure to stop an automated email from sending.
George Santos, the 34-year-old Republican elected in New York's 3rd Congressional District in the 2022 midterms, has said a lot of things about himself. And presumably, some of them are true. But after his victory, The New York Times uncovered a lot of falsehoods in his biography. "My sins here are embellishing my résumé," Santos…
George Santos, the 34-year-old Republican elected in New York's 3rd Congressional District in the 2022 midterms, has said a lot of things about himself. And presumably, some of them are true. But after his victory, The New York Times uncovered a lot of falsehoods in his biography. "My sins here are embellishing my résumé," Santos…