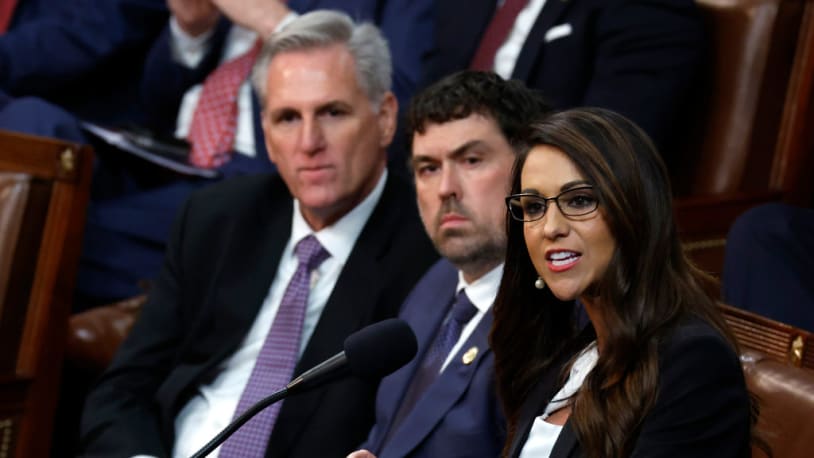 Why Trump's House GOP allies are snubbing his public plea to make Kevin McCarthy speaker
House Republican leader Kevin McCarthy (R-Calif.) has now lost six straight votes for House speaker, thanks to committed opposition from a core group of House Republicans, most of them in the hard-right Freedom Caucus and most allied with former President Donald Trump.
Trump has been privately calling them for weeks to urge their support for McCarthy's speakership bid, Politico and The Washington Post report, and on Wednesday morning — before McCarthy's latest three losing votes — Trump made his plea public in a post on Truth Social that was also emailed around by this 2024 presidential campaign.
"VOTE FOR KEVIN, CLOSE THE DEAL, TAKE THE VICTORY," Trump wrote.
"Sad!" responded "Never Kevin" leader Rep. Matt Gaetz (R-Fla.), a staunch Trump ally, in a statement to Fox News. Rep. Lauren Boebert (R-Colo.) said on the House floor, while nominating someone other than McCarthy, that Trump had called her and her Never-Kevin allies to "tell us we need to knock this off," but instead he "needs to tell Kevin McCarthy that: Sir, you do not have the votes and it's time to withdraw."
In remarks nominating Byron Donalds for House Speaker on the fifth ballot, Lauren Boebert says former President Trump "needs to tell Kevin McCarthy that, 'sir, you do not have the votes, and it's time to withdraw'" to an audible reaction from the chamber. pic.twitter.com/FOWFbQMSrz

— Spencer Brown (@itsSpencerBrown) January 4, 2023
Boebert "dissed him, essentially," Anderson Cooper said on CNN Wednesday evening. Ultimately, "this says more about McCarthy than it does about Trump," New York Times reporter Maggie Haberman agreed, "but it's not a good sign for Trump; he appears weak, and he didn't have to. He jumped into this."
"Trump is popular with the base and he's popular with most of those House Republicans, but there's a huge difference between popular and powerful," CNN's John King said earlier Wednesday. "Trump is not powerful anymore," and these GOP allies "don't see him as powerful, they do not fear him." They like Trump, he said, but "the main thing they want is Kevin McCarthy's scalp."
The six successive losses are humiliating for McCarthy, but they also suggest "Trump's influence is all but over" in the Republican Party, conservative talk radio producer Duane Patterson tweeted. The Never-Kevin Republicans say they just disagree with Trump on this one, and that's okay. Trump allies outside the House say the former president is making only a half-hearted effort to push McCarthy over the finish line. 
"I know a lot of people are focusing on Trump's 'waning influence' regarding this speaker vote," one person close to Trump told Politico. "I think it would be a different story if Trump was attacking someone and they still wouldn't budge. … Trump hasn't gone full Trump mode."
House Republican leader Kevin McCarthy (R-Calif.) has now lost six straight votes for House speaker, thanks to committed opposition from a core group of House Republicans, most of them in the hard-right Freedom Caucus and most allied with former President Donald Trump. Trump has been privately calling them for weeks to urge their support for…
House Republican leader Kevin McCarthy (R-Calif.) has now lost six straight votes for House speaker, thanks to committed opposition from a core group of House Republicans, most of them in the hard-right Freedom Caucus and most allied with former President Donald Trump. Trump has been privately calling them for weeks to urge their support for…