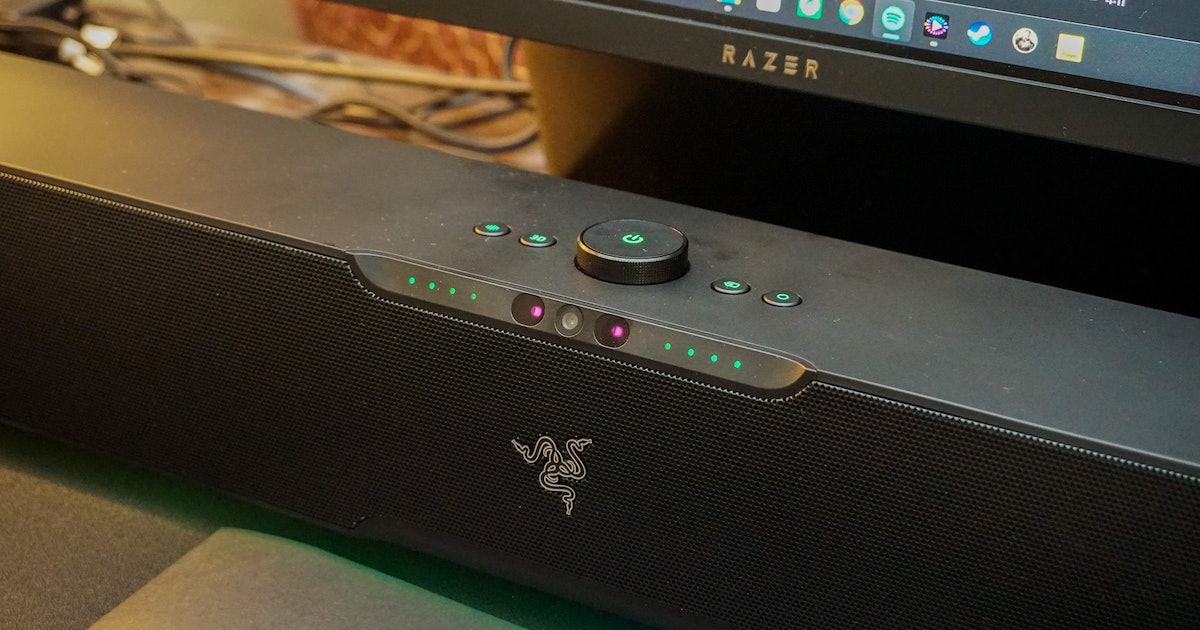 Razer Leviathan V2 Pro has world's first head-tracking sound experience
There's a good reason that I don't get excited about soundbars very often: they're mostly just better audio quality, usually centered around adding Dolby Atmos as the big headlining feature. Razer's Leviathan V2 Pro soundbar for PC, announced at CES 2023, is different, and for good reason: it's got an IR camera to track your head and always direct sound at you.
For desktops — The first thing to know about the Razer Leviathan V2 Pro soundbar is it's not made for TVs. Well, not one you connect to a TV that's across the room at least. It's for desktop usage, meaning it should be positioned in front of a monitor (or a TV if you're into that) at close range. If you're familiar with the non-Pro version of the Razer Leviathan V2, then you already know what I mean.
Head-tracking sound experience — I'll spare you the boring details on the stuff that hasn't changed. New on the Razer Leviathan V2 Pro is, of course, the head-tracking AI technology thanks to the IR camera system on the front. It's the first soundbar that I know of with this kind of tech. According to a Razer rep, the IR camera system is tracking your eyes, nose, mouth, and ears as you move in front of it. Sound is directed at you wherever you move, kind of like autofocus on a camera.
In a hotel suite with tons of media and PR folk chatting in the background, it was tough to get a good sense of how good the sound from the Razer Leviathan V2 Pro really is, but it sounded solid enough in my brief listening time. I got to try different listening modes simulating stereo, 2.1, and virtual 7.1 surround with some tracks streamed over Spotify, and the head-tracking and beamforming sound does work. I'm unsure of how necessary the head-tracking is — when I'm at my desk, I'm not really moving around too much to the sides, to be honest — but the idea is interesting to say the least.
Don't forget the RGB — Did I mention the Razer Leviathan V2 Pro has RGB? It's got 30 lighting zones capable of 16.8 million different colors and syncs with over 200 games. Seems over the top, but Razer will be Razer.
Price and release date — The Razer Leviathan V2 Pro comes out in February 2023 at $399.99 at Razer online and physical stores.
INVERSE brings you everything from the weird, futuristic, and beautiful world of consumer technology at CES 2023. For all the latest technology coverage from the show, go to the INVERSE CES 2023 hub.
There's a good reason that I don't get excited about soundbars very often: they're mostly just better audio quality, usually centered around adding Dolby Atmos as the big headlining feature. Razer's Leviathan V2 Pro soundbar for PC, announced at CES 2023, is different, and for good reason: it's got an IR camera to track your…
There's a good reason that I don't get excited about soundbars very often: they're mostly just better audio quality, usually centered around adding Dolby Atmos as the big headlining feature. Razer's Leviathan V2 Pro soundbar for PC, announced at CES 2023, is different, and for good reason: it's got an IR camera to track your…