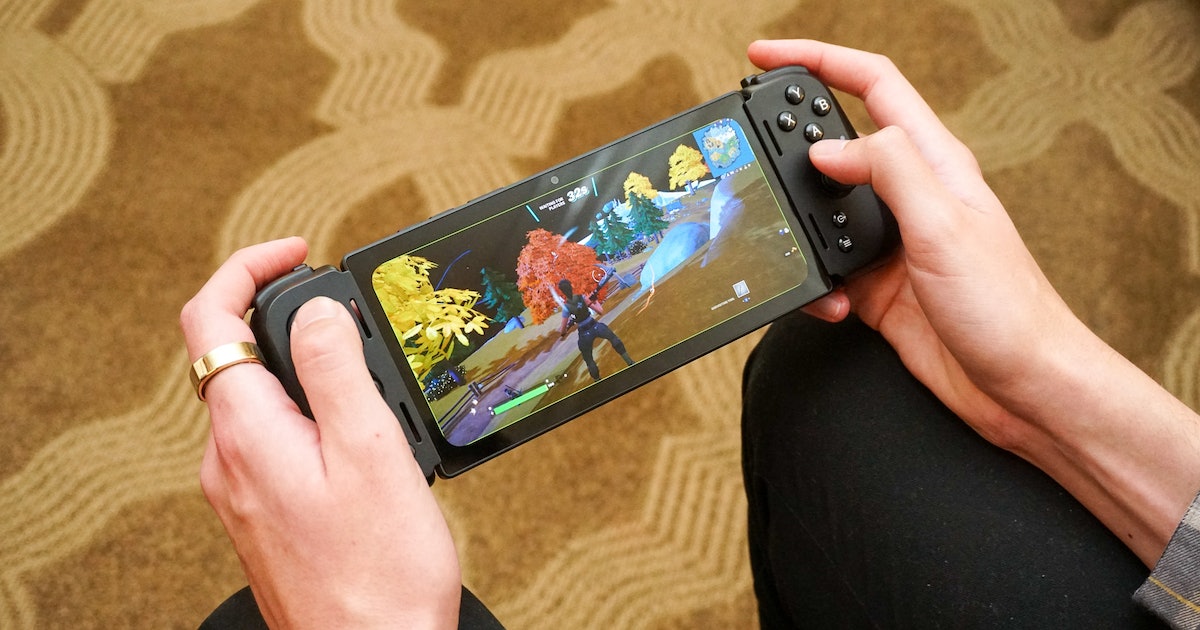 Razer Edge & Edge 5G game handheld is arriving January 26
The Razer Edge, Razer's handheld game streaming device, finally has a release date. The handheld is landing soon, on January 26, for a starting price of $399.
Razer ha the handheld available for hands-on at CES 2023, allowing me first hands-on with the major competition to the Logitech G Cloud Gaming Handheld I reviewed earlier this year. In short: color me pleasantly surprised.
Playing with the Razer Edge
To review, both the Razer Edge and Razer Edge 5G are powered by Qualcomm's Snapdragon G3X Gen 1 chipset which should mean they have a healthy amount of power to put toward Android games and streaming tasks. I had no issues loading up Dead Cells in my hands-on demo and noticed no slowdowns or lag.
Viewed on the Razer Edge's bright 6.8-inch FHD+ 144Hz AMOLED my monster smashing looked vibrant, colorful, and saturated. If you've used a high-end Samsung phone like the Galaxy S22+, you can expect a similar screen experience here. I can't speak to how it'll look in direct sunlight, but for a long flight or car ride, the Edge's screen seemed more than enough.
In hand, the Razer Edge felt comfortable to hold, with a curved back on the tablet (very Nokia Lumia-ish!) and each hand grip of the detachable Kishi V2 Pro controller. As an owner of the original Kishi, Kishi V2, I can honestly say the Kishi V2 Pro on the Razer Edge is a marked improvement. Buttons are clicky, the sticks feel sturdy, and there's the ever-welcome 3.5mm headphone jack along the bottom for wired connections. It feels much more premium overall.
Game streaming over 5G
The main draw is game streaming with the Razer Edge, and considering the ideal (or at least more ideal than my home setup) network environment in my demo space I can't offer a totally realistic perspective on streaming games. I was able to switch between streaming Vampire Survivors to Fortnite through Xbox Cloud Gaming without issues, onscreen artifacting, or dropping out. How I'd fair outside the hotel could be a different story.
The other part of the game streaming equation is connectivity, which is where the other details of Razer's handheld have come into focus. Razer's partner on the Edge is Verizon, and the network will be the exclusive carrier of the Razer Edge 5G when it launches on January 26. For a limited time, when you add a new tablet line you can get the Razer Edge 5G for $359.99, or "$10 a month for 36 months with Verizon Device Payment," according to Verizon. If you're buying a new phone along with Edge 5G you can get the handheld for as little as $179.99.
Considering one of my major complaints with the Logitech G Cloud was the limited availability of fast internet connections across vast swaths of the United States, the Razer Edge 5G is a possible solution. I'm just not sure it's necessarily the most affordable one in the long term and I personally wouldn't recommend making your wireless plan more complicated if you don't absolutely have to.
The Razer Edge and Razer Edge 5G will be available on January 26 starting at $399. The Wi-Fi version will be sold on Razer.com and at Razer retail locations and the 5G model is available exclusively from Verizon.
INVERSE brings you everything from the weird, futuristic, and beautiful world of consumer technology at CES 2023. For all the latest technology coverage from the show, go to the INVERSE CES 2023 hub.
The Razer Edge, Razer's handheld game streaming device, finally has a release date. The handheld is landing soon, on January 26, for a starting price of $399. Razer ha the handheld available for hands-on at CES 2023, allowing me first hands-on with the major competition to the Logitech G Cloud Gaming Handheld I reviewed earlier…
The Razer Edge, Razer's handheld game streaming device, finally has a release date. The handheld is landing soon, on January 26, for a starting price of $399. Razer ha the handheld available for hands-on at CES 2023, allowing me first hands-on with the major competition to the Logitech G Cloud Gaming Handheld I reviewed earlier…