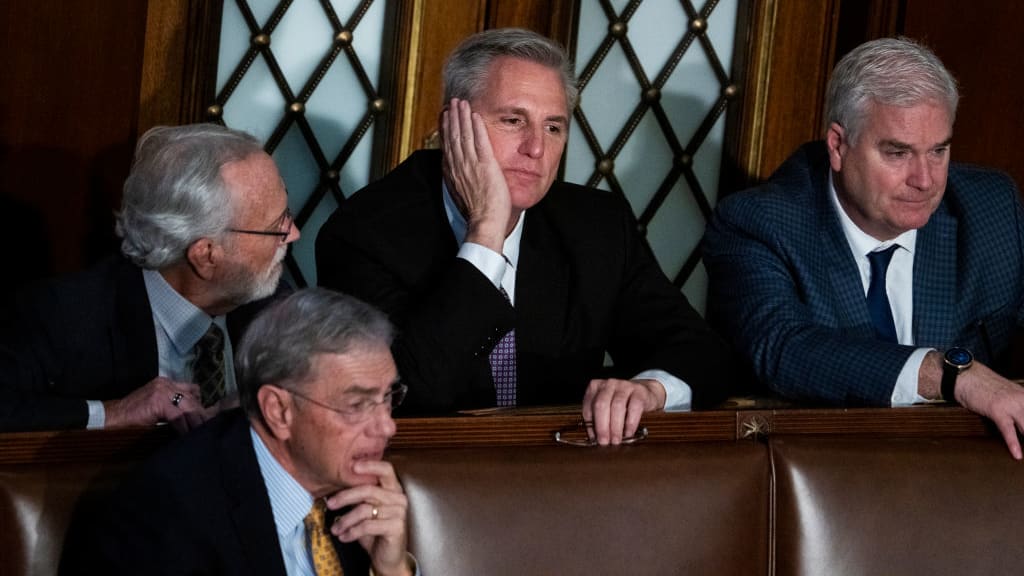 GOP lawmaker compares Speaker votes to being in one of Dante's circles of hell
One Republican lawmaker has an idea on how to get the party around Rep. Kevin McCarthy (R-Calif.) as House speaker.
Rep. Jeff Van Drew (R-N.J.), who told Politico on Wednesday he felt like he was "in at least one of" Dante's nine circles of hell, suggested GOP leaders "get everybody back in the caucus room and start beating the daylights out of each other until we get somewhere."
His frustration came after McCarthy failed a sixth vote for speaker, leaving the United States without a functional House of Representatives. To be elected, McCarthy needs 218 votes, and with Republicans having a slim majority, he can only afford to lose four votes. An ultra-conservative wing of the GOP opposes McCarthy's bid, and in the sixth ballot, he received 201 votes.
His supporters continue to try to pull the "never Kevin" lawmakers to their side, with Rep. James Comer (R-Ky.) telling CBS News while McCarthy isn't "perfect," he is "the right person to lead our conference at the right time." He believes that for the anti-McCarthy faction, "a lot of this is personal," and he thinks McCarthy is being "blamed for the sins" of previous speakers.
Rep. Brian Fitzpatrick (R-Pa.) told Politico that people need to "be patient. The fever's got to break here. The very thing that's got to happen is the temperature has got to come down." Fitzpatrick is one of the McCarthy allies trying to negotiate with the holdouts, and said he doesn't think "anyone should be assuming something drastic happens quickly."
One Republican lawmaker has an idea on how to get the party around Rep. Kevin McCarthy (R-Calif.) as House speaker. Rep. Jeff Van Drew (R-N.J.), who told Politico on Wednesday he felt like he was "in at least one of" Dante's nine circles of hell, suggested GOP leaders "get everybody back in the caucus room…
One Republican lawmaker has an idea on how to get the party around Rep. Kevin McCarthy (R-Calif.) as House speaker. Rep. Jeff Van Drew (R-N.J.), who told Politico on Wednesday he felt like he was "in at least one of" Dante's nine circles of hell, suggested GOP leaders "get everybody back in the caucus room…