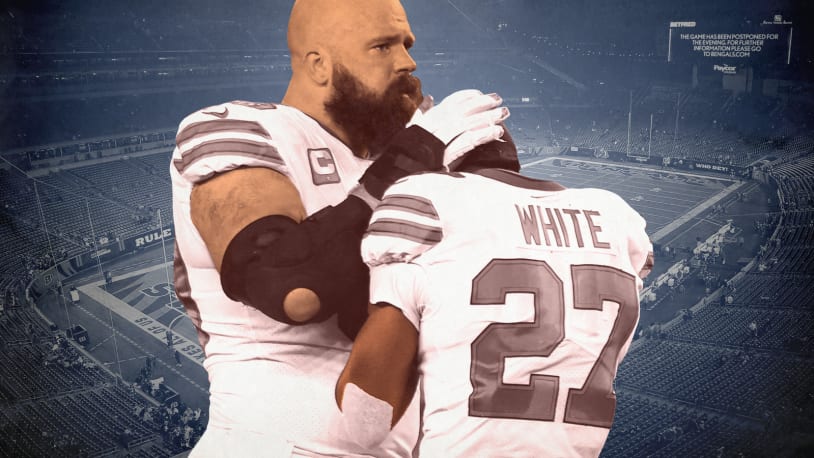 Damar Hamlin and the fate of the NFL
A stadium stunned, a team shaken, and a life on the line — the scene at Paycor Stadium in Cincinnati on Monday night was nothing short of devastating as Buffalo Bills safety Damar Hamlin was rushed away in an ambulance after collapsing on the field. While the public awaits further updates on his condition, sports pundits and fans have turned their attention to the NFL and the violent-but-beloved game it so fervently promotes. What might Hamlin's injury mean for the league and the nation's insatiable appetite for football in general? Here's what the experts are saying:
Jerry Brewer: We can still love the game so long as we care for its players
Football is an "intrinsically vicious sport"; that is something its spectators accept, love, and quite infrequently reckon with, writes Jerry Brewer, a sports columnist for The Washington Post. Often, the game goes on when a player goes down — "the action seldom stops for long," and audiences have always returned to watch, no matter the trauma. But the takeaway there "shouldn't be to hate football or feel guilty about loving it," Brewer argues. Rather, it's more "a warning to balance the obsession with appropriate concern for the human risk involved."
In the case of Hamlin, the return to "normal" — or at least to convenient ignorance — could take a bit longer. And "until further notice," football and those who govern it must defer to the sanctity of human life and the anguish that follows when we snub those who put their very being on the line.
Alex Kirshner: The NFL can only bend the narrative so far
That the world is so shocked by what happened to Hamlin is a "testament to how the NFL has maintained a bubble over itself," Alex Kirshner writes for Slate. Football used to be "gorier than it is now," but "equipment advances, rule changes, and a lot of luck" have kept teams playing and audiences happily engaged despite that danger. For the league, this narrative-bending approach has worked — the NFL is the "constructor of its own reality." And "until Monday night, it was unclear if the league's world-building abilities even had a limit." Now, Kirshner says, "that threshold is obvious."
Crucially, however, the broader NFL ecosystem is a "machine with only one speed." It isn't built to look inward or reckon with itself. And even in the case of Damar Hamlin, "reckoning means getting sports' biggest ocean liner back in the water."
Will Leitch: The league's reaction represents progress
What happened to Hamlin is tragic, terrifying, and all-around horrible — but perhaps the reaction to the incident represents progress within the sport, posits Will Leitch at Intelligencer. Only one player has ever died on the field during an NFL game — Chuck Hughes, "a 28-year-old wide receiver for the Detroit Lions who had a heart attack while running back to the huddle during a would-be game-winning drive in 1971." Quite morbidly, play resumed once responders got Hughes off the turf. Not only that, "but it didn't even occur to anyone to stop." 
For the most part, such has remained the ethos of the NFL: Our show continues through famine, fire, and flood. But "that's why Monday night actually represented some progress," Leitch argues. Most everybody "stopped, took a step back, and thought about something other than football." Yes, the bigwigs took an hour to rightfully call off the game, but that they would opt to do so was, unfortunately, not a foregone conclusion. It was all too "easy to imagine a different reaction to [Hamlin's collapse] just a few years ago, before we all knew just how dangerous football was."
On Monday, "[i]t seemed obvious that they had to stop the game, for Hamlin, for his teammates, for all of us," Leitch writes. "But for most of football history, it wouldn't have been obvious at all. Monday night was a deeply emotional moment that (almost) everyone involved handled with grace and compassion. And that's different. That's progress."
Ernest Owens and Jacques Berlinerblau: To back the NFL is to support the distress it causes
"At this point," Ernest Owens begins at The Daily Beast, "to unapologetically support the National Football League is to be woefully complicit in the harm it has caused its players." The hourlong gap between Hamlin's collapse and the official call to postpone the game was too long — and, if the reports claiming the league actually did intend to continue play, only for both teams to join hands in protest, are true, well, the whole thing is just "another reminder of how incompetent this multibillion-dollar institution has been to its players, who are mostly Black." Bottom line? "Change starts with us," Owens concludes. After Hamlin's fall, "there should be no going back to NFL business as usual. Enough is enough."
"Along with tens of millions of others in America, I lustfully consume a shiny, colorful and savage spectacle," Jacques Berlinerblau adds for MSNBC. And "our participation in this spectacle raises an uncomfortable moral question: At what point are we who are obsessed with football enabling the destruction of young men's bodies and by association their lives?" If the goal moving forward is to prevent something like what happened to Hamlin from happening again, "then football in the United States is unreformable," largely because "it is a lucrative business that is an integral part of American culture."
Simply put, the game cannot protect its players if fans remain interested in the game. "Until we stop cheering, tweeting about, gambling on, and watching these games, horrific injuries are going to occur." You can pray for those that get hurt and you can donate to their charities (a toy drive, in Hamlin's case), but "it might be better" in the end if "all of us who watch football on any level somehow find a way to divest from a game that we, and the men who play it, love too much."
A stadium stunned, a team shaken, and a life on the line — the scene at Paycor Stadium in Cincinnati on Monday night was nothing short of devastating as Buffalo Bills safety Damar Hamlin was rushed away in an ambulance after collapsing on the field. While the public awaits further updates on his condition, sports…
A stadium stunned, a team shaken, and a life on the line — the scene at Paycor Stadium in Cincinnati on Monday night was nothing short of devastating as Buffalo Bills safety Damar Hamlin was rushed away in an ambulance after collapsing on the field. While the public awaits further updates on his condition, sports…