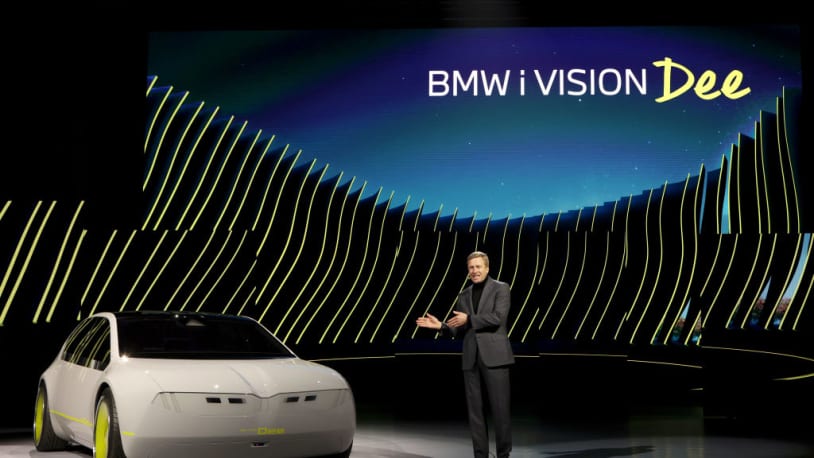 BMW's i Vision Dee: A talking car with a 'digital soul'
a real life Lightning Mcqueen
It's not unheard of for a person to have an emotional connection to their car, but what if your beloved vehicle could reciprocate that energy? At the keynote for the Consumer Electronics Show, automaker BMW revealed a prototype for its i Vision Dee concept car, a vehicle the company's CEO Oliver Zipse calls "the next level of human-machine interaction," TechCrunch reports. 
The i Vision Dee, which stands for Digital Emotional Experience, is a four-door sedan with E-Ink technology that allows drivers to customize the car's exterior with 32 different colors. BMW says the concept car has a "digital soul, a personality not only with a voice but with facial expressions, too." Its features also include an innovative user interface with a voice that talks back to passengers and the capability to mimic facial expressions. 
"The headlights and the closed BMW kidney grille also form a common phygital (fusion of physical and digital) icon on a uniform surface, allowing the vehicle to produce different facial expressions," BMW said in a news release, per The Verge. "This means the BMW i Vision Dee can talk to people and, at the same time, express moods such as joy, astonishment, or approval visually." 
The car's voice assistant syncs up with the head-up display featuring four levels of interaction that take up the whole windshield for a completely virtual experience. The digital display also integrates augmented reality and is controlled by what BMW calls its "mixed reality slider." 
While many of the features previewed won't be available in the immediate future, pared-down versions of the technology may be featured in the cars for BMW's next-generation platform, Neue Klasse, which the company plans to launch in 2025. For now, the prototype is a preview of a future where BMW hopes to "transform the car into an intelligent companion," per a statement by Zipse. But to what end?
"The point, though, is that BMW, like other automakers, is trying to add so much impressive, seamless tech to its vehicles that people really do start seeing their cars as their ultimate companions — friend, living room, personal assistant and fashion aid all in one." TechCrunch writer Rebbeca Bellam speculated. "Freaky, isn't it?"
a real life Lightning Mcqueen It's not unheard of for a person to have an emotional connection to their car, but what if your beloved vehicle could reciprocate that energy? At the keynote for the Consumer Electronics Show, automaker BMW revealed a prototype for its i Vision Dee concept car, a vehicle the company's CEO…
a real life Lightning Mcqueen It's not unheard of for a person to have an emotional connection to their car, but what if your beloved vehicle could reciprocate that energy? At the keynote for the Consumer Electronics Show, automaker BMW revealed a prototype for its i Vision Dee concept car, a vehicle the company's CEO…