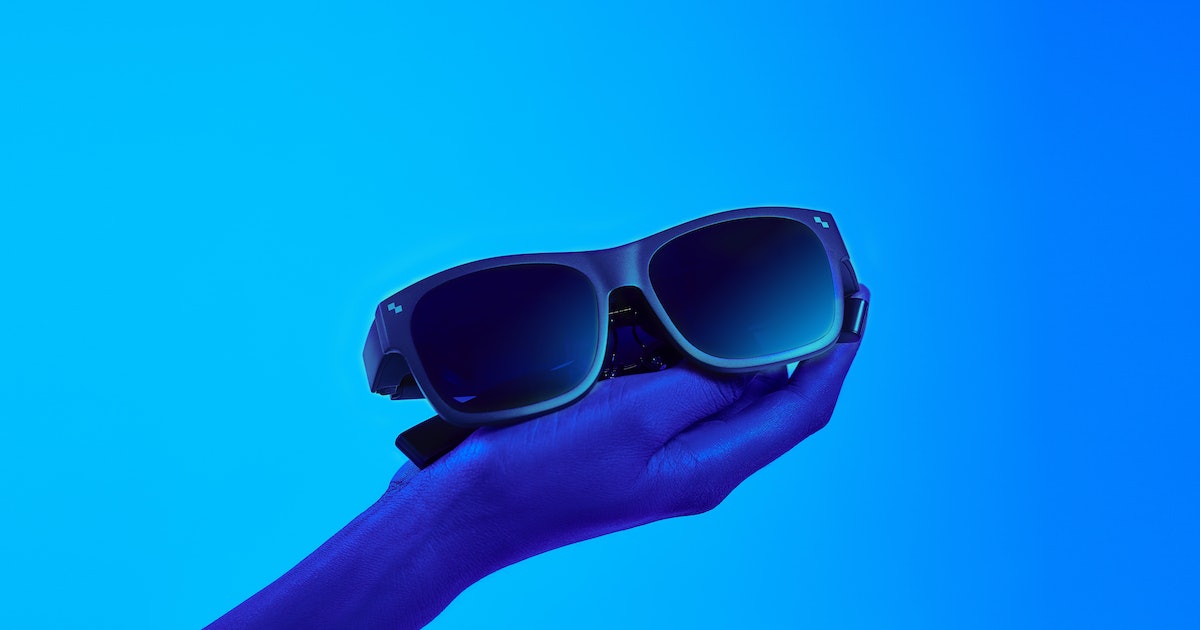 TCL will dive into AR and VR with its first-ever glasses and headset prototype
TCL, creators of excellent, frequently affordable displays are launching their first pair of augmented reality glasses at CES 2023. The company is calling them the RayNeo X2, and while they're undoubtedly rough around the edges, TCL hopes to smooth things out and build a library of apps with a developer preview in Q1 2023.
AR isn't TCL's only new development, the company is also releasing a new version of its NXTWEAR wearable displays called the NXTWEAR S and teasing a prototype VR headset called the NXTWEAR V, one of the first instances of a company starting with AR before expanding into VR, rather than the other way around.
RayNeo X2 — Like most smart glasses, the RayNeo X2 are noticeably chunkier than normal frames and don't exactly hide the fact they have a built-in camera. TCL claims the glasses are the first to feature a "binocular full-color Micro-LED optical waveguide display" and can offer 1,000 nits of brightness alongside a 25-degree field of view.
TCL says the glasses will uses its onboard Snapdragon XR2 to display turn-by-turn navigation directions, notifications from a connected phone, or live translations, not unlike Google's proposed AR device. These are all essential and expected smart glasses features at this point, but that's where TCL's planned developer preview will hopefully come in to spice things up and introduce new experiences
The RayNeo X2 will have a 590 mAh battery, 6GB of RAM, and 128GB of storage. Its 16MP camera should be a big step up from the dual 5MP cameras on the somewhat similar Ray-Ban Stories.
NXTWEAR S — TCL hasn't made radical changes to its "wearable display glasses" with the NXTWEAR S, but if the screens improve, that's better than nothing. The NXTWEAR S has dual 1080p Micro OLED displays for each eye that TCL says translate to a 130-inch screen viewed from four meters away — plenty big for enjoying a movie or game in transit or even in your living room. The glasses themselves (or should I say, wearable external monitors) still sit somewhat awkwardly far from your face and require a cable to display content from whatever you connect them to, but that's worth it for just how many things you can use with the NXTWEAR S.
The other exciting component of the NXTWEAR S announcement is that TCL is finally bringing its wearable display glasses to the U.S. They might be an exercise in showing just how many different types of screens TCL can manufacture, but it doesn't hurt to have one more option in the rapidly expanding wearable space.
NXTWEAR V — One "face screen" TCL won't be releasing, at least for now, is the NXTWEAR V, a standalone VR headset that looks like a boxier Quest 2 or the HTC Vive Focus 3, with — you guessed it — custom TCL displays. The headset has a 108-degree field of view, 4K displays with 1,512 pixels per inch, and passthrough cameras. TCL says the headset would ship — if it ever ships — with two "touch controllers." The "ifs" matter in this case because the device might end up being an enterprise product for training or VR work environments rather than something consumers use to play Beat Saber. Teasing the headset at CES is as much about showing off that TCL can do this as it is seeing if anyone might be interested in the first place.
Availability — TCL says the RayNeo X2 will be available to select developers in Q1 2023 "followed by a commercial launch later." The NXTWEAR S, meanwhile, will be available in the U.S. in Q1 2023 for $399.
INVERSE brings you everything from the weird, futuristic, and beautiful world of consumer technology at CES 2023. For all the latest technology coverage from the show, go to the INVERSE CES 2023 hub.
TCL, creators of excellent, frequently affordable displays are launching their first pair of augmented reality glasses at CES 2023. The company is calling them the RayNeo X2, and while they're undoubtedly rough around the edges, TCL hopes to smooth things out and build a library of apps with a developer preview in Q1 2023. AR…
TCL, creators of excellent, frequently affordable displays are launching their first pair of augmented reality glasses at CES 2023. The company is calling them the RayNeo X2, and while they're undoubtedly rough around the edges, TCL hopes to smooth things out and build a library of apps with a developer preview in Q1 2023. AR…