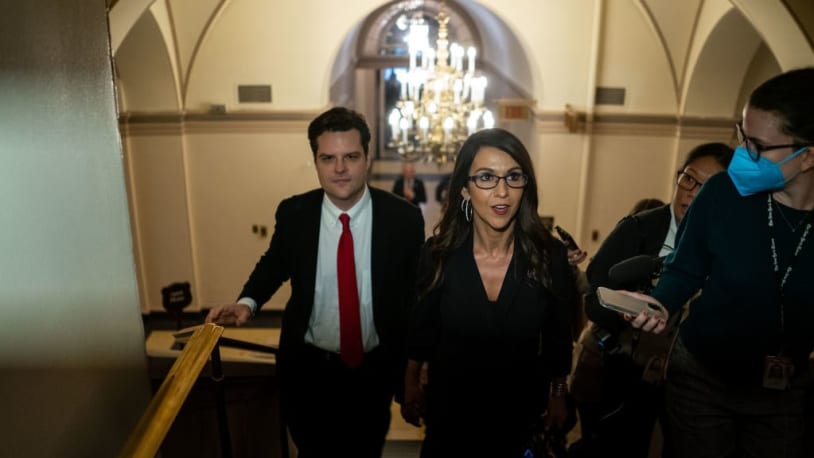 Boebert, Gaetz among Republicans who voted against McCarthy for speaker
After three rounds of voting on Tuesday, Rep. Kevin McCarthy (R-Calif.) fell short in his bid for speaker, with the same group of Republicans blocking him each time.
In order to be elected, McCarthy needs 218 votes; the GOP has a 222-212 majority. In the first two rounds of voting, McCarthy received 203 votes. During the third round, one former "yes" vote defected and joined the "no" side, giving McCarthy 202 votes. After this, the House voted to adjourn until Wednesday.
The Republicans who voted against McCarthy in all three rounds are: Reps. Andy Biggs of Arizona, Dan Bishop of North Carolina, Lauren Boebert of Colorado, Josh Brecheen of Oklahoma, Michael Cloud of Texas, Andrew S. Clyde of Georgia, Eli Crane of Arizona, Matt Gaetz of Florida, Bob Good of Virginia, Paul Gosar of Arizona, Andy Harris of Maryland, Anna Paulina Luna of Florida, Mary E. Miller of Illinois, Ralph Norman of South Carolina, Andy Ogles of Tennessee, Scott Perry of Pennsylvania, Matthew M. Rosendale of Montana, Chip Roy of Texas, and Keith Self of Texas. Rep. Byron Donalds (R-Fla.) voted in favor of McCarthy during the first two rounds, and then against him in the third.
Most of these Republicans are part of the conservative House Freedom Caucus, and include five first-term lawmakers, The Washington Post reports. On the second and third ballots, they voted for Rep. Jim Jordan (R-Ohio), who has backed McCarthy and encouraged his fellow lawmakers to support him. Many have said they do not think McCarthy is conservative enough and won't stand up to President Biden and Democrats.
In November, Biggs challenged McCarthy for the GOP speaker nomination, and received just 31 votes to McCarthy's 188. His spokesman, Matthew Tragesser, told the Post on Tuesday that when it comes to McCarthy, Biggs is "a hard no. He will not vote for McCarthy under any circumstance."
Donalds explained to reporters that he changed his vote in the third round because "Kevin doesn't have the votes. This is not a surprise. We knew, you know, that Kevin was short. My concern has been like, look, it's been two months. Bro, you got to close the deal. You had two months. And so at this point now, if you can't close it, we got to find who can." Republicans now have to meet and "figure out, frankly, who can get to 218," Donalds added. "And then we go from there."
Rep. Hakeem Jeffries (D-N.Y.), the new leader of the House Democratic Caucus, is his party's nominee for speaker, and received more votes than McCarthy during Tuesday's votes. After the House adjourned, Jeffries said, "Today for the first time in 100 years, the House of Representatives failed to organized on opening day. A sad day for the House of Representatives as an institution, sad day for democracy. It's a sad day for the American people."
After three rounds of voting on Tuesday, Rep. Kevin McCarthy (R-Calif.) fell short in his bid for speaker, with the same group of Republicans blocking him each time. In order to be elected, McCarthy needs 218 votes; the GOP has a 222-212 majority. In the first two rounds of voting, McCarthy received 203 votes. During…
After three rounds of voting on Tuesday, Rep. Kevin McCarthy (R-Calif.) fell short in his bid for speaker, with the same group of Republicans blocking him each time. In order to be elected, McCarthy needs 218 votes; the GOP has a 222-212 majority. In the first two rounds of voting, McCarthy received 203 votes. During…