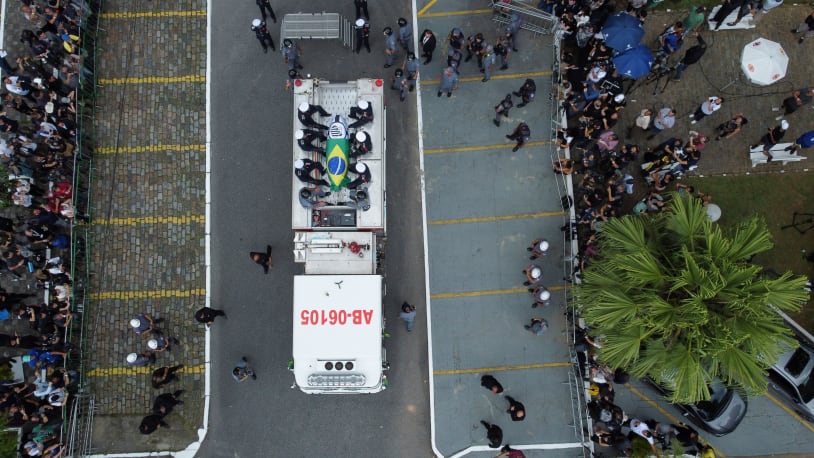 Thousands gather in Brazil to bid farewell to Pelé
Pelé's remains arrived at his final resting place on Tuesday following a funeral in which thousands of fans gathered to pay their respects to Brazil's legendary soccer star. 
The 82-year-old died last Thursday following a battle with cancer, as millions around the world mourned the man who helped make soccer an international phenomenon. A beloved national icon in Brazil, the country held an official three-day mourning period following his death. 
His coffin lay in state Monday at the stadium of Santos FC, the home club of the Brazilian city where a 15-year-old Pelé got his start in 1956. Club officials told The New York Times that more than 230,000 people made their way through the stadium to mourn the man dubbed by the International Olympic Committee as the "Athlete of the Century." 
Among those in attendance was Brazil's newly inaugurated President Luiz Inácio Lula da Silva.
Even as the doors of the stadium were closed, there were still thousands of people reportedly in line waiting to enter. 
Following the 24-hour wake, Pelé's coffin, covered with a Brazilian flag, made its way through the streets of Santos on Tuesday morning atop a firetruck, with CNN reporting that the procession even passed by the home where his 100-year-old mother still lives along with his sister. 
The procession ended at a local church, where a Catholic Mass would be held for the deceased soccer star before he was buried in a nearby cemetery during a private ceremony, the Times reported. 
Pelé's remains arrived at his final resting place on Tuesday following a funeral in which thousands of fans gathered to pay their respects to Brazil's legendary soccer star.  The 82-year-old died last Thursday following a battle with cancer, as millions around the world mourned the man who helped make soccer an international phenomenon. A beloved…
Pelé's remains arrived at his final resting place on Tuesday following a funeral in which thousands of fans gathered to pay their respects to Brazil's legendary soccer star.  The 82-year-old died last Thursday following a battle with cancer, as millions around the world mourned the man who helped make soccer an international phenomenon. A beloved…