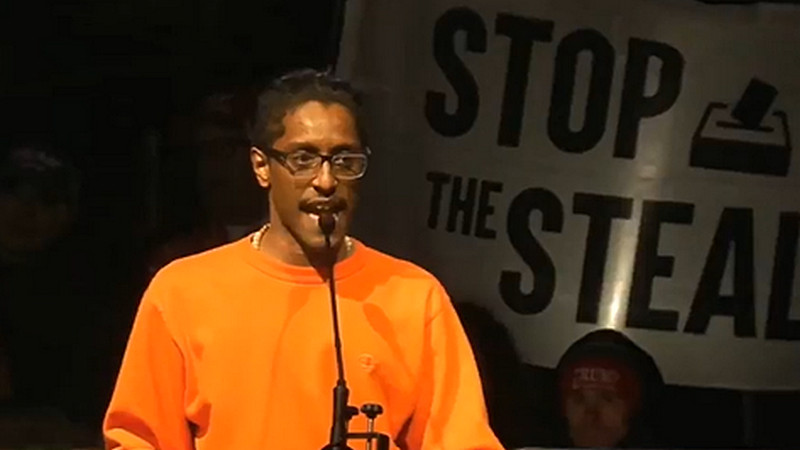 'Stop The Steal' Activist Ali Alexander Says He's a Time Traveler, 'The Father of Dragons,' and 'A Lot Like Jesus'
As 2022 came to an end, the House select committee shut down its investigation into the insurrection at the U.S. Capitol on Jan. 6, 2021, that violently sought to prevent the certification of President Joe Biden's victory in the 2020 election. In addition to recommending that criminal charges be filed against former President Donald Trump for his role in fomenting the insurrection, the select committee released a score of transcripts from interviews it had conducted with various government officials and right-wing activists about what had transpired that day.
Among the transcripts released was an interview with far-right activist Ali Alexander, who played a central role in organizing the so-called "Stop The Steal" movement that eventually gave rise to the insurrection. Alexander, who was on hand as far-right activists fought with police and forced their way inside the Capitol that day, refused to denounce the insurrection and then spent the next two years battling the select committee set up to investigate it.
When the select committee shut down without Alexander facing any charges stemming from the insurrection, he unleashed a wildly egotistical rant during a Telegram livestream, bragging that he had "raped the January 6 Select Committee."
"You cannot kill me and separate me from my movement," Ali bragged on the livestream, which was simulcast by the "Cancel Proof" channel on white nationalist Nick Fuentes' Cozy.TV platform. "I am the father of dragons. The father of dragons! I red-pill celebrities. I create nationwide movements. I make members of Congress shake."
"Now, I just want everyone in the world to dare me," he continued. "Just dare me. Because for the first time in a 15-year career, I owe no one nothing. Nothing. And I have access to everything. They thought that they could contain my power level. I am playing dumb. I am playing crazy, a lot like Jesus did. People will come to learn the truth. And guess what? Frankly, that's what I need to crucify me. That's why you're gonna see both sides try to come together to crucify me. Here's the difference: Jesus was a carpenter, and I've got motherfucking machine gun."
Alexander then claimed that he was able to best the select committee during his interview because he is a time traveler.
"These motherfuckers thought I would talk to them," Alexander said. "I was talking to the future because I'm a fucking time traveler! I wasn't talking to the fucking committee; they're dead. They're like, whoosh. These people died a while ago. I came back in time to talk to dead people. So, here I am talking to the future, and they didn't even realize I knew how to talk into the transcript. I knew how to talk into the transcript. I knew when to talk over them. I knew when it would frustrate the court reporter. I knew when not to talk over them. I knew when to wait. I knew when to say something they thought that they can lick their lips on, and then finish the sentence with, 'I don't know' or 'that's the best of my recollection,' or start a sentence, 'I don't know.' But thinking about it, if I had to form an opinion today it would be: brrrraattta ta ta ta ta ta ta ba boom!"
We need your help. Every day, Right Wing Watch exposes extremism to help the public, activists, and journalists understand the strategies and tactics of anti-democratic forces—and respond to an increasingly aggressive and authoritarian far-right movement. The threat is growing, but our resources are not. Any size contribution—or a small monthly donation—will help us continue our work and become more effective at disrupting the ideologies, people, and organizations that threaten our freedom and democracy. Please make an investment in Right Wing Watch's defense of the values we share.
As 2022 came to an end, the House select committee shut down its investigation into the insurrection at the U.S. Capitol on Jan. 6, 2021, that violently sought to prevent the certification of President Joe Biden's victory in the 2020 election. In addition to recommending that criminal charges be filed against former President Donald Trump…
As 2022 came to an end, the House select committee shut down its investigation into the insurrection at the U.S. Capitol on Jan. 6, 2021, that violently sought to prevent the certification of President Joe Biden's victory in the 2020 election. In addition to recommending that criminal charges be filed against former President Donald Trump…