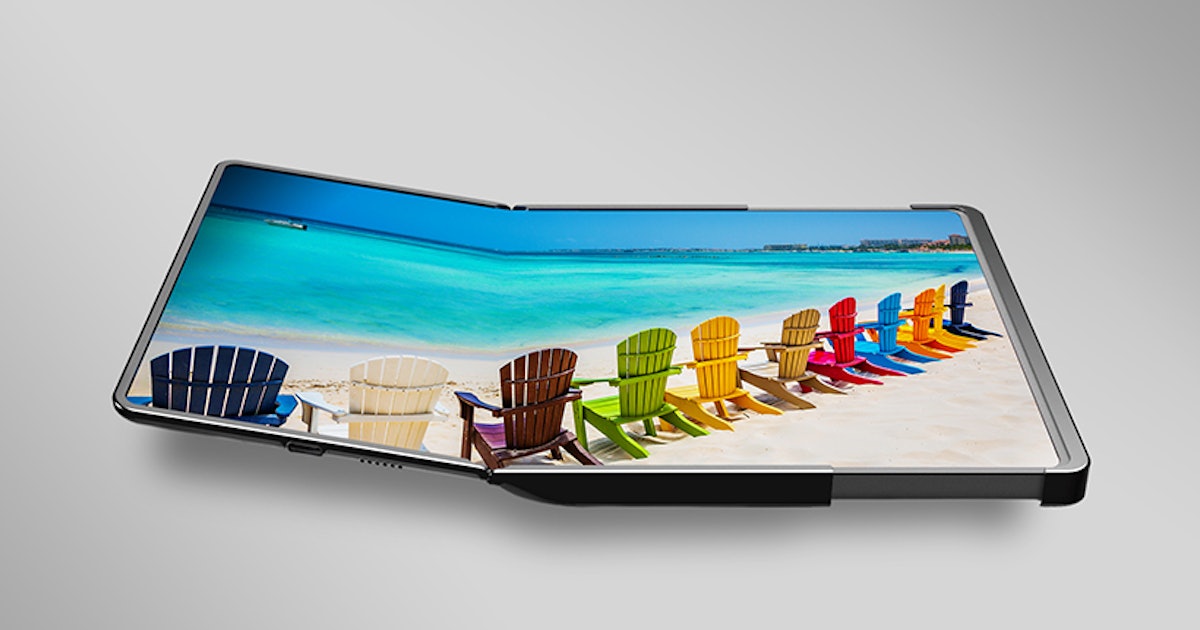 Samsung's next big thing could be foldable and slidable tablets and laptops
If you think phones, tablets, and laptops have reached their final form factors, think again. At CES 2023, Samsung Display is showing off a screen called the "Flex Hybrid" that can fold and slide. It looks as ridiculous as it sounds.
Unlike TCL, which announced plans to make a rollable phone but never did, and LG, which had a functional rollable phone called the LG Rollable, but then dropped out of making smartphones altogether, the adventurous folks at Samsung could actually put the folding and sliding display in a device — some day. Samsung, after all, is no stranger to pushing the envelope with experimental form factors with devices like the Z Fold 4 and Z Flip 4.
Shapeshifting from big to bigger — Samsung Display says the prototype folding and sliding "Flex Hybrid" OLED screen measures 10.5 inches (4:3 aspect ratio) when it's unfolded and can expand to 12.4 inches (16:10) when fully slid open. That's too big to fit into a phone, but perfect for a tablet-sized device.
Make room for huge slidable laptops? — Alongside the Flex Hybrid screen, the display division says it's showcasing its "17-inch large-screen slideable display" in the form of two concept devices, the Flex Slidable Solo and Flex Slidable Duet, which slide open in one and two directions, respectively.
Samsung Display says these two slidable displays could be ideal for "large-screen slideables, which will be the prototype of future laptops." That seems to suggest that future production devices could be more competitors to foldable PCs like Lenovo's ThinkPad X1 Fold and Asus' ZenBook 17 Fold.
Smells like premium prices — Gimmick or not, the very idea of a device with a screen that folds and slides open is attractive even if it's just for gawking. As with foldables, making sure the devices are durable enough for consumer abuse isn't going to be easy.
Samsung already knows how difficult it is to make a phone with a display that folds in half. Remember, the original Galaxy Fold launch had to be scrapped after reviewers discovered the pre-installed film on the foldable display wasn't a screen protector or removable. And while Samsung has steadily improved the durability of its Z Fold and Z Flip devices, it hasn't really made the display crease less visible or touchable to the finger.
And one thing you can be sure of if Samsung ever uses any of these three displays in consumer devices: they'll be expensive. In case you need reminding: the Z Fold 4 starts at $1,800 and the Z Flip 4 at $1,000; original models cost even more.
If you think phones, tablets, and laptops have reached their final form factors, think again. At CES 2023, Samsung Display is showing off a screen called the "Flex Hybrid" that can fold and slide. It looks as ridiculous as it sounds. Unlike TCL, which announced plans to make a rollable phone but never did, and…
If you think phones, tablets, and laptops have reached their final form factors, think again. At CES 2023, Samsung Display is showing off a screen called the "Flex Hybrid" that can fold and slide. It looks as ridiculous as it sounds. Unlike TCL, which announced plans to make a rollable phone but never did, and…