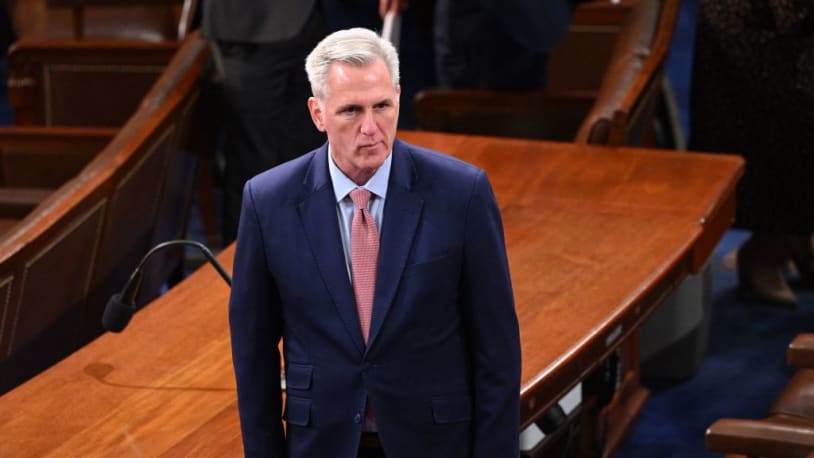 House speaker race is up in the air as Kevin McCarthy fails to win over GOP holdouts
Incoming House Majority Leader Kevin McCarthy (R-Calif.) has already moved into the speaker's suite. But hours before the House votes on its new leader Tuesday afternoon, he once again doesn't have the votes to ensure he keeps the new office space.
"McCarthy and his allies have spent the holiday weekend working the phones and meeting with members, trying to salvage his career goal of becoming speaker on Tuesday," The Washington Post reports. Now, "Republicans are bracing to see whether he lands the plane or crashes and burns," Politico adds. 
With McCarthy "grasping for his political survival," The Associated Press says, Republicans are facing a spectacular "prolonged House floor fight" that "divides the Republican Party, weakens its leadership, and consumes the first days of the new Congress." The standoff already all but guarantees that even if McCarthy ultimately "ekes out a victory," he will "be a diminished speaker beholden to an empowered right flank," The New York Times reports. 
McCarthy can lose just four Republicans, assuming all House members vote. Anywhere from a dozen to 18 House Republicans were no votes on Monday. If only the five avowed GOP hard no votes stick to their pledge, McCarthy will lose on the first ballot. The House hasn't held multiple votes for speaker since 1923.
McCarthy has pledged to hold as many votes as possible to win the gavel. "To use his words, if they're playing a game of chicken, he's ripped the steering wheel out of the dashboard, and he's got his foot to the floor," one GOP lawmaker told the Post. 
To win over hardline conservatives, McCarthy released a set of changes the House rules that would allow five members to call a snap election at any time to oust the speaker, give House Republicans tools to cut spending and slash the salary of civil servants and government officials they oppose, and create a House "Select Subcommittee on the Weaponization of the Federal Government," among other concessions.
McCarthy and his allies say those rules flipped some no votes, but his critics call that a bluff. "Kevin McCarthy doesn't have to 218 votes to be speaker," Rep. Scott Perry (R-Pa.), one of the hard no votes, told AP. "Unless something dramatically changes, that's where we're going to be."
Another problem for McCarthy "could be that his loyalists aren't all that loyal," Semafor's Kadia Goba reports. McCarthy has no viable rivals yet, and he's still the odds-on favorite for speaker, but if the voting goes past two or three rounds, a significant number of Republicans may "try and strike a backroom deal on a compromise candidate."
Incoming House Majority Leader Kevin McCarthy (R-Calif.) has already moved into the speaker's suite. But hours before the House votes on its new leader Tuesday afternoon, he once again doesn't have the votes to ensure he keeps the new office space. "McCarthy and his allies have spent the holiday weekend working the phones and meeting…
Incoming House Majority Leader Kevin McCarthy (R-Calif.) has already moved into the speaker's suite. But hours before the House votes on its new leader Tuesday afternoon, he once again doesn't have the votes to ensure he keeps the new office space. "McCarthy and his allies have spent the holiday weekend working the phones and meeting…