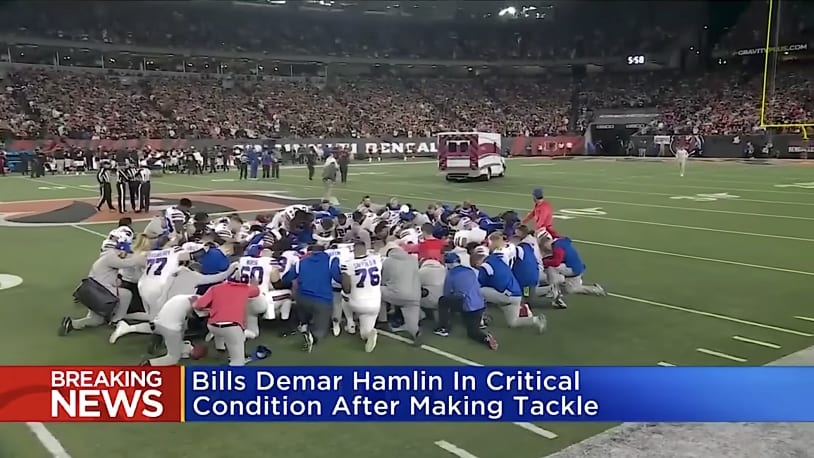 Buffalo Bills safety Damar Hamlin in critical condition after post-tackle heart attack
Damar Hamlin, a 24-year-old safety for the Buffalo Bills, collapsed after what appeared to be a routine tackle during Monday night's NFL game in Cincinnati. "Damar Hamlin suffered a cardiac arrest following a hit in our game versus the Bengals. His heartbeat was restored on the field and he was transferred to the UC Medical Center for further testing and treatment," the Bills said in a statement early Tuesday. "He is currently sedated and listed in critical condition."
Hamlin tackled Bengals receiver Tee Higgins, got up, then fell backward about three seconds later and did not get up. Medical personnel and paramedics treated him on the field as Bills and Bengals players cried, hugged each other, and knelt in prayer. Fans in the packed stadium watched in stunned silence. Hamlin was taken from the field in an ambulance 19 long minutes after collapsing, The Associated Press reports. The Bills-Bengals game was suspended indefinitely.
"I've never seen anything like it since I was playing," NFL executive Troy Vincent said in a conference call early Tuesday morning. "Immediately, my player hat went on, like, how do you resume playing after seeing a traumatic event in front of you?" Ryan Clark, a former Steeler who was rushed from a 2007 game in Denver after suffering a splenic infarction, said on SportsCenter that in moments like this, the only thing that matters is Hamlin. 
The NFL is in the final week of the regular season, and the Bills and Bengals were playing for the top playoff seed in the AFC. The Bills returned to Buffalo early Tuesday, though some players stayed behind with Hamlin.  
Hamlin, a 2021 sixth-round draft pick, became a starting safety this year after playing 14 games in his first season. A community toy drive he had organized, with a goal of raising $2,500, surged to more than $3.1 million by early Tuesday.
Damar Hamlin, a 24-year-old safety for the Buffalo Bills, collapsed after what appeared to be a routine tackle during Monday night's NFL game in Cincinnati. "Damar Hamlin suffered a cardiac arrest following a hit in our game versus the Bengals. His heartbeat was restored on the field and he was transferred to the UC Medical…
Damar Hamlin, a 24-year-old safety for the Buffalo Bills, collapsed after what appeared to be a routine tackle during Monday night's NFL game in Cincinnati. "Damar Hamlin suffered a cardiac arrest following a hit in our game versus the Bengals. His heartbeat was restored on the field and he was transferred to the UC Medical…