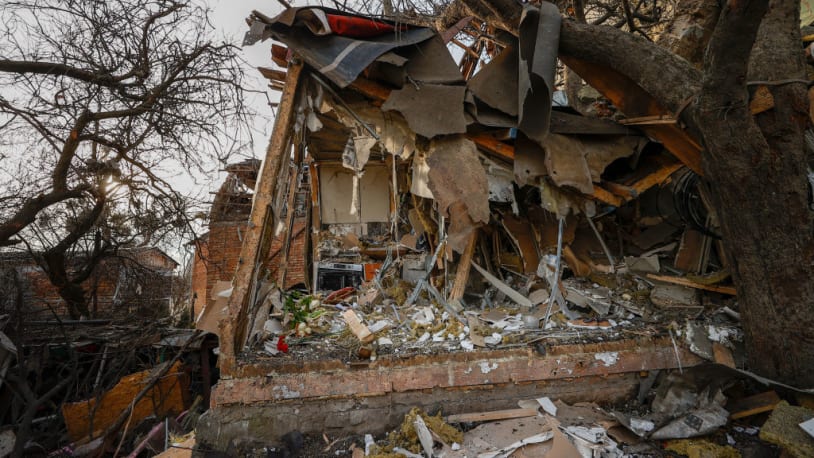 Ukraine downs New Year's wave of Russian drones and launches deadly attack
Ukrainian forces shot down 45 Iranian-made Sahed drones fired by Russia on Sunday, the first day of 2023, Reuters reported. The country also carried out one of the deadliest missile attacks against Russia during the war, resulting in 63 deaths.
As air-raid sirens sounded in Kyiv, residents stood on their balconies, shouting, "Glory to Ukraine! Glory to heroes!" Ukraine's president, Volodymyr Zelensky, said Sunday night that Russia's waves of attacks with drones and missiles "will not help them… because we stand united. They are united only by fear." Kyiv Mayor Vitali Klitschko said the latest attacks cause no reported injuries. U.S. Ambassador to Ukraine Bridget Brink tweeted that Russia's latest attack was "cowardly."
Ukraine also launched a substantial attack on the occupied Donetsk region, specifically hitting a building in the city of Makiivka, BBC reported. The country fired U.S.-made Himars, two of which were shot down, according to a Russian statement. The casualties were largely due to the ammunition stored in the building, Reuters continued. "Who came up with the idea to place personnel in large numbers in one building?" asked Russian military blogger Archangel Spetznaz Z. "Each mistake has a name."
Russian President Vladimir Putin gave no sign in a New Year's address that Moscow would ease up on its ongoing series of missile and drone strikes.
Ukrainian forces shot down 45 Iranian-made Sahed drones fired by Russia on Sunday, the first day of 2023, Reuters reported. The country also carried out one of the deadliest missile attacks against Russia during the war, resulting in 63 deaths. As air-raid sirens sounded in Kyiv, residents stood on their balconies, shouting, "Glory to Ukraine!…
Ukrainian forces shot down 45 Iranian-made Sahed drones fired by Russia on Sunday, the first day of 2023, Reuters reported. The country also carried out one of the deadliest missile attacks against Russia during the war, resulting in 63 deaths. As air-raid sirens sounded in Kyiv, residents stood on their balconies, shouting, "Glory to Ukraine!…