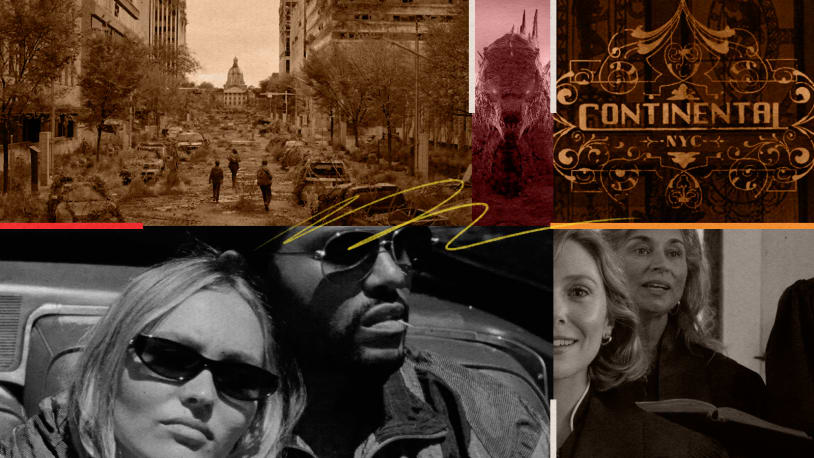 The most anticipated TV shows of 2023
January 2, 2023
January 2, 2023
Ready for another year of avoiding your problems by binging 10 hours of Netflix? We've got you covered with a packed slate of 2023 shows to look forward to, including two hotly anticipated video game adaptations, new installments in the Marvel and Star Wars universes, and some big-screen franchises getting the small-screen treatment. Here are the most anticipated shows of 2023: 
Returning shows
We'll be focusing primarily on new shows for our most anticipated list. But first, here's a quick rundown of some of the most anticipated returning shows of 2023:  
Barry season 4 (TBD)
Loki season 2 (Summer)
The Mandalorian season 3 (March 1)
Succession season 4 (Spring)
Ted Lasso season 3 (TBD)
Yellowjackets season 2 (March 26)
The Last of Us
If your favorite genre of television is "Pedro Pascal is forced to take care of a young kid," we have the show for you.
HBO will kick off 2023 with the premiere of The Last of Us, which is based on a video game widely considered to be one of the greatest of all time. Released for the PlayStation in 2013, the game takes place in a post-apocalyptic world in which the planet is overrun by infected humans. The player takes control of Joel, who's tasked with escorting 14-year-old Ellie in hopes she might be able to help create a vaccine that could save humanity. 
Pedro Pascal has been cast as Joel for the adaptation, while Ellie is played by Bella Ramsey, best known for her role as Lyanna Mormont on Game of Thrones. The series was co-created by Craig Mazin, creator of HBO's Chernobyl, and Neil Druckmann, who wrote and directed the games. Viewers are in for some shocking twists and turns as the story progresses, as players could tell you — so beginning Jan. 15, gamers can finally take on the "smug person who knows about the source material" role typically occupied by Game of Thrones book readers.  
White House Plumbers 
Starz took on Watergate with last year's Gaslit, but now the scandal is getting the TV treatment via a channel you actually know how to access: HBO. 
White House Plumbers stars Woody Harrelson as E. Howard Hunt and Justin Theroux as G. Gordon Liddy, exploring their roles in the Watergate scandal and how they "accidentally toppled the presidency they were zealously trying to protect," per HBO. Domhnall Gleeson also stars as White House Counsel John Dean, while Lena Headey stars as Hunt's wife, Dorothy, and Kiernan Shipka plays his daughter, Kevan. 
David Mandel, showrunner for the final seasons of Veep, directs, and the series is based on the Egil Krogh and Matthew Krogh book Integrity. It premieres on HBO in March. 
Mrs. Davis
You may or may not have liked the ending of Lost, but it's undeniable that Damon Lindelof is on a television hot streak at this point, making his next project an instant must-see.
Lindelof, the co-creator of Lost, is coming off back-to-back slam dunks with The Leftovers and Watchmen, and his first show since then is Mrs. Davis. Starring GLOW's Betty Gilpin, it revolves around a nun who wages war against an artificial intelligence known as Mrs. Davis. It's been described as an exploration of faith and technology, which sounds right up Lindelof's alley after all that "man of science vs. man of faith" business in Lost. 
Tara Hernandez, a writer on The Big Bang Theory, is serving as the showrunner, while Lindelof is an executive producer, so it isn't entirely clear whether it will have his fingerprints on it to the degree of his past projects. Still, the show is set to premiere on Peacock on April 20, a date that will long be remembered as when Leftovers fans are finally forced to get a Peacock subscription. 
Ahsoka 
On top of the return of The Mandalorian, Star Wars fans have a few new shows to look forward to in 2023. But the most anticipated is Ahsoka, the first series to center exclusively around fan favorite Ahsoka Tano.
After first being introduced in The Clone Wars, the beloved former Jedi made her live-action debut in The Mandalorian season two, where we learned she was hunting for Grand Admiral Thrawn. Ahsoka will be a live-action series set around the same time as The Mandalorian, and it appears it will serve as a continuation of the cliffhanger from the end of Star Wars Rebels. The ending of that animated show teased that Ahsoka and Sabine Wren would go off together to search for Ezra Bridger, their friend who disappeared. 
Rosario Dawson returns to play Ahsoka, while Natasha Liu Bordizzo will be portraying Sabine Wren in live-action, and Eman Esfandi will play Ezra Bridger. Hera Syndulla and Chopper from Rebels will also show up, so if you haven't watched that series, now's the time to binge it if you don't want to be very confused.
Plus, Hayden Christensen will once again be appearing as Anakin Skywalker, meaning there's a strong possibility we could see Ahsoka have a conversation with her former master for the first time since he turned back from the dark side at the end of Return of the Jedi. It's safe to say they'll have a lot of catching up to do. 
Love and Death
Elizabeth Olsen stans were quick to defend her character's murderous actions in Doctor Strange in the Multiverse of Madness, and now HBO is about to test how far apologists are willing to go. 
Olsen stars in the HBO Max series Love and Death as Candy Montgomery, a housewife who's accused of brutally murdering her friend Betty with an axe. The show teams Olsen up with Jesse Plemons, whose character has an affair with Candy, while Patrick Fugit plays her husband, and Lily Rabe plays the murder victim, Betty. Elizabeth Marvel also stars, presumably just for the fun of her sharing the screen with a Marvel star named Elizabeth. 
David E. Kelley, creator of HBO's Big Little Lies, wrote the series, which is based on a true story that was previously told in the Hulu series Candy starring Jessica Biel — so feel free to Google "Candy Montgomery" if you're interested in spoilers for real life. 
Gen V
Let's hear it for The Boys and its first live-action spinoff. 
The hit Amazon Prime series is a gloriously deranged take on the superhero genre, imagining a world where our superpowered protectors are absolutely terrible people. A fourth season is in the works, but first, we'll be getting the spinoff series Gen V. It's set at a college for young adult superheroes run by Vought International, and the show explores "the lives of hormonal, competitive Supes as they put their physical, sexual, and moral boundaries to the test, competing for the school's top ranking," per Amazon. 
A few familiar faces from The Boys will pop up, including Jessie T. Usher as A-Train. But for the most part, it will focus on a new cast, including Jaz Sinclair, Chance Perdomo, Lizze Broadway, and Shelley Conn. Patrick Schwarzenegger, son of Arnold, also stars. No premiere date has been set, but the show is confirmed for 2023.
The Three-Body Problem
Can the creators of Game of Thrones make a comeback after that controversial final season?
We haven't heard much from David Benioff and D. B. Weiss since they became widely hated in the Thrones fan community due to the show's ending. But that's not to say they haven't been keeping busy. The duo signed a major deal with Netflix in 2019, and they've made a big new sci-fi show for the streamer that's expected to premiere in 2023. 
Based on the acclaimed book of the same name by Liu Cixin, The Three-Body Problem is "a history of humanity from the point of first contact with an alien civilization all the way to the end of the universe," per co-creator Alexander Woo. Eiza González and Benedict Wong star, and Game of Thrones alums John Bradley and Liam Cunningham flesh out the cast. 
For Benioff and Weiss, no less than their reputations as writers is at stake, and you better believe Thrones fans will be ready to pounce if the show is even slightly underwhelming. What is dead — disgruntled fans' grudges — may never die. 
The Continental
John Wick: Chapter 4 is one of this year's most anticipated films, but that's not all the franchise has to offer in 2023. It's also making its first foray into television.
This John Wick spinoff series, The Continental, revolves around the chain of hotels used by criminals in the film series. It will "explore the origin story and inner workings of" the hotel while focusing on hotel manager Winston Scott, who's "dragged through 1975 New York to face a past he thought he'd left behind." Winston is played by Ian McShane in the movies, but Colin Woodell takes over as the young version in the series. We'll also see a young version of Lance Reddick's character from the movies, played by Ayomide Adegun, and Mel Gibson also stars. 
The Continental was originally announced for Starz, but it's since been moved to Peacock, and it's described as a "special event series" consisting of three parts. 
Agatha: Coven of Chaos
Who's been making every most anticipated TV list? It's been Agatha all along. 
Marvel has a few shows slated for 2023, including the Ironheart series that will pick up where Black Panther: Wakanda Forever left off, the espionage thriller Secret Invasion, the Hawkeye spinoff Echo, and Loki season two. But the one we're most intrigued about is a spinoff of the 2021 phenomenon WandaVision: Agatha: Coven of Chaos. 
Kathryn Hahn returns in the show as Agatha Harkness, the witch character we last saw being trapped in Westview by Wanda at the end of WandaVision. Aubrey Plaza will also star fresh off of The White Lotus season two, and Emma Caulfield returns as Sarah Proctor, a.k.a. Dottie, from WandaVision. Variety has described the show as a "dark comedy," and Jac Schaeffer, who created WandaVision, returns as executive producer.
We don't know much about the plot of the show yet, but any opportunity to see Kathryn Hahn chew scenery as Agatha again is one we won't pass up. It's also possible we could learn more about the fate of Wanda, who we last saw being seemingly crushed to death in Doctor Strange in the Multiverse of Madness. But does anyone believe she'll actually stay dead? If Vision can return to life multiple times, Wanda can do it once. 
The Curse
This one may or may not be debuting in 2023, but it was announced all the way back in 2020, so we're hopeful this will be the year. 
Nathan Fielder, the genius comedian behind Nathan For You and The Rehearsal, teams with Benny Safdie of the Safdie Brothers for the new Showtime half-hour comedy The Curse. Like all of Fielder's work, it comes with a brilliant logline: The "genre-bending" show focuses on how an "alleged curse disturbs the relationship of a newly married couple as they try to conceive a child while co-starring on their problematic new HGTV show." 
Emma Stone stars alongside Fielder, who co-created the show. He's mostly become known for shows where he interacts with real people, but this is described as a scripted series. This is Fielder we're talking about, though, so he's surely got some tricks up his sleeve we can't even conceive of — as well as some opportunities to brag about his really good grades. 
Masters of the Air
Fans of HBO's acclaimed miniseries Band of Brothers won't want to miss this follow-up headed to Apple TV+.
The 2001 World War II series already received a spiritual follow-up with 2010's The Pacific, so Masters of the Air is the third installment. This time, the focus is the Eighth Air Force, and the star is Austin Butler, who could be coming off winning an Oscar for Elvis. The cast also includes Callum Turner, Anthony Boyle, Barry Keoghan, and Ncuti Gatwa. 
As with the previous two shows, Steven Spielberg and Tom Hanks are producing, and True Detective's Cary Joji Fukunaga will direct the first three episodes. We don't technically have a premiere date for the show yet, but considering production began in 2021, it's speculated we'll finally see it sometime in 2023. 
Avatar: The Last Airbender
Let's try this again — and by this, we mean bringing Avatar: The Last Airbender to live-action.
The Nickelodeon series is one of the most beloved animated shows of the 21st century, but a live-action film adaptation from M. Night Shyamalan was an infamous disaster in 2010. Over a decade later, Netflix will give it another shot, this time with a live-action TV series. 
The showrunner will be Albert Kim, whose previous credits include Sleepy Hollow. Gordon Cormier has been cast as Aang, while Kiawentiio plays Katara, Ian Ousley plays Sokka, and Dallas Liu plays Zuko. Some of the bigger names in the cast include Daniel Dae Kim as Ozai and Danny Pudi as the Mechanist.
After what happened with the Shyamalan movie, fans have been skeptical Netflix will get it right, and it didn't help matters when the creators of the original show departed the project. They were originally brought on as executive producers and showrunners, but in a 2020 blog, original series co-creator Michael Dante DiMartino said, "Unfortunately, things did not go as we had hoped," adding that "whatever version ends up on-screen, it will not be what Bryan and I had envisioned or intended to make."
Needless to say, Avatar: The Last Airbender has the potential to be the most controversial show of the year. It doesn't have a release date yet, but it's expected to debut sometime in 2023.  
Bupkis 
In his post-SNL life, Pete Davidson is going full Larry David. 
In the same vein as of Curb Your Enthusiasm, the comedian is set to star in this Peacock comedy as a "heightened, fictionalized version of" himself. Edie Falco will play his mother, and his grandfather will be played by Joe Pesci. Yes, Pesci has been semi-retired for years and had to be persuaded into starring in Martin Scorsese's last movie, but Davidson has somehow managed to snag him for a Peacock comedy. This will also be Pesci's first regular TV role in decades. 
Davidson himself is a writer and executive producer of the show, which was also produced by SNL creator Lorne Michaels. Numerous guest stars have already been lined up, presumably to also play fictional versions of themselves, including Charlie Day, Kenan Thompson, and Ray Romano — and you have to imagine the writers' room had an absolute field day with jokes about Davidson's relationship with Kim Kardashian. A cameo by Kardashian might just break the internet all over again. 
Straight Man
Better Call Saul may be over, but AMC and Bob Odenkirk are wasting no time getting back together again. 
Odenkirk is reteaming with AMC for the new drama series Straight Man, described as a "mid-life crisis tale" in which the actor plays the "unlikely chairman of the English department in a badly underfunded college in the Pennsylvania rust belt." It's an adaptation of the novel of the same name by Richard Russo. This will be Odenkirk's third show with AMC after Breaking Bad and its spinoff, Better Call Saul. 
But Odenkirk told Entertainment Weekly the show's tone is "more comic," explaining, "It feels like a new mashup of comedy and drama that we've been on the verge of for a long time. [It's like] you took a very fun show — like a Parks and Rec — and you said, 'Let's slow down and get to know these people and have their internal battles be a little bit more of the subject matter.'" Mirielle Enos and Olivia Scott Welch also star.
AMC has confirmed Straight Man's first season, which consists of eight episodes, will air in 2023. 
The Idol
Ladies and gentlemen, The Weeknd … 's new show.
The "Blinding Lights" singer is making a pivot to acting with a role in the latest HBO series from the creator of Euphoria, Sam Levinson. It revolves around an up-and-coming pop singer, played by Lily-Rose Depp, who develops a complicated relationship with a "self-help guru" and "leader of a modern-day cult," played by The Weeknd, per HBO. Dan Levy, Eli Roth, Rachel Sennott, and Hank Azaria also star.
The marketing for The Idol teases a show that might be even more depraved than Euphoria, if that's possible, with HBO even declaring that it comes from the "sick and twisted minds" of Levinson and The Weeknd. It's a major test for Levinson at how successful he can be at expanding his HBO empire beyond Euphoria, which continues to be a massive phenomenon, especially among younger fans. 
Don't expect the show to come and go without controversy, though. Some Euphoria fans already started souring on Levinson's writing during the second season, and in April, Deadline reported The Idol was undergoing a "creative overhaul" because The Weeknd "felt the show was leaning too much into a 'female perspective,'" Deadline reports. Start warming up the hot take machine now. 
The Fall of the House of Usher 
Another Halloween, another masterwork from Mike Flanagan. 
The horror genius' most recent series The Midnight Club may not have quite satisfied this year given it was geared at a younger audience than usual (and was quickly canceled). But in 2023, Flanagan's latest series seems to be tapping more into that Midnight Mass and Haunting of Hill House juice. The Fall of the House of Usher will be a miniseries based on a variety of works by Edgar Allan Poe, including the short story of the same name.  
Speaking to The Wrap, Flanagan described the show as "unlike anything I've ever done," adding it will be "colorful and dark and blood-soaked and wicked and funny, and aggressive and scary and hilarious." The cast includes past Flanagan collaborators Bruce Greenwood (taking over from Frank Langella, who was fired for alleged misconduct), Carla Gugino, Rahul Kohli, and Kate Siegel, as well as Mary McDonnell, Willa Fitzgerald, and Mark Hamill. 
Netflix technically hasn't given The Fall of the House of Usher a release date yet. But given filming began in January 2022, it's probably safe to expect it this year, surely around Halloween. 
Fallout
The Last of Us will be the first big video game franchise to get a TV adaptation in 2023, but it might not be the last.
There's also Fallout, the highly anticipated series based on the acclaimed series of video games that take place in a post-apocalyptic world following a nuclear war that has devastated the planet. It's in the works at Amazon and was created by Westworld's Lisa Joy and Jonathan Nolan. 
The cast includes Walton Goggins, Kyle MacLachlan, and Ella Purnell, and the studio behind the video games, Bethesda, is producing. It used to be that video game adaptations seemed doomed, but that curse appears to have been broken in recent years with successful films like Sonic the Hedgehog, and there's enough lore to work with in the games that this could be Amazon's next big franchise if Nolan and Joy play their cards right. Let's just hope they made the story slightly less incomprehensible than Westworld.
Fallout isn't confirmed for 2023 and could end up slipping into 2024. But it reportedly started filming in July 2022, so there's a decent chance it can premiere toward the end of the year. 
Godzilla and the Titans 
Let them stream!
Godzilla is stomping his way to streaming with this new series set in the Monsterverse, the cinematic universe that most recently brought us Godzilla vs. Kong. You might assume it's set up at HBO Max, given the films are released by Warner Bros., but it's actually an Apple TV+ show instead. 
"Following the thunderous battle between Godzilla and the Titans that leveled San Francisco and the shocking new reality that monsters are real, the series explores one family's journey to uncover its buried secrets and a legacy linking them to the secret organization known as Monarch," according to Apple.
So it sounds like the show is firmly implanted in the world of the Monsterverse, and Toho is producing. Could it set the stage for the next Monsterverse film, a Godzilla vs. Kong sequel set for 2024? The show will also see Wyatt Russell star opposite his father, Kurt Russell. 
Godzilla and the Titans hasn't been confirmed for this year. But it was reportedly filming in the summer of 2022, so an air date in late 2023 seems reasonable. If so, 2023 will be a big year for Godzilla fans considering a new Japanese Godzilla film from Toho is also set for release. Long may the king of the monsters reign.
January 2, 2023 January 2, 2023 Ready for another year of avoiding your problems by binging 10 hours of Netflix? We've got you covered with a packed slate of 2023 shows to look forward to, including two hotly anticipated video game adaptations, new installments in the Marvel and Star Wars universes, and some big-screen franchises getting…
January 2, 2023 January 2, 2023 Ready for another year of avoiding your problems by binging 10 hours of Netflix? We've got you covered with a packed slate of 2023 shows to look forward to, including two hotly anticipated video game adaptations, new installments in the Marvel and Star Wars universes, and some big-screen franchises getting…