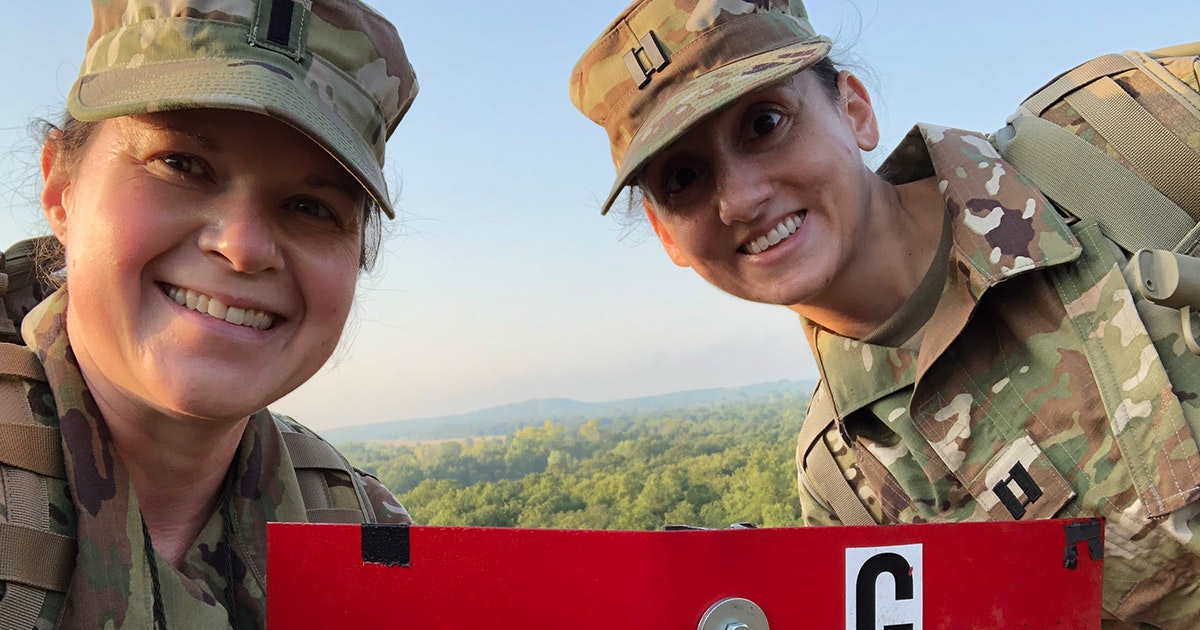 How One STEM Professional Found Her Calling In The US Army
Growing up in the small town of narragansett, rhode island, captain margeaux auslander had always dreamed of becoming a doctor. as a high schooler, Capt. Auslander was an ambitious student, graduating at the top of her class in 2003. But after taking a psychology class at the University of Rhode Island, Capt. Auslander's interest was piqued in something different. Today, Capt. Auslander is a Research Psychologist and Chief of Lab Operations in the Military Psychiatry Branch at the Walter Reed Army Institute of Research, a feat she attributes to her college professors.
"When I was in college and started gaining an interest in certain areas, I developed relationships with specific professors that I admired [who] could see me following in their footsteps," Capt. Auslander says. She will be the first to tout the virtues of finding a mentor. "To people starting out, look to people that are doing what you want to do, approach them, develop a relationship, and ask questions," Capt. Auslander says. "You'll find that people are very willing to help you."
After receiving her Bachelor of Arts in Psychology at the University of Rhode Island in 2006, Capt. Auslander then went on to study at Brandeis University where she earned a Master of Arts in Psychology in 2010 and a Doctor of Philosophy in Social-Developmental Psychology in 2013. Yet even after earning advanced degrees and working as a research coordinator, Capt. Auslander felt like something was still missing. Looking for a position that would give her a greater sense of purpose, she joined the Army in 2020, where she now serves as a research psychologist, leading studies on the psychological processes of soldiers – specifically those that could help with anger management issues.
"Anytime anyone says 'psychologist,' you automatically think of a therapy-client experience, but what I do is completely different," Capt. Auslander says. "I'm currently testing a training that could help soldiers with anger and aggression when they return from a combat deployment. Right now I'm running a research study, so I have a staff of research assistants who run the subjects through the experiments. Then we'll take that data, analyze it, write up the results, and then form briefs that make it digestible for a larger audience."
As with any professional career, a sensible work-life balance is essential in maintaining healthy well-being, a factor Capt. Auslander does not take lightly. While her role as a research psychologist also comes with military obligations — like taking seminars to develop her leadership skills as an Army officer, mentoring junior soldiers, and meeting the criteria of the Army Combat Fitness Test — it also affords her the time for a fulfilling home life. Capt. Auslander works with her teams to communicate meaningfully and carefully manages her schedule so that she can feel refreshed and energized to meet her obligations. The best part of her job, she says, is being able to take on projects that are meaningful to her, which is made possible through Army funding.
"One of the big things is that I'm able to do really exciting and impactful work. We also do get funding for our research because our work is important to the Army. As a research psychologist, you often have to apply for grants to get funding for your research and while we do apply for some grants, getting funding takes a lot of pressure off us."
"I'm able to do really exciting and impactful work."
Along with leadership skills, Capt. Auslander says the Army has provided a vast social and professional networking community, which can open doors and possibilities for her down the line. She says the Army also offers tuition assistance programs, which cover the costs of undergraduate and graduate degrees, and internships and fellowships for soldiers to further their careers. For Capt. Auslander, however, some of the biggest perks are found outside of the research lab.
"Compared to a research psychologist in academia, we're well compensated," she says. "We also have access to the latest technology and get to collaborate with academic and government institutions. By joining the Army, not only do I get to do this really important work, but I get to be a part of this community that feels like a family, and I feel like I found my purpose."
How will you find your purpose? Find out how you can serve at GoArmy.com today.
Growing up in the small town of narragansett, rhode island, captain margeaux auslander had always dreamed of becoming a doctor. as a high schooler, Capt. Auslander was an ambitious student, graduating at the top of her class in 2003. But after taking a psychology class at the University of Rhode Island, Capt. Auslander's interest was…
Growing up in the small town of narragansett, rhode island, captain margeaux auslander had always dreamed of becoming a doctor. as a high schooler, Capt. Auslander was an ambitious student, graduating at the top of her class in 2003. But after taking a psychology class at the University of Rhode Island, Capt. Auslander's interest was…