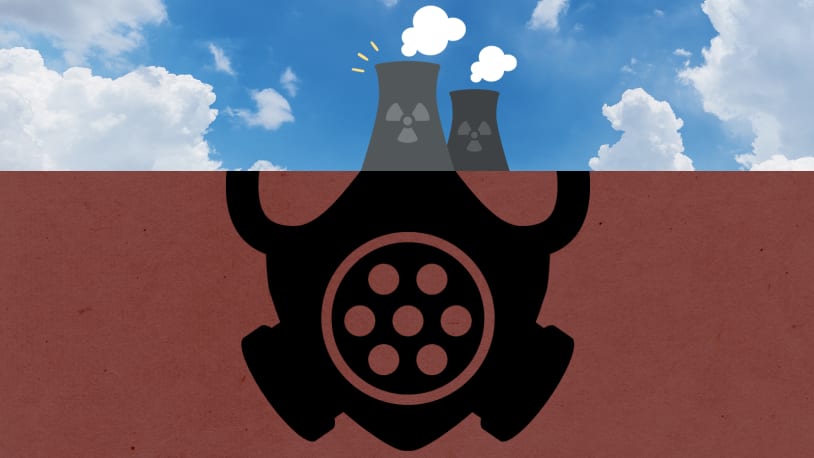 The pros and cons of nuclear power
Nuclear power is having a moment. After decades of plant closures, "the long controversial power source is gaining backers," Evan Halper reports at The Washington Post. Climate activists like that nukes don't emit carbon at the same level as fossil fuels, while Russia's invasion of Ukraine has highlighted the importance of weaning the world off of imported fossil fuels.
In California, officials are reconsidering plans to shut down the state's last nuclear plant. "While the facility's fate remains uncertain, the fact that solar- and wind-loving California is even talking about extending its life marks a turning point in the global debate over nuclear power," Mark Chediak and Will Wade write for Bloomberg. Here is why you might start seeing more nuclear power plants built in your state — and why there might be some downsides. 
Pro: It's good for the climate
"Nuclear power isn't a renewable energy source like solar or wind power, but it is emissions-free, meaning it doesn't produce the greenhouse gases that contribute to global warming," Soumya Karlamangla writes in The New York Times. "In the U.S., half of our carbon-free energy comes from nuclear reactors." That's a real benefit "as fires and heat waves worsen in the Golden State."
"Nuclear energy is the largest source of carbon-free energy in the U.S. by a huge margin and it has a major role to play in confronting the global climate challenge," adds Daniel B. Poneman at Scientific American. Even if new reactors aren't built, it's important to stop shutting down existing reactors because "for every reactor that prematurely shuts down, our carbon dioxide emissions rise by about 5.8 million metric tons per year," which is akin to "burning more than 648 million gallons of gasoline — the equivalent of filling up an NFL stadium with gasoline and setting it on fire." His conclusion: "Common sense tells us that if we are facing an existential crisis, every available zero-carbon technology must be called into service."
Con: Nuclear power still leaves a nasty mess behind
"Nobody has yet given a satisfactory answer to the question of what to do with thousands of metric tons of high-level nuclear waste, some of which can remain radioactive, and thereby lethal, for up to 300,000 years," Anna Gross and Sarah White write in Financial Times. Nuclear waste sites can be found in 14 countries, but critics worry they "are sitting ducks for terrorist organisations and that they could potentially cause catastrophic spills or fires." Even under ideal conditions, "the cost of maintaining these sites can be extraordinary, and last for decades."
Right now, though, there's no good plan for dealing with that waste. "Although the federal government is legally responsible for disposing of commercial spent nuclear fuel in a permanent underground repository, there has been no plan for fulfilling that obligation since the Obama administration halted the project at Nevada's Yucca Mountain in 2010," Rebecca Tuhus-Dubrow says at The Washington Post. "Among scientific experts and government officials, there is broad consensus that the optimal solution is to eventually bury nuclear waste in a deep geological repository. But that is a long-term goal."
Pro: Russia would lose its leverage over rival countries
Russia's control of oil and other fossil-fuel energy resources gave it the riches to invade Ukraine — and has stymied Europe's response. That "points to the folly of nations exiting nuclear power while continuing to use coal, gas, and oil — fuels that are more polluting, more expensive, and often sourced from brutal dictatorships," John Quiggin says at The Conversation. The invasion "accentuates the urgent need for nations to free themselves from dependence on coal, oil and gas. Until then, our best option is to keep nuclear plants running as long as possible."
That does come with a caveat, at least in Europe. Russia is also a major source of the uranium used to power nuclear plants across the continent, as well as the plants themselves. "Reactors based on Soviet designs generate power across the former Cold War bloc, accounting for more than half of all electricity in Ukraine and around two-fifths in a swath of territory arching from Finland to Bulgaria," Jonathan Tirone, Kati Pohjanpalo, and Jesper Starn report for Bloomberg. "For Moscow, atomic exports remain a key geopolitical lever."
Con: Building a nuclear plant is expensive and can take years
"This is because nuclear power plants are technically complex and must satisfy strict licensing and design requirements,"  Daria Iurshina, Nikita Karpov, Marie Kirkegaard and Evgeny Semenov write for the Bulletin of Atomic Scientists. Designing and building a plant "requires many highly qualified specialists and often takes many years, compounding financing costs, which can become significant."
"Nuclear power plants are massive investments. Not only do they cost over $10 billion, they often take between eight and 12 years to build," adds Daniel Van Boom at CNET. "The U.S. model for nuclear power plant production is particularly inefficient. Each state has its own utility standards and safety regulations, requiring power plants to be tailored to their locale." As a result, nuclear construction costs "skyrocketed as high as 1,000 percent between the '60s and '80s."
Con: When nuclear power goes bad, it goes really bad
Remember Chernobyl? Or Fukushima? Those accidents took a number of lives and left the surrounding areas unlivable for humans. "The problem with nuclear power is that while the probability of damage is low, if the damage occurs, its impact can be massive," Steve Cohen writes for Columbia Climate School. That makes nuclear power a bad choice as an alternative to fossil fuels. "The technology we depend on needs to be resilient, reliable, and as safe as possible. Nuclear power fails those tests."
Pro: But those accidents are pretty rare
While Chernobyl and Fukushima "have helped to make both policymakers and the general public skittish about nuclear energy," Samuel Miller McDonald writes for Boston Review, "the number of combined fatalities from nuclear energy is dwarfed by fatalities caused by fossil fuel-derived energy." He concludes: "Even taking into account the significantly greater proportion of energy generated by fossil fuels than nuclear, burning fossil fuels is still significantly more dangerous."
Nuclear power is having a moment. After decades of plant closures, "the long controversial power source is gaining backers," Evan Halper reports at The Washington Post. Climate activists like that nukes don't emit carbon at the same level as fossil fuels, while Russia's invasion of Ukraine has highlighted the importance of weaning the world off…
Nuclear power is having a moment. After decades of plant closures, "the long controversial power source is gaining backers," Evan Halper reports at The Washington Post. Climate activists like that nukes don't emit carbon at the same level as fossil fuels, while Russia's invasion of Ukraine has highlighted the importance of weaning the world off…