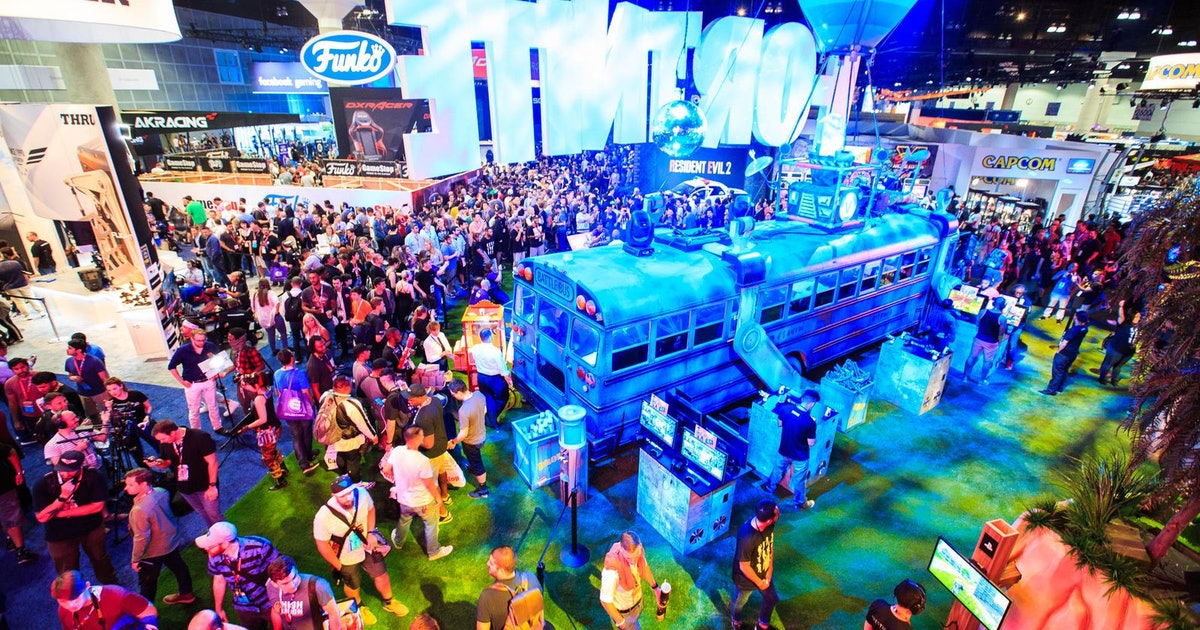 Why the show's demise was a long time coming
E3 is dead, at least, for the time being. Outlets such as IGN, as well as the Entertainment Software Association (ESA), confirmed that E3 2022 won't take place—in person, or digitally. While this news might come as a surprise to some, the event has steadily been on the decline in recent years, feeling disorganized, and far less necessary than it used to be. Yes, it's a little sad that E3 is no more, but given the event's recent history, its death has been a long time coming.
A downhill trajectory
There was a time when E3 was the most exciting video game event of the year. It was full of blockbuster game reveals, interviews with developers, and—if you were attending the show—a chance to meet and hang out with industry professionals and friends. Beginning in May 1995, it was the main expo for anyone looking to know what was coming in the video game industry.
In 2017, E3 was open to the public for the first time ever, after being restricted to game developers, retailers, business partners, and the press for over 20 years. Over 68,000 people attended that show, 15,000 of which were fans, myself included. This was a major improvement over 2016's event, which saw only 50,000 attendees. The ESA looked at this move as a way to drive revenue and attendance, as ticket prices were anywhere from $150 to $250. Looking back, this was the turning point for E3, signaling the trade show's decline.
Because of the tremendous turnout, it was hard to navigate the show floor, and even more difficult to actually play demos of upcoming games. It truly felt like Disney World, both the good and bad. The lines for demos were hours long, and when I actually got to play, I had to convince myself the wait had been worth it.
Looking back, it's easy to see why an attending fan would have been disappointed. You'd be lucky to play three demos each day if you spent six hours at the event, which is just bonkers.
In 2019, I finally got to attend as press, meaning I could schedule appointments for upcoming games, avoiding the ridiculously long lines. This was a game-changer but still didn't make it easier to navigate around 66,000 other people.
Then, in August of that year, the ESA doxxed over 2,000 journalists who attended the show, publically revealing their home addresses, email addresses, and phone numbers on an Excel spreadsheet for everyone to see. How could that have happened? To many, this was the final nail in the coffin for the event.
The changing of times
Aside from all the issues that came with attending the show, E3's publisher attendance slowly declined over the years, making the entire event less relevant. The most famous example of this is when Sony pulled out of the show in 2019, opting to host its own presentations separate from the event. At the time, this was unheard of, but in hindsight, it was absolutely the right call.
As a publisher/developer, attending E3 is expensive and requires a lot of work. It makes sense that many publishers migrated over to revealing games digitally in the vein of the Nintendo Direct. Why fly a crew to LA, pay exorbitant prices for booth space, and deal with the logistical hassles that come with the in-person experience, when you can put together a video for a fraction of the cost and effort?
That's why we've seen so many publishers follow the Nintendo Direct approach as evidenced by Sony's State of Play, Ubisoft Forward, Square Enix Presents, and countless others.
During E3's final years, major publishers like Electronic Arts, Activision, and the aforementioned Sony did not attend, telegraphing the event's steady demise. Though the event was always packed to the brim with attendees, the exhibitor list got lighter each year.
Then, in 2020, the traditional in-person version of E3 was canceled due to the COVID-19 pandemic. However, E3 still took place digitally, forcing all participating publishers to follow suit with a Nintendo Direct-style approach. Though E3 was on the decline anyway, COVID absolutely sped up the event's ultimate downfall.
So, is E3's departure surprising? Not at all. But it's bittersweet to see the event end as we know it. On March 31, 2022, the ESA said E3 would return to LA in 2023, but if that does happen, it will likely end up being a shell of its former self.
E3 is dead, at least, for the time being. Outlets such as IGN, as well as the Entertainment Software Association (ESA), confirmed that E3 2022 won't take place—in person, or digitally. While this news might come as a surprise to some, the event has steadily been on the decline in recent years, feeling disorganized, and…
E3 is dead, at least, for the time being. Outlets such as IGN, as well as the Entertainment Software Association (ESA), confirmed that E3 2022 won't take place—in person, or digitally. While this news might come as a surprise to some, the event has steadily been on the decline in recent years, feeling disorganized, and…