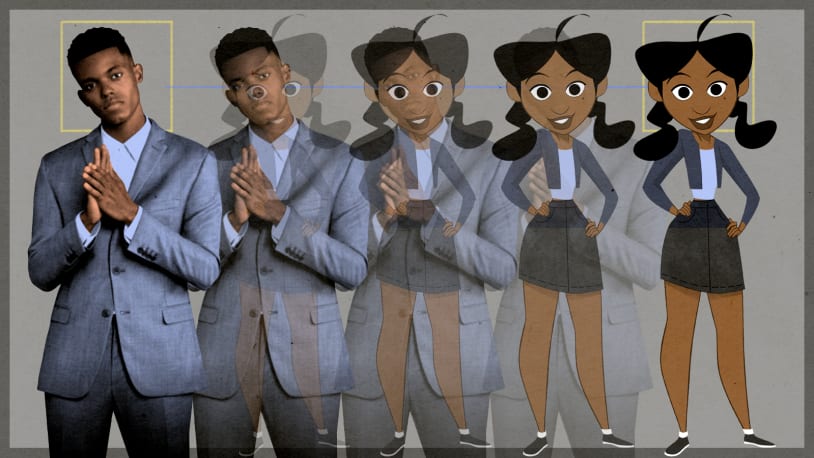 Why reboots of classic Black TV shows are succeeding where other nostalgia fare fails
Nostalgia is in the air. Already 2022 is turning out to be the year of revivals of classic TV series — and particularly so for shows considered hallmarks of Black entertainment.
Among the long list of culture-defining sitcoms and animated shows returning this year, the reboots include new looks at The Fresh Prince of Bel-Air and The Proud Family, both of which premiered in February. By revisiting these shows now, Peacock (home of Bel-Air) and Disney+ (The Proud Family: Louder and Prouder) are clearly looking to replicate some of the same TV magic as the originals — but to their credit, they're doing so with a sense of nuance. It's working so far; both shows are critically acclaimed, which is rarely the case for most rebooted franchises.
For those who didn't grow up watching The Jeffersons, Fresh Prince (which ran for six seasons beginning in 1990) was likely the first time they saw an all-Black cast depicted as a wealthy family. The show likewise introduced classic characters and launched the careers of Hollywood legends while interweaving social and racial topics that still hold relevance today. And for younger millennials and older gen Zers (like myself), The Proud Family was the gold standard of representation as one of, if not the only, Black-centered animated shows on Disney in 2001. The series did for Disney animation what Modern Family did for sitcoms; it reshaped the look and feel of the channel, and opened doors for other Black actors and shows to shine on the popular network.
But why reboot them now? Judging by the recent renaissance of Black entertainment, strategic timing certainly plays a part. In the 1990s and early-to-mid 2000s, shows like Martin, Living Single, A Different World, One on One, and All of Us were at the forefront of Black media, with each of them representing a different layer of Black America during that time. But a large majority of these shows slowed in the mid-2000s and early 2010s — that is, until the airing of Black-ish in 2014, which recreated a zeitgeist that once permeated airwaves. Its success paved the way for a steady stream of shows dedicated to Black families and daily life rooted from a place of authenticity; Black-ish inspired spin-offs like Grown-ish, Mixed-ish, and reportedly the filming of Old-ish, and instigated more Black creators being tapped to spearhead TV shows on their own accord, including Courtney A. Kemp's Power, Donald Glover's Atlanta, Lena Waithe's The Chi, and most recently Quinta Brunson's Abbott Elementary.
The resurgence of Black media likewise inspired ABC to reimagine one of its classic shows with a Black family at the center. Last year, The Wonder Years debuted on the network and starred Elisha Williams as Dean Williams, a 12-year-old boy growing up in Montgomery, Alabama, during the late 1960s and early 1970s. The show was inspired by 1988's The Wonder Years, which chronicled the life of Kevin Arnold (played by Fred Savage) in the late 1960s and early 1970s — and, notably, starred an all-white leading cast. The first two episodes of 2021's The Wonder Years, on the other hand, revolve around the assassination of Dr. Martin Luther King and tackle culture-altering events while also bringing a sense of levity found in the original series. 
Other reboots haven't been as lucky. New versions of classic programs like The Odd Couple, Charlie's Angles, MacGyver, and others have been rightfully ripped by critics. But 2021's The Wonder Years — and in turn, the reboots of The Proud Family and Bel-Air, which premieres the season one finale on Thursday — are succeeding where other shows with similar influences aren't because of their willingness to insert new ideas or elements to captivate a new generation of viewers while at the same time honoring fans of the original series. While hinging on viewers' nostalgia can be a show's strength, it can be detrimental when there's no sense of originality, even if the concept is based on a widely popular entity.
Sure, certain elements of the Peacock and Disney+ shows are the same as their predecessors, like the list of main characters and their backstories, and in the case of The Proud Family: Louder and Prouder, a near-identical animation style. But they have both also added to their source materials' mythos, drawing in a younger generation of viewers with new concepts, characters, and direction. For example, diverging from its more comedic and lighthearted origins, Bel-Air has taken on a more dramatic and ultra-realistic turn. The show trades in a live studio audience and multi-cam set-up of the original and focuses on a more introspective look at a young Black man who was plucked from West Philadelphia and is abruptly moved to one of the ritziest enclaves in Los Angeles. 
The Proud Family: Louder and Prouder, meanwhile, broadened its cast of characters with EJ Johnson voicing transgender character Michael Collins and Billy Porter and Zachary Quinto voicing gay couple Randall and Barry Leibowitz-Jenkins. Instead of relying on the same narrative tropes and cultural topics that were prevalent when the original show aired in the early 2000s, the show has leaned into topics like LGBTQ rights, the effects of social media, the different shades of "wokeness" and other subjects that loom over today's society. The show's subject matter has evolved to draw in modern audiences, all while retaining the beloved characters and unmistakable charm that made The Proud Family a classic animated series.
Given the shows' new creative directions and refined scopes, The Proud Family and Bel-Air have a chance to stand on their own as summits of Black entertainment and the larger TV industry — just like the classic series that preceded their arrivals. 
Nostalgia is in the air. Already 2022 is turning out to be the year of revivals of classic TV series — and particularly so for shows considered hallmarks of Black entertainment. Among the long list of culture-defining sitcoms and animated shows returning this year, the reboots include new looks at The Fresh Prince of Bel-Air…
Nostalgia is in the air. Already 2022 is turning out to be the year of revivals of classic TV series — and particularly so for shows considered hallmarks of Black entertainment. Among the long list of culture-defining sitcoms and animated shows returning this year, the reboots include new looks at The Fresh Prince of Bel-Air…