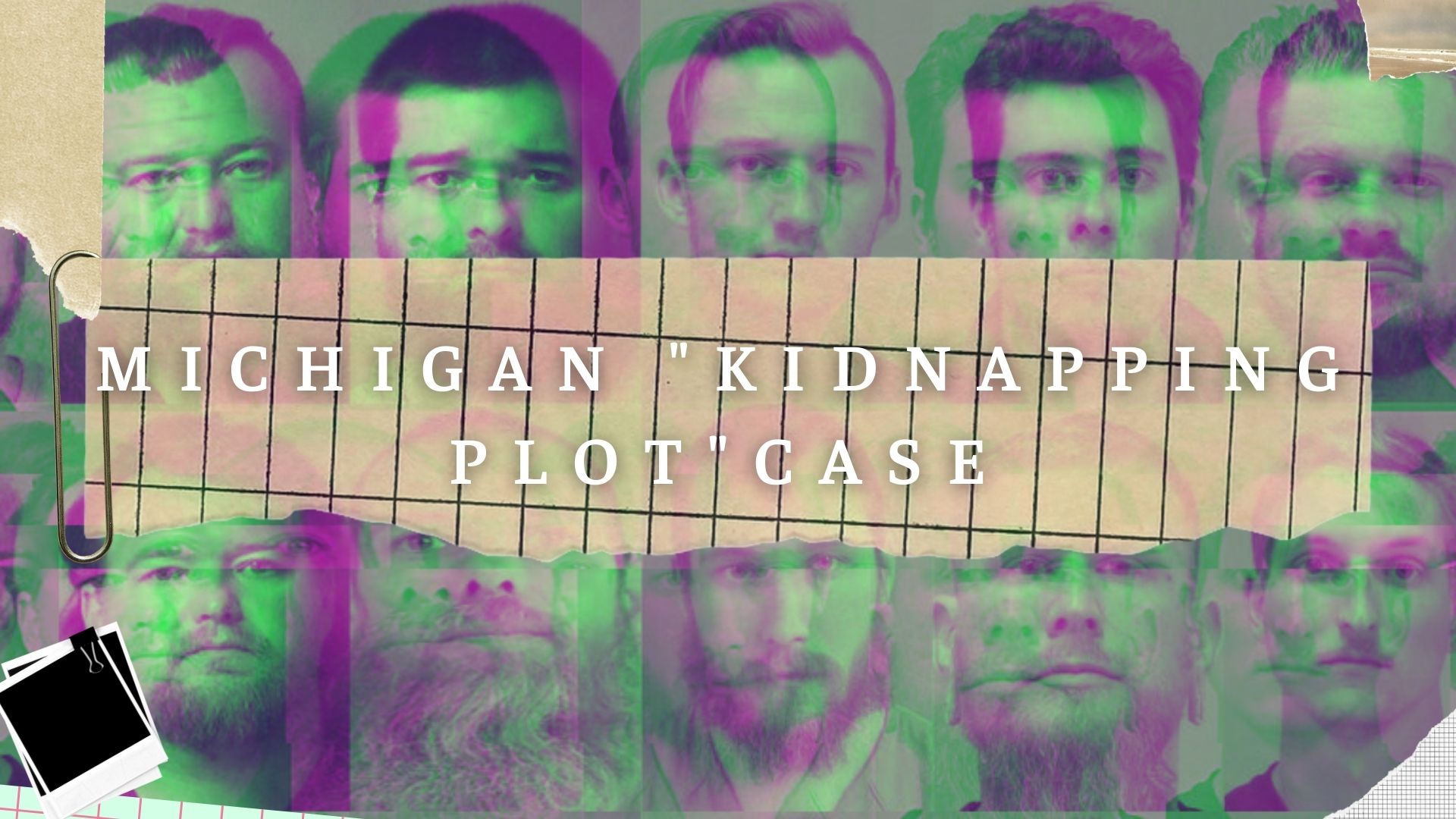 Latest in the Michigan "Whitmer Kidnapping" Plot Trial, Day 13
March 31, 2022 — We at Patriots' Soapbox have been following the case USA vs Fox, et al aka the so-called "Whitmer Kidnapping Plot," that is currently making its way through the legal system. This is one of the most controversial "domestic terror" cases of the decade, with many questions regarding the use of informants and the conduct of the FBI handlers. The case is closely linked with the January 6, 2021 Capitol riot cases, as the Department of Justice has repeatedly sought to link the two in Court documents and at trial. Federal prosecutors have sought to portray the case as a "precursor" to January 6. Many of the prosecutors of the January 6 cases have pointed to the Michigan "plot" as an example of so-called "right wing extremism."
For many who have been observing the case, it appears that the Michigan "plot" was driven by the FBI themselves through an extensive network of informants and undercover agents as a "trial run" for January 6, 2021. Indeed the similarities between the cases is striking and the presence of FBI informants and undercover agents is confirmed for both events. At trial we learned the FBI began monitoring people due to First Amendment protected speech online. For example, Barry Croft came to the attention of the FBI in 2017 because he made posts on Facebook that were critical of the FBI. Another member of the group came to the attention of the FBI because he made "anti-government, anti-law enforcement" posts online.
Three of the lead FBI agents in the case were removed from the government witness list after allegations of misconduct came to light. Judge Jonker precluded that information from being presented to the jury, despite the fact that it seems highly relevant. We learned the case was first opened under a TEI (Terrorism Enterprise Investigation) label, or the highest domestic terror level case. As such, agents would need approval from a superior to open the case. However, it was so designated before any "plot" had materialized. This makes it appear as if though the FBI had an agenda from the start. That agent claimed he would open it with or without approval from his boss.
Getting Caught Up
The past few days of trial haven't been too eventful. On Tuesday, the prosecution attempted to get around 15 notebooks that were recovered during the raid of Daniel Harris' home admitted into evidence. These notebooks contain information about explosives but date back to his military days and he was instructed to keep them. The Judge ruled that therefore they cannot be admitted as evidence in the case which I think was the appropriate ruling. The first witness called Monday to testify was FBI agent Adam Ayriss, who interviewed Mr. Harris upon his arrest and also reviewed the contents of his cell phone. He discussed some of the messages, images, and other materials he found on the phone.
There were messages on Signal from Barry Croft to Harris, as well as memes and several texts relating to the brother of Mr. Harris' best friend's girlfriend who allegedly knew how to make explosives. Harris tried to get that person to come talk about making grenades and bombs out of pressure cookers, but the texts messages show that the individual wasn't interested and didn't respond.
There was another text between Harris and a former friend of his from the military. Mr. Harris told him about the August 29th surveillance, saying he couldn't make it and offering his place to this friend named Brown who declined to go. There is talk about Pete Muscio whom the group referred to as "grandpa" discussing "lizard people" whom the FBI agent is asked about and says he doesn't know about lizard people.
The next witness called was FBI agent Thomas Syzmanski, who is based out of Delaware and was one of the agents assigned to Barry Croft. He executed a search warrant on Croft's home and proceeded to describe what items were recovered from the residence. He claims they uncovered a shotgun, drug paraphernalia, propane canisters, ammunition and a red bag that was filled with a black powder and electrical tape. Prosecutors had initially claimed that this was a "chemistry set" but then later dropped that characterization. The defense attorneys on cross pointed out that all of that material was in fact legal.
FBI Agent Syzmanski discusses some of the contents of Barry Croft's cell phone — mostly incendiary Facebook posts, memes and political statements. There was one meme that showed a 30-round magazine with text that said "Oh look there is 30 votes that count!" Another is a post by Croft saying "which governor is going to end up dragged off and hung for treason first? It's really a spin the bottle match at this point and I'm sure a few mayors are in the running too. !!!%. God bless the constitutional United States !!!%"
Then run through similar statements and posts. There's an attempt on cross to learn more about Jenny Plunk, the confidential informant handled by Syzmanski and his partner, Kristopher Long. Like agent Long, Syzmanski is very resistant to discussing her. The question is why? Is there something they are hiding here? Are they covering something up? "I don't know when or why she came to the attention of the FBI," Syzmanski says, which is odd since he was her handling agent. "I don't believe she was recruited by the FBI," he says, but provides no further details on how she came in and refuses to discuss the matter any further.
There is discussion about fireworks and items recovered from Croft's garage. Under cross by Blanchard, Szymanski is asked about free speech, in relation to Croft's incendiary Facebook posts. Szymanski says that you can express your political views in America, some views but not all views, he states.
The next witness was FBI agent Joel Kelso, who executed a search warrant at Brandon Caserta's apartment in Canton, MI, on October 7, 2020. We learn he had a flag with the anarchy symbol in it hanging on the wall and a ton of prepper-type stuff. They also recovered many books. The agents displayed the books and took pictures of them. Titles include "The Most Dangerous Superstition" "The Case Against the State" "War Is a Racket" "None Dare Call It a Conspiracy" "Jackboot This" "The Freedom of The Future" "In the Minds of Murderers" and several other books. Mike Hills, the attorney for Brandon Caserta points out that "War Is a Racket" was written by Smedley Butler, a USMC general who was twice decorated with the Medal of Honor. Hills asks agent Kelso if he knew that, he says "No." Mr. Hills asks if Agent Kelso has actually read any of the books or knows anything about them, to which he says "no." "So, I guess we're judging books by their covers?" Mr. Hills quipped.
The next witness was FBI agent Christopher Carter, who is based in Little Rock, Arkansas and came up to Michigan to execute a search warrant on Mr. Caserta's car, which was parked outside his workplace on Oct. 7. Very short testimony, he found a gun in the trunk. Next up was Anthony Resendez, an FBI agent assigned to observe Caserta during the trial. He brings into evidence a group of Facebook posts of Caserta discussing the true meaning of the 2nd Amendment, Covid-19, and his feelings about tyranny. On cross it comes out that Agent Resendez was one of about 10 or 11 who were in northern Michigan doing surveillance on the night in September 2020 when the defendants went up north to see Whitmer's home. Resendez was tracking Caserta who, of course, did not go.
Back to FBI agents: Chelsea Williams, a former CDC epidemiologist who joined the FBI two years ago and is based in Detroit. She agreed that being an epidemiologist is kind of like being an investigator. She was the agent assigned to monitor Kaleb Franks, who flipped in February after immense pressure from the DOJ, including threats of more charges and attempts to force him into a psychiatric evaluation.
Now getting into what happened yesterday, the 30th. The first witness called by the government is FBI special agent Catherine Martinez who helped with the search of Barry Croft's truck. She quickly testifies to what was in the vehicle. The government then calls Barry Croft's girlfriend Chasity Knight. She lived with Croft part time and helped to take care of his daughters. She's been with Croft since 2011 and at one point they were engaged to be married. She says Croft has been "anti-government" for a long time: "He just thought the government is not for him, that the government doesn't help people out, that they like to line their own pockets."
Ms. Knight claims Barry had a small podcast he ran where he discussed things like constitutional committees and the LaVoy Finnegan trial. She said the FBI asked questions about the podcast at one point. She identifies the voice of a little girl on one of the governments exhibits, a recording of Croft making explosives while a little girl asks if he wants Doritos. Knight cries as she relays this information.
It is the considered observation of this reporter that the defense has problems because of a pre-trial order by the judge precluding exculpatory statements from being read. The prosecution has been allowed to use the words of the defendant when they are deemed potentially incriminating, but defendants are barred from using potentially exculpatory words, even from the same conversations.
The next witness called was ATF special agent, Timothy Hunt, a bomb tech who said neither Croft nor Harris registered any explosive devices with the National Firearms Registration and Transfer Record. After him is Robert Gillette, a chemist and forensic examiner for the FBI. He says he found no residue of explosives in the scraps of paper and cardboard sent to him by the Detroit field office.
The government rested its case, and now the defense presented their defense. Many of the witnesses they intended to call plead the fifth. FBI informant Steve "Robey" Robeson who played a major role in the Wolverine Watchmen was called and invoked his fifth amendment rights upon which the judge agreed it would probably be best and did not order him to testify. That was a major blow to the defense as they planned to compel him to discuss the actions of his FBI handlers.
Here's the response from Adam Fox's attorney. He might call Fox to the stand as well. pic.twitter.com/4t4ZKGXh7B

— Julie Kelly 🇺🇸 (@julie_kelly2) March 31, 2022
It will be very interesting if Fox does indeed take the stand, as the government has continually painted him as the "leader" of the group while members of the group claim FBI informant Dan Chappel was the real leader.
DOJ accused Robeson, who committed at least 2 crimes while working as an informant on the kidnapping scheme, of acting as a double agent. He said he would plead the Fifth; DOJ threatened to charge him with other crimes. pic.twitter.com/e85p7cCnYl

— Julie Kelly 🇺🇸 (@julie_kelly2) March 31, 2022
The DOJ has had the advantage throughout this entire trial even though their presentation doesn't look great and is not very convincing.
Daniel Harris testifies that he doesn't have Adam Fox's cell number and never communicated with him directly. As I wrote here, group chats were created by FBI informant named Dan:https://t.co/ih4hV5ohmH

— Julie Kelly 🇺🇸 (@julie_kelly2) March 31, 2022
More evidence that shows Dan was the real leader of the group, not Adam Fox.
Today's hearing
Today began the Defense's first full day presenting their side of the case. Defense attorney for Daniel Harris, Julia Kelly calls her client to the stand. This is big because it's a really risky move as it opens them up to cross examination by the prosecution.
His attorney, Julia Kelly, starts with some biographical background, discussing him entering the Marine Corps fresh out of high school in 2015. He left in 2019 and returned home to Lake Orion, MI, and said his parents treated him like he was still in HS>

— Ken Bensinger (@kenbensinger) March 31, 2022
Mr. Harris is a veteran who served our nation as a U.S. Marine. Defense attorney Julia Kelly walks through the narrative of the case, and Mr. Harris' role in the Wolverine Watchman. She asks him about the FTX, aka the "training exercises" that the group engaged in throughout 2020. And each time she pauses to ask: "Did you agree to kidnap the governor of Michigan?" And each time he responds: "No."
Harris talks about how they would sort of use these training sessions as hang out sessions. He talks about how they would get really drunk. He says at one of these sessions, Brandon Caserta got so drunk they had to take him up and put him to bed. He says he also had to put Max to sleep who was so drunk he passed out in a chair and was getting rained on. That night he slept on the floor of a trailer with Casey and his dog Olly. He said he woke back up when some of the folks who had left returned and were talking loudly and sounded angry.
He said he assumed they had gone out to a strip club or a bar. The next day they started doing "live fire" drills and he was the "safety officer" for this. He said some of the people that day went off to talk and he didn't hear what they were talking about and further, that at no point did he agree to a "purchase of explosives." Harris recalls meeting Barry Croft and Stephen Robeson for the first time in Peebles, Ohio. "They were higher than kites. Their eyes were redder than rubies," Harris said.
Ms. Kelly is attempting to provide a different context from the government narrative, but they are tightly restricted because Harris cannot mention what other members said about things because that is hearsay and the government objects each time. Nonetheless, we are getting to hear some of the context around some of the clips the government has played. Harris indicates a lot of the talk was just venting, 'shootin' the shit' and talking about vague ideas in case there is a "shit hits the fan" scenario.
After a break, the other defense attorneys decline to question Harris, and so it then went to Assistant U.S. Attorney Jonathan Roth. Roth took an aggressive and arrogant approach of shouting, and asking rapid fire questions, then as Harris was attempting to answer the questions, cutting him off and saying "that's a yes or no question" when clearly it was not. Roth also lies and mischaracterizes, in an attempt to get Harris to accidentally admit to a false statement. The defense objects but the judge allows it and says it's up to the defendant to agree or disagree with it. This type of approach is designed to make Roth appear authoritative and angry. It may or may not play well with a Michigan jury.
In one of the best moments of the entire trial, Roth asks if Harris wasn't bothered by memes shared within the Wolverine Watchmen chats. He says no. Roth asks if the informant, Dan Chappel, was worried enough by them to go to the cops. Harris responded: "Dan Chappel is a bitch, so yes." "Why did you call him a bitch?" Roth asks "You were in Iraq," Harris said. "You said you saved Chris Kyle, yet you're scared of words? Words are words. He's a bitch."
Roth became very upset by Harris, who keeps adding context and shade to his answers as Roth repeatedly shouts him down with "yes or no." It might serve to alienate Roth and make him look overly dramatic and not focused on facts or truth, but trying to trap and bully the witness. Harris admits to being involved in Kaleb Frank's scheme to sell ghost guns. He said he wanted to make some money and also ensure his friends were safe.
Both Frank and Ty Garbin, who were Harris' friends, have pleaded guilty and testified against him in hopes of getting reduced sentences. "How do you feel about Kaleb Frank now sir?" Roth asks. Harris: "I think he's a liar." "How do you feel about Ty Garbin, sir?" Harris: "He's a liar."
During break Adam Fox's attorney says he will not take the stand like Harris to testify. Caserta's lawyer (Mike Hills) enters a document showing his client wasn't working on the day of the August 29 surveillance. This is presumably to show he chose not to go with Fox and Chappel, rather than being prevented by work. Other than that, Hills rests. Barry Croft's attorney, Josh Blanchard, calls FBI special agent Jayson Chambers, the case's lead agent, to the stand. Mr. Chambers is the one who created a "private intelligence company" called Exeintel that was designed to profit financially from the case.
Blanchard wants to question Chambers about text messages he sent on April 2, 2020, in the early stages of the case. They were sent to someone else at the FBI named "Lauren" and because of the rules of hearsay we can't hear that person's responses. Lauren was his superior at the FBI. Chambers had filed to open a Terrorism Enterprise Investigation (TEI), which is a probe of a group rather than individuals and requires approval from the FBI's Domestic Terrorism Operation Section, a high-level authority in the Bureau. The first text reads "I heard DTOS denied." His next text: "Slow on the uptake so far," which he says refers to an approval process that hadn't moved forward. Then Chambers writes "I have pledged to beat them over the head with it until they comply." There's another text we can't hear completely because of hearsay.
Finally, there's this text from Chambers: "I'm going to be working this as a TEI whether you give me the paperwork or not." That Terrorism Enterprise Investigation was a reference to the Wolverine Watchmen case, Blanchard asks? Response: Yes. This is laying ground for entrapment. On cross, the government asks Chambers about the investigation. He claims five individuals tied to the group were already under investigation, so it made sense, that he did go through the proper channels, and did get approval. Blachard, on redirect, asks Chambers to confirm that he first met Dan Chappel and signed him up as his informant several weeks before sending those texts. "Yes" Chambers says. Blanchard rests.
Adam Fox's attorney rests, and said he will rely on the presumption of innocence for Fox. With that, the defense basically rests its case. The jury is excused for the day. Now comes the attorney for a subpoenaed witness, Thomas Leager from Wisconsin. If called, Blanchard says, he'll ask him a lot of questions about confidential informants Steve Robeson and Jenny Plunk and would testify that Fox was not the leader and instead Dan Chappel was. Plunk, Leager would say, was "hot & heavy" for Barry Croft. But the prosecutor, Kessler, says that Leager "has already been under investigation for a similar plot involving different politicians."
Kessler adds that in his internet podcast, the Freemen Report, Leager "encouraged violence against the FBI" and in another episode encouraged an armed presence outside the court to create jury nullification. That's more than sufficient to shut Leager's mouth. His lawyer says he intends to invoke his Fifth Amendment rights. Judge Jonker says testifying would put Leager "at the heart of risk" and says "assertion of the 5th is appropriate" and releases him from subpoena.
Tomorrow begins closing arguments and depending on how long they take, the case could go to the jury to begin deliberations tomorrow afternoon.
March 31, 2022 — We at Patriots' Soapbox have been following the case USA vs Fox, et al aka the so-called "Whitmer Kidnapping Plot," that is currently making its way through the legal system. This is one of the most controversial "domestic terror" cases of the decade, with many questions regarding the use of informants…
March 31, 2022 — We at Patriots' Soapbox have been following the case USA vs Fox, et al aka the so-called "Whitmer Kidnapping Plot," that is currently making its way through the legal system. This is one of the most controversial "domestic terror" cases of the decade, with many questions regarding the use of informants…