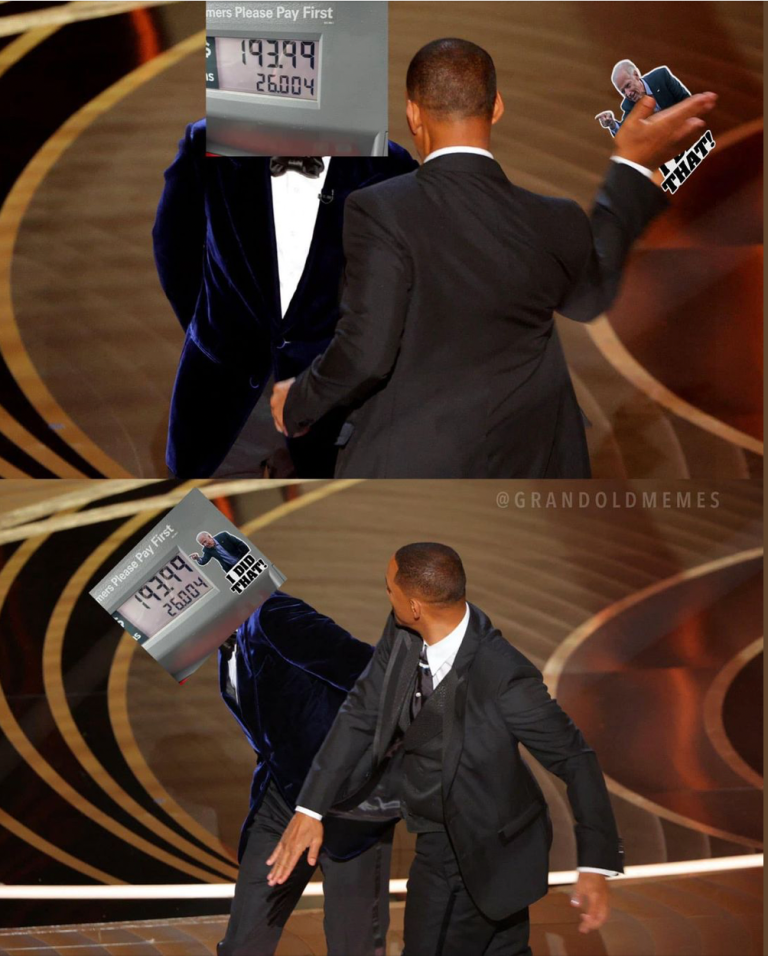 Wednesday Newsfeed: Slap-Happy and Dope-Dizzy
Posted by Maggie on March 30, 2022 in From the editors
There was the Age of Enlightenment,
The Age of Reason…
We are all now living in
The Age of Mental Illness.
Just about everything happening today is akin to a really bad "acid trip" of epic proportions. I mean, those spiders crawling all over you … that sinister figure reaching out for us from the shadows … the helpless sense of endlessly falling, yeah, it really is real. You're not imagining any of it.
Fear is a powerful drug. Here's to the Biden government-crack pipe blowing up in their faces and the demo-commie party OD-ing in November…
Yael Halon: McEnany: Biden press shop 'scared out of their mind' after president's cue cards revealed
"It's worse than I thought," McEnany told Watters. "It is so concerning to me that you have to script something as simple as, 'I was expressing moral outrage.' This press shop must be scared out of their mind. I know Jen Psaki was probably drafting the statement walking back the 'minor incursion' line in real time. That's not something I was doing. I was engaged in the press conferences watching the leader lead the free world."

Reflecting on her time as press secretary for former President Donald Trump, McEnany said that while many things fell under her responsibility, creating a cheat sheet to instruct the president to articulate his "feelings" for the press was not one of them.

"President Trump, when he summoned me to get something for him, it wasn't a pocket card for his feelings for which he had to look down at and read," she said. "He would say, 'Go get this COVID-19 graph.' He was the leader of the free world. He was the commander-in-chief. He was calling the shots."
WH Comms Director Kate Bedingfield:

"Only President Biden decides what President Biden is going to say."

Joe Biden was literally caught yesterday reading prepared talking points from a notecard given to him word-for-word. pic.twitter.com/jlkoCm1zlR

— Townhall.com (@townhallcom) March 29, 2022
Twitchy: White House clarifies that 'only President Biden decides what President Biden is going to say' .. "Sure, Jan".
The Hill: Poll: Trump leads Biden, Harris in 2024 match-ups
If the 2024 presidential election were held right now, the poll finds Trump getting 47 percent support compared to 41 percent for Biden. Twelve percent of voters are undecided. Vice President Harris performs even worse in a hypothetical match-up with Trump. Forty-nine percent said they would choose Trump, while 38 percent said they would support Harris…
Twitchy: AWKWARD: AOC admits Dems are in trouble for the midterms while blaming Biden who she SAYS she has the utmost respect for BUUUT …
Why, you might ask…
Gallup Poll: In U.S., Life Ratings Drop to 13-Month Low … Actually, it's even lower than that if you factor in what it was before the pandemic.
All those "health" groups are 'ain't-all-that'…
Jessica Chasmar: Republicans expose 'uncommon' CDC, teachers' union ties on COVID school reopening guidance in report: Republicans accuse Walensky of downplaying the degree to which the CDC departed from past practice to allow AFT to affect the policymaking process
David Gortler: FDA, CDC Guilty of Clinical Malpractice and Scientific Fraud by Inaction and Omission on mRNA Vaccine Safety Warnings
The FDA and CDC seem to be pivoting to a "three dose primary series" of mRNA shots, which means they're clandestinely changing the definition of "fully vaccinated" to 3 shots.

So the "booster" now becomes the 4th shot.

And the "2nd booster" becomes shot 5.

Full clown world.

— Jordan Schachtel @ dossier.substack.com (@JordanSchachtel) March 29, 2022
They have never brought a different formula to market, so unless you are mixing and matching (prayers up), you're taking the same thing over and over again. https://t.co/2UC3diFNqL

— Jordan Schachtel @ dossier.substack.com (@JordanSchachtel) March 29, 2022
J.D. Rucker: Bait-and-Switch: FDA and CDC Quietly Shifting To "Three Dose Primary Series" of Covid Jabs
W.H.O Departmental News: WHO issues new guidelines on abortion to help countries deliver lifesaving care
Still don't think the Oscar "slap" wasn't staged?
Athena Thorne: Well, Well, Well. Look Who Has a Drug for Alopecia in Development
Pfizer — together with COVID-jab partner BioNTech — was a major sponsor of Sunday's Oscars award ceremony, a broadcast that unexpectedly shone an un-missable spotlight on the hair-loss disease alopecia. In one heck of a coincidence, Pfizer just happens to be in a race for market dominance of its soon-to-be-released cure for — you guessed it — alopecia…

Getting back to the Oscars: what was your first reaction when you saw Will Smith walk up on stage and smack Chris Rock? If you were like most of us, you thought, "That's not real" or "Is this an act?" It certainly seemed like a bizarre and overblown reaction on Smith's part, to the extent that it was hardly believable. Later in the broadcast, his tearful, rambling acceptance speech made it seem more plausible the actor was truly in the throes of emotional difficulty. (Colleague Megan Fox and I both wrote about it.) But then again, Smith is an actor.
Follow the money, then? Think of the three, the Smiths and Chris Rock, and then the coordination with the Academy Awards that easily would've/could've gone into this stunt. I mean, look at all the pre-free advertising the Oscar slap has promoted. All news agencies and entities have covered this for the last few days, with Will Smith's wife Jada now a poster person (and possible spokesperson??) for the condition of alopecia … and possible face for the drug if/when it is released. As I've said before, don't doubt anything these days.
Glad Chris Rock didn't tell a joke about Alec Baldwin's wife.

— Jon Gabriel (@exjon) March 28, 2022
Meanwhile, the "racist" bullshit shovelers are doing their damnedest with this…
Twitchy: Guardian columnist writes that 'white outrage' over Will Smith's Oscar slap 'is rooted in anti-Blackness'
VGB: Will Smith Smacking Chris Rock Is Trump's Fault: Yes, now EVERYTHING is Trump's fault! This time we are reliably informed by experts that if it weren't for Trump, Will Smith would've never smacked Chris Rock…
Twitchy: Forbes: Don't talk about Will Smith's Oscar slap without discussing the white supremacist system that helped create it
"Sit down white people, this is black folk business."

"Why do white people treat black people like we're not part of the same society?"

Same people.

— John Walsh, Free Spirit and Dinosaur Jockey (@jswriter65) March 28, 2022
Hence, the ideology of the left/MSM/dems never citing the record Chicago murder rates in their constant anti-gun nagging.

— Maggie (@drillanwr) March 28, 2022
Why much of the left's narrative on race and privilege collapses under observation. pic.twitter.com/JTyvTckiDO

— Chad Felix Greene 🇮🇱🇺🇦 (@chadfelixg) March 28, 2022
I was there earlier. I didn't see any crying or puking.

— Maggie (@drillanwr) March 28, 2022
Yes, the industry that enabled Harvey Weinstein for all those years didn't take a stand last night because of what they learned from Trump. gtfo

— Chuck Ross (@ChuckRossDC) March 28, 2022
HotAir: Whoopi Goldberg on Will Smith: We didn't want to remove a black man five minutes before he won the Oscar
I'm not quite sure of the reasoning behind the left's sudden demand that black people are comfortable assaultling other black people without consequences.

— Chad Felix Greene 🇮🇱🇺🇦 (@chadfelixg) March 28, 2022
Twitchy: Snopes explains why Will Smith is not a hypocrite for having joked about someone else's hair loss on national TV back in 1991
Oh! And speaking of that whole 'black ("folks") on black ("folks") crime Kovie Biakolo insists is not to be discussed, especially by 'white people'…
VIDEO: Chicago 911 dispatcher, Keith Thornton, on Mayor Lightfoot reportedly using secret police protection: 'She's not for the police at all' amid her push to defund the police as crime runs rampant in Chicago.
Gone Goofy: Time to Thaw Old Walt and Tell Him How They're Shitting All Over His Legacy…
Disney's stock deserves to plummet and Disney+ service deserves to lose a huge chunk of subscribers … all by the end of the business week.
VIDEO: Douglas Murray urges customers to 'rebel' against Disney: They're 'trying to dedicate' themselves to 'social justice issues'
Hollywood and the entertainment industry in general … the same damn ongoing "Open Secret" industry of Harvey Weinstein, Roman Polanski and (yet) unnamed sexual predators and pedophiles that a former child actor has information on … should STFD and STFU about this child and parental rights legislation in Florida. They are bald-faced lying about it as it is.
A few decades ago there was a recall on the videos of Disney's "The Little Mermaid" movie because somebody in the art department inserted something nasty on the video cover…
In 2019 eBaum's World offered a dozen such subliminal (or not so subliminal) sexual imageries in other Disney movies (some found to later be hoaxes). It is apparent this stacking of the sexualization deck of employees at the mega-billion-dollar alleged "child and family 'friendly'" company has been longtime in the making. Or has it been there all along? Was this Walt's actual business model for his animation and film company? Or has this come about in the last several decades of the dismantling of the family business model of the left in this country?
Andrew Mark Miller: Disney exposed: Leaked videos show officials pushing LGBT agenda, saying DeSantis wants to 'erase' gay kidsDisney has openly criticized Florida's controversial parental rights law
Twitchy: 'I was just wherever I could adding queerness': Christopher Rufo has video from Disney's all-hands meeting; Updated
Ace: Corporate Officers at Child-Grooming Corporation Disney Vow to Stuff Their Products With As Many Transgenders As Can Fit on a Screen, "Add Queerness" Everywhere
Matt Leach , Megan Myers: Walt Disney would be 'rolling over in his grave,' over company's 'wokeness,' Florida park goer says: Floridians react to legislation critics dubbed the 'Don't Say Gay' bill
Amy Nelson: 'Fox & Friends' sounds off on Disney's woke agenda, opposition to DeSantis: 'This is not a gray area': Florida Gov. Ron DeSantis signed the Parental Rights in Education legislation Monday.
Emma Colton: Disney axes 'boys and girls' from all park greetings to promote inclusivity: The phrase 'Ladies and gentlemen, boys and girls' was axed from Magic Kingdom's fireworks show last year
VGB: Woke Disney: Should Families Trust the Mouse?
Teacher on MSNBC worries he can't discuss his love life with kindergarteners anymore: "It scares me that I am not going to be able to have these conversations with my children…I don't want to have to hide that my partner and I went paddle boarding this weekend." pic.twitter.com/YJperIlzJB

— Mary Margaret Olohan (@MaryMargOlohan) March 29, 2022
Kindergarten Kid: "Mommy, my weirdo teacher wanted me to know he went paddle boarding with his boyfriend last weekend"
Mother: Tell him to blow me! #DontSayGroomer

— Tony FJB Bruno (@TonyBrunoShow) March 29, 2022
Lindsay Kornick: MSNBC highlights gay Florida teacher concerned he can no longer discuss his personal life due to new education law
Megan Fox: Florida Teacher Says She'll Break the Law to Keep Secrets About Sexuality From Parents
Teachers who don't want others to know what they are teaching students….. shouldn't be teaching students. There is no good reason for secrecy in education that I can think of.

— Nicholas A. Christakis (@NAChristakis) March 29, 2022
Lincoln Brown: Shut Up, Mickey: Disney Vows to Fight DeSantis in Court While a Fourth-Grade Teacher Is Arrested for Attempted Child Rape
Twitchy: Dude, just STOP! Ron Perlman trips all over himself trying to rant at Gov DeSantis in selfie-video about 'Don't Say Gay'
Twitchy: Chasten Buttigieg lets us know that Gov. Ron DeSantis can't make the LGBTQ community disappear with a pen
Meanwhile, speaking of those rabid anti- "Don't Say Gay" teacher-folks spending countless hours a week with your kids…
A middle school teacher at @salemkeizer reportedly sent nudes to a student. He was escorted out of school by police yesterday and according to an email from the principal- was placed on leave.

Why do stories like this keep happening? pic.twitter.com/48gsbk1KBs

— Libs of Tik Tok (@libsoftiktok) March 29, 2022
Because predators seek out target-rich environments.

It's not rocket science.

— beard salmon 👣🌷🦔🏒🦖 (@mamawrench) March 29, 2022
Stephen Kruiser: The Morning Briefing: Liberal Perv Parade Proving Exactly Why Florida Law Is Needed
Building Back Biden: Oh, hey, the border numbers so far this year, not counting what the CBP calls "Got Aways"…
Adam Shaw: RNC releases video series zeroing in on border crisis, calls Biden the 'root cause': There were more than 164,000 encounters in February alone
Penny Starr: Analysis: 1.1 Million More Illegal Aliens in U.S. Since Biden Took Office
The population of illegal immigrants in the United States has jumped by 1.1 million in President Joe Biden's first year, says a report released Tuesday by the Center for Immigration Studies (CIS)…
VIDEO: Biden budget plan includes lawyers for migrants: Immigration attorney and Senate candidate Peter Lumaj sounds off on the $150 million price tag
Liz Sheld: U.S. Braces for Influx of Illegal Aliens if Biden Lifts Emergency Deportation Policy
Luke Barr: US bracing for influx of migrants at southern border if Title 42 revoked: DHS – One government model predicts 18,000 migrants a day. … Yeeeeaahhh, how about multiply that by atleast ten.
~~~
~~Many thanks to Maggie and The Universal Spectator for reprint permission.
Posted by Maggie on March 30, 2022 in From the editors There was the Age of Enlightenment,The Age of Reason…We are all now living inThe Age of Mental Illness. Just about everything happening today is akin to a really bad "acid trip" of epic proportions. I mean, those spiders crawling all over you … that sinister figure reaching out for us from the shadows…
Posted by Maggie on March 30, 2022 in From the editors There was the Age of Enlightenment,The Age of Reason…We are all now living inThe Age of Mental Illness. Just about everything happening today is akin to a really bad "acid trip" of epic proportions. I mean, those spiders crawling all over you … that sinister figure reaching out for us from the shadows…