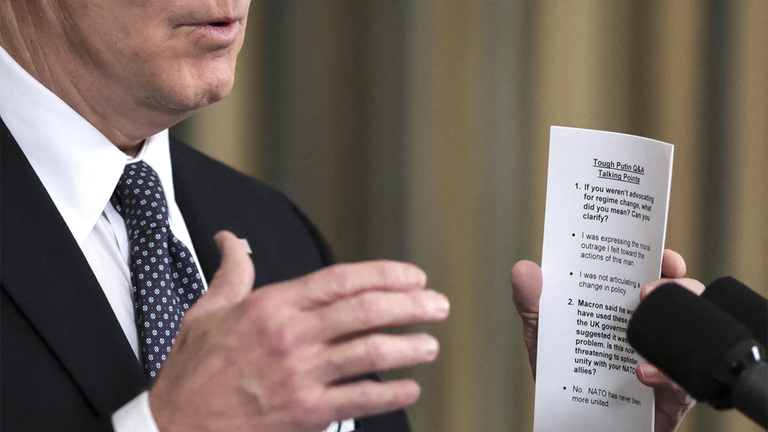 Tuesday Newsfeed: Crib Notes and Adult Dirty Diapers
Posted by Maggie on March 29, 2022 in From the editors
There's a very undeniably serious state-of-denial going on with this dementia patient wandering the halls of the White House, and I'm not referring to his constant rebuttals to his/his handlers' rebuttals. I am talking about his wife and his handlers themselves, as well as the MSM toadies, as they collectively try to pass him off as in possession of all his faculties. Everybody but Brandon knows exactly what the Hell is going on right now. It's like playing a one-person game of "Telephone" with this guy. He only hears the voice(s) in his head, and I don't mean the ear bud they usually 'covertly' hook him up with to verbally feed him the answers— and he still gaffes-it-up…
PHOTOS: Biden caught using cue cards in trying to paper over Ukraine gaffe about ousting Putin: Biden insisted that 'none of the three' apparent gaffes actually 'occurred'
VIDEO: Biden asked about walk-backed comments: Fox News White House correspondent Peter Doocy asks the president about his controversial remarks on Putin.
Jesse O'Neill: Biden used cheat sheet while doubling down on unscripted message to oust Putin
Tim Meads: 'None Of The Three Occurred': Biden Denies Making Foreign Policy Gaffes That White House Walked Back
Yeah, I know, Joe's 79 now. But it's not as if he knows that, anyway…
David Solway: Armageddon? – The marionette plainly has a disordered mind of his own, and the marionette controls the nuclear codes. This is the great fear, that he is liable to punt the nuclear football into his own end zone…
VIDEO: Greg Gutfeld reacts to media praising Biden's regime-change speech
VIDEO: Tucker Carlson: Biden is losing the ability to regulate his emotions … Somebody has to say it, and loudly.
Paul Bedard: Silver alert: Most want brain test for Biden and Pelosi … I have been calling for this for atleast a decade, and not for just a select few, but for ALL of both houses of the US Congress.
Twitchy: Gobshite ALERT! Leon Panetta sets off BS detectors in a BIG way claiming Biden said stupid stuff in Europe because he's Irish … AGAIN with the Irish are stupid narrative. That went over so damn well the first time two weeks ago, huh? Don't try to help, Leon.
Joseph A. Wulfsohn: Biden says he didn't watch Ketanji Brown Jackson's confirmation hearing after White House claimed he did: The White House said Biden watched 'portions' of the hearing, but he told reporters he hadn't watched 'any'
Stephen Kruiser: The Morning Briefing: Media's 'Reaganesque' Biden Spin Is WAY Too Much to Stomach
ZeroHedge: Kremlin Warns Biden's 'Emotional' Rhetoric Could Lead To "Something Irreparable & Dangerous" For Whole World
Meanwhile, do not believe this is accidental or a failed policy move by the Biden junta. Never forget, they fully operate on "Never letting a crisis go to waste". These policies are political military tactical hits on the masses and the republic…
Megan Henney: MONSTER HIKE – Biden pitches largest tax increase in history amid inflation, high gas prices: Biden pitches largest tax hike in history as part of $5.8T budget request. Biden proposes $2.5 trillion in tax increases as part of budget request
Stephen Green: Insanity Wrap: Biden's COVID Relief 'The Biggest Fraud in a Generation'
Eric Lendrum: California Reparations Panel Struggles to Decide Which Black Americans Should Receive Handouts
Robert Spencer: Joe Biden Unleashes the Four Horsemen of the Apocalypse
The Blaze: 'Your dollar will NOT be the same': Glenn Beck reveals how our ENTIRE global economic system just changed
Alex Nitzberg: 'What this poll says is that President Biden and Democrats are headed for a catastrophic election': Biden earns abysmal 40% job approval in NBC News poll
Cristina Laila: Kamala Harris Delivers Another Word Salad When Asked About Soaring Gas Prices (AUDIO) … Yeah, "brain-test" her too, please.
From the Files Of: Well, if Putin's history shows us anything…
The Biden gaffe about Putin not being allowed to stay in power did something the MSM and the political yappers on either side are not pointing out; Biden opened that Pandora's box of open season on assassination of nations' leaders. It might be something discussed behind closed doors with your intelligence and military advisors, but it is strictly never said openly in public. And nobody is better at assassinating foes than Vlad…
John Sexton: Did Russia attempt to poison Ukrainian members of a peace delegation including a Russian oligarch? … It's a good bet.
Tyler O'Neil: BURN NOTICE – Ukrainian intelligence releases names of more than 600 alleged Russian spies: The list includes names, phone numbers, passport numbers and, in some cases, financial details of alleged Russian spies … Are we supposed to be shocked by this?
Speaking of enemy spies…
Aaron Kliegman: GOP senators want answers on DOJ decision to kill program to catch Chinese spies: DOJ bowed to activist pressure led by two prestigious schools with extensive China ties.
Jim Hoft: VIDEO: Chuck Grassley Reveals Financial Links Between the Chinese Communist Party and Hunter and James Biden on Senate Floor — And Brings the Receipts
We Don't Need No Ed-jumi-cation, Just Inject the Thought Control…
Seriously, can we just STOP blaming this strictly on the China plague. If the school lockdowns and the resulting remote learning (with parents finally witnessing firsthand on the computer screens) showed us anything it's exactly what useless #WOKE indoctrination bullsh*t kids are being taught instead of primary core academics…
DM: How the pandemic and remote learning has destroyed education: Children are still performing worse at EVERY level in math and reading than they were before start of COVID, data from 7.3m tests across US reveals
A return to in-person learning has seen standardized test scores improve across US, the test's provider has found – but kids are still behind pre-pandemic levels 
The results, released this week by standardized test provider Renaissance Learning Inc., analyzed reading scores for 4.4 million students in every grade
It found student performance during the second year of the pandemic was worse than the first, with each state seeing marked declines in 2021
The findings suggest remote learning has had a lasting – and negative – impact on students, especially those in younger grades
And even when these WOKE school systems do teach the actual academic subjects they are steeped in the CRT/gender/sex crap within. Homework and test sheets have shown this in their premised questions to students, and in the teacher's red-penned corrections and replies to perceived 'wrong' answers. This is happening. Just google "homework papers gender and crt questions" and see what comes up. The MSM and the activist ilk are a heavy part of this current indoctrination movement to remove kids from their parental guidance. In Florida the governor is insuring that does not happen anymore…
Kendall Tietz: Gov. DeSantis Signs 'Parental Rights' Bill Into Law
Mary Margaret Olohan: DeSantis Spox: Biden's Afraid To Openly Advocate For 'Transgenderism In Kindergarten,' Fabricates 'A False Narrative' Instead
Twitchy: Gov. Ron DeSantis features mother whose child was being 'transitioned' by school officials without her knowledge
Phil Shiver: Report: School gives first graders gender identity handout, says they can identify as 'neither' or 'both' genders … Most all of this bullshit done in public school classrooms without parental knowledge let alone consent. It is why they hate the Florida bill so much. And I will say that the Florida bill should go the full school term until high school graduation, not just the Pre-K-3rd grade level…
Cristina Laila: New Jersey Middle School Forced 12 yr Olds to Learn About Transgender Hormone Therapy without Parental Consent
AMEN, Governor! I love this man!
Jeremy Carl: Ron DeSantis vs. the Republican Transgender Surrender Caucus
Case-in-point…
Chris Enloe: Disney blatantly lies about Florida bill protecting parents' rights — and the backlash is swift
Salena Zito: Florida education bill looks different depending on where you stand
There are two different things here worth addressing.

First, when many in the media repeatedly used the "Don't Say Gay" characterization of the bill, the phrase inevitably got passed around and repeated by cultural elites, and soon leaders of global corporations felt compelled to express their concerns. The entertainment industry took a run at it in a "Saturday Night Live" skit; President Joe Biden chimed in by calling the bill "hateful"; and ESPN interrupted the NCAA women's tournament for a moment of silence.

Second, it is clear that corporate America is willing to be bullied into political culture wars by the press and by activists, something their consumers wish they would stay out of — even when they agree. A survey last year showed that 59% of Americans think companies' political positions add to our divisiveness. Over half of self-identified Democrats agreed. Another related poll found 66% of Americans thought corporations should not be taking political positions. Again, that includes over half of Democrats.

"I think people hate the politicization of everything," said Youngstown State political science professor Paul Sracic. "They don't want every second of their life to be politics, mainly because politics is not the center of their lives. For most people, their family, their church, their community is the center of their lives."

"However," Mr. Sracic added, "for a certain class of people, politics is everything, and so they want to infect everything with it; often it backfires."
Andrea Widburg: Disney is no longer a child- and parent-friendly corporation
The left has discarded, for the most part, solid academic subjects/studies that lift and enrich self-sustaining and productive minds for children from (Pre-)K onto high school graduation, in favor of the vile social construct of #WOKE indoctrination and a very destructive and divisive perceived social justice equity transformation of our youngest generation. Every communist regime, from post-revolution Russia to China to North Korea to Cuba have yoked the youngest members of the collective population(s) with these ideologies … and within a century no longer have to do as much of that social construction because it is now inbred and have returned to higher academics in order to surpass the U.S. children. Yes, it indeed is happening. Not factual and empirical math, sciences, reading/writing, etc. It is fully politicized materials.
Twitchy: Report: Fourth-grade teacher says 20 of her 32 students have come out to her as LGBTQIA+ … Well, that's wonderful, teach, because these kids cannot decide what they F-ing want at a damn fast-food drive-thru but they can decide who/what they want to have sexual relations with and decide they want radical surgery to hack off private parts and injections of counter hormones to alter the rest of their lives. Can they pass proficiency tests?
Twitchy: 'This tweet is GROSS': Kamala Harris pandering to 'LGBTQI+' (shew!) youth about so-called hateful legislation is just SO MUCH cringe
WE DON'T ALLOW PEOPLE TO TEACH WHITE SUPREMACY IN SCHOOLS ANYMORE: Governor bans Critical Race Theory in schools, says it 'threatens the integrity of education.'

And CRT is just a different — though surprisingly similar — flavor of racism.
Brad Polumbo: Holy Cringe: No, Elizabeth Warren, Student Debt is Not a 'Gender Justice' Issue: The senator's new rhetorical twist is an attempt to distract from the very legitimate arguments against 'canceling' student debt.
Just a very important reminder…
Hon. Thaddeus G. McCotter: THE HORRORS OF COMMUNISM: A TIMELY AND NECESSARY REMINDER
Nikolas Lanum: Twitter, Facebook, Google have repeatedly censored conservatives despite liberal doubts: Debate over Big Tech regulation remains pressing issue for both political parties … And it not just the information highway. Banks and corporations are also now joining the overreaching into people's purchasing habits and such, and blocking and canceling their ability to do personal/private and business business. (google: ESG score)
Alex Nitzberg: Twitter locks account of Federalist editor after he states the obvious about Rachel Levine and warns, 'Big Tech will eventually silence everyone who dissents from their woke ideology'
Carlos Garcia: Study finds more screen time for children linked to behavioral problems … It also is atleast 50-60% of the problem with adults today.
MORE:
Yes! This is still extremely important…
Matt Margolis: Study Claims 255,000 'Excess Votes' for Biden in Battleground States
Paul Bedard: New report: 255,000 'excess votes' for Biden in six key 2020 states
GWP: Progressives Build Shadow Online Powerhouse – Can Be Activated At Election Time
Eric Lendrum: Shadowy Pro-Democrat Social Media Network Emerges Ahead of Midterms
COVID fungus…
NEW – FDA has authorized "emergency use" of a "second booster" i.e. 4th injection of Pfizer and Moderna's mRNA vaccines for people 50 years of age and older.

— Disclose.tv (@disclosetv) March 29, 2022
David Gortler: FDA, CDC Guilty of Clinical Malpractice and Scientific Fraud by Inaction and Omission on mRNA Vaccine Safety Warnings
Adam Mill: COVID Proves Politicizing Everything Breaks Everything
Update to yesterday's Newsfeed post:
Deadline: Oscar Viewership Rises From Dismal 2021 To Second-Lowest Ever With 15.4M Watching – Update
~~~
~~Many thanks to Maggie and The Universal Spectator for reprint permission.
Posted by Maggie on March 29, 2022 in From the editors There's a very undeniably serious state-of-denial going on with this dementia patient wandering the halls of the White House, and I'm not referring to his constant rebuttals to his/his handlers' rebuttals. I am talking about his wife and his handlers themselves, as well as the MSM toadies, as they collectively try to…
Posted by Maggie on March 29, 2022 in From the editors There's a very undeniably serious state-of-denial going on with this dementia patient wandering the halls of the White House, and I'm not referring to his constant rebuttals to his/his handlers' rebuttals. I am talking about his wife and his handlers themselves, as well as the MSM toadies, as they collectively try to…