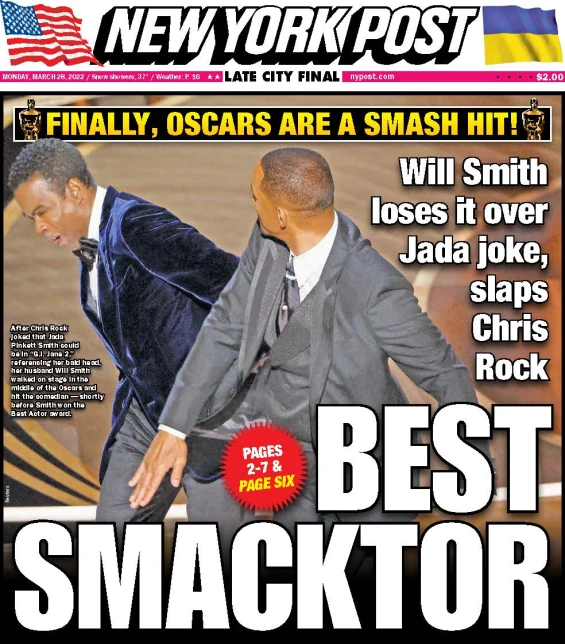 Monday Newsfeed: Do You Think Will Smith Could "Smack the Sh*t" Outta Putin?
Posted by Maggie on March 28, 2022 in From the editors
Well, the way I see it … I must be the only one looking at the whole Will Smith/Chris Rock Oscar slap another way. For these last couple of decades, most especially these last few years, these Hollywood a-hole elites have been closed-fisted smugly (drunkenly/stoned) targeting, preaching, bullying and insulting everyone/anyone on that stage. The public has pushed back by not watching their sh*t-fest, self-gratification awards show(s), and even a continuing huge drop-off of box office draws. But finally, a well-deserved slap in-the-face that I am seeing as a "got what they asked for" (to paraphrase Kamala) for self-righteous, self-important collective S&M and child/sex-grooming Hollywood.
"IF WASHINGTON IS HOLLYWOOD FOR UGLY PEOPLE, HOLLYWOOD IS HOLLYWOOD FOR TRASHY PEOPLE … Well, to be fair, the Oscars is a garbage show about a garbage industry run by garbage people."
Yep.
https://www.youtube.com/watch?v=myjEoDypUD8
Anyhow, I'm shrugging a bit of a *bullshit* call on the slap. First thing I pondered upon seeing the story very early this morning is that it was scripted. These Hollywood dregs cannot be genuine in anything they say or do.
Janelle Ash: Oscars: Will Smith slaps Chris Rock over Jada Pinkett Smith joke
Easiest way to tell the will smith slap was real was how he almost fell over cause it was the first time he ever actually hit someone

— Chitown Mike (@ChitownMike312) March 28, 2022
Maybe so, or he was drunk.
Twitchy: Here's the completely bonkers uncensored clip of Will Smith smacking 'the s*it' out of Chris Rock at the Oscars
Twitchy: 'Mostly peaceful' assault? CNN tweets about Will Smith smacking Chris Rock in the most CNN way possible
So, why are some people deleting their social media reactions supporting Will Smith?
NYPost: Rep. Pressley apparently deletes tweet praising Will Smith for Chris Rock slap
Twitchy: Reps. Ayanna Pressley and Jamaal Bowman delete tweets praising Will Smith for slapping Chris Rock over his bald hair joke
Well, to be #WOKE clear, if they cannot define what a "woman" is then chivalry is indeed dead.
That all said and done, if this is the top highlight clip of Hollywood's Oscars from these last couple of decades of descent into idiocy, they had better reflect upon themselves because with this Bidenflation projected to get worse and worse their pocketbooks are going to suffer bigtime when folks choose gas for the family/work car, a gallon of mike for the kids and "hotdogs and beans" for the 6th night of dinner over a $10+ box office ticket or a $30 DVD/Blu-ray.
If Will Smith had done that to Dave Chappelle, Chappelle would be into his third uninterrupted hour of Jada jokes

— Tᴏɴʏ! Tᴏɴɪ! Tᴏɴᴇ́! (R.I.P.)  (@StarkTTT) March 28, 2022
Christian Toto: Woke Oscars 'Saved' By Award-Winning Meltdown: Another round of dull virtue signaling and GOP hate … until that shocking slap
RT if you wish @rickygervais was hosting the #Oscars tonight.

— Daniel (@Clark1995Clark) March 27, 2022
I'd start with "Hello. I hope this show helps cheer up the ordinary people watching at home. If you're unemployed for example, take some comfort in the fact that even if you had a job, your salary probably wouldn't be as much as the goody bag all the actors have just been given."

— Ricky Gervais (@rickygervais) March 27, 2022
"I'm proud to announce that this is the most diverse and progressive Oscars ever. Looking out I see people from all walks of life. Every demographic under the sun. Except poor people, obviously. Fuck them."

— Ricky Gervais (@rickygervais) March 27, 2022
Julius Young: Inside 2022 Oscars' swanky, six-figure bags that A-list stars like Steven Spielberg will take home: 'Everyone Wins' at 2022 Oscars thanks to six-figure bags gifting land-ownership and more
The Wrap: Women Won Only 23% of Oscars This Year, Worst Showing in 4 Years: Jane Campion, Sian Heder and Billie Eilish received 10 of the 43 individual Oscars awarded on Sunday … Wait— are the writer of this article, and the Hollywood Academy, "biologists"?
THR: Oscars Slammed for Playing Toto's "Africa" as Daniel Kaluuya, H.E.R. Took Stage: The Academy Awards later played Madonna's 'La Isla Bonita' for Stephanie Beatriz. "Honestly, how in the hell is this happening?" … Hollywood has mutated into an even worse parody of a bad parody of itself.
DM: Oscar ceremony is slammed for holding a 'moment of silence' for Ukraine but barely mentioning the invasion – despite launching into multiple woke attacks on Republicans in its first ten minutes
Oh! And this…
"Pfizer and BioNtech are proud sponsors of the Oscars," is a thing I just saw on my TV lmfao pic.twitter.com/K2opYNmBTy

— Greg Price (@greg_price11) March 28, 2022
Twitchy: Can't. Make. This. Crap. UP! We'd say you won't BELIEVE who these 2 Oscars sponsors were but everything is stupid so you totally WILL
Anyhow, I can't wait to see this year's lowest ratings ever for this stupid-assed awards show.
Onto "the news"…
Robert Spencer: Hunter Biden's Laptop Contained Defense Department 'Encryption Keys'
Old Joe Biden's chip off the old block, Hunter Biden, has been many things: board member of the Ukrainian natural gas company Burisma; vice chairman of the National Railroad Passenger Corporation; sought-after artist; and international bon vivant, but he has never been known to have served in the Department of Defense. So why does his infamous laptop contain, on top of everything else that is incriminating on it, Defense Department encryption keys that are not available to private citizens?
Margot Cleveland: Hunter Biden's Laptops Are Now An Active National Security Threat: An urgent concern for the country is the continuing threat to our national security posed by a compromised President Biden.
Alana Goodman: Congressman Seeks Facebook, Twitter Records Related to Suppression of Hunter Biden Laptop Story
Stephen Kruiser: The Morning Briefing: Gosh, There Sure Is a Lot of Hunter Biden News These Days
Shmuel Klatzkin: The Corruption of the Biden Administration Is Now in Plain Sight: There is an inevitable price to pay for tolerating corruption.
Joe wonders what kind of ice cream they have in Iran— er, Ukraine…
There are two versions of Biden's remarks. The one he gave, and the one his handlers in the WH and media claim he meant.

— Rachel Bovard (@rachelbovard) March 26, 2022
Breitbart: Reports: Joe Biden's Call for Regime Change in Russia Not Part of Prepared Speech: The White House confirmed Sunday that President Joe Biden's call for regime change was not part of his prepared speech. … Actually, it was one in a longline of gaffe-loaded one-liners that Joe popped-off across the Atlantic that the left and the neo-con conmen are now trying to bolster as brilliant, or something…
Tops Reagan's 1987 "tear down this wall" speech. https://t.co/OEyfIKrGH1

— Mark Knoller (@markknoller) March 26, 2022
Oh, Mark, just no.

— Maggie (@drillanwr) March 26, 2022
Twitchy: 'He's not this dumb': Bill Kristol gets dragged over this hot take on Ronald Reagan's 'Mr. Gorbachev, tear down this wall!' line
Twitchy: HOO BOY, talk about a blue-check buffet of BATSH*TTERY praising Biden's Russia speech (here are the BEST or worst – LOL)
That speech was not about regime change in Russia it was about the long term stakes in the fight between democracy and autocracy. Unless the Biden team formally says it has a regime change policy, I wouldn't take one line as such a consequential shift.

— Ben Rhodes (@brhodes) March 26, 2022
So to clarify, President Biden does want the butcher to remain in power?

— Aldous Huxley's Ghost™ (@AF632) March 26, 2022
As usual, Ben's insinuating we're just not smart and savvy enough to get the 'nuance' of Brandon's deep thoughts meaning.

— Maggie (@drillanwr) March 26, 2022
VIDEO: White House forced to correct Biden's call to remove Putin in Poland speech
FNC: DAY 34 LIVE UPDATES: KREMLIN RESPONDS – Russia reacts to Biden's 'alarming' remark that Putin 'cannot remain in power'
'
Stephen Nelson: Biden tells US troops they'll be in Ukraine in war gaffe
"You're going to see when you're there, and some of you have been there, you're gonna see — you're gonna see women, young people standing in the middle in front of a damned tank just saying, 'I'm not leaving, I'm holding my ground,'" Biden said.

A White House official quickly clarified that Biden wasn't changing his stance on deploying the military into Ukraine.

"The president has been clear we are not sending US troops to Ukraine and there is no change in that position," a Biden spokesman told The Post.
Liz Peek: Biden's reckless words, Ukraine missteps raise risks for US: Joe Biden is a danger to the United States
NYP Ed Board: Biden's call for Putin's ouster is the latest sign that none of his words mean a damn thing
VIDEO: Biden delivers mixed messages in Poland
Meanwhile…
Biden: We should over-tax billionaires!

Staff: We already do!

Biden: Then let's over-tax millionaires!

Staff: Great idea!

Biden: Can we still call it a Billionaire tax?

Staff: Great idea!#BillionairesTax

— Libertarian-In-Chief (@ToddHagopian) March 27, 2022
CNBC: President Joe Biden to propose new 20% minimum billionaire tax … DO NOT disregard the tweet-quote prior to this link. It shows exactly how the left will trickle-down the definition of "rich" in their agenda to "tax the rich" right on down to you and everyone.
President Biden is moving forward with the new tax on unrealized gains. https://t.co/VptZm0ECC3 The move to focus on billionaires is an effort to get the public to accept a new form of taxation. It is then likely to be used with a wider array of taxpayers. https://t.co/xKdjCdEyA7

— Jonathan Turley (@JonathanTurley) March 28, 2022
…While this may be politically astute, it is constitutionally dubious. This is not "income" but a clever form of "wealth tax." It has long been the objective of democrats looking for untapped revenue. https://t.co/wuxwMb18On

— Jonathan Turley (@JonathanTurley) March 28, 2022
We don't know exactly what you're gains or losses will be ..
But we'll tax your money just in case … https://t.co/LgnR7IWgwW

— Lawyerforlaws (@lawyer4laws) March 28, 2022
Taxation without realization. Real King George III shit

— Told Ya So  (@RammerJammer018) March 28, 2022
Tyler Olson: Larry Summers' new warning: Fed heading for 'stagflation and recession': Federal Reserve has been wrong on inflation for a year, Summers wrote in Washington Post
Charles Creitz: Larry Kudlow: Biden has wrecked the economy, ushered in stagflation: Kudlow said that President Trump left Biden with 'solid V-shaped recovery, energy independence and virtually no inflation' … I don't know when or how we finally decide we have been thrown
The lingering tyrannical COVID morbidities…
In 25 years of medical practice, I've never heard so many physicians casually mention in conversation how they no longer trust NIH, CDC, or FDA.

If that's not a wake up call, I don't know what is.

— Steven Phillips, MD (@StevePhillipsMD) March 27, 2022
David Solway: The Pandemic State Is Here to Stay
Brian C. Joondeph, M.D.: How many COVID booster shots will finally be enough?
Vinay Prasad: Rush to Approval: The evidence in favor of a fourth dose of Covid vaccine is thin.
George Neumayr: Bidenomics Drags America Deeper Into Its Post-COVID Morass: The Heritage Foundation's 2022 Index of Economic Freedom shows us where America stands.
Charles Tourot: The COVID Hall of Shame — So Far
Joseph Simonson: Over Dem Objections, Biden Admin on Track To End Pandemic Policy That Allows Swift Deportation of Migrants … Gotta let that next virulent variant/strain of the China plague into the U.S. ahead of the November midterm elections, doncha know, so's they can again meddle in said elections.
Twitchy: SHADY AF: Charity arm of former Google CEO 'indirectly' paid salaries of 2 Biden WH science office employees (thread)
Full Measure, w/Sharyl Attkisson: COVID Future (w/VIDEO)
RUSSIA LAWMKAER ABRAMOV SAYS G7'S REFUSAL TO PAY IN RUSSIAN ROUBLES FOR GAS WILL DEFINITELY LEAD TO A HALT IN SUPPLIES – RIA

— zerohedge (@zerohedge) March 28, 2022
MORE:
Victor Davis Hanson: The Sheer Madness of Today's Left: When ideologues demand power but cannot achieve it politically because they are cruel ideologues, expect more of their insanity to follow.
Houston Keene: Disney has been outspoken on DeSantis' parental rights bill but silent on Uyghur genocide: Disney did not respond to Fox Business' request for comment.
Hank Berrien: Oscars Hosts Taunt Florida: 'Gay, Gay, Gay, Gay, Gay.' DeSantis Press Secretary Drags Them: 'Florida Will Never Recover From This' … Nobody pushes a big fat lie the way the Hollywood left pushes 'the big lie(s)'.
Rod Thomson: Ron DeSantis Deployed States' Rights, and His Popularity Soared: This sort of Republican leadership is a no-squish zone
Roger Kimball: Of Boiling and Jumping Frogs: Our rulers think they have anesthetized those portions of the population they have not simply bought off. They might find that there is quite a lot of jump left in the frog yet.
D. Parker: If you want to control people, here's what you go for
Johan Wennström: Homelessness Is Not About Housing: Michael Shellenberger skewers the Left's narrative on homelessness and urban disorder.
Brian Flood , Nikolas Lanum: Conservative activist travels America cleaning up cities let down by 'failed' Democrat policies: 'Our government is taking care of foreign nationals over the American people and my heart is with 50,000 homeless veterans,' Scott Presler said
Jim Treacher: Feminists Demand: Get Your Wife in Line, Clarence Thomas: A woman's place is in the home, apparently
Jonathan Turley: No, Justice Thomas Did Not Commit an Impeachable Offense
…The calls for the impeachment of Justice Thomas are ludicrous but there is nothing laughable about the impeachment addiction fueling this frenzy. Impeaching Thomas based on these grounds would expose all justices to the threat of impeachments as majorities shift in Congress.

— Jonathan Turley (@JonathanTurley) March 27, 2022
Twitchy: 'RAGING impeachment addiction': Jonathan Turley RAINS all over the Left's 'impeach Justice Thomas' parade in short but BRUTAL thread
Daniel Greenfield: Ketanji Brown Jackson Puts the Moral Poverty of Identity Politics on Display: "I actually don't know the answer to that question — I'm sorry — I don't."
Tristan Justice: Jan. 6 Committee Claims Its 'Digital Watergate' Is Above The Law: The Jan. 6 Committee claims to be above the law as it executes a digital Watergate demanding supporter data from the RNC.
Michael G. Zey: What Happens When a GOP Majority Can Investigate the Jan. 6 Committee?
Dinesh D'Souza: How Attorney Marina Medvin Beat the Corrupt System for Her January 6th Client
Breitbart: Ukraine War Causing Food Shortages In Fragile Middle East
What's Kamala's solution for high gas prices?

"We've been, um, you know, understanding that it is a real issue, um, what we have done is we've actually released some of the reserves…gas is just part of the issue of the cost of living, right?" pic.twitter.com/dl5yCAX1KL

— Townhall.com (@townhallcom) March 28, 2022
~~~
~~Many thanks to Maggie and The Universal Spectator for reprint permission.
Posted by Maggie on March 28, 2022 in From the editors Well, the way I see it … I must be the only one looking at the whole Will Smith/Chris Rock Oscar slap another way. For these last couple of decades, most especially these last few years, these Hollywood a-hole elites have been closed-fisted smugly (drunkenly/stoned) targeting, preaching, bullying and insulting…
Posted by Maggie on March 28, 2022 in From the editors Well, the way I see it … I must be the only one looking at the whole Will Smith/Chris Rock Oscar slap another way. For these last couple of decades, most especially these last few years, these Hollywood a-hole elites have been closed-fisted smugly (drunkenly/stoned) targeting, preaching, bullying and insulting…