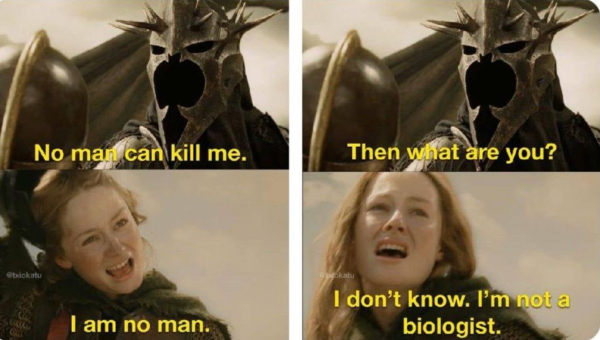 Saturday Newsfeed: Middle Earth has Dropped and Crashed into Basement Earth…
Posted by Maggie on March 26, 2022 in From the editors
Zuby gets it…
The sheer number of people who believe you need an advanced, specialist degree to understand grade school level concepts, are ironically a testament to the failures of the education system. 😂

— ZUBY: (@ZubyMusic) March 26, 2022
You know, eventually … well, maybe … well, HOPEFULLY … this will all blow over soon.
Now you see why old Joe spends his weekends cloistered away in his Delaware basement with the dogs…
Terresa Monroe-Hamilton: Biden gets creepy with Ukrainian refugee in Poland: 'Who do you owe those beautiful eyes to?'
For as much as Biden claims he doesn't want WWIII, he's about to stumble us into it with his extraordinary sloppiness.

— Katie Pavlich (@KatiePavlich) March 26, 2022
DM: Biden refuses to rule out first-strike use of US nuclear weapons under 'extreme circumstances' in dramatic reversal of his campaign vow after Putin's invasion of Ukraine
HotAir: Biden goes there: For God's sake, Putin cannot remain in power
Twitchy: 'Unbelievable'! WH flacks grab mops for more clean-up duty after Biden's comment about Putin
Twitchy: Sarcasm? Mark Knoller says that Biden's gaffe in Poland tops Ronald Reagan's 'tear down this wall' speech
VIDEO: Kayleigh McEnany: Biden linking Ukraine refugee crisis to US border 'egregious'
Dan Bongino: Whatever Biden talks about, he makes 'worse' … 'What actually has Biden built back better?'
The unhingery of the left festers and seeps…
Today, for our #WomensHistoryMonth Spotlight, we honor political and civil rights activist Yuri Kochiyama. pic.twitter.com/Q8Dp8q28i2

— White House AANHPI (@WHIAANHPI) March 25, 2022
Timothy H.J. Nerozzi: White House celebrates Maoist Yuri Kochiyama who cheered bin Laden, communist massacre in Peru: Biden admin celebrates activist who said bin Laden is 'one of the people that I admire'
There's still a few days left for "Women's History Month". Are your crack researchers breaking-sweat looking into the best female Nazi concentration camp guard to highlight? Can't wait…

— Maggie (@drillanwr) March 26, 2022
Ed Driscoll: DEMOCRATS ARE PARTYING LIKE IT'S 1859: In Fit of Racially Charged Outrage, Democrats Target Supreme Court's Only Black Justice for Impeachment. Party's ugly segregationist past resurfaces as prominent interracial couple comes under attack.
Rebecca Downs: California May Very Likely Soon Legalize Infanticide: While the Maryland language allowed for four weeks, California's bill goes to six weeks…
BPR: She brought the receipts! DeSantis spox demands correction from journos pushing 'disinformation'
Matt Taibbi: TK Mashup: the Media Campaign to Protect Joe Biden Passes the Point of Absurdity: A development in the infamous laptop story further proves the "Russian Disinformation" tale was itself disinformation, shaming a herd of craven media stenographers
~~~
~~Many thanks to Maggie and The Universal Spectator for reprint permission.
Posted by Maggie on March 26, 2022 in From the editors Zuby gets it… The sheer number of people who believe you need an advanced, specialist degree to understand grade school level concepts, are ironically a testament to the failures of the education system. 😂 — ZUBY: (@ZubyMusic) March 26, 2022 You know, eventually … well, maybe … well, HOPEFULLY … this will all…
Posted by Maggie on March 26, 2022 in From the editors Zuby gets it… The sheer number of people who believe you need an advanced, specialist degree to understand grade school level concepts, are ironically a testament to the failures of the education system. 😂 — ZUBY: (@ZubyMusic) March 26, 2022 You know, eventually … well, maybe … well, HOPEFULLY … this will all…