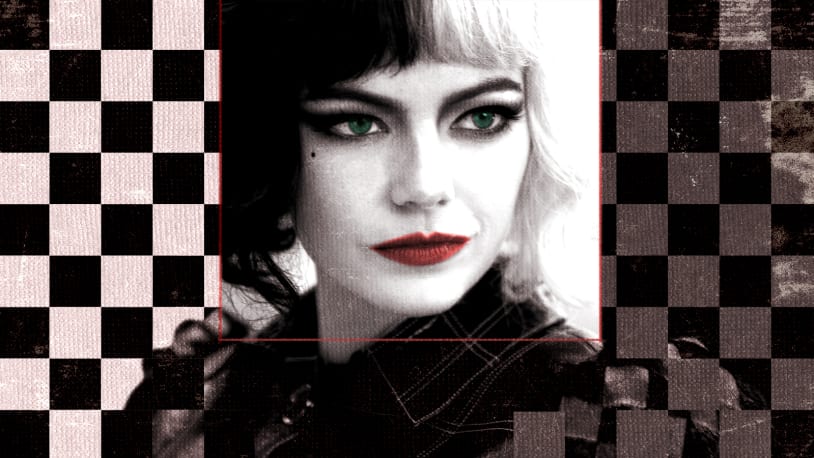 Cruella's Cruella is never cruel — and never truly camp
When Cruella unleashed its wrath upon American multiplexes last May, many were quick to label the film an instant camp classic. The live-action prequel to Disney's animated One Hundred and One Dalmatians was the first movie I saw in theaters after getting vaccinated against COVID-19, and I enjoyed its nonsensical tone and the respective performances of the Emmas (Stone and Thompson) as Estella Miller/Cruella de Vil and her employer-turned-rival, The Baroness.
But after the novelty of returning to the theater wore off, my feelings towards Cruella tempered. It's not so much true camp, I realized, as campy tropes thinly layered over the mass-market demands of a $100-million Disney film.
Susan Sontag's famous essay "Notes on Camp" defines it as an exaggerated, theatrical aesthetic sensibility based in the love of artifice and stylization. Bruce LaBruce's manifesto "Notes on Camp/Anti Camp" built on her work but rejected Sontag's claim that camp is apolitical, arguing it is actually "subversive, even revolutionary, at least in its most pure and sophisticated manifestations."
LaBruce's analysis goes much further than Sontag's into camp's significance to LGBTQ+ communities as a form of protest. Camp doesn't abide by the traditional good/bad axis of aesthetic judgment, so it forms a way for marginalized people to protest restrictive social norms and oppressive hierarchies. Camp allows these communities to perform wealth and opulence in a racist, homophobic, and transphobic society that prevents its practitioners from actually achieving these things in real life.
It's ironic, then, that camp has become the dominant sensibility of popular culture. Corporate camp adopts the style of counterculture while ignoring the politics that give it meaning. Corporate camp — or, in LaBruce's terminology, Bad Straight Camp — is what you see in the Scream franchise, Jersey Shore, and Fast & Furious Presents: Hobbs & Shaw. It's also on display in many of Disney's recent remakes, like Alice in Wonderland (2010, and its 2016 sequel) and Maleficent (2014), likely because the materials they're based on (musicals, animation, and fairy tales) are inherently stylized. Camp is an easy way to translate that to live action.
For Cruella's corporate camp, the United Kingdom's 1970s punk movement provides the main aesthetic inspiration. The soundtrack's almost wall-to-wall needle drops feature Blondie, The Clash, Suzi Quatro, Queen, and The Rolling Stones. Punk visibly influenced Jenny Beavan's Oscar-nominated costume design, too, which is rife with contrasts and tensions. (The movie snagged an Oscar nod for hair and makeup, too.) But punk — like camp — uses aesthetics to make political statements, and this is where Cruella misses the mark. The aesthetic is there, but the meaning is gone.
The same can be said of campy elements in Cruella's story. It's modeled on a camp staple: the audience's ironic identification with villainy and other transgressive forces. In Female Trouble, for instance, Dawn Davenport kills her parents after they refuse to buy her a pair of cha-cha heels, abuses and eventually kills her daughter, makes a living from burglary, and is sentenced to die by electric chair — all in comedic fashion. The Rocky Horror Picture Show's Dr. Frank-N-Furter is a sexually fluid cross-dresser who revels in torturing the bland heterosexual couple Brad and Janet.
Yet even by the PG-13 standards of a Disney film, Cruella's Estella never gets to do anything truly despicable. The screenplay is careful to explain she has understandable reasons for acting out — and anyway, her rival is morally worse. In One Hundred and One Dalmatians, Cruella de Vil is fascinating because of the sheer joy she has in being truly evil. In Cruella, the worst the wronged Estella does is steal dalmatians and be rude to her friends. Even when Estella upstages the Baroness in a dalmatian coat, the film makes sure we know it's faux fur. This Cruella would never be cruel.
None of this is surprising given Disney's record of empty, propagandic alignment with subcultures that stand against consumerism, conservatism, and authoritarianism. Disney's history directly opposes what punk and camp represent, up to and including recent controversy around CEO Bob Chapek's lackluster response to Florida's "Don't Say Gay" bill. This is why Cruella doesn't actually transgress any norms: That was never the intent. Director Craig Gillespie and the writing team crafted the film for mass appeal. The camp and punk influences don't match form to content; their purpose is profit, not rebellion.
If Cruella is any kind of camp at all, it is Bad Straight Camp, camp with no room for deviance or transgression, camp from a company that typifies the binary moral codes, mandatory heterosexuality, and hyper-capitalism true camp exists to oppose. Disney is the white picket fence of corporations, and if Cruella were camp, it would cover that fence in graffiti.
When Cruella unleashed its wrath upon American multiplexes last May, many were quick to label the film an instant camp classic. The live-action prequel to Disney's animated One Hundred and One Dalmatians was the first movie I saw in theaters after getting vaccinated against COVID-19, and I enjoyed its nonsensical tone and the respective performances of…
When Cruella unleashed its wrath upon American multiplexes last May, many were quick to label the film an instant camp classic. The live-action prequel to Disney's animated One Hundred and One Dalmatians was the first movie I saw in theaters after getting vaccinated against COVID-19, and I enjoyed its nonsensical tone and the respective performances of…