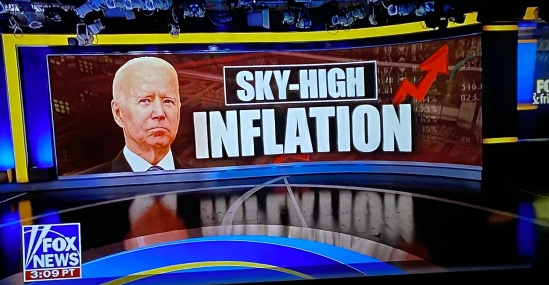 Thursday Newsfeed: You've Blown It All Sky-High
Posted by Maggie on February 17, 2022 in From the editors
We are told, and frequently by old Joe, that "81 million people voted for him/me". Just over a year ago that was suspiciously in doubt. Over a year later the possibility/probability of those doubts being accurate is growing. Pres. Farty-Poopy Pants is rolling into Northeast Ohio today. Previews of his anticipated babbling there will focus on his "infrastructure" bill that was passed last year … not anything he (his handlers) have planned to right this inflation-sinking ship. The only thing nervous democrats in Congress can come up with is to suspend the federal gas tax for a little while … roughly 18 cents, folks. That will not be discernable from the continually rising high cost of the gasoline at the pumps. Oh, and those 18 cents are used for infrastructure of roads and bridges in the country.
Megan Henney: Democrats' gas tax suspension could worsen inflation, cost $20B, analysis shows: Suspending the federal gas tax could lead to higher inflation in 2023
BI: 3 reasons why Democrats' gas tax cut proposal won't do much to curb rising prices or cool inflation
Megan Henney: Biden administration stoking higher energy prices with oil and gas crackdown, JEC analysis shows: Energy prices have been major driver behind inflation, which surged 7% in December
VIDEO: Natural gas prices could escalate amid Russia-Ukraine tension: FOX Business' Lydia Hu explores the impact of rising gas prices as EQT CEO Toby Rice argues the solution is more infrastructure.
Chris Christie (transcript) on ABC News "This Week" (2/13/22) Roundtable:
CHRISTIE: George, look, let's start with the gas pumps. If President Biden would put aside his environmental agenda for a moment, if he wants to deal with inflation, I spoke to the governor of North Dakota two weeks ago. He is being forced by the Biden administration to keep 500,000 barrels of oil a day in the ground in North Dakota.

If those 500,000 barrels of oil a day were allowed to be produced, two things would happen. It would help the price on gas. And, two, we wouldn't have Joe Biden begging OPEC to increase.

Look, if you're worried about global warming, you'd say "I want to keep the oil in the ground." Whether the oil comes out of the ground in Saudi Arabia or North Dakota, it has the same effect on global warming. But Joe Biden doesn't want to do that inside America and he's being a hypocrite about it.

Let North Dakota, let Pennsylvania, let Texas reach their quotas and have a greater supply. And I don't know, Donna, I took basic economics in college. Greater supply deals with this demand we have and will lower prices.

GASPARD: That is basic economics, Governor. You're right about that.

CHRISTIE: It is.

GASPARD: And we all know that inflation has been caused by the global economies shutting down all at once, reopening all at once. And the fact of the matter is, as Donnas said, that the U.S. economy is recovering at a far faster pace than any other country in the OECD. That is — that is an absolute fact.

On your — your — what you just said about oil, this is not a choice between inflation and climate and environmentalism. It just isn't. Strategic reserves have been released and steps have been taken to mitigate some of these costs.

And we also appreciate that there are some real legitimate limitations to what the president of the United States and Congress can do in this moment. However, they have to think long-term in the future of bringing down costs…
Jay Kohn (9/18/21): North Dakota summer oil production slumps
North Dakota Mineral Resources Director Lynn Helms said the outages resulted in a 5 percent drop in the state's oil production, and a 4 percent decline in natural gas production from June to July.

The slump in production surprised state officials, who had expected oil production to bounce back from what, so far, has been a sluggish 2021…
"Surprised?? Follow the Biden energy policies crippling domestic energy drilling/production, for cripesake! Follow the timeline between Pres. Trump and to Biden!
In July, North Dakota produced 1,077,789 barrels per day, compared to 1,133,498 barrels per day in June. The state's record-high production occurred in November of 2019 with 1,519,037 barrels per day.
WFYR TV: Latest North Dakota oil and gas figures 'flat' for December as operators rebrand Williston Basin as 'mature'
YCharts: South Dakota Crude Oil Production
Offshore-tech: South Dakota oil and gas production activity declined by 1.38% in September 2021
DC: Biden Administration Defies Court Ruling Again, Opts Against Holding Oil Drilling Sales: The Biden administration missed another deadline to hold quarterly onshore oil drilling lease sales after a federal court ruled it was legally required to do so.
Bidenflation: From Pump to Thermostat to Many Products, Some that produce Gas (like fast foods and burritos):
Bidenflation is currently costing the average American family about $275 a month MORE in their monthly budget. That obviously cuts into mortgage/rent payments, and is in addition to all utility bills, including internet and cable which are, yes, 'cord-cuttable' but have indeed household utilities
Breck Dumas: As oil price climbs, Biden White House reiterates call for help from foreign producers: U.S. energy producers say they could help if the Biden administration would let them
Angelica Stabile: US natural gas producer says prices are surging due to lack of adequate pipeline structure: EQT CEO Toby Rice reveals canceled pipeline projects have restricted 10% of US nat gas
Lucas Manfredi: Housing inflation, supply chain create builders' perfect storm: Lumber prices over the past year added over $18,600 to the average price of a new single-family home: NAHB
Megan Henney: Fed signals 'faster' interest rate hikes likely as inflation soars to 40-year high: The Fed is expected to begin raising interest rates in March
Joseph Stiglitz: Across-the-Board Rate Hike by the Fed Is a Cure Worse Than the Disease: Although it is anyone's guess what will happen next with inflation, the data show that there is no reason to react rashly with large across-the-board interest-rate hikes…
Megan Henney: Jobless claims unexpectedly climb to 248,000: Economists expected 219,000 workers to file for unemployment benefits last week
Twitchy: Biden economic adviser assigns blame for what inflation is 'all driven by' (and sets off BS detectors everywhere)
Absolutely NOT "A Man of The AMERICAN People":
I have my valid doubts on COVID as third and "climate change" at fourth. Both could have been worded persuasively. However, I also speculate that, as I am, some are concerned with how the governments are handling/abusing both hyped issues for far more overreach and control in a globalization move, and not-so-much because we are COVID/"climate change" paranoids. I mean, "climate change" is ahead of crime on the poll? Maybe COVID is ahead of crime, but "climate change"?? GTFOH.
Staying true to his word, Joe Rogan brought Andrew Dessler the "other side" on to represent the mainstream narrative on climate science.

When asked if he would ever debate Dessler states "I won't debate the science, the science is set".

Sound familiar? pic.twitter.com/fAuMVIvvqg

— Mythinformed MKE (@MythinformedMKE) February 17, 2022
Twitchy: With just a few questions, Joe Rogan gets esteemed climate scientist to admit that he's too scared to debate the science on climate change
Then there is our once sovereign border…
Twitchy: 'UNBELIEVABLE': While the Biden admin worries about securing Ukraine's border, Bill Melugin shares latest numbers from US southern border
BREAKING: In a federal court filing obtained by @FoxNews, DHS reports 153,941 migrant encounters in January, almost doubling Jan. '21 (78,414) and more than quadruple Jan. '20 (36,585).
DHS also reports 62,573 migrants were released into U.S. just last month alone. @FoxNews pic.twitter.com/RiEPKVsQi3

— Bill Melugin (@BillFOXLA) February 16, 2022
DHS still has not publicly released the January numbers, even though we are halfway through February, and according to their court filing, they already know the numbers.
January is typically one of the slowest months at the border.
FY'22 continues to smash FY'21 number. @FoxNews

— Bill Melugin (@BillFOXLA) February 16, 2022
All your property belongs to the government…
JUST IN – FBI to form national cryptocurrency unit, focusing on the seizure of virtual assets like #Bitcoin and blockchain analysis, the DOJ announced.

— Disclose.tv (@disclosetv) February 17, 2022
Conspiracy theories of yesterday are reality of present day

— Muhammad Farjad 🔰 (@farjadakmal1) February 17, 2022
Here. I use this a lot. pic.twitter.com/QeTdf6jMRD

— Maggie (@drillanwr) February 17, 2022
Reuters: FBI to form new digital currency unit as Justice Dept taps new crypto czar
COVID…
David Aaro: Fauci says future requirement for additional COVID-19 boosters being monitored: Last week, Fauci said that annual COVID-19 booster shots may not be needed for every American
Twitchy: Must-read thread from a mom and doctor on how Covid theater is affecting students in college
Nick Murray: The Covid State is Crumbling. State Legislatures Must Continue to Curb Emergency Executive Power
Thank you everyone for "volunteering" your DNA to the biggest genomic database ever created https://t.co/WGLHQIMvzK

— zerohedge (@zerohedge) February 16, 2022
Remember that #COVID19 nose swab test you took? What happened to the swab? If it was processed with a PCR test, there's a 10% chance that it ended up in a lab for genomic sequencing analysis. Learn more about the process and its importance: https://t.co/XAHSGANLxu @WIRED @CDC_AMD

— CDC (@CDCgov) February 16, 2022
Gee, can't wait for your "Remember those COVID19 vaxxes/boosters you took…" tweet. I'm sure it'll be a knee-slapper too, right?

— Maggie (@drillanwr) February 16, 2022
Americans have gone full term with socialist democrats and will abort come the midterm:
LA Times: From liberal San Francisco, school board recall is a three-alarm warning for Democrats
San Francisco is quite familiar with earthquakes, and what happened Tuesday — the ouster of three extreme lefties from the Board of Education — was not one of those.

Earthquakes are sudden and unexpected. The result of Tuesday's recall was neither.
The removal of board President Gabriela López and members Faauuga Moliga and Alison Collins was destined the moment the city's liberal establishment, led by Mayor London Breed, joined the effort along with several discontented millionaires, who threw in loads of cash.

What happened Tuesday was more a foreshock, a warning — as if Democrats needed any more of those — that November's midterm elections could be very bad indeed, as parents unsettled by two years of pandemic-related upheaval vent their frustrations at the polls…

Inclusion, sensitivity and righting history's wrongs are all well and good. But there was a strong sense that "we are not getting the basics right," as Siva Raj, a father of two who helped launch the recall effort, put it.

He and others would have tried to remove all seven members of the board, but only the three who were targeted were eligible for recall. The others have not served long enough…
Tucker Carlson: Every speed bump for Democrats is a full-blown catastrophe: They are too fragile to face their own unpopularity
MORE:
Harry Wilmerding: Toxic Fentanyl, Meth Smoke Make Seattle's Transit System Unusable, Authorities Say
VIDEO: Jason Rantz on Seattle's drug issue: 'Surreal' to see homeless people smoke meth on public bus: Radio host Jason Rantz on Seattle transit workers being alarmed by drug use. … I have a nephew who has recently gotten one Hell of a job upgrade and will be moving from the Atlanta area to Seattle. I am so worried about him on several levels.
Jordan Boyd: It's Time For Americans To Rescue U.S. Cities From Greedy Leftists' Crime-Infested, Drug-Riddled Chokehold: Urban areas need to use upcoming elections to force out the hypocritical politicians whose policies are ruining the nation.
Pretty wild how you can get bailed out for attempting to assassinate a rival political candidate (whom you hate because of his ethnicity), but dozens of people remain incarcerated for trespassing on government property. https://t.co/8ZIUYRyfHj

— Ian Miles Cheong (@stillgray) February 17, 2022
Twitchy: BLM activist and attempted murder suspect Quintez Brown is out on bail but not January 6 trespassers?
Collin Anderson: BLM-Linked Bail Fund To Free Louisville Activist Who Shot at Jewish Democrat
Coming soon to a Representative Constitutional "First Amendment" Republic near you. Don't doubt me…
Kelsey Koberg: Finnish lawmaker being charged for expressing her religious views speaks out, calls the case 'dangerous': Finnish MP Päivi Räsänen says it is 'unbelievable' that the case has continued because Finland is a 'democracy'
Oh! CANADA!…
If a free people does not wish to have sweeping enabling laws used against it by the state, it must decline to place such laws on the statute books in the first place — for, like Chekhov's gun, once there they are bound ineluctably to go off. https://t.co/xIDt4dbLrW

— Charles C. W. Cooke (@charlescwcooke) February 16, 2022
Charles C. Cooke: Justin Trudeau Has Disgraced His Office: He's also exposed a massive flaw in Canada's constitutional order. … Not that Constitutions matter these days, as we are seeing the 'shitting-all-over' of ours.
Sophie O'Hara: Something's Happening: Canada's Top Four Banks in Trouble After Order to Freeze Accounts
What the hell is happening to Canada's banks right now? pic.twitter.com/NRjPWlG0GE

— James Melville (@JamesMelville) February 16, 2022
Breitbart: Canada's Justice Minister, David Lametti, has told Trump supporters who donated to the "Freedom Convoy" to "be worried" about having their bank accounts frozen
Deirdre Reilly: Canadian truckers get support from their American 'big-rig' brothers: 'Freedom Convoy' in Canada has caught the attention of these Americans — who told Fox News Digital that truckers 'are a special breed who believe in getting things done'
PM: CBC and CTV News journalists target donors to freedom protesters: CBC and CTV News journalists have been contacting people who donated to the freedom convoy in an attempt to "understand why they support this."
VIDEO: Outrage over Canada's Trudeau accusing Jewish member of parliament of supporting swastikas
Cliff Nichols: Is the Canadian Government Starting a Civil War? Trudeau to protesters: If you don't let our government make your health decisions, we're willing to shoot you.
VIDEO: Washington Post harasses Canada trucker donors, Trudeau seizes crypto
The Post published an article last night detailing how the leaked data shows millions of dollars to the truckers has flowed from wealthy – and, most often, Republican majority areas — of the U.S. The post is now updated with an interactive graphic. pic.twitter.com/HxiHSErgMq

— Aaron C. Davis (@byaaroncdavis) February 16, 2022
Check out the map and read our full analysis of the leaked data here. Reporting by me, @abtran & @DDaltonBennett : https://t.co/OvZFGcT6jm

— Aaron C. Davis (@byaaroncdavis) February 16, 2022
Just curious (I may've missed it) but do you have archive links to your paper's coverage of who/where & how much$ for the antifa/blm 'peaceful protesters' bailout funds came from? Contact any of those fundraiser donors? I believe 1 of them now lives in DC not too far from your HQ

— Maggie (@drillanwr) February 16, 2022
Too bad you don't put this much effort into Hunter Biden's laptop and its contents.

— Its a dogs life 🐶🐾🇺🇸 (@seniordogzrule) February 16, 2022
Twitchy: 'I'm literally a famous f*cking cyberterrorist!' Canadian hacker takes credit for risking #FreedomConvoy donors' lives with GiveSendGo hack … Lawenforcement seems to be taking their own sweet time busting this hacker's ass.
WARNING from J.J. Sefton @ AoSHQ:
These mask mandates and vaccine mandates and all the garbage we have had to endure with them is bad enough. And yet most people still hunker down and try to go about their daily lives as best as they can because, unlike the professional leftist agitators who are trust-fund denizens of momma and poppa's basement, responsible American-Americans have better and more important things to do like earn a living and raise families.

Now, if a government is going to throw down a gauntlet by freezing bank accounts, seizing assets, throwing people in jail on trumped up charges (hint-hint) while ditching habeas corpus, and on and on, you are now throwing napalm on glowing embers. As Bob Dylan once intoned, "When you ain't got nothing, you got nothing to lose." Whatever my innermost thoughts on what I think these tyrants who have all but destroyed our nation, society and future should suffer, the last thing I want to see is violence. But look at what has been unleashed on us on all fronts. Even with that, all we want to do is to be left alone. Yet, the Democrat Progressive Globalist Left – the tyrants – continue to beat on us until our morale improves. We will be made to care!

When criminals are let loose to terrorize the citizenry, when political assassination or attempted assassination is excused away by the propagandists in a way that blames rape victims for dressing too provocatively, and now when the guaranteed right to protest and even petition our elected officials for redress is viewed as insurrection and terrorism, that's bad enough.

Now, we have a government in Canada and one down here a red pubic hair's breadth away from preemptively criminalizing free speech by freezing our assets, and we have got ourselves a situation. Time to panic? No. Time to prepare? You bet your ass…
~~~
~~Many thanks to Maggie and The Universal Spectator for reprint permission.
Posted by Maggie on February 17, 2022 in From the editors We are told, and frequently by old Joe, that "81 million people voted for him/me". Just over a year ago that was suspiciously in doubt. Over a year later the possibility/probability of those doubts being accurate is growing. Pres. Farty-Poopy Pants is rolling into Northeast Ohio today. Previews of his…
Posted by Maggie on February 17, 2022 in From the editors We are told, and frequently by old Joe, that "81 million people voted for him/me". Just over a year ago that was suspiciously in doubt. Over a year later the possibility/probability of those doubts being accurate is growing. Pres. Farty-Poopy Pants is rolling into Northeast Ohio today. Previews of his…