Be Our Valentine … Don't Make Us Beg
Posted by Maggie on February 14, 2022 in From the editors
BREAKING/DEVELOPING:
JUST IN – Canada's PM Trudeau to invoke never-before-used federal emergency powers in response to nationwide protests, CBC reports.

— Disclose.tv (@disclosetv) February 14, 2022
When you have to invoke the Emergencies Act you know you've lost because it's the ultimate power grab and if that's all you got left to retain power you've been defeated by the people. May God have mercy on your soul.

— Theo Fleury (@TheoFleury14) February 14, 2022
CBC: Trudeau plans on invoking the Emergencies Act: sources
He would be so much more serious if only he'd threaten this stuff with a juicy Cuban cigar clenched between his teeth.

— Maggie (@drillanwr) February 14, 2022
David Solway: The Canadian Dilemma in a Nutshell
Michael Walsh: THE COLUMN: 'The Whole World is Watching'
… Protests have broken out in both Europe and North America, led by the doughty Canadian truckers who have organized and implemented the Freedom Convoy that's currently occupying Ottawa, the capital, and was temporarily obstructing the busy Ambassador Bridge between Windsor, Ont., and Detroit. Their proximate cause is the immediate elimination of all the fascistic trappings of the Covid/Nanny State: the vaccines, the masks, the mandates, the travel restrictions, the whole stinking lot of them.
Salena Zito: The great awakening: It is now too late to save the insiders…
Virginia Kruta: Jake Tapper Levels Biden Over Outright 'Rejection' Of Army Report: 'It's Difficult To Overstate How Insulting It Is' … Too little too late too stupid, Jake.
Twitchy: 'Old, drunk, and STUPID is no way to go through life': Nancy Pelosi claims inflation is a GOOD THING and pisses EVERYONE off (watch)
Stacey Lennox: Anti-CCP Enes Kanter Freedom Traded by the Celtics, Waived by the Houston Rockets … The cancelling of Freedom has begun.
Athena Thorpe: Well, Well, Well … Look Who's Back on Spotify … Meh.
Jennifer Sey: Yesterday I Was Levi's Brand President. I Quit So I Could Be Free. I turned down $1 million severance in exchange for my voice.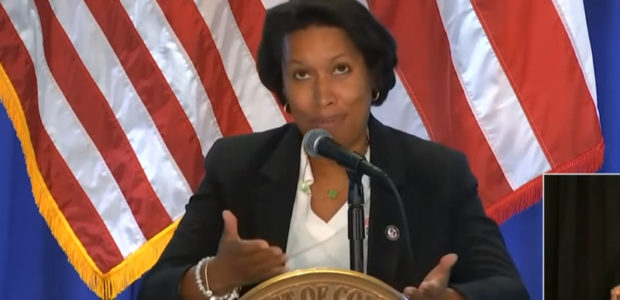 Tyler Olson: Bowser lifting DC mask mandate for bars, gyms, concerts, but not schools – Bowser: 'I don't think that we're going to have a decision about schools sometime soon'
Twitchy: 'Pointless, senseless cruelty': DC Mayor Muriel Bowser follows the science by exempting schools and daycares from indoor mask mandate rollback
Josh Hammer: Democrats' Recent Rejection of COVID Insanity Will Not Save Them This Fall: It will be too little, much too late.
Analysis by Dr. Joseph Mercola: New Study Confirms Ivermectin Outperforms Other Options
Politico: Why Musk's biggest space gamble is freaking out his competitors: Starship is threatening NASA's moon contractors, which are watching its progress with a mix of awe and horror.
Posted by Maggie on February 14, 2022 in From the editors BREAKING/DEVELOPING: JUST IN – Canada's PM Trudeau to invoke never-before-used federal emergency powers in response to nationwide protests, CBC reports. — Disclose.tv (@disclosetv) February 14, 2022 When you have to invoke the Emergencies Act you know you've lost because it's the ultimate power grab and if that's all you got left…
Posted by Maggie on February 14, 2022 in From the editors BREAKING/DEVELOPING: JUST IN – Canada's PM Trudeau to invoke never-before-used federal emergency powers in response to nationwide protests, CBC reports. — Disclose.tv (@disclosetv) February 14, 2022 When you have to invoke the Emergencies Act you know you've lost because it's the ultimate power grab and if that's all you got left…