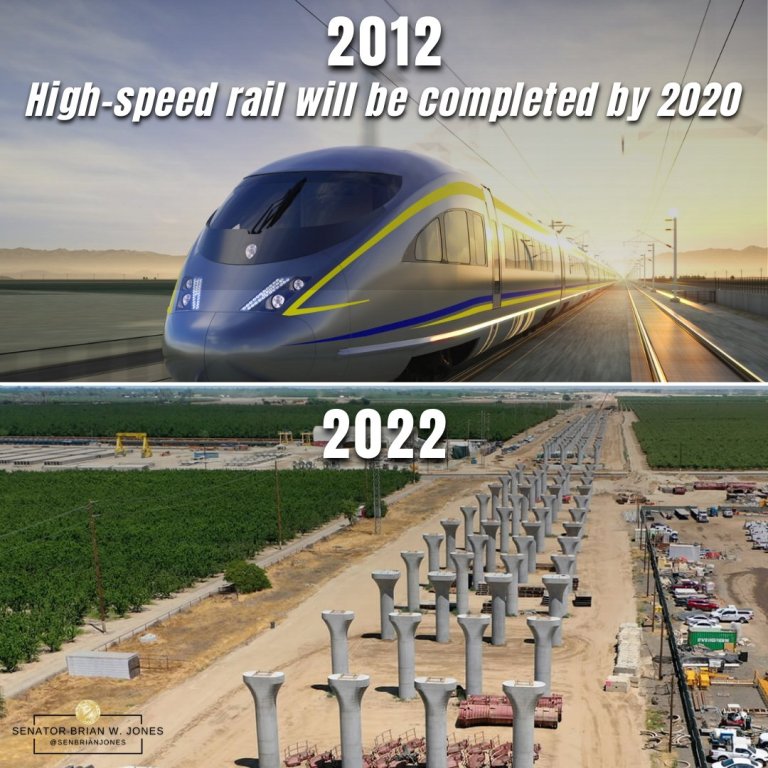 Weekend Reads: "Progressive" Progress, Y'all!
Posted by Maggie on February 11, 2022 in From the editors
10 years. $100 billion. Still no High-Speed Rail in California. #10yearchallenge pic.twitter.com/uK80ztsUga

— Brian W. Jones (@SenBrianJones) February 10, 2022
Ugh! I am really going to try to unplug from the churn for the weekend. Starting to feel the burn-out creeping in. So, unless it's Russia invading China because, once again, Putin's jocks still can't get it through their wodka-soaked skulls not to "dope" (take performance enhancers) … AGAIN … and the Russian team is again benched, well… Meantime, I'm on the fence about giving immediate attention to a Russia invasion of Ukraine this weekend, as telegraphed almost hopefully by the Brandon administration. That said, if you are American or have credible ties with America, maybe you should be packing bags and making flight reservations. You don't want to be another Brandon Abandon. Just sayin'.
So, as Linda Richman says, "Talk amongst yourselves"…
Victor Davis Hanson: Why Ideology Is the Ancient Enemy of Civilization: In such ideological dystopias, eventually even the shelves empty, the currency becomes worthless, and the nation regresses into poverty and chaos. Is that the future we await?
Blaine L. Pardoe: Fight Back Against the Woke Bullies Trying to Silence Conservatives
John Nolte: Truck Drivers Are the Atlas that Finally Shrugged
Jack Dutton: Freedom Convoy Spreads Across the World, With Protests in the Most Unlikely Countries … The globe going anti-globalization.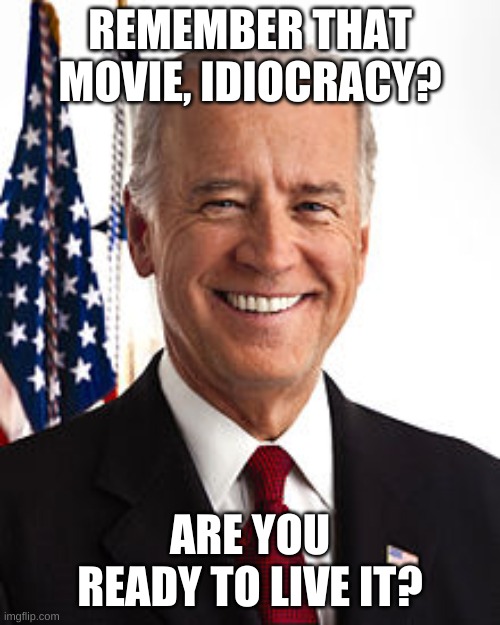 David Harsanyi: Biden's Afghanistan Debacle Looks Worse and Worse
PM: Top commander slams White House, Jill Biden for being a 'distraction' during chaotic Kabul withdrawal: Vasely called the countless outreaches from White House officials, media outlets, members of Congress, veterans a "distraction" that "created competition for already stressed resources."
Bonchie: Report: Jill Biden Hampered Afghanistan Evacuation With Special Requests
Monica Showalter: Lunacy: Biden calls for huge new government spending to…beat inflation
Stephen Green: Tired of High Gas Prices? Biden Will 'Work Like the Devil' to Bring Them Down (SPOILER: He's Lying)
Thomas Lifson: Relax: Biden puts an LGBT activist, gender-fluid drag queen 'pup' fetishist in charge of the nuclear waste that could be used for terror bombs
Brandon Gillespie: Critics mock liberal fact-checking site for rating reporting on Biden crack pipe funding 'mostly false': 'Guess you gotta read the fine print'
J.B. Shurk: If DC Fears Trump, He Deserves Four More Years: I could write an avalanche of essays explaining how important I believe Trump's presidency has been for this country…
Eli Steele: Rooftop Revelations: 'Defund the police' Democrats, BLM have blood on their hands. America was fooled by Black Lives Matter, Pastor Brooks says
Buck Sexton: BLM-defund police legacy is more dead police officers, surging crime: The last year and a half in America has been a bloodbath of violent crime
Rep. Jason Smith: More COVID money won't cover up Biden's failures: The Biden Administration is reportedly thinking of asking for even more hard-earned taxpayer dollars under the guise of COVID-19
Where's Waldo? The strange thing about that chavvy oblong table is not Macron refusing to leave his DNA on a Russian PCR or Putin wanting to convey how distant the West is from meeting his demands. It's where's Zelensky? pic.twitter.com/TtNCncrlty

— Rodrigo Villamizar (@VillamizarRod1) February 11, 2022
Rick Moran: French President Macron Refused to Take Russian COVID Test, Fearing Russians Would Steal His DNA … He ain't wrong.
Matt Margolis: Doctor Says She Was Pressured to Make Omicron Sound More Dangerous
BONUS:
From old ladies demanding, "Where's the beef?!?" to old ladies nagging "beef is 'white supremacy, misogyny, and neo-Nazi'…
Twitchy: 'Your hamburger comes with a dose of misogyny': Woman argues that eating meat is white supremacist and neo-Nazi
I make fun of vegans all the time and even then I can't associate her with normal veganism, she's a vegan version of the Westboro Baptist Church.

— cardoso (@Cardoso) February 10, 2022
So, my rebuttal to her near thirteen minutes of expelling from her butt-hole:
1. The animal would have chosen to eat you, without regard to your gender, sexual preference, sexiness, age, race, or annoying voice…
2. Both males and females of of humans have the teeth of a carnivore. Use them or pull them, bitch
3. Eating meat ain't "white supremacy". Matter of fact, I'd wager you'd find more vegan whites than vegan blacks or any other vegan non-white race. Here and around the world. Wild and domesticated animals. Bitch, go try and preach this in a black neighborhood during BBQ season. Oh, when people of color steal from grocery stores they ain't stuffing broccoli or lettuce or carrots in their shirts and pants.
4. Why the f*** do people like this hag seriously believe anyone welcomes her cranky interfering into their lives and diets. Does she honestly believe she can change anyone's mind or diet simply from leaning on and hanging onto a podium as if she, a vegan, can stand up another minute without passing out from lack of nutrition? We should all be as dull and sickly as she is?
5. Hey, lady, don't talk at me until you've gone to a dentist and had him/her yank out your carnivore teeth. Then you can flap your gums about my bacon-wrapped Porterhouse … while I cut it with a dull butter knife and chew it in front of you.
6. I pondered if she would have gone on to demand people, especially whites, have their bodies turned into compost because traditional burial is so racist and white supremacy.
Ace: Meat Is Murder, But Even Worse, Meat Is Also White Supremacy
~~~
~~Many thanks to Maggie and The Universal Spectator for reprint permission.
Posted by Maggie on February 11, 2022 in From the editors 10 years. $100 billion. Still no High-Speed Rail in California. #10yearchallenge pic.twitter.com/uK80ztsUga — Brian W. Jones (@SenBrianJones) February 10, 2022 Ugh! I am really going to try to unplug from the churn for the weekend. Starting to feel the burn-out creeping in. So, unless it's Russia invading China because, once again, Putin's jocks still…
Posted by Maggie on February 11, 2022 in From the editors 10 years. $100 billion. Still no High-Speed Rail in California. #10yearchallenge pic.twitter.com/uK80ztsUga — Brian W. Jones (@SenBrianJones) February 10, 2022 Ugh! I am really going to try to unplug from the churn for the weekend. Starting to feel the burn-out creeping in. So, unless it's Russia invading China because, once again, Putin's jocks still…