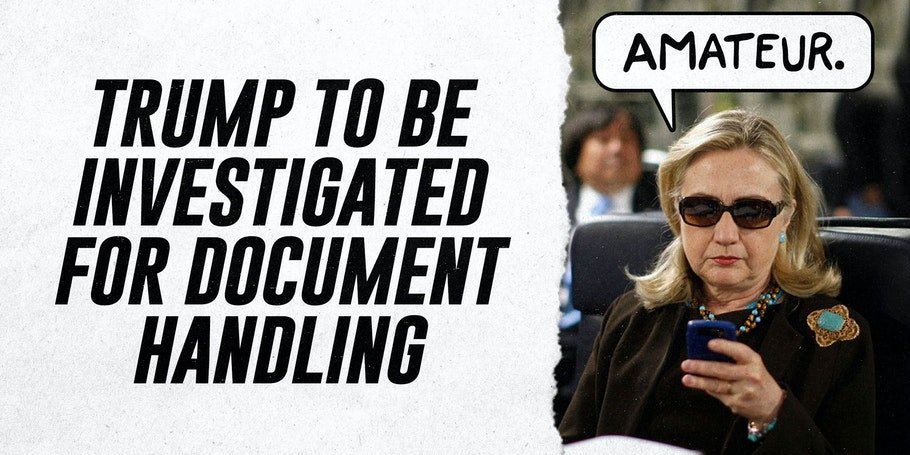 Leftmedia Targets Trump in Document 'Scandal'
By  THOMAS GALLATIN  February 11, 2022 in Politics
Document-clogged White House toilets and other silliness are attributed to Trump as the National Archives wants an investigation.
The National Archives and Records Administration has a bone to pick with Donald Trump, similar to complaints leveled against Barack Obama and George W. Bush for violating the Presidential Records Act. Except this is just one more episode in the Get Trump escapades of the last several years.
The Obama administration in particular was notorious for withholding government records. It wasn't just Hillary Clinton, but you might recall that she was investigated by the FBI for federal records violations via her smashed Blackberry phone and her infamous home email server, which featured the "loss" of some 30,000 emails, while she served as Obama's secretary of state. Clinton blatantly and willfully violated federal records rules, and she did it in large part to cover up her pay-to-play corruption at the Clinton Foundation. She and Bill raked in gobs of cash through the Foundation while Hillary had the authority as secretary of state to make good on certain promises to foreign contributors. But then-FBI Director James Comey let her off with a milquetoast reprimand.
So back to Trump, the Archives requested that the Justice Department launch an investigation into his administration's handling of White House records after it recently recovered some 15 boxes of materials Trump had taken to his Florida estate. Evidently, some of the documents contained in the boxes appeared to have been ripped apart and then taped back together.
Omarosa Manigault Newman, a disgruntled former member of Trump's White House staff, claimed that Trump had a habit of tearing up documents following meetings, but no other named sources corroborate her claims.
We seem to remember that House Speaker Nancy Pelosi tore up a government document — Trump's State of the Union Address — live on national television. Nothing was done about that contemptuous violation of law.
Of course, Leftmedia outlets had little trouble producing unnamed sources to back up Newman's claims. But if Trump's tearing up documents wasn't scandalous enough, New York Times reporter Maggie Haberman produced even more salacious accounts of apparently clogging White House toilets with disposed documents. What is this, Christopher Steele's dossier again?
"Another fake story, that I flushed papers and documents down a White House toilet, is categorically untrue and simply made up by a reporter in order to get publicity for a mostly fictitious book," Trump responded with his typical unabashed pointedness. "The Democrats are just using this and the Unselect Committee of political hacks as a camouflage for how horribly our Country is doing under the Biden Administration."
The salacious stories of document-clogged toilets aside, the allegation that the 15 boxes of materials recovered from Trump's Mar-a-Lago estate may have contained classified documents is the only tidbit of information that may be problematic for Trump. However, as even the Trump-deranged Washington Post admits: "Substantiating a criminal case against Trump — and perhaps even launching a criminal investigation — could be difficult. Legal experts and analysts have noted that the National Archives lacks a real enforcement mechanism, and all recent administrations have had some violations of federal records laws — most often involving the use of unofficial email and telephone accounts." (Ahem, Hillary Clinton.)
In other words, this story amounts to little more than another salacious hit piece against Trump to gin up yet more fodder for Democrats as they stare at an unfavorable election landscape.
~~~
~~Reprinted with permission. See the original article here and leave some comments! 
By  THOMAS GALLATIN  February 11, 2022 in Politics Document-clogged White House toilets and other silliness are attributed to Trump as the National Archives wants an investigation. The National Archives and Records Administration has a bone to pick with Donald Trump, similar to complaints leveled against Barack Obama and George W. Bush for violating the Presidential…
By  THOMAS GALLATIN  February 11, 2022 in Politics Document-clogged White House toilets and other silliness are attributed to Trump as the National Archives wants an investigation. The National Archives and Records Administration has a bone to pick with Donald Trump, similar to complaints leveled against Barack Obama and George W. Bush for violating the Presidential…