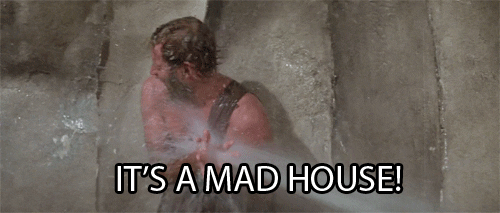 Friday Newsfeed: The Marxist Primates are Hosing the Rest of Us
Posted by Maggie on February 11, 2022 in From the editors
Let's look at this, shall we? Marxist apes are indeed running the asylum.
First, it's really something else so unimaginable as to be laughable to be living through what is going on right now. As a matter of fact, it is so off the charts damn amazing that nobody would buy the fiction book or pay to see the Hollywood movie were a drugged-out screenwriter to pen this crap. Get this, folks, DHS is so concerned with the protesting truckers on our northern border, and the talk that US truckers will soon be joining the pro-freedom (from COVID tyranny) convoy here at the Superbowl and possibly in Washington DC for Bidens State of The Union Speech …
Twitchy: DHS bulletin warns that US trucker convoy could be headed to DC for Biden's State of the Union address
DHS is far more concerned than they have been, or are, with the drug cartels getting record amounts of fentanyl and other deadly drugs across the US southern border, or the continued record numbers of human-trafficking that our government agencies (including DHS) are aiding and abetting with our tax-dollars and dumping them in our cities, or the terrorists blatantly crossing southern border (some captured, probably as decoys so that many others can evade the Border Patrol), all of this with the DHS and federal government's help. The black-faced Castro Jr running Canada is calling those Canadian truckers "Nazis" and "racists" (obscene, since many are POC) and he and the Canadian MSM are claiming the truckers are being controlled by "the Russians". He refuses to meet with them to discuss their grievances. No, he is throwing out his chest and beating it with demonizing rhetoric. It would be hilarious if it wasn't so insane. Our DHS and leftist cluckers are calling the truckers an imminent threat/danger (and they've not even done anything yet) and are clutching their collective MSM pearls over the possibility of US truckers joining, and MSM jerks and our "higher education" betters are even suggesting things such as this…
Twitchy: 'You're the expert, Professor Tow Truck': Iowahawk tweets his best thread yet OWNING Harvard prof pushing to slash Freedom Truckers' tires
Don't worry, this plan has all been war-gamed out by Harvard's Best and Brightest on the Kennedy School rec room rug, with Tonka trucks and GI Joe action figures

— David Burge (@iowahawkblog) February 10, 2022
Once we slash the tires and empty the fuel tanks, how do we remove the trucks? Easy, put on a Harvard Hogwarts robe, wave your wand, and cast the ol' "Truckus Removem" spell

— David Burge (@iowahawkblog) February 10, 2022
Gotta say I did not have "Land War With Canada" on my 2022 bingo card.

I recommend we launch the Marine invasion during the Olympic curling final, when they're all distracted

— David Burge (@iowahawkblog) February 10, 2022
Of course we will need a brilliant, battle-hardened Patton to lead Operation Truck Stop pic.twitter.com/6HT4AHjqnv

— David Burge (@iowahawkblog) February 11, 2022
My plan to clear trucks off the bridge? Announce $1 lap dances at all the Windsor titty bars. But hey don't listen to me, I didn't go to Harvard

— David Burge (@iowahawkblog) February 11, 2022
Twitchy: Harvard prof/CNN analyst who said Freedom Convoy protesters should have tires slashed & be arrested is surprised people are getting so emotional over it
You think you're the good guy here? https://t.co/0tm2wn85XP

— Stephen L. Miller (@redsteeze) February 10, 2022
Yes. This isn't about vaccines. Stay unvaccinated. Your choice. Bad choice. Deadly one. Just don't close an international border with your whining. So many emotions with you guys. It's not personal. https://t.co/JX2up4B34F

— Juliette Kayyem (@juliettekayyem) February 10, 2022
The 'big-tell' w/the left, esp our 'higher-ed intellectual' betters, is when they use "it's not personal" or blaming y'all dummies for not getting their 'nuance' when they spout more BS to cover for their previous BS. Hey how about the "international border" on our southwest, eh?

— Maggie (@drillanwr) February 11, 2022
You called the burning, violence & looting of BLM a "rightful protest." My local stores, that TRUCKERS supplied, were burned down: This IS personal

— SeldenGADawgs (@SeldenGADawgs) February 11, 2022
Kevin Downey, Jr: SURPRISE! Winnipeg Car Ramming Suspect Is Actually Antifa and an Alleged Pedophile
PM: Journalist urged running over 'Nazis' days before Freedom Convoy protesters were mowed down in Winnipeg: "If you see Nazis on the side of the road, do the responsible thing and run them over," the reporter wrote.
And this doltish bathtub boy who has been expelled out the bottom side of several media outlets…
Attention local, state, and federal authorities:

This country will not abide being held hostage by a mob of "truckers" attempting to blockade LA, DC or anywhere else.

1. Intercept them.
2. Arrest those who try to block the cities
3. Seize or disable the trucks.

No. Mob. Rule.

— Keith Olbermann (@KeithOlbermann) February 10, 2022
But "mob rule" good if it's blm or antifa. Got it, Bathtub Boy. Now, take your meds.
Tucker Carlson: Canada's working class has finally rebelled, and they are succeeding: Justin Trudeau is attacking human rights, and Canadians have had enough (w/VIDEO)
Christine Favocci @ TWJ: Truckers Win, Trudeau Loses: 4 Canadian Provinces Roll Back COVID Mandates Amid Freedom Convoy
Jim Hoft: Michigan Moms Raise $39,000 to Feed Convoy Truckers in Detroit as Biden Regime Tells Justin Trudeau to Drive Out Convoy with an Even TOUGHER Clampdown
Twitchy: 'KNOW THIS!' GiveSendGo gives Canadian govt. trying to shut down #FreedomConvoy funding the middle finger and it's GLORIOUS
Our society goes two years with violent, destructive, and deadly completely lawless protests in the nation's cities, aided and abetted by the democrat powers-that-be in government leadership and law enforcement, those "protests" blue cities/states are deemed "mostly peaceful" and "social justice" and "freedom fighting", oh, and "worth the COVID infection risk" when pointed out that these throngs of thugs are in violation of masking/distancing and lockdown mandates that the rest of us were basically Gestapo-ed into obeying. And the MSM scolds the rest of us in their support of the anarchy…
And CNN continues to try to get Joe Rogan's free speech silenced because they feel his views on COVID related subjects are 'dangerous' and are outside the free speech area, but they themselves violate those Constitutional free speech parameters with shit like this from one of their anchor desk squatters?
Never forget, the indignant left insisted and demanded we accept those two years of (well-funded by the wealthy left, and the current VP) MOSTLY VIOLENT, obstructing traffic and harassing communities, rioting, assaulting, murdering, looting, destruction as very American and righteous. Even going so far as this…
This is the same left in our country far more concerned and outraged with what's happening on our northern border with the Canada truckers' convoy protest and the possibility of our truck-drivers starting a protest convoy, but are all for the past year of Biden policies on our illegal completely 'open border' on our southern border, increasing human trafficking, drug overdose deaths and crime rates in our country…
RCP VIDEO: Geraldo Rivera: Canadian Truckers Are Selfish, Self-Involved "Thugs" That Are Staggering The Economy … Remember, Gerry also loves using our tax dollars to fund Biden's "free drug kits" for all those homeless drug addicts too. Oh, and Gerry is also all-in for Joe's open borders. PRIORITIES!
Jim Hoft: It Should be Evident by Now, They Want to Destroy America… Biden Working on Plan to More Easily Release Young Adult Illegals on the Streets of America
Meanwhile, all you parents butting into your tax-funded public-school systems and demanding in favor of your children's in the masked-face of health mandates and demanding academic curriculums instead of socially constructed race-basing are "domestic terrorists" and "insurrectionists", and should STFU or pay even more of your own money to put your kids in private school…
John Rigolizzo: Conservatives Slam Wisconsin Democrat For Saying Parents Concerned About Education Should 'Home School Or Pay For Private School' … Hence, she uses that whole premise that we plebs are just too stupid to get her "nuance" and are "mislead", or something.
Stephen Kruiser: The Morning Briefing: Psycho Libs Keep Reminding Us Why Public Education Should Be Defunded
Now, onto the Burgermeister Meisterburger of Bidenville…
Liz Sheld: Morning Greatness: 56% Say They Don't Approve of Anything Biden Has Done
I'd like to know from that 15% what exactly is better or even good about the current Biden economy.
Megan Henney: Surging prices leave Americans worse off than before despite wage gains – Red-hot inflation gave most Americans a pay cut in January: Wages for Americans are actually declining when accounting factoring in raging inflation
VIDEO: White House blames "greedy corporations" for Biden's bad inflation numbers … of course
Twitchy: Biden tells NBC's Lester Holt he's 'being a wise guy' for reminder of what the WH said about inflation last year
Inflation had biggest spike since 1982.

NBC's Lester Holt: "Back in July you said inflation was going to be temporary… A lot of Americans are wondering what your definition is temporary is."

President Biden: "You're being a wise guy." pic.twitter.com/DWAdD9vfFp

— Steve Guest (@SteveGuest) February 11, 2022
More of that famous 'one-liner' gaffes from old Joe that the MSM adores and calls endearing.
Andrea Widburg: The bad inflation numbers are even worse than the government says
But here's the kicker: inflation is almost certainly worse than it was 40 and more years ago. Moreover, because the government is in thrall to Modern Monetary Theory, it's going to get worse, lots worse. And all the while, China is sitting there, watching and waiting.

Inflation destroys wealth. People's salaries never keep up with the inflation rate, and the elderly aren't earning more money, so their savings can only lose purchasing power. It also hits the poorest people the hardest, making it completely regressive…

That "40-year" number, though, is misleading. Certainly, inflation has shot up with incredible speed, as happened in 1982, but real inflation is probably even worse than the accelerated rate suggests. That's because, in 1990, the government changed how it calculated inflation (something it also did in 1980). John Williams's Shadow Government Statistics calculates inflation as it would have been calculated before 1980 and before 1990. According to his numbers, inflation would have been over 15% using pre-1980 metrics and over 10% using pre-1990 metrics.

You don't need the numbers, though, to tell you what you already know. It's getting increasingly hard to afford life's necessities…
Chris Queen: Inflation Costs American Households $276 More Per Month
Twitchy: Biden stands next to 'lowering costs for families' sign & says he understands frustrations of Americans paying a lot more for everything
"The fact is…" Then proceeds to not list a fact, but his own opinion.

The real FACT is inflation is up 7.5% and it's year over year inflation – which is really bad.

— Adam (@mn_ajm) February 10, 2022
Forty-nine years as a DC politician results in that style of speaking, disconnected from reality and rational thought.

— History with ketchup (@PGrasmehr) February 11, 2022
Biden on inflation: "We're in a situation now where you should have peace of mind." pic.twitter.com/y8VBcJIDwQ

— RNC Research (@RNCResearch) February 10, 2022
I can't fill my stomach or car with peace of mind. https://t.co/qYYADOdBTU

— H.L. Chiselfritz (@RotNScoundrel) February 10, 2022
This is exactly how all socialist/communist leaders preach to the starving/struggling/freezing masses. Yeah, you're hungry/cold/poor but keep your eye-on-the-prize, comrades!

— Maggie (@drillanwr) February 11, 2022

For the love of man get that guy a cognitive test!

— Tired of being politically correct (@USBornNRaised) February 10, 2022

And the recent 'fuzzy math' jobs report is bullshit because the bulk of those jobs are business that have been able to finally reopen after the asinine lockdowns and workers able to RETURN. And a lot of the businesses are not fully staffed and are still begging for workers with "Now Hiring" signs and baiting with unheard of sign-on bonuses. The way they are counting these workers returning to work at their 'jobs' is as if they are new jobs (but that are not) is pure Soviet BS. That's like counting students going back to actually in-person school from two years of remote computer classes as new students.

Daniel Greenfield: Countdown to National Bankruptcy: How to destroy the economy with this one weird socialist trick.

Right now, in NYC some four thousand or more workers, many in medical and first-responder fields, are facing firings for vaccine mandates violations as they have reached that vaccine deadline. This is on top of those very important services already drastically depleted last year when the mandates were put in place, with hospital staffs, police, firefighters, and EMTs resignations, firings and early retirements. NYC is one of the worst hit cities in the nation in all of this, and it was intentionally inflicted upon them by then mayor Comrade Bill and then Luv-Gov. Cuomo.

Just a sidenote… I was listening to local talk radio yesterday morning. The host's question was tell me if you think Biden has done anything good. One caller listed all "identity politics" as his positives for Biden. He was the VP of the first black POTUS. He made the first black female his VP. He's nominating mostly blacks into cabinet and other positions. He will nominate the first black female for the SCOTUS seat. Not one actual concrete policy that has made anything better for anyone or the nation over the past year.

MORE:

Kevin Downey, Jr: Cop Beats Unconscious, Dying, Female Trump Supporter; Probe Deems It 'Objectively Reasonable'

Zero Hedge: Police Beating Of Unconscious Trump Supporter Was "Objectively Reasonable," Department Rules

The sudden attack horrified Boyland's friend and traveling companion, Justin Winchell, who pleaded with police and protesters to provide first aid to Boyland. Police bodycam video shows Winchell's shock when he saw Morris strike Boyland in the head.

"She's gonna die! She's gonna die! …I need somebody! She's dead!" Winchell cried.

Boyland was not pronounced dead until more than 90 minutes later, although she appeared lifeless when police dragged her body from the West Terrace tunnel entrance into the Capitol at 4:31 p.m.

During the 11 minutes after Boyland fell, protesters made repeated attempts at CPR—efforts that were frustrated in part by the beating and police spraying pepper spray into the faces of those trying to help Boyland, video shows.

There is confusion about what lifesaving efforts were made by police after Boyland was moved into the Capitol. Testimony before a Congressional committee suggested police attempted CPR at 4:26 p.m., which wasn't possible since at that time Boyland still lay on the concrete outside, being given CPR by protesters Jake Lang and Ronald McAbee…

J.J. Sefton @ AoSHQ: Byrds Of A Feather

I'm going to state this right here and right now, for the record: What happened inside and in the immediate vicinity of the Capitol Building was a premeditated false flag/Reichstag Fire event staged by the Democrat Globalist Axis. Ashli Babbit, Roseanne Boyland and the dozens of others who followed Antifa/BLM confederates of the FBI into the building were merely unwitting dupes and pawns guilty of no more than misdemeanor trespassing at worst. The latter are still rotting in jail over a year later, habeas corpus be damned, and the former are dead. Meanwhile, scum posing as peace officers Michael Byrd and this Lila Morris are hailed as heroes.

And yet, when cities and citizens are Burned, Looted and Murdered, Darren Wilson, Derek Chauvin, Kim Potter and others are "white supremacists" representative of institutional, ingrained racism since 1619 meant to keep black people down. But I digress. In the immortal words of Keith and Mick "every cop is a criminal and all the sinners saints."

As for the Capitol Police, they're nothing more than a uniformed goon squad posing as a Federal agency, with the backing of the House and Senate. On January 6th, 2021, the House was controlled by Malig-Nancy Pelosi, but the Senate was run by . . . Mitch McConnell…

Read the whole thing.

Jim Hoft: Capitol Police Dept. Rules Brutal Beating of Trump Supporter Rosanne Boyland on Steps of Capitol, While Unconscious, Who Then Died Was "Objectionably Reasonable"

Meanwhile, not all 'rioters' are created equal…

GOPUSA: Rioter Who Set Deadly Pawnshop Fire During BLM Riots Gets Only 10 Years

Matt Margolis: Is This Proof Capitol Police Lied About Why They Entered Rep. Nehls's Office?

Kevin Daley: Soros DA's Office Hired Registered Sex Offender As Paralegal: Loudoun County commonwealth's attorney Buta Biberaj's (D.) office employed man caught with 600 images of child pornography
~~~
~~Many thanks to Maggie and The Universal Spectator for reprint permission.
Posted by Maggie on February 11, 2022 in From the editors Let's look at this, shall we? Marxist apes are indeed running the asylum. First, it's really something else so unimaginable as to be laughable to be living through what is going on right now. As a matter of fact, it is so off the charts damn amazing that nobody would…
Posted by Maggie on February 11, 2022 in From the editors Let's look at this, shall we? Marxist apes are indeed running the asylum. First, it's really something else so unimaginable as to be laughable to be living through what is going on right now. As a matter of fact, it is so off the charts damn amazing that nobody would…