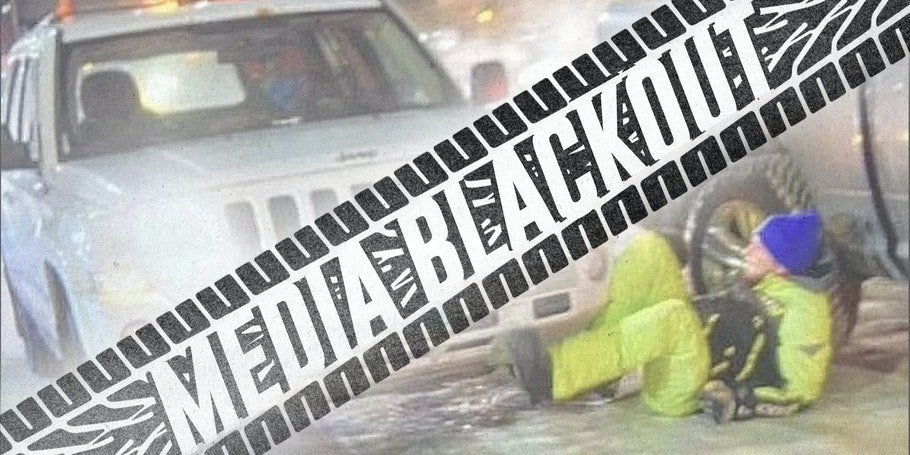 An Inconvenient Assailant – Patriots' Soapbox 24/7 News Network
By DOUGLAS ANDREWS February 11, 2022 in LeftMedia
Why is it that certain acts of political violence don't seem to attract the attention of the mainstream media?
Today marks the one-week anniversary of a vicious and nearly deadly act of political violence — an act that the mainstream media seems utterly uninterested in covering.
David Alexander Zegarac, 42, of Headingley, Manitoba, Canada, was arrested last Friday for having plowed his vehicle, a white Jeep Patriot, through a group of "Freedom Convoy" supporters in Winnipeg, Canada. Zegarac sped off from the scene, leaving four men injured. He ran multiple lights and resisted arrest when police caught up to him around 40 minutes later. As the Daily Mail reports, he now faces four counts of assault with a weapon, two counts of dangerous operation of a conveyance causing bodily harm, one count of dangerous operation of a conveyance, two counts of failure to stop after an accident, and two counts of failure to stop at the scene of an accident.
That's all well and good, but where are the charges for attempted murder? Recent history tells us that when a guy rams an SUV into a crowd of people, the results can be horrific. That they weren't in this case shouldn't excuse the assailant, who's clearly a menace to society.
What we know about this menace, this David Zegarac, is that he's an antifa member with a long history of far-left militancy. He was the frontman of an antifa punk band Brat Attack until the record label dropped the group because of multiple accusations of sexual assault against, yes, Zegarac in 2015. One of the accusers said she was only 13 when he groomed her and raped her.
So why aren't we hearing anything more about this unprovoked assault on peaceful demonstrators? Where's the Canadian media coverage? Why hasn't Prime Minister Justin Trudeau denounced this reprobate and this act of political violence? It's as if they just can't bring themselves to call additional attention to bad behavior when it comes from the Left. As columnist Conor Vasile writes:
It seems as if once again large news corporations want to sweep the incident under the rug, much like they did with the Waukesha Christmas parade hit-and-run hate crime that killed seven and injured more. Notice that legacy media isn't talking about that anymore?

Commentators on the left never waste an opportunity to bring up the Charlottesville, Virginia, car attack, a horrible assault that killed one and injured 35 others. It seems as if whenever freedom-loving patriots congregate, leftist media eagerly reminds the world of the dangers of supposed emerging fascism and alt-right conspiracy theorists, while dodging the true issues at hand. Here, those issues are the right to bodily autonomy and the Covid-19 response's gross abuses of governmental authority.
Imagine the uproar and the outrage if this vehicle had been driven into a crowd of Black Lives Matter supporters instead of a crowd of peaceful, law-abiding, liberty-loving citizens.
When it comes to political violence, the double standard is becoming ever more obvious. In addition to the examples cited above, we'd add the name of James Hodgkinson, the deranged leftist and Bernie Sanders campaign volunteer who opened fire on a group of congressional Republicans who were practicing for their annual Congressional Baseball Game. The assailant kept firing until he was ultimately engaged and killed by two Capitol cops. Today, how many people remember Hodgkinson's name, or even recall his act of attempted mass murder? Even the FBI got into the whitewashing act, calling it a case not of political violence but of attempted "death by cop."
Hodgkinson's act was one of domestic terrorism, pure and simple. So was last Friday's crime in Canada. That the media won't call it as much is to its eternal shame.
~~~
~~Reprinted with permission. See the original article here and leave some comments! 
By DOUGLAS ANDREWS February 11, 2022 in LeftMedia Why is it that certain acts of political violence don't seem to attract the attention of the mainstream media? Today marks the one-week anniversary of a vicious and nearly deadly act of political violence — an act that the mainstream media seems utterly uninterested in covering. David…
By DOUGLAS ANDREWS February 11, 2022 in LeftMedia Why is it that certain acts of political violence don't seem to attract the attention of the mainstream media? Today marks the one-week anniversary of a vicious and nearly deadly act of political violence — an act that the mainstream media seems utterly uninterested in covering. David…