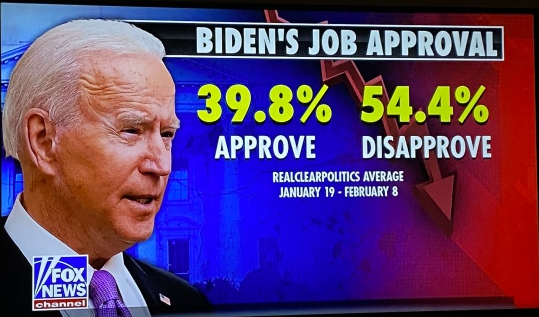 Thursday Newsfeed: Come On, Man! This is a Big F***ing Deal, Brandon!
Posted by Maggie on February 10, 2022 in From the editors
Joe Biden has been in Washington DC in the federal government for 50 years, in one title or another. He has been involved with the policies that the rest of us plebs have had to, and continue to, live with because of it. So, considering the newly released numbers reflect just a year's tenure in his current (alleged) DC job, a 40 year high really is a huge f***ing deal that we find ourselves living under with this dried-up husk of a career politician who should be home stepping in his puppy's "accidents". Worse, the guy is incapable of recognizing this. First, because his career democrat demented brain cannot process actually living through financial struggles the way we do. Second, because now at his late age he has, well, you know … the thing.
The "new normal" is that the whole country has been red-pilled and is ready for new management.

— David Sacks (@DavidSacks) February 9, 2022
"It's the economy, stupid." – James Carville
Megan Henney: Red-hot inflation surges to new 40-year high, forcing small businesses to raise prices: Inflation accelerates 7.5% in January, hitting a fresh 40-year high … inflation is eroding American's wage gains and hurting Democrats in an election year
VIDEO: Charles Payne and Larry McDonald: Inflation has inflicted so much pain for consumers
Larry Kudlow: Biden has gone 'big woke': Fed nominee Raskin 'has her own radical agenda' (w/VIDEO)
Larry Summers: On inflation, we can learn from the mistakes of the past — or repeat them
INBOX: @POTUS Biden weighs in on the new inflation numbers: "…while today is a reminder that Americans' budgets are being stretched in ways that create real stress at the kitchen table, there are also signs that we will make it through this challenge." pic.twitter.com/b940QCqfn9

— Ed O'Keefe (@edokeefe) February 10, 2022
He called it temporary in July of last year. It's weird that context is somehow not being included. https://t.co/U3wHGf9KRI

— Stephen L. Miller (@redsteeze) February 10, 2022
I work at a grocery store, food prices are jumping 20-30%. I've never seen it go down by that much.
It's not going to get better. Advisors telling you what you want to hear has never worked.
He can't do his own investigation.

— Debbie, I'm a believer. (@debbiepond601) February 10, 2022
They climb so high, and then when they fall a few cents or a buck you are supposed to believe things are so great. Boiling frog.

— Maggie (@drillanwr) February 10, 2022
By the way, Biden campaigned in 2020 that he would not raise taxes on the middle class. Well, sane economists are saying this … inflation … is, indeed, a tax on we working plebs. And it has been made worse by the Biden spending bills, with more on the way.
Fuel prices are always at the core of consumer product prices. It is the reality. From the farmers vehicle to get to the supply centers or paying fuel costs (as we ourselves just discovered last week when checking with our trash collection company whose fees were outrageous, we were also paying for) for seed, ferilizer, etc. to be delivered to the farm, to the cost to run the massive tractors and pother heavy equipment from tilling acres of fields to seed-planting to fertilizing to harvesting and transporting, fuel is involved. And so, those rise in costs are passed onto producers and they pass on the hikes to the venders, and they pass the hikes onto the stores … who pass them onto the rest of us. NOBODY can logically not do this in that supply line … unless we live in a totally government owned and run farm/producers in a communist country.
Fertilizers, just like all you leftists' cell phones and other depended upon tech devices and 'electric' cars, use fossil fuels and fossil fuel byproducts…
Kay Smythe: Fertilizer Price Spikes and Chinese Import Reliance Threatens US Agriculture Security: Fertilizer prices have risen more than 100 percent for all major nutrients required for crop production since September 2020, potentially risking the long-term viability of American farms and further increasing the cost of food to US consumers.
John Rigolizzo: Vulnerable Senate Democrats Introduce Bill To Suspend Gas Tax Amid Skyrocketing Prices … This isn't even good enough to even qualify for "Band-Aid" status. The market is completely ignored in this latest demo-commie brilliance ahead of a midterm election, so, don't fall for it if you see your price at the pump going down a few cents, because it'll still be double what you were paying before old Joe took over the Oval Office with his minions and dumped our energy independence policies from Pres. Trump.
Stephen Kruiser: The Morning Briefing: Dems' Disturbing Soviet 2.0 Dream for America Is Coming True
IQ al-Rassooli: James Carville Was Right, It's the Economy Stupid!
As a regular columnist and voice at America Out Loud, the one from across the pond, an observer of the downwards flushing of the American Republic into the sewer of despair, I would like to inform those Americans who oppose Biden and the Communist Democrats NOT to take winning in 2022 November for granted. We see the decline economically, spiritually, militarily, socially, educationally, and legally under the most incompetent and treasonous 'president' in the 245-year history of this once great nation.

Complacency and arrogance always end up in defeat and disaster. This is the time to be brazenly angry at the dismantling of all that you hold dear.

It is absolutely false that US inflation is only in the single digits. These figures include all other items above and beyond food, fuel, and petrol, which are the most essential daily requirements for every American family.

Inflation, in real terms, is at a minimum of 20-25% and rising. If Dominos intends to reduce its items by 20%, then these are the actual inflationary figures. All other food, fuel, and energy suppliers must do the same to keep afloat.

As always, Democrats use their Fascist stooges in the mainstream media to distract the attention of the public by finding one or more scapegoats such as Russia & Ukraine; while they actually support the Russian gas line to Germany (thus allowing Putin incredible political and economic control over Europe and NATO) and contrary to the economic wellbeing of Ukraine.

…

What 'poetic justice' and karma this would be since these words, "The economy, stupid," was a phrase that James Carville coined in 1992. Carville was a strategist in Democrat Bill Clinton's successful 1992 presidential campaign against incumbent George H W Bush.

The Republicans must repeatedly, relentlessly, and incessantly bring up all the above disasters to the attention of Americans, so that come November 2022, very few of them would have any reason to vote Democrat and, hopefully, for the sake of saving what will be left of the Republic, from further destruction under the insanity of Radical Democrats.
Read the whole thing.
What would Captain Diaper Man do without the MSM to try to cover his ass…
Rick Moran: White House Disputes Report that HHS Is Dumb Enough to Hand Out Free Crack Pipes
Twitchy: Cracks us UP: WaPo's attempt to rescue #CrackPipeBiden claiming he's NOT spending millions on crack pipes ain't all it's CRACKED up to be
Pay attention to their headline …

It doesn't say they're not buying crack pipes, it says they're not spending $30 million on crack pipes alone. If you actually read the article (and trust us, they know their readers will just see the headline and run with it) you see the admin is absolutely buying crack pipes.

Take a look.

No, the federal government isn't spending $30 million on "crack pipes" https://t.co/H4TbnmZtZX

— The Washington Post (@washingtonpost) February 10, 2022
Reported for misinformation.

— Doyle (@ZeroFoxGibbons) February 10, 2022
Twitchy: GOP Sen. Tom Cotton isn't ready quite ready to applaud Biden's HHS for promising federal funds wouldn't be used toward free crack pipes
Good news. Biden's HHS is no longer funding crack pipes.

But make no mistake: yesterday's change in policy is because HHS got caught. pic.twitter.com/s7nW1mN3GS

— Tom Cotton (@TomCottonAR) February 10, 2022
Unfortunately, HHS is still proudly using your tax dollars to fund heroin syringes for drug addicts. pic.twitter.com/tGuATmZWWl

— Tom Cotton (@TomCottonAR) February 10, 2022
HHS seems to confirm @PatrickHauf and @FreeBeacon's reporting while also calling it "blatant misinformation" https://t.co/7C9fOuujBS pic.twitter.com/NiRKxTPawm

— Sam Dorman (@DormanInDc) February 8, 2022
VIDEO: White House seeks to advance 'racial equity' with crack pipe distribution: Criminal defense attorney David Bruno and former U.S. attorney Harry Litman discuss the government's harm reduction grants that would distribute crack pipes to 'underserved' communities
Stephen Proctor: Geraldo Rivera supports Biden's plan to supply drug addicts with clean paraphernalia to save lives
One has a lot to do with the other…
Danielle Wallace: LIBERAL NEGLIGENCE: Locals outraged, fearful as homeless encampments occupy community while city officials do nothing – Venice Beach residents blast Los Angeles officials over crime, homeless encampment safety concerns. Venice Stakeholders Association says LA could be liable if fires from camp spread through neighborhood … Your property value drops. Your property is vulnerable to crime and squatting (on several levels). Your taxes still climb. You cannot walk the beaches without stepping on used needles and excrement. Need I continue?
FNC: Democrat-run city sees slew of deadly shootings over 5 days as budget cuts, staffing shortages plague police force
And while we are looking at the shiny new taxpayer-funded drug addiction gift packs, we must never take our eyes off the absolute unconscionable tax dollars going into Biden's open border spending…
Joseph Simonson: ICE Deportations Down 70 Percent in 2021 Under Biden
Adam Shaw , Bill Melugin: More than 47,000 migrants released into US by Biden admin in 2021 failed to report to ICE: Biden admin released 104,171 migrants with Notice to Report between March and August … But they are still getting federal and state government assistance.
Deroy Murdock: Biden's wide-open 'border' is deliberate – and part of a 'long game' strategy: The fiasco at the border is the president's finest hour
Matthew Foldi: Watch GOP Ad Yanked From Airwaves Due to Images of Illegal Border Crossings
MORE:
Stephen Moore: Why Are Liberals So Miserable?
FNC: Sen. Braun: Independents are almost in lockstep with the GOP many issues: Sen. Mike Braun on President Biden plummeting in the polls amid national crises, says Americans have 'buyer's remorse'
Tyler McCarthy: Morgan Wallen's crowd chants 'Let's Go, Brandon' at packed Madison Square Garden show: Morgan Wallen's fans also burst into chants of 'USA'
~~~
~~Manay thanks to Maggie and The Universal Spectator for reprint permission.
Posted by Maggie on February 10, 2022 in From the editors Joe Biden has been in Washington DC in the federal government for 50 years, in one title or another. He has been involved with the policies that the rest of us plebs have had to, and continue to, live with because of it. So, considering the newly released numbers reflect…
Posted by Maggie on February 10, 2022 in From the editors Joe Biden has been in Washington DC in the federal government for 50 years, in one title or another. He has been involved with the policies that the rest of us plebs have had to, and continue to, live with because of it. So, considering the newly released numbers reflect…