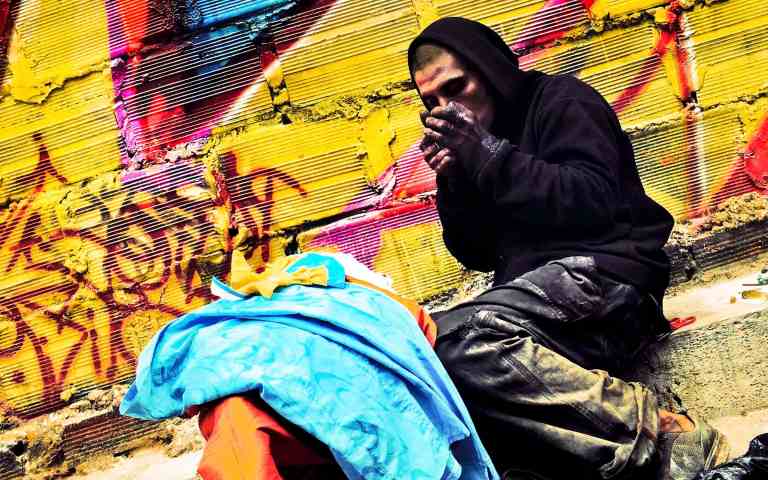 Tuesday Newsfeed: The Left's Social Re-Construct is Divisive, Dehumanizing, Disastrous … and Deadly
Posted by Maggie on February 8, 2022 in From the editors
Joe Biden's man-made disasters in just one year and a month.
And you thought his administration being "pushers" of an experimental vaccine, and masks, was bad?
JUST IN – #Pfizer forecasts $54 billion coronavirus-related sales in 2022 from its Covid vaccine and anti-viral pill.

— Disclose.tv (@disclosetv) February 8, 2022
The Biden administration has officially become willing and eager human traffickers and illegal drug pushers.
God, help us…
Angie Wong: Border patrol 'working with cartels' to handle overwhelming migrant crossings: Former official
The southern border of the United States has become a suggestion, a line that vanishes a little more each day.

I spent three days on the front lines of the Biden administration's illegal-immigrationcrisis, and found a Border Patrol that has changed from an enforcement agency to a concierge service. A pipeline of migrants, fueled by cartel coyotes and abetted by American liberal nongovernmental organizations, enter the nation in droves, and many will likely never return to the countries they left…

Even if the government wanted to secure the border, there aren't enough officers to police the hundreds arriving each day. So the Border Patrol has made deals with the devils…
Read the whole thing. Absolutely unbelievable and unacceptable, and the vast majority of our country's MSM is burying this major story about the wholesale loss of this nation's sovereignty with the aid and abetting of the Biden government. But wait. It gets worse…
streiff @ Red State: You Can't Make This Up. Biden's HHS to Fund Crack Pipes, Needles, and "Harm Reduction" Vending Machines
The Biden HHS department is about to award $30 million to non-profit groups to distribute "harm reduction" supplies, among them crack pipes.

The $30 million grant program, which closed applications Monday and will begin in May, will provide funds to nonprofits and local governments to help make drug use safer for addicts. Included in the grant, which is overseen by the Department of Health and Human Services, are funds for "smoking kits/supplies." A spokesman for the agency told the Washington Free Beacon that these kits will provide pipes for users to smoke crack cocaine, crystal methamphetamine, and "any illicit substance."

HHS said the kits aim to reduce the risk of infection when smoking substances with glass pipes, which can lead to infections through cuts and sores. Applicants for the grants are prioritized if they treat a majority of "underserved communities," including African Americans and "LGBTQ+ persons," as established under President Joe Biden's executive order on "advancing racial equity."
…
Other "harm reduction" equipment that qualifies for funding include syringes, vaccinations, disease screenings, condoms, and fentanyl strips. The grant program will last three years and includes 25 awards of up to $400,000.

An HHS spokesman declined to specify what is included in the smoking kits. Similar distribution efforts provide mouthpieces to prevent glass cuts, rubber bands to prevent burns, and filters to minimize the risk of disease.

New York City health officials have announced a plan to install 10 "public health vending machines" that would dispense sterile syringes, an anti-overdose medication and other "harm reduction" supplies in neighborhoods hit hard by drug overdoses. https://t.co/CvaWdZG8XO

— The New York Times (@nytimes) January 8, 2022

…

While the free crack pipes are undoubtedly worthy of mockery, what Biden's HHS seems to be doing is electing to treat drug addiction as an acceptable status quo (my guess is that more than a small part of this decision is just raw classism, I mean, what do you expect of these people?) at a time when heroin, fentanyl, crack, and meth are devastating an entire generation in both rural and urban America. Unfortunately, as we've seen in the Middle East and Europe, managing decline takes a lot less imagination than trying to win.
Read the whole thing. Our tax dollars are not only going to the 'human trafficking' on our border and distributed throughout the nation for state and local governments to them become financially responsible for, but also with the drug trafficking and enabling of a growing, destructive, and useless— and dangerous, sub-class of our society.
Jesus, take the wheel.
This is being done for "equity"???!!!??? WTF does that even mean in 'sane' terms?? I'm old enough to remember the left screaming that the drug problem in minority communities was intentionally introduced and fueled by the federal government in the 1960s and 70s. And then it was the Reagan administration's feds that intentionally went after the gay community in the 1980s with AIDS. Where the Hell are those screamers now?
Stephen Green: San Francisco Promotes Illegal Drug Use, Overdose Deaths 'Skyrocket'
San Francisco launched a "bizarre medical experiment" in which the city helps the homeless use illegal drugs. Environmental and urbanization writer Michael Shellenberger notes that since the pandemic began, the city has lost twice as many residents to drug overdoses than to COVID.

"The city is carrying out a bizarre medical experiment whereby addicts are given everything they need to maintain their addiction — cash, hot meals, shelter — in exchange for . . . almost nothing," Shellenberger reports in a Substack column.

You can go and witness all of this if you simply walk down Market Street and peek your head over a newly erected fence in the southwest corner of United Nations Plaza. You will see that the city is permitting people to openly use and even deal drugs in a cordoned-off area of the public square.

The local mother of a 24-year-old homeless woman compares the city's essentially pro-drug policy to "handing a loaded gun to a suicidal person."

Despite promises in January from "progressive" Mayor London Breed to "put an end to all the bullshit destroying our city," her own government is running "a supervised drug consumption site in United Nations Plaza."

That's a nice part of town, too. Or was…
Read the whole thing. Makes no sense, you might say. Why allow, especially in democrat enclaves … democrats insisting they are for the poor and downtrodden and for helping them and giving them second and third chances to get their lives back … why are we seeing the illicit drug carnage in blue cities? Well…
Kevin Downey, Jr: Keep 'Em High: Democrats Making It Easier for Minorities to Get Whacked Out on Serious Drugs
The left seems obsessed with bending over backward to make it easy for minorities to get hammered.

As PJ Media's own Chris Queen reported earlier, the Biden administration is coughing up mad stacks to help "underserved communities" get zonked on hard drugs.

The feds are spending $30 million to help vulnerable populations get whacked, and that includes the LGBT alphabet soup peeps as well. All this to supposedly "help" drug users not OD. Making it easy to shoot or smoke serious drugs seems akin to having a suicide prevention meeting at a gun range.

Biden and the Democrats are giving black people drug paraphernalia. President Trump gave them the lowest black unemployment rate in history.

…

Are drug kits a good idea? Not unless you're looking to kill black, Hispanic, and gay people.

But Democrats aren't interested in saving lives. Our southern border, much like Antifa, is a "myth."

Fentanyl flows over our border like a chocolate fountain in Stacey Abrams' kitchen. Fentanyl overdoses are now the leading cause of death in American adults age 18–45.

Where are we seeing a boom in drug overdoses? You know where: mostly in blue cities. Thirty-four of them, to be exact…
Again, read the whole thing. Downey takes a flippant tone in his exposing of the current drug abuse epidemic in this country, but it is an obvious sign of frustration in the face of the government (local and federal) self-imposed man made disasters that are actually tied together, the 'open border' and the flow of even more deadly drugs from that highly irresponsible and illegal policy into our communities.
Jake Lahut @ BI: NYC Mayor Eric Adams says it's hard to tell the difference between a person 'hooked on cheese' and someone 'hooked on heroin' … Yeah, Eric, my money's on a 'cheese' addiction…
By the way, I really don't think it is 'cheese' addicts busting into cars, homes, stores and stealing money and property to support their 'cheese' habit. It can be safely said that the rise in crime and rise in drug abuse has a direct correlation in these cities.
Ben Kesslen and Larry Celona: DEA targets the Bronx as part of anti-drug operation
The two New York cities — as well as Newark and Camden in New Jersey — are among 34 locations in 23 states that will be part of "Operation Overdrive," an initiative launched by the Drug Enforcement Administration on Feb. 1.
MORE:
DC: AG Says His State Is Under 'Invasion' From Illegal Migrants, Threatens To Defy Biden And Defend The Border
DC: Suspected Human Trafficker's Full On Zombieland-Level Freak Out Caught On Camera
Is Hunter Biden going to be the head of the new "crack pipe handout" program?

— Art TakingBack 🇺🇸 (@ArtValley818_) February 8, 2022
It really does scream for a Czar.

— Maggie (@drillanwr) February 8, 2022
Kyle Smith (6/16/21): Hunter Biden's Crack-Fueled Misadventures: The hair-raising tale of how a future president's son burned his Burisma millions on a desperate, three-year, coast-to-coast drug binge
Matt Leach: Voters deep in Biden country detail priorities heading into midterms: Education and the economy top list for people in Albuquerque, NM
Conrad Black: What To Do With the Left After Their Coming Spanking: The day is now not far off when wokeness, American self-hate, foreign appeasement, and the indulgence of criminal and corrupt organizations like Black Lives Matter will end.
~~~
~~Many thanks to Maggie and The Universal Spectator for reprint permission.
Posted by Maggie on February 8, 2022 in From the editors Joe Biden's man-made disasters in just one year and a month. And you thought his administration being "pushers" of an experimental vaccine, and masks, was bad? JUST IN – #Pfizer forecasts $54 billion coronavirus-related sales in 2022 from its Covid vaccine and anti-viral pill. — Disclose.tv (@disclosetv) February 8, 2022 The Biden administration has…
Posted by Maggie on February 8, 2022 in From the editors Joe Biden's man-made disasters in just one year and a month. And you thought his administration being "pushers" of an experimental vaccine, and masks, was bad? JUST IN – #Pfizer forecasts $54 billion coronavirus-related sales in 2022 from its Covid vaccine and anti-viral pill. — Disclose.tv (@disclosetv) February 8, 2022 The Biden administration has…