Monday Newsfeed: Dems in an Elitist State of "Waiting to Exhale" While Demanding Everyone Else Shut-Up and Obey
Posted by Maggie on February 7, 2022 in From the editors
I guess COVID doesn't photo-bomb, huh?
It's not hypocrisy. It's hierarchy. pic.twitter.com/d4aipvxtkq

— Christina Pushaw 🐊🚛 (@ChristinaPushaw) February 6, 2022
Real history will reveal that these last two years was left in this country's weaponizing of the China bio-weapon…
Michael Walsh: THE COLUMN: Sic Semper Tyrannis
And so we near the end of the Great Pandemic Hoax of 2019-22, an unprecedented and breathtaking power grab by governments around the world to seize powers far beyond their constitutional allotments and to transform a relatively minor flu virus — however originated and for what ill purposes — into a weapon of mass economic and emotional destruction whose effects will be felt for years and decades to come. It has been a textbook example of tyranny.

Consider it a warning shot, though, because while Covid may finally have been exposed for the non-apocalyptic event it always was, such tyranny is only the beginning until we put a stop to it. Put a stop to extra-legal "emergency" measures that are transparently and insultingly fraudulent, and which are invoked in the name of the "greater good." Put a stop to the notion of judicially sanctioned "protected classes" in a formerly classless society. Put to stop the notion of a "New Normal" of privation, deviancy, and spiritual and material penury imposed by Leftists as they continue their centuries-old task of undermining every tenet of Western Civilization in the name of "equity" — in a world in which equality is aspirational at best and equity is impossible…
Read the whole thing.
Twitchy: 'New caste system just dropped'! Christina Pushaw's photo-packed thread truth nukes Dems' mask double standards
Lots of people that demand the rest of us unwashed plebs, and especially our pleb children, slap-on face masks are not lowering themselves to wear one … and pretty much all of them are democrats…
A maskless Biden strolls around the stage, shaking hands and speaking to others in close proximity.

Biden has repeatedly called wearing a mask "a patriotic duty." pic.twitter.com/Eq0d09B9Dj

— RNC Research (@RNCResearch) February 4, 2022
Adam Sabes: Democratic Rep. Jamaal Bowman caught maskless in New York high school with masked students
Mark Lungariello: LA Mayor Eric Garcetti says he 'held breath' for maskless photo with Magic Johnson
Yaron Steinbuch: California Gov. Gavin Newsom defends himself over mask debacle at NFL game
Cameron Cawthorne: Stacey Abrams receives backlash for posing maskless with room full of young masked children: 'Mask hypocrisy is practically a status symbol now,' National Review's Rich Lowry tweeted
Twitchy: There was a second deleted tweet from Stacey Abrams that could be worse than the one where she wasn't wearing a mask
EXCLUSIVE: Eric Adams pictured maskless today indoors in NYC just days after saying mask mandates will remain in effect in public schools pic.twitter.com/rgfICtwTYr

— Libs of Tik Tok (@libsoftiktok) February 7, 2022
Tyler O'Neil: NYC Mayor Eric Adams caught maskless days after doubling down on mask mandate for schools: Adams' mandate requires kids to wear masks 'on school grounds,' apparently with little or no exception for the outdoors
Twitchy: Here's a photo of unmasked Barack Obama meeting with masked construction workers building his mansion in Hawaii (and possibly destroying the environment) … Barry bought the house used in the old TV show "Magnum P.I.". Hate to tell Bam but that sea wall ain't going to hold back the seas if they do rise because of "climate change".
Sam Dorman: Pro-mask Democrats keep getting caught maskless: Stacey Abrams' campaign accused critics of exploiting a Black History Month reading
VIDEO: Newt Gingrich on Stacey Abrams, Canadian truckers: People are realizing it's all baloney
Victor Davis Hanson: Our Elite is No Elite At All: The only real recent public service of elites has been to persuade us why they were never elites at all.
FNC: Sen. Rand Paul says mask mandates were always about 'submission': Paul worries 'about the future of America'
Maybe some hope?
Leslie Eastman: Hundreds Of Students at CA High School Arrive Maskless to Protest Gov. Newsom Hyopcrisy: Teachers barricaded the students in the lunchroom and turned down the thermostat.
By the way, y'all know when you have a COVID nasal swab test your DNA is on there too when it leaves your nose. Well, now comes the realization that as the CCP is repeatedly testing the world's athletes for COVID during their whole time there for the Winter Olympics … and ALSO collecting their DNA.
VIDEO: Rep. Waltz, Enes Freedom release ad slamming China, 'genocide games'
The Sun: GOLD AT ANY COST China's horror Winter Olympics machine sees kids 'beaten raw' by coaches & athletes picked in chilling DNA selection: FROM humiliating punishments to invasive DNA testing, China's prowess on the Olympic stage has come at a hefty price to thousands of children.
The Daily Zuby:
"We need to censor people who spread medical misinformation."

– People who claim men can get pregnant and menstruate

— ZUBY: (@ZubyMusic) February 7, 2022
The biggest purveyors of "misinformation" over these last two years of COVID have been the WHO, CDC, and Fauci … and their mouthpieces in the China-bowing corporate MSM industrial complex…
Bradford Betz: CDC weighs increasing time between vaccine doses to lower risk of heart inflammation: Risk of heart inflammation is lowered if the vaccines are given eight weeks apart, health officials say
VIDEO: Steve Hilton: Lockdown lunatics have blood on their hands
Henry F. Smith Jr., MD: Why Ivermectin was Disappeared
VIDEO: Rob Astorino: NY Gov. Hochul cares more about kids wearing masks than victims of violent crime
Emma Colton: New Jersey will eliminate school mask mandate for children and staff
VIDEO: Georgia Republican says voters will send message to Democrats over masks
Twitchy: Did they just see some internal polls? Dem governors join sudden pivot on school mask mandates
Lawrence Richard: Spotify won't be 'silencing' Joe Rogan amid controversy: CEO – The statement comes as many people are calling on the platform to censor Rogan
Rebekah Koffler: The censoring of Joe Rogan is a tactic right out of old Soviet Union
Ace: Leftist Deplatforming Attack on Joe Rogan Hits Fever Pitch; Rumble Offers Rogan "100 Million Reasons" To Leave Spotify for Rumble
If a guy with a webcam and a microphone is so threatening to the system then maybe the system is more fragile than we think. #joerogan

— Sam (@SamReadsBooks) February 7, 2022
Keep on truckin', Canuck big-riggers…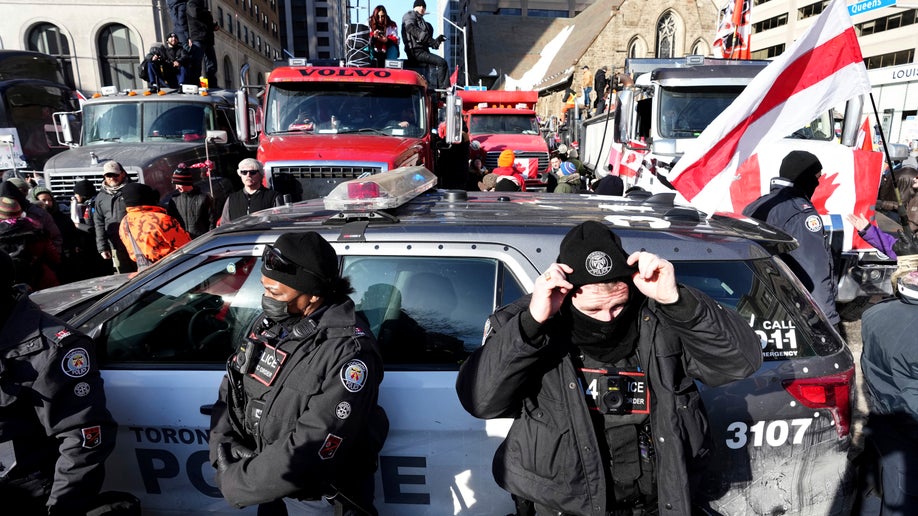 Danielle Wallace: Canada 'Freedom Convoy': Ottawa police arrest 7, threaten charges for others caught bringing fuel to truckers: Ottawa police say more than 100 have been issued tickets in connection to the protest
VIDEO: Sen. Ted Cruz asks FTC to probe GoFundMe over Canada Trucker Convoy's donations
VIDEO: Republican attorneys general pledge to investigate GoFundMe freezing donations to Canadian truckers
Glenn Reynolds: Truckers are starting a working-class revolution — and the left hates it
MORE:
One of the #WOKE wells Soros is dipping from for his takeover of our nation's justice system…
Melissa Klein, Jon Levine and Conor Skelding: John Jay College think tank is ground zero for woke DAs: Ground zero for woke district attorneys is a left-wing think tank in the heart of the Big Apple.
VIDEO: New York Post column calls out woke DA's coming from same college
Meanwhile, in NYC, metro bus drivers are now calling for the city to give them bullet-proof vests…
David Meyer, Joe Marino and Jorge Fitz-Gibbon: NYC bus hit by bullet that just misses rider — as some drivers seek bullet-proof vests: officials
It's not just democrat voters that are jumping the party ship…
Carl Campanile and Rich Calder: Brooklyn Democrat Brook-Krasny switches to GOP as he eyes Assembly run
"I can't believe everything that's going on in the Democratic party, all the calls to 'defund the police,' the cancel culture. It goes against my character and my nature … Members of Democratic Party turned on the police — the people who provide safety and security to our constituents … I think this is just the beginning. I think we will see a trend. I've tried for a long time, but I don't think I can change the Democratic party from the inside out, so it's time to work from the outside." …
David Catron: Why Biden Will Pick a Radical Replacement for Breyer: He needs a major confirmation fight with the Republicans in order to whip up his base.
Michael Lee: AOC heading to Texas to campaign against Democratic colleague: Jessica Cisneros is looking to unseat incumbent Rep. Henry Cuellar … Cuellar has been the target of the dems and the Biden feds of late. The Congressman has not been far left enough, and has publicly voiced his disapproval of Biden's policies, especially on the U.S. border. And that pisses-off Sandy.
And then there is our Second Amendment: Biden and the ATF backdooring an illegal 'federal firearm registry'…
Gabe Kaminsky: Biden Administration Maintaining Nearly One Billion Gun Sales Records On Americans
The Biden administration has disclosed that it possesses firearm purchase records by Americans that adds up to almost one billion, contrary to what members of Congress were aware of, on the heels of an investigation last year showing the Bureau of Alcohol, Tobacco, Firearms, and Explosives (ATF) has records on more than 54 million transactions.

ATF acknowledged in a letter to Rep. Michael Cloud (R-TX), which was obtained by The Washington Free Beacon, that it currently has records of more than 920 million gun purchase records. Cloud launched a probe after the outlet reported on the stockpiling of records, which he called a "federal firearm registry" that is "explicitly banned by law."

The agency has been transferring hard copies of the records to a digital database used to find guns related to criminal activity, even though ATF denies that its records are intended to track owners. More than 850 million of the records can be accessed digitally, the agency reported. The documents can then be digitally searched with optical character recognition technology…
John R. Lott, Jr: Democrats Pushing Gun Registry as Precursor to Gun Ban
Posted by Maggie on February 7, 2022 in From the editors I guess COVID doesn't photo-bomb, huh? It's not hypocrisy. It's hierarchy. pic.twitter.com/d4aipvxtkq — Christina Pushaw 🐊🚛 (@ChristinaPushaw) February 6, 2022 Real history will reveal that these last two years was left in this country's weaponizing of the China bio-weapon… Michael Walsh: THE COLUMN: Sic Semper Tyrannis And so we near the end of the Great Pandemic…
Posted by Maggie on February 7, 2022 in From the editors I guess COVID doesn't photo-bomb, huh? It's not hypocrisy. It's hierarchy. pic.twitter.com/d4aipvxtkq — Christina Pushaw 🐊🚛 (@ChristinaPushaw) February 6, 2022 Real history will reveal that these last two years was left in this country's weaponizing of the China bio-weapon… Michael Walsh: THE COLUMN: Sic Semper Tyrannis And so we near the end of the Great Pandemic…