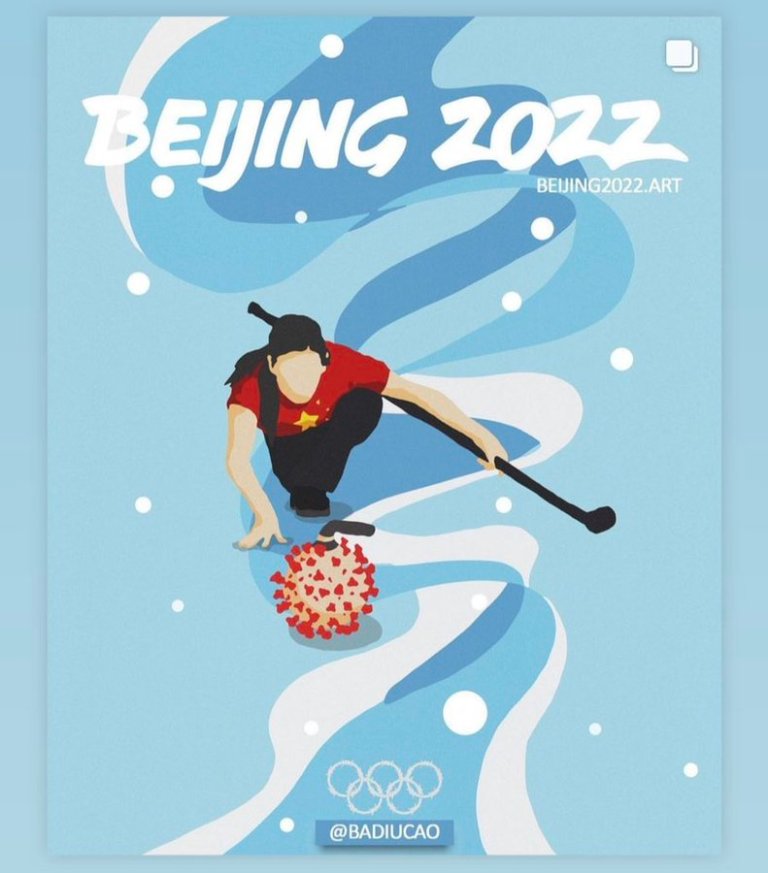 What Not to Watch This Weekend, or The Rest of the Duration…
Posted by Maggie on February 5, 2022 in From the editors
As is being pointed out, China's communist history within China and against the Chinese people is enough of a massive moral and human stain to not hold any Olympics in that country. But there are even far more violations to the core spirit of the international games that should negate their viability of being the Olympics host. Unanswered major issues of China's communist imperial behavior persists. China's recently exposed atrocity of their treatment of Uighurs in China that parallels that of the Nazi holocaust — China's threats and aggression to Hong Kong and Taiwan. Building artificial islands (atop protected coral reefs) in international waters of the South China Sea and using them as military bases for its navy. China's CCP lab creation of a bio-weapon released on the world to kill and sicken countless millions around the globe and ruin world economies. China continues to lie and absolutely refuse to give the rest of the world the information, data, and openness in order to combat the COVID virus plaguing the world for over two years. What the CCP government's silencing and "disappearing" of scientists and medical people who tried to get out the facts of the virus to warn the world.
But the corporations in the U.S. in media, professional sports, entertainment, tech, products have all bowed to their CCP China overlords.
Katie Jerkovich: TV Ratings Tank For The Olympics In Communist China: The ratings are in for NBC's first day of coverage for the 2022 Winter Olympics being held in communist China and they are down from the previous year.
And just like they did with a prior Olympics games in Russia, NBC broadcasters are all too happy to whitewash the communist country's history and play PR guru for them…
NRO: NBC Takes a 'Both-Sides' Approach to Chinese Human-Rights Abuses during Olympics Opening Ceremony … I'm sorry— WHAT?!? There are 'both', as in 'two', sides to human rights abuses and violations now?
Outkick: IS NBC'S SAVANNAH GUTHRIE WORKING FOR THE CHINESE GOVERNMENT? IT SOUNDS LIKE IT
David Hookstead: ESPN Star J.A. Adande Claims Americans Shouldn't Criticize China's Human Rights Record … Uh-huh … ESPN is part of Disney's media holdings, and both are heavily invested in the China market for their profits, so, they not only cannot insult but must defend the communists, and they must trash anyone else who would call out the commies.
(Photo HT: Instapundit)
Twitchy: 'Savage': Guy Benson and Katie Pavlich share what the Beijing 2022 Olympics poster and official merch *SHOULD* look like
At an overtly political Opening Ceremony, China tried to use the Olympic flame to rewrite its treatment of the Uyghurs. So let's it glow reveal the truth: Murder. Slavery. Torture. Forced abortions. Sterilization. Racism. Imprisonment. https://t.co/HpC81ReBVa

— Dan Wetzel (@DanWetzel) February 4, 2022
Ryan Gaydos: Winter Olympic athletes blast conditions of COVID quarantine hotels: COVID isolations have come under scrutiny in China
Andrew Mark Miller: Chinese officials interrupt live Olympic TV broadcast, push reporter out of frame: The news outlet says the incident is becoming a 'daily reality' in China
Dave Wetzel: The 2022 Olympics Opening Ceremony revealed this truth: China has a lot to hide
(Photo HT: Instapundit)
Reuters: Cocktails and hazmat suits mingle in the Beijing Olympics bubble
Of course, there's a Hunter Biden connection …
Arthur Bloom: Did Hunter Biden Help Facilitate NBCUniversal's Beijing Theme Park? An email from the famous hard drive indicates a Chinese state-owned company wanted an introduction from Rosemont Seneca
~~~
~~Many thanks to Maggie and The Universal Spectator for reprint permission.
Posted by Maggie on February 5, 2022 in From the editors As is being pointed out, China's communist history within China and against the Chinese people is enough of a massive moral and human stain to not hold any Olympics in that country. But there are even far more violations to the core spirit of the international games that should negate…
Posted by Maggie on February 5, 2022 in From the editors As is being pointed out, China's communist history within China and against the Chinese people is enough of a massive moral and human stain to not hold any Olympics in that country. But there are even far more violations to the core spirit of the international games that should negate…