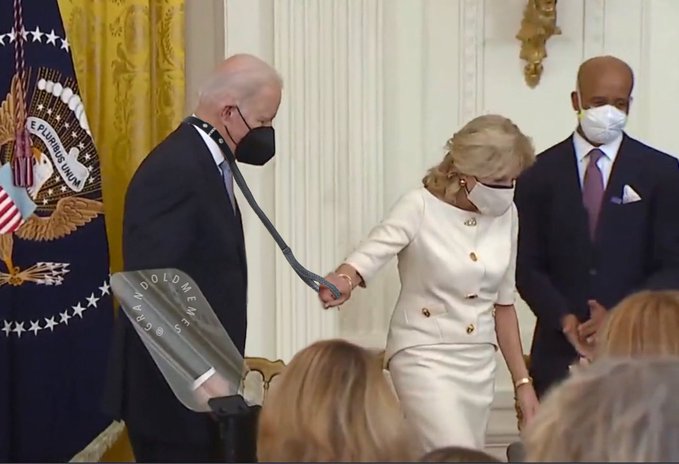 Friday Newsfeed: Muzzled and On a Leash
Posted by Maggie on February 4, 2022 in From the editors
More snow and ice and cold temps, but the power has stayed on … for now. Some interesting things the MSM won't delve into, like they would if this were Pres. Trump and/or republicans…
Twitchy: 'What a f**king embarrassment': Watch President Joe Biden's 'nurse' lead him down from the podium
Yesterday, Joe Biden was in NYC to discuss the growing crime and violence wave in the nation, especially in NYC. Of course, as anticipated, it was all about "the guns". Well, Joe made some typical ridiculous claims about the Second Amendment that were easily debunked, like this one …
"You couldn't buy a cannon when this amendment was passed," says Joe Biden on the second amendment. "And so no reason why you should be able to buy certain assault weapons."
Awaiting CNN fact check on claim. pic.twitter.com/x9vSFJ9PVt

— Caleb Howe (@CalebHowe) February 3, 2022
EEEEERRRRRK! WRONG!
Biden gaslights every time he talks. Invents the most bizarre untrue stories out of whole cloth. Some of which he has lied about for years. And the press rarely says anything about it. It's exhausting. (Yes you could own a cannon, Joe). #cannon https://t.co/pB0QaadAb0

— Samuel Culper 722 (@politiwars) February 3, 2022
Well, we learned the guy is full of gas. Apparently, the press likes to inhale.

— Maggie (@drillanwr) February 4, 2022
Andrew Miller: Biden repeats debunked Second Amendment cannon claim, says 'no amendment is absolute'
Biden repeats debunked Second Amendment cannon claim, says 'no amendment is absolute' https://t.co/UcOy2VMbkA via @YahooNews He likes to over look the "Shall not be infringed" part. The only amendment to use that phrase and yes Joe you could buy cannons then and now.

— Daniel Alba (@dvahey61) February 4, 2022
.@POTUS claims once again that you can not buy a cannon. Why does he keep making this false claim?

How do I know it's false? Because I own two cannons

Now visit https://t.co/iiKrCbyo1G and show your support for the #2ndAmendment pic.twitter.com/ndjbFuZ3B6

— Tactical-reviews.com™ (@Tactical_review) February 3, 2022
Too much even for the Biden-bots at the WaPo …
Last June, this same claim earned Four Pinocchios: "We have no idea where he conjured up this notion about a ban on cannon ownership in the early days of the Republic, but he needs to stop making this claim." https://t.co/zi2g4SdNj3 https://t.co/llakVPlKMQ

— Glenn Kessler (@GlennKesslerWP) February 3, 2022
The president likes to make this claim a lot, but it's false. He went on to falsely claim the gun industry can't be sued at all and is the only industry that enjoys federal liability protection. That's another false claim he makes a lot. https://t.co/6YBzyrdhuY

— Stephen Gutowski (@StephenGutowski) February 3, 2022
This is an absolute lie. PLCAA only states that firearm manufacturers, like any other manufacturer, cannot be held liable for a criminal who chooses to misuse the product in an illegal manner. They, like all others, can be held liable for damages from defective products, etc. https://t.co/FBFLFYUNc1

— Dana Loesch (@DLoesch) February 3, 2022
Twitchy: 'You can even rent a TANK!' Stephen Gutowski breaks out the puppets and crayons to SCHOOL Biden on the 2nd Amendment in PERFECT thread
Biden: If the law-abiding would just disarm then the criminals would stop their crimeshttps://t.co/xWm66nBMXD

— Dana Loesch (@DLoesch) February 4, 2022
Dana Loesch: Wrong, Joe Biden, You Can Absolutely Own a Cannon: Biden tries to patch up his party's disastrous "defund the police" policies by blaming law-abiding gun owners
Biden says that a "glock with 40 rounds" is "a weapon of war"
pic.twitter.com/dwL4EGWxOw

— Greg Price (@greg_price11) February 3, 2022
I have Glocks with extended magazines. They aren't "weapons of war." This is the effort of Dems to classify commonly-owned semi-autos as NFA items. https://t.co/Ze7FnRy8HN

— Dana Loesch (@DLoesch) February 3, 2022
Kevin Downey, Jr: Biden Can't Stop 'Gun Violence' Until He Stops Calling it 'Gun Violence' and Calls it What it Is
So horrified and concerned is old Joe about our Second Amendment rights and guns magically going around by themselves committing crimes and murdering people that Joe then turns around and makes a gun gaffe …
Steven Nelson: Biden hails 'guns' of muscular NYC anti-violence activist — and admits 'poor choice of words'
This demented fool is actually saying idiotic/inappropriate crap but the MSM won't call him on it. No, but they still insist Trump told people to 'inject themselves w/disinfectant or drink bleach', when he didn't.
VIDEO: Biden hit for 'tired talking points' on guns during NYC visit
He's an idiot, and his handlers and those writing his speeches, answers and tweets for him are even bigger idiots. And so is his shithead druggie son…
Joe Biden's 50-something year-old son illegally purchased a firearm that his lover tossed in a trash can across from a school. Secret Service is accused of hiding it and ATF is dropping the inquiry. I will not take lectures on firearms from this man.

— Dana Loesch (@DLoesch) February 3, 2022
Politico (3/25/21): Sources: Secret Service inserted itself into case of Hunter Biden's gun: The bizarre incident involved a trash can, a man searching for recyclables and, eventually, federal law enforcement.
Ammoland (1/30/22): Exclusive: ATF Asks Judge to Order Hunter Biden Gun Inquiry Closed
Houston Keene , Cameron Cawthorne: GOP lawmakers call for investigation into Hunter Biden's Chinese business dealings: Sen. Blackburn called on AG Garland to appoint special counsel to look into Hunter Biden's Chinese business dealings
Nancy Pelosi's frozen brain turns to slush:
China has cracked down on Hong Kong, committed a genocide against Uyghurs, and unleashed a pandemic on the world that has killed millions of people.

And the whole world sent their athletes to Beijing for the Olympics as if nothing happened.

— Mercedes Schlapp (@mercedesschlapp) February 4, 2022
Nancy Pelosi tells American athletes not to speak out on any Chinese genocide or human rights issues while they are at the Olympics. Maybe she can be the next NBA commissioner too? pic.twitter.com/oyTY74VPhJ

— Clay Travis (@ClayTravis) February 4, 2022
Kenneth Garger: Pelosi urges US Olympians not to anger 'ruthless' Chinese government
Marisa Schultz: Pelosi fears 'for the physical safety' of US Olympic athletes who speak out against China: Beijing Olympics kick off Friday amid U.S. diplomatic boycott
So bad, even the old career race-baiter calls BS…
Twitchy: Al Sharpton (!) takes Nancy Pelosi to task over American Olympians in China — and he's exactly right
But never fear, the idiot "The View" hags will always cover for a dem hag…
👀The View's Joy Behar just excused Nancy Pelosi telling U.S. athletes not to protest during the #WinterOlympics:

Behar: "She's being maternal, I think. Nancy is 'Mom-ala.' She always like 'I think about the children. It's for the children.' She cares about the kids." pic.twitter.com/pLjl4w2QJm

— John Cooper (@thejcoop) February 4, 2022
Twitchy: Joy Behar explains why Nancy Pelosi warned US Olympians to stay quiet about human rights in China (just guess)
But Nan really means it, you Yank jocks, and she's doubling down…
Callie Patteson: Pelosi again warns US athletes to not speak out against China during Olympics
The COVID control persists:
You see that post photo at the top that somebody photoshopped the leash on. That is what is being done to us in this country.
Joseph A. Wulfsohn: CNN, MSNBC, NYT, WaPo completely avoid Johns Hopkins study finding COVID lockdowns ineffective: ABC, CBS, NBC also ignored the anti-lockdown study
Kyle Morris: Virginia judge grants temporary restraining order allowing mask mandates to remain in schools: The ruling follows an order from Gov. Youngkin that gives parents the option not to mask their children at school
Meanwhile…
Twitchy: 'KEEP digging': Dem VA state senator caught maskless with other authoritarians forcing masks on kids responds smugly to criticism (screenshot)
Twitchy: '100% truth!' Shaquille O'Neal gets mad props for his remarks on vaccine mandates
Matt Margolis: MSNBC Spreads Disinformation About Omicron and Kids
Twitchy: Dr. Zeke Emanuel tells MSNBC that kids 'are either going to get the vaccine or … a serious condition of omicron'
Matt Margolis: Two N.Y. Towns Mull Seceding From Erie County Over Draconian COVID Restrictions
Ace: Virginia (Prince William County) Mom Absolutely Destroys School Board: "If Masks Work, Why Don't They?"
~~~
~~Many thanks to Maggie and The Universal Spectator for reprint permission.
Posted by Maggie on February 4, 2022 in From the editors More snow and ice and cold temps, but the power has stayed on … for now. Some interesting things the MSM won't delve into, like they would if this were Pres. Trump and/or republicans… Twitchy: 'What a f**king embarrassment': Watch President Joe Biden's 'nurse' lead him down from the podium Yesterday,…
Posted by Maggie on February 4, 2022 in From the editors More snow and ice and cold temps, but the power has stayed on … for now. Some interesting things the MSM won't delve into, like they would if this were Pres. Trump and/or republicans… Twitchy: 'What a f**king embarrassment': Watch President Joe Biden's 'nurse' lead him down from the podium Yesterday,…