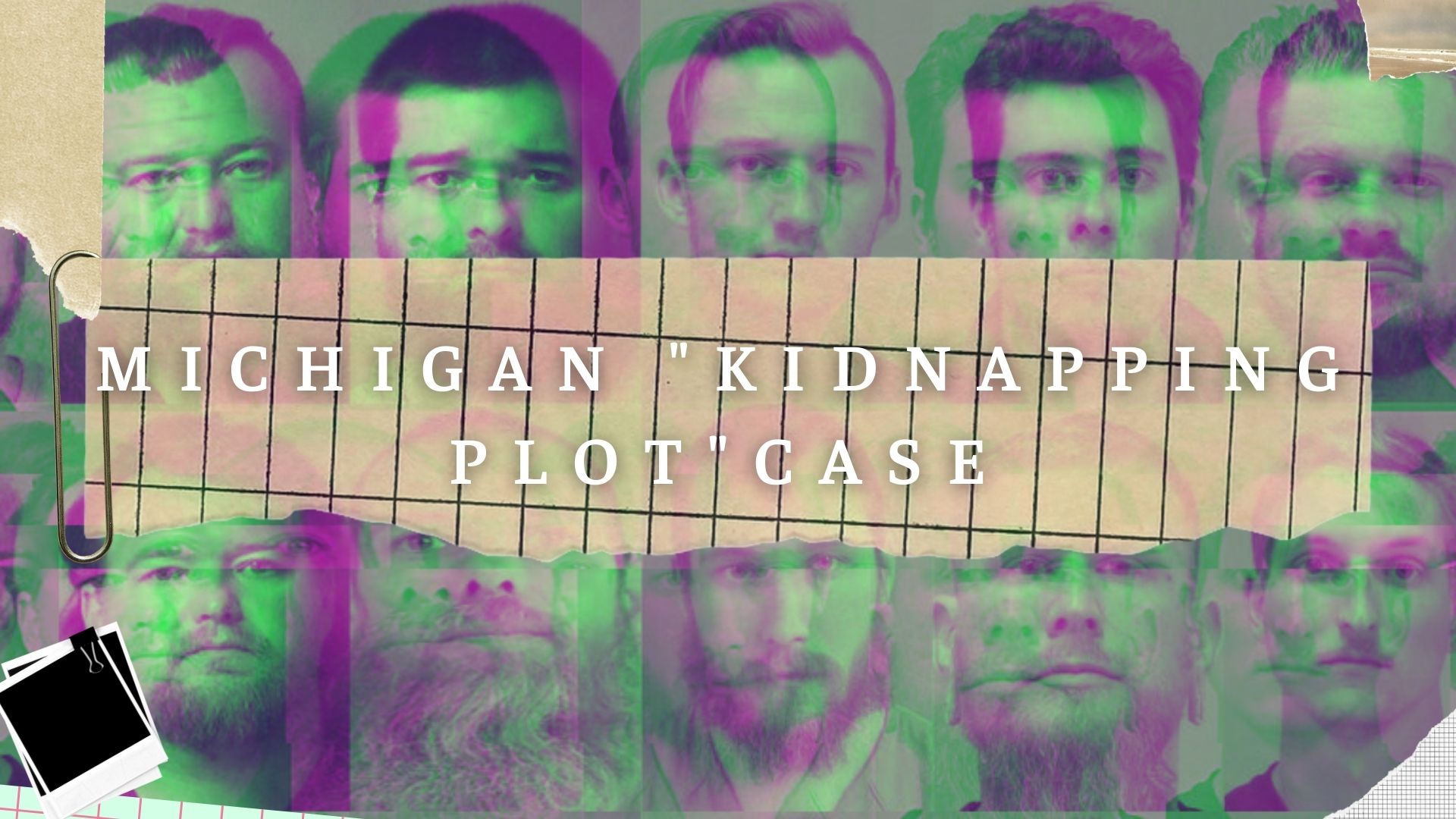 In Michigan "Kidnapping Plot" Case, Judge Limits Defense Evidence, Key Informant Might Testify
February 4, 2022 — We at Patriots' Soapbox have been following the case USA vs Fox, et al aka the so-called "Whitmer Kidnapping Plot," currently wending its way through the legal system. This is one of the most controversial "domestic terror" cases of the decade, raising many questions regarding the use of Confidential Informants and the conduct of their FBI handlers. If you are not familiar with this case, please see our many prior articles that go into more detail. I wanted to provide a brief update on the latest happenings with regard to the upcoming trial. That trial is slated to begin in just a few weeks, set for March 8, 2022 in Grand Rapids, Michigan.
"In the Wolverine Watchman case in Michigan, the FBI manufactured a kidnapping plot against Gov. Whitmer," Judicial Watch Director of Investigations & Research Chris Farrell. WATCH MORE: https://t.co/s309CKYaoM pic.twitter.com/ifuVPjT91m

— Judicial Watch ⚖️ (@JudicialWatch) January 27, 2022
I think it is pretty obvious from information already disclosed that the government acted inappropriately in this case, manufacturing a plot where really none existed. Even left-leaning Buzzfeed news has reported extensively on the use of FBI informants, as well as the misbehavior of the key FBI handlers. They published an article in December 2021 detailing some of that behavior:
When federal officials announced, on Oct. 8, 2020, that they had foiled a plot by militant extremists to kidnap Michigan's governor, it was quickly hailed as one of the most important domestic terrorism prosecutions in a generation. They didn't mention FBI agent Jayson Chambers by name, but those who had worked the case knew that his role helping to run a central informant had been crucial.

There was, however, something about Chambers that some colleagues might not have known: 18 months earlier, he'd incorporated a private security firm and had spent much of 2019 trying to drum up business — in part by touting his FBI casework. The bureau won't say if Chambers had gotten permission to set up his new venture, as agents would be required to do, but just five days after BuzzFeed News revealed its existence this August, federal prosecutors announced that he would not be on the list of witnesses testifying in the upcoming trial.

A continuing BuzzFeed News investigation reveals new information about how Chambers' business, along with an array of issues involving other FBI agents and informants, has bedeviled the prosecution. Those issues may well affect the course of the trial. But beyond the integrity of the case, the problems are serious and widespread enough to call into question tactics the FBI has relied on for decades — and to test the public's trust in the bureau overall.

That situation is complicated by the fact that the case has become a political lightning rod, with right-wing commentators calling it a prime example of government overreach. Some even baselessly assert that the Michigan investigation was a test run for what they claim was a false flag operation conducted on Jan. 6.

Meanwhile, the challenges facing the prosecution mount: A second FBI agent, who had served as the case's public face, was charged with beating his wife when they returned home from a swingers party. He was fired soon thereafter. A third agent was accused of perjury. A state prosecutor in a related case was reassigned and then retired in the face of an audit into his prior use of informants.

And an informant whose work was crucial to the investigation was indicted on a gun charge and is now under investigation for fraud. Interviews, court records, and other documents reveal repeated instances of apparent lawbreaking by Stephen Robeson, who, while working with the government, identified and recruited potential targets in multiple states and who organized many of the events where prosecutors say the alleged kidnapping plan was hatched. Robeson's apparent crimes took place under the nose of his FBI handlers.

The reporting also uncovers significant new details about how Jayson Chambers attempted to parlay his FBI work hunting for terrorists into a private moneymaking venture. The business, called Exeintel, sought contracts in some cases worth millions of dollars to help institutions identify violent threats. A Twitter account linked to Chambers' business appeared on at least two occasions to be privy to the workings of Chambers' ongoing FBI investigations before they were made public and to have tweeted about the Michigan case before arrests were made.

The Justice Department declined to comment for this article, citing the ongoing criminal case. The FBI also declined to comment. Chambers did not respond to a request for comment.

Defense attorneys, who have hired private investigators to look into the background and activities of the agents and informants in the case, will likely bring out all this and more to argue that the defendants were entrapped by an overzealous and compromised investigation.

The 14 men accused of involvement in the alleged plot to kidnap Gov. Gretchen Whitmer have been charged in three separate courts. Six people — Barry Croft, Ty Garbin, Daniel Harris, Adam Fox, Brandon Caserta, and Kaleb Franks — were indicted by a federal grand jury for kidnapping conspiracy, which carries a maximum penalty of life. Garbin eventually pleaded guilty and agreed to testify against the others. Eight more people were charged in Jackson and Antrim county courts with providing material support to terrorism, in cases being prosecuted by the Michigan attorney general. Many of the men were members of an armed extremist group called the Wolverine Watchmen, and on Monday a Michigan state judge will hold a hearing on a motion filed by three of them who claim they were the victims of entrapment. – Buzzfeed News
It was actually Ken Bensinger with Buzzfeed News who first uncovered the "private intelligence firm" Exeintel, owned by FBI Special Agent Jayson Chambers who was a main handling agent in the Michigan case. Bensinger reported on the fact that this company was founded just months before the Michigan investigation began, and was seeking to profit financially, to the tune of millions of dollars in government contracts, and publicly teased having inside information on the case on its Twitter account. Reason reports on the prior behavior, or pattern of conduct by SA Jayson Chambers in their article admitting this case looks an awful lot like entrapment:
And that's not all: Big Dan's FBI handler, Jayson Chambers, had a side hustle. Chambers was attempting to build a security consulting business in the midst of the investigation; it's easy to see how his desire to create a brand for himself could have led him to encourage Big Dan to nudge the plot along. BuzzFeed obtained a resume that Chambers had shared with prospective clients, and in that document, he took credit for using "online undercover techniques" to investigate terrorist groups. According to BuzzFeed, Chambers has a long history of participating in FBI investigations of Muslim youths who were enticed by law enforcement to become involved in wholly theoretical violent plots, according to their defense attorneys.

Chambers is no longer slated to participate in the trial.

Another government asset, Stephen Robeson, worked as an informant during the investigation, but is no longer involved after pleading guilty to various felonies. And the government's star witness, FBI Agent Robert Trask, was fired by the agency after beating his wife following an orgy at a swingers party. Suffice it to say, it's very hard to tell the cops from the criminals in this matter. – Reason
We are looking at a man who appears to have a history of manufacturing "domestic terrorists" and has a financial conflict of interest.
This became obvious the minute Dana Nessel, Michigan's Jewish Lesbian Attorney General, announced that she was collaborating with the FBI on this case. https://t.co/BGRfmtbzXw

— Culture Wars (@CultureWarsMag) January 29, 2022
It became obvious this was entrapment as the evidence from the case demonstrates, based on statements made by the defendants on undercover audio of them stating they did NOT want to kidnap anyone, were not cool with it and on the night of the so-called "stake out" thought they were picking up tactical gear.
Now a federal judge has ruled that the evidence the defense was seeking to use at trial will not be allowed to be brought forward. The defense will not be allowed to bring up the fact that one of the FBI handlers is accused of committing perjury in another case involving informants, nor can they mention Special Agent Chambers' side hustle and financial conflict of interest. The judge also excluded the defense from entering exculpatory statements made where the defendants kept saying they did not want to kidnap anyone. The judge has hit the defense with blow after blow, seemingly denying every Motion they had filed in the case in hopes of pursuing an entrapment defense. Entrapment defenses are notoriously difficult to prove at trial and very few if any actually succeed.
Although the govt has said it doesn't plan to call those agents (Jayson Chambers & Hank Impola), defense attys are expected to call them & wanted to be able to use the Exeintel & perjury questions to potentially impeach them and their actions in the casehttps://t.co/J3AtA4w82o

— Ken Bensinger (@kenbensinger) February 2, 2022
I don't see how the judge possibly could have come to this conclusion.
As for Impola, the court found that perjury allegations "inherently involve mixed questions of fact & law, and the Court sees little that is probative of a character
for truthfulness" & could confuse the jury and turn the trial "into a minitrial on public perceptions of the
FBI" pic.twitter.com/bxyEsvTlEm

— Ken Bensinger (@kenbensinger) February 2, 2022
In no way is this information irrelevant to the case; it clearly is. The judge decided to allow the prosecution to bring up crimes the defendants committed in some cases decades ago that have nothing to do with the case. This ruling gives the appearance of impropriety on the part of Judge Jonker.
He also granted a motion by the prosecution to be able to discuss the prior criminal histories of three of the defendants as indications of predisposition (which is key to beating an entrapment defense). Those include crimes from the early 1990s that were later pardoned. pic.twitter.com/HBn83YEVo7

— Ken Bensinger (@kenbensinger) February 2, 2022
Is this nothing more than a show trial?
The trial is set for March 8. Here's the full ruling from today:https://t.co/GnTUpJEsO2

— Ken Bensinger (@kenbensinger) February 2, 2022
The two so-called "wins" for the defense are not actual wins. That information would have come in regardless during the course of the trial. They actually have no wins from this judge who appears to be favoring the government, and despite all the information that has come to light to date that paint the government in a very corrupt light.
Defendants in the Michigan kidnapping case have a lot of questions about shadowy security firm #Exeintel and its registered owner, FBI special agent Jayson Chambers.

Today a federal judge said they aren't allowed to ask them. https://t.co/tzPaLPwvme

— Ken Bensinger (@kenbensinger) February 3, 2022
Even Buzzfeed News admits that this is suspect, and that the information regarding the private intelligence firm and the motives of Special Agent Chambers appear to be directly relevant to the case.
It now appears as if Confidential Human Source (CHS) Steve Robeson may be able to testify at trial in the Michigan case. Robeson was one of the main CHSs who drove the plot and roped people into it. The prosecution recently attempted to distance themselves from him, referring to him as a "double agent" in a recent filing. The defense filed a Motion seeking to get immunity for Robeson and other FBI agents so they could testify without worrying about implicating themselves. That Motion was denied. Robeson was facing two separate criminal charges stemming from illegal actions he took during the course of the investigation with the full knowledge of his FBI handlers, according to memos and notes in court filings.
Buzzfeed reports on the latest development with Robeson:
A confidential informant at the center of the Michigan kidnapping case has been sentenced to time served for a gun possession charge, potentially clearing the way for him to testify as a witness for the defense.

The sentence, handed down Thursday by Judge William Conley in Wisconsin federal court, upholds a plea deal that Stephen Robeson struck with prosecutors last year. Because that agreement includes a waiver of appeal, the case is for practical purposes resolved, meaning that Robeson is unlikely to be able to invoke his Fifth Amendment right to avoid giving testimony if called next month at the trial for the five men accused of plotting to kidnap Michigan Gov. Gretchen Whitmer in 2020.

The sentencing came just a day after the judge overseeing the Michigan case put severe restrictions on what evidence defense attorneys could present to the jury, barring them from discussing issues related to two FBI agents and from using what they say are potentially exculpatory statements by their clients unless they testify. Although that ruling said that some statements uttered by Robeson could be used, the news that the informant could simply be obligated to testify is a welcome development for the defense in the high-profile domestic terrorism case.

Robeson has been among the most controversial figures in the investigation: a long-running government operative with an extensive rap sheet who played a huge role in helping the FBI make the case, but who has proven to be a significant obstacle for the prosecution.

The kidnapping trial begins in Grand Rapids on March 8. Defense attorneys have made it clear they will argue that the accused were entrapped by overzealous and untrustworthy informants who operated with the full knowledge of their government handlers. To do so, the lawyers hope to call on Robeson, as well as several FBI agents whom the government has kept off its witness list. Last month, one defendant went so far as to ask the court to order the Justice Department to grant Robeson and others immunity from prosecution to Robeson, among others, so that they could testify freely. That motion was denied.

Prosecutors, meanwhile, have said they'll rely heavily on the testimony of Ty Garbin, a defendant in the case who pleaded guilty and agreed to cooperate early last year.

Evidence shared by prosecutors shows that Robeson first began working as an informant for the FBI in October 2019, and that he was paid almost $20,000 for his work. Robeson was terminated as a source a year later, several weeks after the government arrested the defendants in the Michigan case.

Court records and interviews show that Robeson played a key role in drawing potential targets into the investigation, including Barry Croft, whom he invited to a family vacation in South Carolina in early 2020 and who was later indicted. Robeson also organized some of the key events where prosecutors say the kidnapping plot was hatched, including meetings and training sessions in Ohio, Wisconsin, Michigan, and Delaware. In some cases, Robeson paid people's travel expenses to get them to attend.

But even as he worked under the supervision of his handlers, FBI agents based in Wisconsin, Robeson was engaged in activities that went far beyond his remit as an informant. Because of multiple felony convictions dating back to the early 1980s, Robeson is prohibited from possessing firearms, yet he had numerous guns throughout 2020, interviews and records show.

Last March, prosecutors took the unusual step of charging their own informant with a crime, indicting him in Wisconsin federal court for acquiring a .50-caliber sniper rifle from someone he met at church. Robeson said the FBI had given him permission to have guns as part of his cover, but later pleaded guilty, taking a favorable plea deal that promised him no prison time and was far below the sentencing guidelines.

With the trial in the kidnapping case fast approaching and defense attorneys indicating they'd like to call Robeson as a witness, prosecutors have moved to further distance themselves from their informant. Last month, they called him a "double agent," saying he attempted to hide or destroy evidence and, ignoring orders from the FBI, called Croft on the day of the arrests in October 2020, potentially warning him what was coming.

Defense attorneys, for their part, have repeatedly pointed to Robeson's illicit activities and aggressive recruiting as proof that the men accused of hatching the kidnapping plot were induced to participate in a plot they would never have cooked up on their own. In response to the government's disparagement of Robeson, they pointed to FBI memos showing the bureau was well aware of what Robeson was doing all along. Five months after the arrests in the case, for example, FBI agents wrote that Robeson "​​appeared to be fully cooperative with the FBI pertaining to militia matters and disrupting the plot to kidnap the Governor of Michigan."

Further complicating an already tangled situation is the fact that Robeson and his wife were charged in December by the district attorney in Sauk County, Wisconsin, for allegedly defrauding a couple out of a sport utility vehicle. According to the charging papers, the Robesons convinced them to donate a used Chevy Tahoe to an anti–child trafficking charity that didn't exist, and then simply kept the SUV for their own use.

Robeson is free on a $1,000 bond and is set for a preliminary hearing before a state judge on March 14, a week after the kidnapping case is set to begin in Grand Rapids federal court. It's not clear whether Robeson could attempt to plead the Fifth because that case is still pending, although because it is a state, rather than a federal, case and apparently unrelated to the Michigan matter, such an attempt might fail.

The fact that Robeson's federal plea deal was upheld by Conley came as something of a surprise given the judge's previous statements.

At his plea hearing in September, the judge admonished him to stay in line, saying, "The likelihood of my accepting this plea agreement will depend substantially, if not entirely, upon your strict compliance with those terms and conditions of release."

Yet in November a probation officer told the court that Robeson had violated terms of his bond by failing to inform authorities that he'd been contacted by investigators for the Sauk County Sheriff about the alleged fraud.

That violation was not mentioned during Thursday's sentencing, which was conducted via Zoom due to COVID-19. Judge Conley took pains to remark on Robeson's record, which he called "alarming." He noted that Robeson had a criminal history in nine states stretching over decades, had been a member of criminal gangs, and also was affiliated with the armed extremist group Wisconsin Patriot Three Percenters.

But Conley also commended Robeson for his work on the Michigan kidnapping case, saying he had exposed "himself to serious risks" by attending meetings and participating in encrypted chats where the kidnapping plot, which Conley called "more serious" than the gun charge, was concocted. Although federal guidelines called for a 10- to 16-month prison term for Robeson, in the end Conley agreed to the much more lenient deal struck with prosecutors. – Buzzfeed News
Of course the government plans to rely heavily on the testimony of the guy they struck a plea deal with, who basically has to say whatever the government tells him to say.
State Case
While much attention has been given to the federal trial that is coming up, there are also state charges and a state case that is currently sitting idly in the 86th District Court. Mardi Link reports on the status of that case:
Criminal cases filed in a local district court against four of 14 men charged in various courts with participating in a plot to kidnap Michigan Gov. Gretchen Whitmer, are on what has become a lengthy hold, while attorneys review voluminous material obtained during the discovery process.

Shawn Fix, Eric Molitor and twin brothers Michael and William Null each face felony charges in 86th District Court, including possession of a firearm while committing or attempting to commit a crime and providing material support to a terrorist or terrorist organization.

Attorneys for the men declined comment or did not return a request for comment. Court records show the men were among those who disputed Whitmer's handling of the COVID-19 pandemic and were associated with or members of Wolverine Watchman, a far-right militia.

The four men charged in Antrim County are among those arraigned in October 2020, after a 15-page affidavit by FBI Special Agent Richard J. Trask II filed in U.S. District court described a multi-state investigation by FBI and Michigan State Police investigators who employed confidential human sources and undercover agents who recorded the group's planning and training.

Preliminary exams for the men charged in 86th District Court were scheduled Nov. 3, 2020, Feb. 17, 2021 and April 14, 2021 — the delays once for a spike in COVID-19 cases and twice at the request of attorneys, as previously reported.

"A stipulation and proposed order asked for an adjournment for attorneys to have time to review voluminous amounts of discovery in this matter," Dawn Wagoner, 86th District Court acting court administrator, said Wednesday.

Presiding Judge Michael Stepka signed previous stipulations and no new date for the preliminary hearing — a hearing where a judge decides whether the prosecution has met its burden of proof for the case to proceed to circuit court — has been set, records show.

Defense filings in a Grand Rapids federal court, where five other men face charges stemming from the investigation, accuse the government of entrapment. Those claims, coupled with responses filed by U.S. government attorneys show testimony in that court could impact the district court cases, which are being prosecuted by Attorney General Dana Nessel's office.

Assistant Attorney General Sunita Doddamani is lead prosecutor in the state court cases. Nessel's office declined comment on what impact an entrapment defense in the federal court cases could have in district court.

"While we remain focused on securing accountability against the state defendants, it would be inappropriate to discuss our intentions for future proceedings given the case is ongoing," said AG Press Secretary Lynsey Mukomel. "Once we move to trial, we will file a witness list 30 days prior to the scheduled start, per the court rules."

Earlier this month, attorneys for five men charged in U.S. District Court in Grand Rapids with conspiracy to commit kidnapping, argued the charges against Adam Fox, Barry Croft, Jr., Kaleb Franks, Daniel Harris and Brandon Caserta are the result of government overreach.

A sixth man, Ty Garbin, was also charged in federal court and in August was sentenced to six years in prison after reaching a plea agreement with prosecutors.

"I would like to take this opportunity to apologize to Gov. Gretchen Whitmer and her family," Garbin in August said at his sentencing hearing.

"I have had a lot of time to reflect on my actions, and I never realized what my actions would have caused to her, but also her family," Garbin said, offering an apology to the governor, her family and the Garbin family for fear and stress his actions caused.

Garbin, as part of his plea, agrees to cooperate with law enforcement, including providing testimony in future court proceedings if required.

Entrapment defense by federal court defendants Defendants say government agents and informants "concocted, hatched, and pushed" the kidnapping plan.

They allege it was undercover agents, confidential informants and "Dan," an FBI confidential human source also known as "Thor," and not the defendants, who first broached the idea of kidnapping the governor from her lakeside summer home north of Elk Rapids.

Federal prosecutors say this is false.

Information used in support of the original indictment states members of the militia group were attempting to obtain addresses of local law-enforcement officers in order to target and kill them as early as March 2020 and prior to any discussion of a kidnapping plot.

U.S. District Court Judge Robert J. Jonker on Tuesday declined a joint defense motion seeking to dismiss the federal case against the five men on entrapment grounds.

The judge's decision does not preclude attorneys from presenting an entrapment defense at trial, which in order to be successful must show the government induced defendants who were otherwise not predisposed to crime, to plan the kidnapping.

On Wednesday, Jonker declined another defense motion, this one filed by an attorney representing Franks and seeking to compel the government to grant immunity to unnamed FBI agents and confidential sources involved in the criminal investigation.

The trial in federal court is scheduled to begin in Grand Rapids on March 8.

Evidence cited by the defense and the prosecution in the federal case include audio recordings, text messages, social media postings and other material collected by undercover FBI agents, "Dan," another FBI informant named Stephen Robeson, among others not yet named, as part of the investigation.

Portions of this "voluminous" evidence — 250 hours of recordings, 1,100 hours of recorded surveillance and 400,000 direct messages, records show — also appears relevant to the four cases in 86th District Court.

For example, a map hand-drawn on lined yellow paper and referred to in federal court documents, shows the location of the Elk Rapids Police Department in relation to Gov. Whitmer's summer home, a local boat launch and a U.S. 31 bridge.

FBI and court records show about a dozen armed men in three cars surveilled the governor's summer home in Elk Rapids Township the night of Sept. 12, 2020, with at least two of the men inspecting the bridge as part of research into destroying it with explosives in order to slow law enforcement's response.

"PP 3 miles, Everything else 20+ miles out," handwriting on the map states, regarding the local police department.

Elk Rapids Police Chief Dave Centala said Thursday the FBI hadn't notified him of the map, though said he was familiar with the location of the governor's vacation home and his officers could respond to a call coming from that address in 2 or 3 minutes.

"If they took out the bridge we'd just go around," Centala said, of an alternate route through downtown via Dexter Street, which connects with U.S. 31 north of the bridge the men are accused of surveilling.

There are potential complications in the federal case, too.

FBI Special Agent Trask was fired after being arrested in July on a domestic violence charge. Trask last month pleaded no contest in a remote hearing in a Kalamazoo court, where his wife spoke in support of Trask and his FBI career.

And FBI agents who worked with "Dan," Jayson Chambers and Henrik Impola, are not on federal court witness lists.

Media reports show Chambers encountered controversy when he incorporated a private security business and Impola has been accused of perjury in an unrelated case.

Assistant Attorney General George Thompson, who signed some of the state case documents and previously argued on behalf of Nessel's office in some 86th District Court hearings, retired over the summer, an AG spokesperson said.

Thompson in May was pulled from the state court cases after his role in an Oakland County arson prosecution where a man was convicted, was questioned according to news reports.

Special Prosecutor Beth Greenberg Morrow's report recommended vacating the conviction after determining Oakland County, which at that time employed Townsend as a prosecutor, had information which was not provided to the defense.

A judge vacated Juwan Deering's conviction last fall; he'd been sentenced in 2006 and was serving a life sentence for charges related to a house fire where five children died. – Mardi Link
We do know that the main CHS, "Dan" will be testifying at trial as the star witness for the prosecution who will rely on his testimony and that of Ty Garbin who look a plea deal and basically has to say whatever the government wants him to say. With the latest blow to the defense limiting what evidence can be introduced, the likelihood of the defendants succeeding in an already difficult entrapment defense just got that much harder.
Strange Patterns and Connections
There appears to be a pattern of behavior on the part of the FBI when it comes to so-called "white supremacist" and/or "right wing domestic terror" cases. We have another case, regarding a group called "The Base" that involved Michigan again and federal contractors/informants. Bridge Michigan reports on members of "The Base" training in Michigan, but doesn't make the connection about the ties to the federal government and the pattern of recruiting gullible LARPing young men:
Dressed in skull masks, fatigues and tactical vests, four men squeezed the triggers of their assault-style weapons and opened fire as a fifth man hoisted a Nazi flag behind them.

Filmed on a remote property in rural Michigan, the exercise that ended in a Hitler salute was featured in a 2020 video designed to help recruit members to The Base, a racist, militant and secretive neo-Nazi organization whose members trained for what they believed to be a coming race war.

The propaganda video was posted to social media by Justen Watkins, then 25. The former metro Detroiter had joined The Base a year earlier and quickly assumed a prominent role in the Michigan cell of the national organization.

Watkins was driven by "facism and adherence to the natural order — the way things are supposed to be," he told leaders in a 2019 interview as he sought membership in The Base, according to a recording obtained by an Australian anti-fascist research organization called The White Rose Society and reviewed by Bridge Michigan.

The self-described "adrenaline junkie" bodybuilder had big ambitions: He wanted to use an elderly relative's money to create a white nationalist compound in Michigan's Upper Peninsula with no Jewish, Black or gay people.

"Buy me some god-damned land so I can train some fucking Nazis," Watkins said in another recording obtained by researchers, referring to his step grandfather in a call with fellow Base members.

Watkins was planning the U.P. compound with Tristan Webb, a teen who had bonded with other white nationalists online after leaving a northern Michigan high school where was mocked as "Jesus Hitler."

"The more land people buy, the better," Webb said on the same recorded call. "We can take over counties and shit."

The unlikely pair are now accused of various crimes, including gang membership, a 20-year felony charge that experts say reflects an aggressive approach by the government to try to stem the tide of growing extremist movements in Michigan and across the United States. 

Aided by a grant from the Fund for Investigative Journalism, Bridge Michigan spent weeks reviewing court records and secret recordings showing how these young men allegedly became immersed in a testosterone-driven brotherhood fueled by anger, racism and the belief that society is doomed to collapse. 

They were expecting race wars and preparing to win.

Family members who spoke with Bridge for this story said they did so in hopes that their experience could help other parents keep their children from succumbing to extremism. 

"I never saw it going to this point, (but that was) being naive," said Eric Webb, Tristan Webb's father. 

"That's where I'd tell any parent: Don't sit back and let it happen. You don't want to go in guns blazing and say, 'You're not going to do this.' But (you) definitely should be involved… The more open lines of communication the better."

Webb was just 17 when he applied to join The Base, but he offered leaders a compelling asset: land. 

He had recently moved with his mother to a family property in Bad Axe, where he promised to host paramilitary training exercises, according to internal recordings reviewed by Bridge.

Watkins, who considered himself a mentor to the teen and soon moved into his Bad Axe farmhouse, had already been accepted into the group after promising leaders he was "willing to actually do shit" and would not just "bounce when there's trouble."

Watkins' brazen militantism and Webb's land made them important to the neo-Nazi group. Less than a year after joining the group, and following a series of arrests in other states, Watkins declared in mid-2020 that he had been named the new national leader of The Base.

The reign was short-lived.

Watkins was arrested in October 2020, accused of harassing a Dexter family he mistakenly believed to be anti-fascist podcasters the prior year. Webb was charged in August 2021 after prosecutors accused him, Watkins and 32-year-old Thomas Denton of Wisconsin of trespassing on state property to scout for additional "hate camp" training locations.

Michigan Attorney General Dana Nessel charged all three men, along with Alfred Gorman, 36, of Taylor, with gang membership. All are headed toward trial, but court records indicate some are considering plea deals to reduce possible prison sentences in exchange for cooperative testimony.

"If we learned anything from the Oklahoma City bombing, it was that what happens in Michigan, doesn't necessarily stay in Michigan," Nessel told Bridge Michigan. "And I think that's incumbent upon me as the attorney general of this state to be aggressive."

The Base is a small but bold faction in the neo-Nazi movement whose members portray themselves as vigilante soldiers defending the "European race" against a system that has been "infected" by Jewish values, according to the Anti-Defamation League. 

It is among a number of "splinter groups" that emerged following the 2017 Unite the Right rally in Charlottesville, Virginia, and has been "very active" in Michigan, said Carolyn Normandin, regional director of ADL Michigan.

"It's not just kids sowing their wild oats," she said. "These are usually grown adults. They've become part of a brotherhood, and their goal is to… accelerate violence to make (Jewish, Black and other minority) people go away."

Among other things, the FBI says The Base is responsible for vandalizing an Upper Peninsula synagogue in Hancock in 2018, before Watkins and Webb had joined the group. Richard Tobin of New Jersey, who also organized a similar synagogue attack in Wisconsin, pleaded guilty and was recently sentenced to one year and one day in prison.

The Base has been thinned by a string of arrests, but it is "still significant" and "still operating," Normandin said. Meanwhile, similar groups like The Patriot Front and Folksfront have become active in Michigan, as evidenced by recent propaganda campaigns.

In Bad Axe, an overwhelmingly white city of about 3,000 people in the Thumb, residents said they barely noticed The Base militants, who were mostly from southeast Michigan and did not attract much attention in a region where many residents hunt and are accustomed to gunfire. – Bridge Michigan
Of course, the same Jewish Lesbian attorney general involved in the fake Whitmer kidnapping plot in also involved in this case. With some of the members being just 17 when they joined the group, it has echoes of Attomwaffen and O9A.
The leader of "The Base" was outed as an intelligence contractor and probable federal agent. Information Liberation reports:
Readers will no doubt be shocked to learn the leader of the "white supremacist neo-Nazi terrorist group" the Base is an intelligence contractor and appears to be a federal agent.

In truth, it'd probably be more shocking to learn he wasn't a fed.

'The Guardian has learned the true identity of the leader and founder of the US-based neo-Nazi terror network the Base, which was recently the target of raids by the FBI after an investigation into domestic terrorism uncovered their plans to start a race war.

Members of the group stand accused of federal hate crimes, murder plots and firearms offenses, and have harbored international fugitives in recent months.

The Base's leader previously operated under the aliases "Norman Spear" and "Roman Wolf". Members of the network do not know his true identity due to the group's culture of internal secrecy.

But the Guardian can reveal that "Norman Spear" is in fact US-born Rinaldo Nazzaro, 46, who has a long history of advertising his services as an intelligence, military and security contractor. He has claimed, under his alias, to have served in Russia and Afghanistan.'

'The revelation of his identity comes after a months-long investigation by the Guardian into Nazzaro and the activities of the Base.

While Nazzaro's most recently used address is in New Jersey, there is evidence supporting his claims of being based in Russia, where he lives with his Russian wife.'

His "service" seems to be linking Russia to the "white supremacist" movement in the US on behalf of the FBI.

'Property record searches revealed that three 10-acre blocks of undeveloped land were purchased in December 2018 for $33,000 in the name of a Delaware LLC called "Base Global". In a telephone conversation in late November, Manke confirmed that this was the block of land he had been referring to.'

He purchased the land under the name of his international terrorist group.

They traced the purchase back to his family member's apartment in New Jersey which he and his "wife" have lived in.

'According to a source inside the Base, this date coincided with a trip by Russia-based "Norman Spear" to the United States, during which time he had in-person meetings with members of the group.

Speculation that Nazzaro was a federal agent

The location of the land is consistent with "Norman Spear's" advocacy of a white supremacist strategy called the Northwest Territorial Imperative (NTI), which was promoted by the deceased white supremacist Harold Covington.

The strategy argues for the creation of a separatist ethnostate in the Pacific north-west and encourages white supremacists to move to the region.

In one of "Norman Spear's" first public appearances, on a far-right podcast recorded in December 2017, he was introduced as a Northwest Front (another white supremacist separatist group) organizer and went on to spell out a four-state plan culminating in "achieving independence, realizing the ultimate goal which is an independent nation state in the Pacific north-west, an ethnostate".

The plan, he said, would trigger the relocation to the Pacific north-west of the white population in the United States.

Around the same time, "Spear" filmed a series of short instructional presentations on the tactics and strategy of guerrilla warfare. In an archive of those videos on the far-right site Bitchute, he is identified as "Defense Studies expert and former CIA field intelligence officer Norman Spear".

This detail, coupled with other leads, compelled many to speculate whether "Norman Spear" was, in fact, a federal agent operating inside the Base.

[…] Was the Base a honeypot designed to entrap people?

Beginning in 2009 and until as late as 2019, Nazzaro billed himself as an intelligence expert working with various government and military agencies.

Nazzaro is the principal of an LLC called Omega Solutions International (OSI), a company offering a range of intelligence and security contracting.

Its website, which was removed from the Internet some time after August 2019, boasted of the firm's "experience conducting intelligence analysis for government agencies, military organizations, and private businesses", as well as access to a network of seasoned security professionals with expertise in counterterrorism, counterinsurgency, homeland security, hostage rescue/negotiations, psychological operations, and more.

The firm also has a Cage Code, which is an administrative requirement for military and government contractors.' – Information Liberation
What we are looking at is a pattern of conduct. It's an operational playbook when it comes to manufacturing these groups and then entrapping young, impressionable, mentally ill or indigent men into joining and setting them up.
As if the government knows this information will come out at the Michigan trial, they have their allies in the media putting forward propaganda valorizing these federal informants in advance, trying to make them look like heroes:
He was a top undercover agent for the FBI, putting himself in harm's way dozens of times. Now, he's telling his story for the first time to sound the alarm about the threat of far-right extremists in America https://t.co/J2QEdiROq3

— Rolling Stone (@RollingStone) January 30, 2022
This informant was one of the members of "The Base" in addition to the leader who was also an intelligence contractor.
Then we have Attomwaffen, which was initially an art group run by a bunch of kids that was taken over by a federal informant who turned it into a satanic pro-pedophilia group just like the Order of Nine Angles (O9A):
This is a motion to suppress evidence from a search warrant served at the Texas house where Cole (known as "Khimaere" in AWD) moved to with John Cameron Denton & other AWD after he came under too much law enforcement pressure in the PNW. For background: https://t.co/yDgCBkTvU6

— Ali Winston (@awinston) August 21, 2021
The feds were bankrolling Martinet Press to the tune of thousands of dollars.
Sutter, according to the filing, earned more than $140,000 from the feds, including $80,000 since 2018, when AWD came under heavy federal investigation following my ProPublica investigation with @Jake_Hanrahan & AC Thompson https://t.co/UlUWBx2IKw pic.twitter.com/AGvoX1UZ0V

— Ali Winston (@awinston) August 21, 2021
Sadly, Cole was recently sentenced to several years in prison, despite having been brainwashed and drugged by an FBI informant.
There's more in this filing, including the original FBI affidavit for the search of the AWD TX house, which has never been made public before. Bottom line is this: Martinet Press has been essentially bankrolled by the feds, pumping out a steady stream of extremist lit

— Ali Winston (@awinston) August 21, 2021
This should come as no surprise to anyone who has been paying attention. We are looking at PATCON all over again, to justify a new domestic war on terror.
The accused, named Angel Almeida, posted images online with a Liber 333 banner on his wall. This banner was produced by "Tempel ov Blood", a US cell (or Nexion) of the O9A. The founder of ToB is an FBI informant and a lifelong far-right activist. pic.twitter.com/1av1XxssSY

— Jake Hanrahan (@Jake_Hanrahan) November 27, 2021
This guy, "radicalized" by FBI propaganda from O9A was pro-pedophilia and pro-mass murder.
Police also found this blood stained sketch of the Zodiac Killer in Almeida's apartment. Note the sigils scrawled on there too. You can see these are all from the O9A book Naos. Naos is a sort of guide to O9A ideology / practices. It's about 20+ years old now. pic.twitter.com/o6sqzLJSHr

— Jake Hanrahan (@Jake_Hanrahan) November 27, 2021
So the goal here is to turn people to the demonic, and steer them into absolute retardation.
One of the main goals of O9A is to destroy all societal norms—the most hardcore adherents advocate for random murder and praise pedophilia as some kind of "subversive" act.

It's beyond sickening. Have a read of one of the O9A books "Hostia". It's mad: https://t.co/E7SaZ8Hxex pic.twitter.com/nOows8b2L7

— Jake Hanrahan (@Jake_Hanrahan) March 13, 2020
Is anyone shocked that literature bankrolled by the FBI would condone pedophilia and satanism?
(Here's Denton's old NSBM music project "Count Shannath", way before he joined Atomwaffen. You can see he was already influenced by all that "sinister tradition" shit back then: https://t.co/HBslvjFtvb) pic.twitter.com/PtZSx1NirI

— Jake Hanrahan (@Jake_Hanrahan) March 13, 2020
Look at that, we have Kabbalah (Jewish mysticism) pictured above.
Here's some Tempel ov Blood footage. Sutter has been an FBI informant since 2003. This was filmed well after that.

Documents here: https://t.co/GWayOCdW4i pic.twitter.com/wPRqhJksLH

— Jake Hanrahan (@Jake_Hanrahan) August 21, 2021
Their literature talks about child rape as well.
All of these cases are tied together by the overarching goal of government subversion of dissident right-wing politics. The goal is to corrupt and neutralize any real opposition to the regime, and they will use this to justify the domestic war on terror.
Please be smart and not foolish. We will continue to follow the Michigan case at it goes to trial in March.
February 4, 2022 — We at Patriots' Soapbox have been following the case USA vs Fox, et al aka the so-called "Whitmer Kidnapping Plot," currently wending its way through the legal system. This is one of the most controversial "domestic terror" cases of the decade, raising many questions regarding the use of Confidential Informants and…
February 4, 2022 — We at Patriots' Soapbox have been following the case USA vs Fox, et al aka the so-called "Whitmer Kidnapping Plot," currently wending its way through the legal system. This is one of the most controversial "domestic terror" cases of the decade, raising many questions regarding the use of Confidential Informants and…