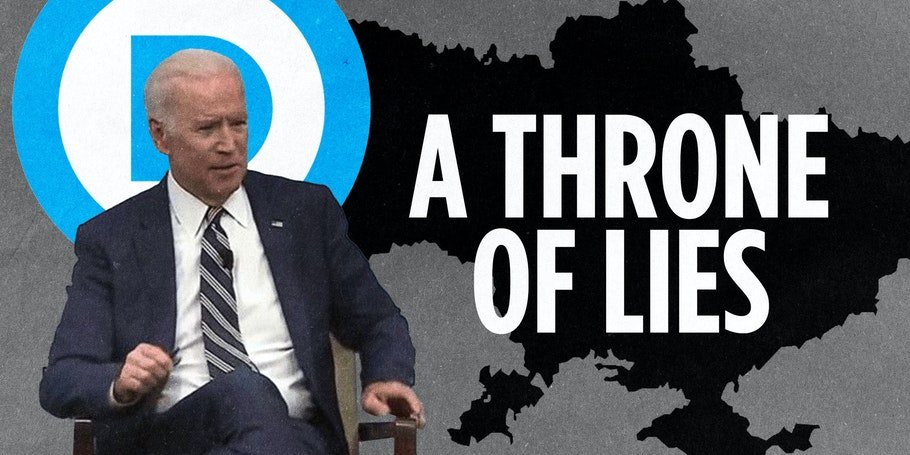 Dems' Big Impeachment Lie Exposed
By  THOMAS GALLATIN February 3, 2022 in Politics
The Obama administration praised the anti-corruption work of Ukraine's top prosecutor months before Biden insisted he be fired.
Back in early 2020, before COVID hit the U.S., you might recall that Democrats were knee deep in their partisan impeachment charade against Donald Trump over his phone call with Ukraine's president. Democrats alleged, based on the claim of a whistleblower whose identity they steadfastly refused to reveal, that Trump engaged in a politically motivated quid pro quo in an effort to get dirt on Joe Biden. The truth is they impeached Trump for what Biden did, and more proof of Democrat lies has just come to light.
In the phone call, Trump specifically referenced the Bidens (Joe and Hunter), suggesting that their actions in Ukraine deserved investigation. Democrats alleged that following the call, Trump withheld some $400 million in military aid in an apparent quid pro quo deal, although the aid was later released before any alleged deal was done. The Democrat narrative was dubious on its face, as we repeatedly argued.
In his defense, Trump pointed to a video of then-Vice President Biden boasting of how he worked to get Ukraine's then-top prosecutor Viktor Shokin fired because he alleged Shokin was corrupt. And Biden did it by threatening to withhold a billion dollars in loan guarantee.
"I said, 'You're not getting the billion,'" Biden infamously bragged. "I'm going to be leaving here in, I think it was about six hours. I looked at them and said: 'I'm leaving in six hours. If the prosecutor is not fired, you're not getting the money.' Well, son of a b**ch, he got fired. And they put in place someone who was solid at the time."
Of course, Trump as well as many others smelled a rat. Shokin had in his crosshairs the energy company Burisma, owned by a corrupt Ukrainian oligarch and for which Hunter Biden just happened to be a highly paid board member despite having absolutely no experience in the energy industry. Shokin was canned before he could move forward on the investigation.
However, according to Biden and the Democrats during their impeachment charade, it was Shokin who was corrupt, and Trump was guilty of pressing a foreign power for purely personal political interests.
Well, it turns out the charge was even more dubious than we thought. It has recently come to light that, just six months before Biden's infamous quid pro quo, Obama administration officials had praised the work Shokin was doing to tackle corruption.
According to a June 2015 letter from then-Assistant Secretary of State for European and Eurasian Affairs Victoria Nuland (now Biden's undersecretary of state) to Shokin on behalf of then-Secretary of State John Kerry: "We have been impressed with the ambitious reform and anti-corruption agenda of your government. The ongoing reform of your office, law enforcement, and the judiciary will enable you to investigate and prosecute corruption and other crimes in an effective, fair, and transparent manner. The United States fully supports your government's efforts to fight corruption and other crimes in an effective, fair and transparent manner."
This information was never shared with Trump's defense team. Democrats clearly had no problem hiding evidence that undercut their dubious narrative. Furthermore, it serves to raise again the likelihood that Biden's motive for getting Shokin fired was corrupt. He was seeking to prevent Shokin from getting too close to discovering his family's lucrative ties with a corrupt company. After all, the whole reason for Hunter's sizable salary on that board was to ensure favorable action from the sitting vice president of the U.S.
To put it simply, Trump was impeached for daring to attempt to get to the truth behind Biden's nefarious quid pro quo.
~~~
~~Reprinted with permission. See the original article here and leave some comments! 
By  THOMAS GALLATIN February 3, 2022 in Politics The Obama administration praised the anti-corruption work of Ukraine's top prosecutor months before Biden insisted he be fired. Back in early 2020, before COVID hit the U.S., you might recall that Democrats were knee deep in their partisan impeachment charade against Donald Trump over his phone call…
By  THOMAS GALLATIN February 3, 2022 in Politics The Obama administration praised the anti-corruption work of Ukraine's top prosecutor months before Biden insisted he be fired. Back in early 2020, before COVID hit the U.S., you might recall that Democrats were knee deep in their partisan impeachment charade against Donald Trump over his phone call…