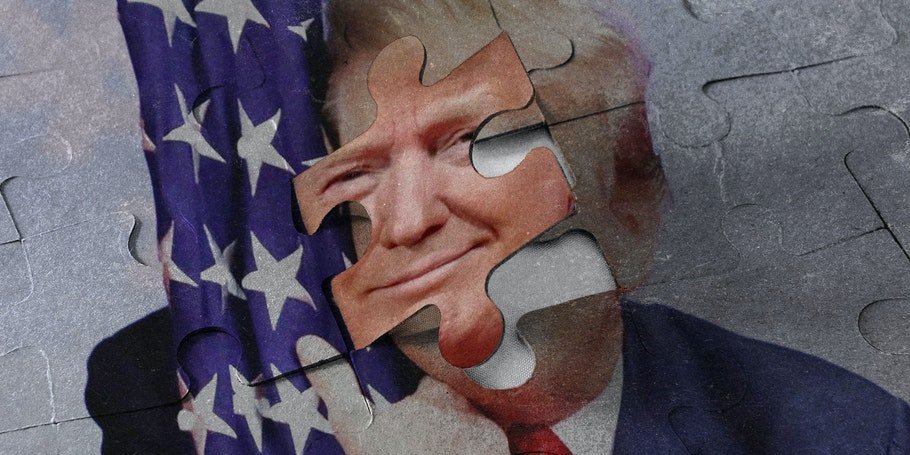 The Trump Enigma – Patriots' Soapbox 24/7 News Network
By JACK DEVINE February 2, 2022 in Politics
It's time to face up to the big gorilla in the room.
Donald J. Trump, the upstart one-term president who has not held public office for over a year, is nevertheless still front and center in print, broadcast, and online media news coverage. Why is that?
The obvious reasons are: (1) Trump wants it that way — his bruised ego demands it; and (2) Democrats desperately need for him to remain the visible, menacing presence who will convince Americans — once again — to vote for them.
Notice that it's not the centrist or right-wing media that keep Trump on their front pages — it's the progressive media that find a way to link every national or international hiccup to a guy who has no active role in national or international affairs. Over the weekend, for example, two daily online news summaries, CNN's "What Matters" and The Washington Post's "5-Minute Fix," both led with Donald Trump headlines. That's regularly the case.
But the curious thing is that the Left's larger narrative is completely false. Tens of millions of Americans who voted for Trump in 2016 and 2020 are quite capable of independent thought, are not trapped in his thrall, and will not slavishly follow his lead.
Yes, Donald Trump is a rock star, a larger-than-life personality, and as such he has his own cadre of dedicated, diehard followers. But in my opinion — based on my own small window into national politics and more importantly on what seems to be blindingly obvious reality — is that rank-and-file Republicans, along with a major slice of independents and even some objective Democrats, hold a much more measured view of our former president. It's this:
They recognize that Trump's political instincts and his views on most current issues — such as border security, the threat posed by China, the problem of political correctness run amuck — mirror their own. They respect what he was able to achieve in his term of office and they particularly admire his extraordinary resilience in the face of four years of intense resistance.
At the same time, they have little patience with Trump's volatile temperament, his abrasive remarks, and his crude public outbursts. They view many of his difficulties in office as self-inflicted, and they see that his post-presidential penchant for injecting himself into current political events (the Georgia gubernatorial contest, for example) does more harm than good.
They believe that, in many respects, the 2020 election was an aberration — perhaps not "stolen," but unfairly influenced by a global pandemic and its impact on our robust economy, by media (including social media) selective censorship of election-critical information, and by a huge Democrat tactical advantage through massive dark money contributions (as exposed by The New York Times just last week).
And in the harsh light of Joe Biden's disastrous first year in office, surely many on both sides now see the Biden election as a major mistake and a once-in-a-lifetime lost opportunity for the Democrat Party. Neither Biden the man nor his party's chosen far-left agenda come anywhere close to meeting our country's needs right now.
Republicans haven't turned on Trump. They long ago tuned out the inescapable, ever-present Trump hatred. They simply acknowledge the reality that Trump's day is over, that picking up the wreckage of the Biden administration will be the job of a new generation of leaders, and that it's theirs for the taking.
It's the Democrats who hope against hope that Trump will find a way to win the GOP nomination for president. Republicans, on the other hand, have no doubt that a Trump nomination would dash their otherwise excellent prospects of regaining the White House in 2024.
The awkward — and critically important — part of that equation is figuring out how to move Trump to the sidelines. But GOP leadership must find a way to do so, deftly and soon.
It doesn't have to be ugly. Trump made a substantial positive contribution to our nation — one for which he'll never get credit, because his opponents simply cannot let that happen. But his achievements speak for themselves despite constant efforts by his detractors to diminish or dismiss them.
Of course, the best one to lead Trump in a gracious exit would be the man himself. That's hard to imagine, but I suspect that somewhere beneath the bluster Trump sees the simple truth. As in business, there inevitably comes a time to move ahead, not back.
If he accepts that truth, his reputation and legacy will fare better than if he does not. But while the path he chooses is uncertain, I believe that the outcome is not: Donald Trump will not be our next president.
~~~
~~Reprinted with permission. See the original article here and leave some comments! 
By JACK DEVINE February 2, 2022 in Politics It's time to face up to the big gorilla in the room. Donald J. Trump, the upstart one-term president who has not held public office for over a year, is nevertheless still front and center in print, broadcast, and online media news coverage. Why is that? The…
By JACK DEVINE February 2, 2022 in Politics It's time to face up to the big gorilla in the room. Donald J. Trump, the upstart one-term president who has not held public office for over a year, is nevertheless still front and center in print, broadcast, and online media news coverage. Why is that? The…