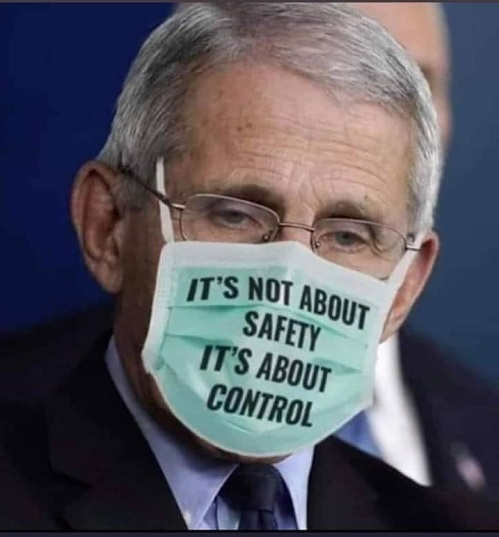 Tuesday Newsfeed: What's Worse, Using the Ineffective COVID "Mask" as a Blindfold or as a Gag?
Trust no one, not even Dr. "The Science".
Follow the silence.
Yes, we must keep pounding and digging at this whole COVID issue, from bottom to top. Not just in China but in our own country and other western countries. The virus was not 'natural' (as Fauci himself continues to lie about) and these last two years of data on who was most vulnerable and how the virus morphed into other variants (that quite possibly has to do with DNA because the variants morphed in other countries) is an indication of intentional lab-designed gain of function.
And, not the least of which, a full and independent investigation must be carried out on those who have called the 'shots' (yes, a beyond pissed-off pun intended) and the big pharmaceutical companies that were granted the ability and funding by our government to develop the "vaccines" that were sold as something they are not … and are now completely exempt from lawsuits.
And as I keep pounding away at, the same powers that be in government and the politicized "science" community, with their willing MSM and social medias, that have been silencing actual science debate and data with scientists and doctors who have opinions backed with their own data on the virus, it's origins and behavior, the vaccines and the demonizing of therapeutics they have had results with. And this extends to people outside those groups who have had COVID and used the therapeutics with good results too are being silenced and trashed by the COVID cultists as not only spreaders of "misinformation" but are called racists, dangerous and even murderers. But hey, don't you dare blame this global virus mess on China or call them murderers, and misinformation spreaders for not telling the truth or giving the world their lab data on this virus.
Brian Flood: 'THEY FEAR HIM' – How Joe Rogan became Public Enemy No. 1 to media liberals in the battle over COVID 'misinformation': 'The biggest difference between Rogan and the consensus pushers in the legacy media is that he's curious'
Stephen Green: Rogan Vindicated? Ivermectin Shows 'Antiviral Effect' Against Omicron According to Japanese Study
And this is what Dr. Marty Makary and Dr. Robert Malone and other doctors demand to know in regard to "The Science" argument that "Well, there aren't any studies on…" these therapeutics and natural immunity. WHY? Why are there no studies, reports, or even data (or is there and it's quite contrary to what "The Science" is pushing, so, it's buried)?
People not only have COVID fatigue, but very few actually still believe or trust anything "The Science" COVID bureaucrats in the CDC and in the Oval Office and the media…
Stephen Kruiser: The Morning Briefing: Real Americans Are Sick of COVID Kabuki Theater
Gwendolyn Sims: New Poll: 70% Say It's Time to Accept COVID Is Here to Stay and Move On With Our Lives
No, those of us here dealing with all this mandated bullshit and also being implied those who don't vax will be interned in camps/facilities (it's being done in other "developed" countries including China), our children via the public schools to be vaccinated against the will of their parents, are being told we shove the mask in our mouth, shut up, get the endless jabs of the experimental and ineffective vaccines, and stay the Hell away from any therapeutics that they haven't endorsed. So, they get to demand what does and doesn't go into our bodies, and still continue the lies about how we got here two years later. This is damnable and these people who have dictated and sneered at us for two years must be held accountable.
Benjamin Hall , Michael Lee: Scientists speak out on being silenced when raising concerns about COVID lab leak theory: Scientists told Fox News that they incurred backlash and resistance to getting their work published
Some scientists have begun speaking out about efforts to silence researchers who raised concerns about the possibility that COVID-19 could have originated in a Chinese lab.
Petrovsky was not alone, according to reporting from Fox News' Benjamin Hall, who spoke with scientists from Israel, the U.S., Australia, Germany, the U.K., Australia and Germany. The scientists told Fox News that they received backlash and resistance to getting their work published, even from those who quietly believed in the possibility of the "lab-leak theory."

"It's taken two years for that to finally come out and be exposed," Petrovsky said.

The scientists say that there was a top-down effort aimed at protecting the scientific community from negative public attention, with fears spreading among scientists that a public realization that the pandemic may have spread due to gain-of-function research in a lab could hamper future experiments.

Many in the scientific community who attempted to speak out about COVID-19's origins were labeled conspiracy theorists in the media and by fellow scientists early on in the pandemic, even though the possibility of human error has now gained renewed attention from experts.

The scientists expressed fear to Fox News that the silencing of such voices has led to little change, with gain-of-function research continuing both in the U.S. and abroad despite growing calls for international regulation…
Natalie Winters: Fauci Demands 'Universal Coronavirus Vaccines' Through Global Virus Harvesting Push: Anthony Fauci called for the development of "universal coronavirus vaccines," relying on an "international effort" to hunt down viruses capable of infecting humans.
Meanwhile PT1…
WHAT IS THE FUCKING EMERGENCY?!

— Rope⚖️ (@Jroper_10) February 1, 2022
Paul Best: Pfizer COVID-19 vaccine could be available for children under 5 as soon as next month: report – Pfizer's vaccine was approved for children ages 5-11 in October
Twitchy: Pfizer expected to request emergency use authorization Tuesday for vaccine for children ages 6 months to 5 years … Exactly, "what is the 'emergency'" here, huh? Why is nobody demanding a clear and concise data-based answer to that question given the near-negligible risk data on that age group vs COVID and the higher risk of the experimental vax on babies … yes, babies. And the babies are just the latest test-study group for these sons-of-bitches…
Scott Morefield @ Townhall (10/26/21): FDA Panel Member: 'We're Never Gonna Learn About How Safe The Vaccine Is Until We Start Giving It'
FDA Committee has approved the Pfizer vaccine Emergency Use Authorization for kids aged 5-11.

In making this decision, the FDA conceded it does not know the long-term risks to these kids.

🤷‍♂️ pic.twitter.com/aXFYt44I67

— Techno Fog (@Techno_Fog) October 26, 2021
FDA Voting Member:

"We're never gonna learn about how safe the vaccine is until we start giving it."

🤷‍♂️

Video HT @politicalwilli pic.twitter.com/OMAph49Qow

— Techno Fog (@Techno_Fog) October 26, 2021
The numbers of 'reactions' & 'side-effects' reported by parents and doctors in this past year of the vax on children, let alone adults, would have been WAY MORE than enough to have any other drug or vaccine halted and/or discontinued.
Meanwhile PT2…
VIDEO (1/4/22): Doctor: FDA vaccine advisory board member Dr. Paul Offit explains the 'unrealistic expectation' for vaccines to protect against mild illness. The goal of the COVID vaccine is protection against serious illness
Oh, sure, doc, except that…
1. THAT is not how the vaccine was originally sold and citizens pressured and bullied into vax compliance, now boosters
2. THAT is how, when it was found to be ineffective, it was then sold as You'd "get a mild case of COVID"
3. AND you (FDA) and the CDC continually refuse to make public the over two-years of compiled data, including the breakthrough COVID cases of the "fully-vaxxed" and boosted, and their hospitalization and death numbers, for not only citizens to see but for the scientists and doctors who debate and oppose what the Hell has been going on.
VIDEO: Republicans pushing CDC for scientific basis for masks in public schools
VIDEO: Parents call for end to school mask and vaccine mandates
Dylan Housman: Thousands Of People Around The World Protest Their Countries' Vaccine Mandates
Jim Hollingsworth: The doctors who actually do know best?
"Let doctors be doctors; let the doctor and patient determine the treatment, not the government."

"It was a serious mistake to let government officials control health care rather than doctors and nurses, who really knew what was happening."

One doctor pointed out that the things that were important to him were his wife, his kids, and his grandkids. He insisted we take a stand for our grandkids.

"Don't let them vaccinate your kids. While vaccinating may have seemed like a good idea at the start of the pandemic, vaccinating kids makes no sense. Children have natural immunity, rarely catch the flu, and more rarely pass it on to others. Many have suffered because of the vaccinations."

"Vaccinating children has had very negative results. Some, especially the boys, have had permanent heart damage. Some girls became sterile."

"If your child is injured because of the introduction of an unproven vaccine, you have no remedy: drug companies are no longer liable for drug failures. "
The next time you hear a democrat or an activist liberal/leftist bloviator decry/condemn "big pharma", in order to attach them to republican(s) and drag them through the political slop during election cycles, sternly ask— no, demand of them how they feel about mandating the population, at all ages, submit to an unproven vaccine that "big pharma" is exempted from being sued for its vaccine's failures and health injuries. Those data numbers as well have yet to be formally, and factually, released to the American public. Ask why, after a year of the vaccines and the majority of Americans already jabbed, why do private practice physicians not have the vaccines to administer to their own patients? BTW, my doctor knows, and it has a Hell of a lot to do with them getting sued when the pharm companies cannot be.
Martin Kulldorff, Jay Bhattacharya: Dr. Fauci and the Coronavirus Policy Blame Game: With millions of Americans getting infected and over 800,000 reported COVID-19 deaths, most people now realize that Washington's pandemic policies failed. Lockdowns just postponed the inevitable while causing enormous collateral damage on cancer, cardiovascular disease, diabetes, tuberculosis, mental health, education and much else…
As Denmark lifts all CIVID mandates and restrictions, others in Europe twist the irony scales…
DM: Austria makes Covid vaccination COMPULSORY for all over-18s today and claims protesters objecting to the move are 'very scary' and 'right wing extremists' … This is the definition of leftist fascism on display, make something "compulsory" on everyone and then smear opposition and resistance as "right-wing". In the USA it's just, you know "RACISM".
White House Press Secretary and Mouthpiece for Biden's Administration Scoffs and Laughs at Americans' Sharp Rise in Crime Concerns, and a Cable Network's Coverage of Such:
"What's scary about it is a lot of people watch that…"
Brianna Lyman: 'What Does That Even Mean?': Psaki Dumbfounded Republicans Focus On Crime Wave
Really, Jen? How about some people (in growing numbers) are victims of the rising crime rates in this country, and they and the rest of us are damn sick and tired of being told "nothing to see here, move along to another cable network". Oh, and even the uber-left WaPo (again) gave Psaki 'Three Pinocchios' for repeating the false claim that republicans voted against "The American Rescue Plan" and by that, funding the nation's police in a democrat bill that was defeated last summer, and again repeating it yesterday. That. Was. NOT. In. The. Bill. Jen.
@PressSec got three Pinocchios from the Washington post about her comment on the American rescue plan could be used by states for police but that fund can be used in any matter the states see fit it's not necessarily slated for the police fire and first responders.Shame on her

— @foxoUSA (@foxoUSA1) February 1, 2022
VIDEO: Psaki defends comments criticizing crime concern after laughing off soft-on-crime policies
DM: Furious National police union demands Jen Psaki APOLOGIZE for 'laughing off' Americans' concerns over 'soft-on-crime' policies from 'the safety of the White House'
FOP: FOP National President Calls Out Jen Psaki
Contrary to Peppermint Psaki's chortling at concerns over the growing crime rates and the levels of government "soft-on-crime" policies … AND increasing double-standard prosecutions … the American people are witnessing and experiencing, it is indeed happening…
Julie Kelly: Justice Department Continues to Go Easy on 2020 Rioters: Biden's prosecutors may be fooling themselves—and federal judges auditioning for a promotion—but they are not fooling the majority of Americans.
Mollie Hemingway: J6 Hysteria Is How Media And Other Democrats Are Avoiding Accountability For Their Rigging Of The 2020 Election
The criminal invasion of Illegal aliens and some of their crimes prevails with the Brandon administration…
Amy Nelson: Texas mother regrets vote for Biden after teen daughter killed by illegal immigrant: 'I want to know why': Adrienne Sophia Exum killed by drunk driver who won't be deported under Biden policies
Kelly Laco: Border sheriffs slam Biden admin's covert transports of criminal illegal immigrants: 'Willful neglect': Biden admin's 'secret flights' are leaving the country vulnerable, sheriffs say
VIDEO: Pompeo: Biden admin has abandoned protecting American sovereignty
And as L.A. preps for the Super Bowl, they have to "disappear" the drug-infested homeless infestation.
Eric Lendrum: Dozens of Firearms Stolen from Trains in Los Angeles: In the latest train robbery in the city of Los Angeles, dozens of firearms, including handguns and shotguns, were stolen from a cargo train in a massive raid. … Not to worry, Eric, because Gov-Newsome's got `em covered … the criminals, that is … so, they can fire-at-will on the streets in in mass shootings in California because they won't have to face death row…
CBSLA: Newsom Moves To Dismantle California's Death Row
The goal is to turn the section at San Quentin State Prison into a "positive, healing environment."

"We are starting the process of closing death row to repurpose and transform the current housing units into something innovative and anchored in rehabilitation," corrections department spokeswoman Vicky Waters told The Associated Press.

California, which last carried out an execution in 2006, is one of 28 states that maintain death rows, along with the U.S. government, according to the Death Penalty Information Center. While other states like Illinois have abolished executions, California is merging its condemned inmates into the general prison population with no expectation that any will face execution anytime in the near future…

Newsom, a Democrat, imposed a moratorium on executions in 2019 and shut down the state's execution chamber at San Quentin, north of San Francisco. Now his administration is turning on its head a 2016 voter-approved initiative intended to speed up executions by capitalizing on one provision that allowed inmates to be moved off death row.

Corrections officials began a voluntary two-year pilot program in January 2020 that as of Friday had moved 116 of the state's 673 condemned male inmates to one of seven other prisons that have maximum security facilities and are surrounded by lethal electrified fences.

They intend to submit permanent proposed regulations within weeks that would make the transfers mandatory and "allow for the repurposing of all death row housing units," Waters said.
MORE:
Kelsey Koberg: Governors grade Joe Biden: 'Solid' D, and 'I'm trying to be generous there'
BONUS Bozo:
Luke Gentile: WATCH: Whoopi Goldberg says Holocaust was 'not about race'
Andrea Widburg: Whoopi Goldberg reveals herself as an antisemitic ignoramus
J.J. Sefton @ AoSHQ: It's Not A Gas-Gas Gas
Whoopi Goldberg, nee Caryn Johnson, has been forced to apologize for stating that the Shoah, the systematic annihilation of Europe's Jews because of the crackpot racial theories of Adolf Hitler and much of Germany, which was in fact Hitler's casus belli, was not because of race.

Where to even fucking begin? Why am I raising my blood pressure over this filthy ignoramus whose volume is in inverse proportion to her intellect? Ditto the other filthy ignoramuses seated with her; and what the hell does that say for the idiots who queue up outside the studio to act as clapping seals when the "Applause" lamp is lit?…
Read the whole thing.
Twitchy: 'You couldn't tell who was Jewish': Whoopi Goldberg attempts to apologize on Stephen Colbert's show, doubles-down instead
Adam Kredo: Harris Marks Holocaust Remembrance Day by Attending Inauguration of Honduran Anti-Semite
~~~
~~Many thanks to Maggie and The Universal Spectator for reprint permission.
Trust no one, not even Dr. "The Science".Follow the silence. Yes, we must keep pounding and digging at this whole COVID issue, from bottom to top. Not just in China but in our own country and other western countries. The virus was not 'natural' (as Fauci himself continues to lie about) and these last two…
Trust no one, not even Dr. "The Science".Follow the silence. Yes, we must keep pounding and digging at this whole COVID issue, from bottom to top. Not just in China but in our own country and other western countries. The virus was not 'natural' (as Fauci himself continues to lie about) and these last two…