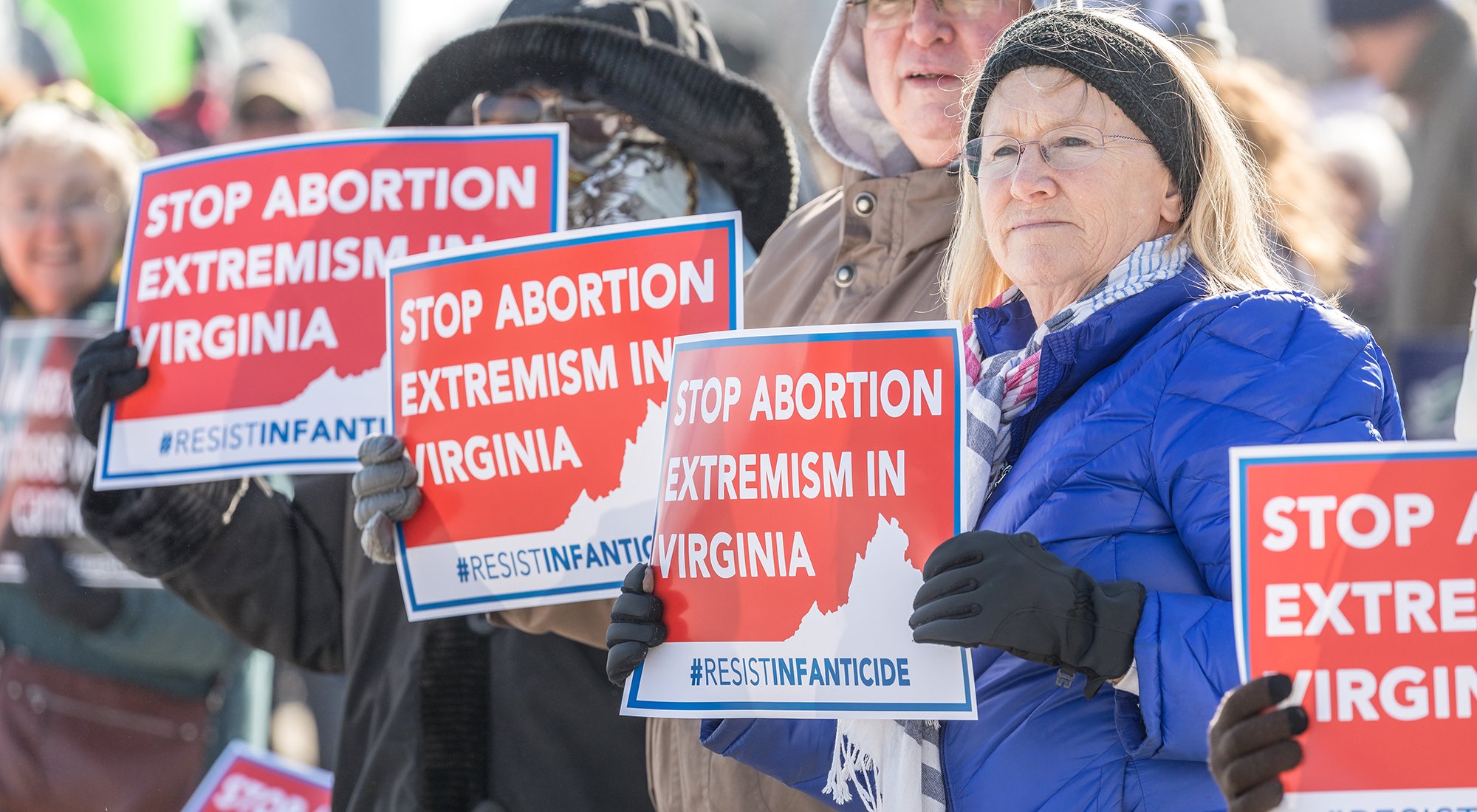 Is Virginia About To Enact European-Style Regulations On Abortion?
And lest anyone think the Freitas bill is going nowhere: The wild card in that story is state Sen. Joseph D. Morrissey (D-Richmond). In the 2020 General Assembly session, Morrissey broke ranks to vote against a bill relaxing some abortion restrictions. Then-Lt. Gov. Justin Fairfax (D) broke the resulting tie.
Should the proposed 20-week ban reach the Senate floor — a big if — the spotlight will fall on Morrissey, who could be the man who makes the ban reality.
This is the same Joe Morrissey who was vilified by the Democrats in an effort to remove him from the State Senate just before outgoing Governor Ralph Northam offered him a pardon for dating (and then marrying) his then-17-year old secretary.  A few children later, and the Catholic-raised Morrissey has not only remained true to his vows but has added a few more children to the young family.
Republicans skeptical about Morrissey's convictions on pro-life questions should remember that Morrissey could very well have chosen to do the wrong thing, pay people off, have NDA's signed — and coerced his now-wife into having an abortion.
Instead he was willing to endure public humiliation not just for his newborn baby but for his mother.  However one chooses to slice the cake, the fact of the matter is that Morrissey was willing to walk through fire (and even disbarment)  for his wife and child.
Yet it should bear mentioning that a 20 week ban on the practice of abortion doesn't accomplish much in the grand scheme of things.
Most abortions occur long prior to 20 weeks.  Virginia presently bans the practice of abortion after 24 weeks — meaning that the abortion industry will continue to do its work and remain in clover for as long as pro-lifers are content to cloak half measures as victory.
Republicans who remember Youngkin's dismissal of the Texas ban were quick to forgive in the face of what McAuliffe promised he would do if made governor.  Yet Republicans should also remember that Youngkin promised that he would "do more" than just trim along the edges — especially while self-declared pro-life groups are actively picking off good pro-life legislation in order to give effectively meaningless bills more oxygen.
Many pro-lifers would be shocked and horrified how many pro-life bills were knifed by so-called pro-life leadership working at the behest (or claiming to) of the Youngkin administration.
The Pawn Shop approach to meaningful legislation? This whole "best we can do is European-style restrictions" isn't pro-life.
Such half-hearted efforts merely turn that half of the movement into the pro-regulation arm of the pro-abortion movement.
Republicans can and ought to do better than calcifying the Northam regime on abortion.  20 week bans are weak; banning all state funding to Planned Parenthood can be done with the stroke of a pen — if and only if pro-lifers are willing to be more firm and stronger willed than their self-declared leadership.
After all, why should politicians be more energized than the grassroots when our own grasstops are selling us out?
Shaun Kenney is the editor of The Republican Standard, former chairman of the Board of Supervisors for Fluvanna County, and a former executive director of the Republican Party of Virginia.
~~~
~~Reprinted with permission. See the original article here and leave some comments! 
And lest anyone think the Freitas bill is going nowhere: The wild card in that story is state Sen. Joseph D. Morrissey (D-Richmond). In the 2020 General Assembly session, Morrissey broke ranks to vote against a bill relaxing some abortion restrictions. Then-Lt. Gov. Justin Fairfax (D) broke the resulting tie. Should the proposed 20-week ban reach the…
And lest anyone think the Freitas bill is going nowhere: The wild card in that story is state Sen. Joseph D. Morrissey (D-Richmond). In the 2020 General Assembly session, Morrissey broke ranks to vote against a bill relaxing some abortion restrictions. Then-Lt. Gov. Justin Fairfax (D) broke the resulting tie. Should the proposed 20-week ban reach the…