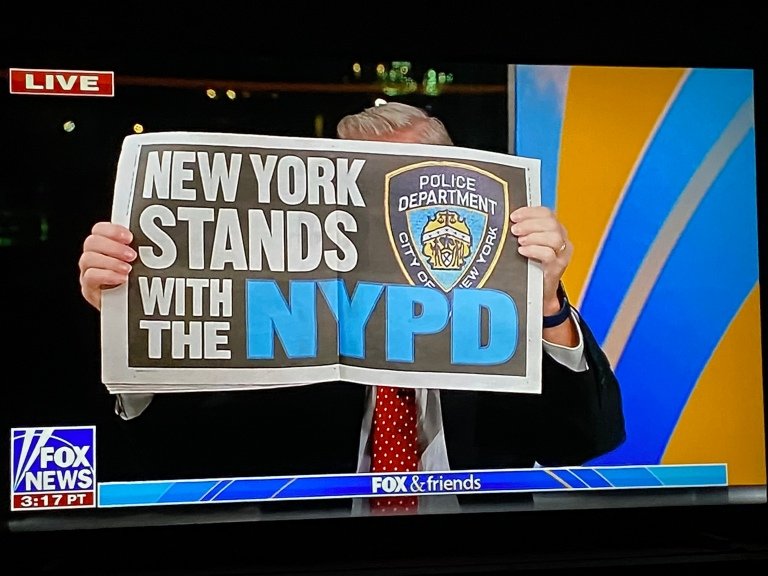 Friday Newsfeed: Unbelievable Lawlessness and Disorder
Posted by Maggie on January 28, 2022 in From the editors
New York City is burying one of their rookie police officers today. His partner's funeral will be held soon as well. The New York Post's centerfold today is the above banner that they have printed for NYC civilians to hold up if they are lining the funeral route, or to display in their windows. But while the city appears united behind the city's police, it is the prosecutors, DAs and judges in NYC that are fully enabling not only the major increase in crimes and murders in the city, but the violent and deadly war on NYC's police.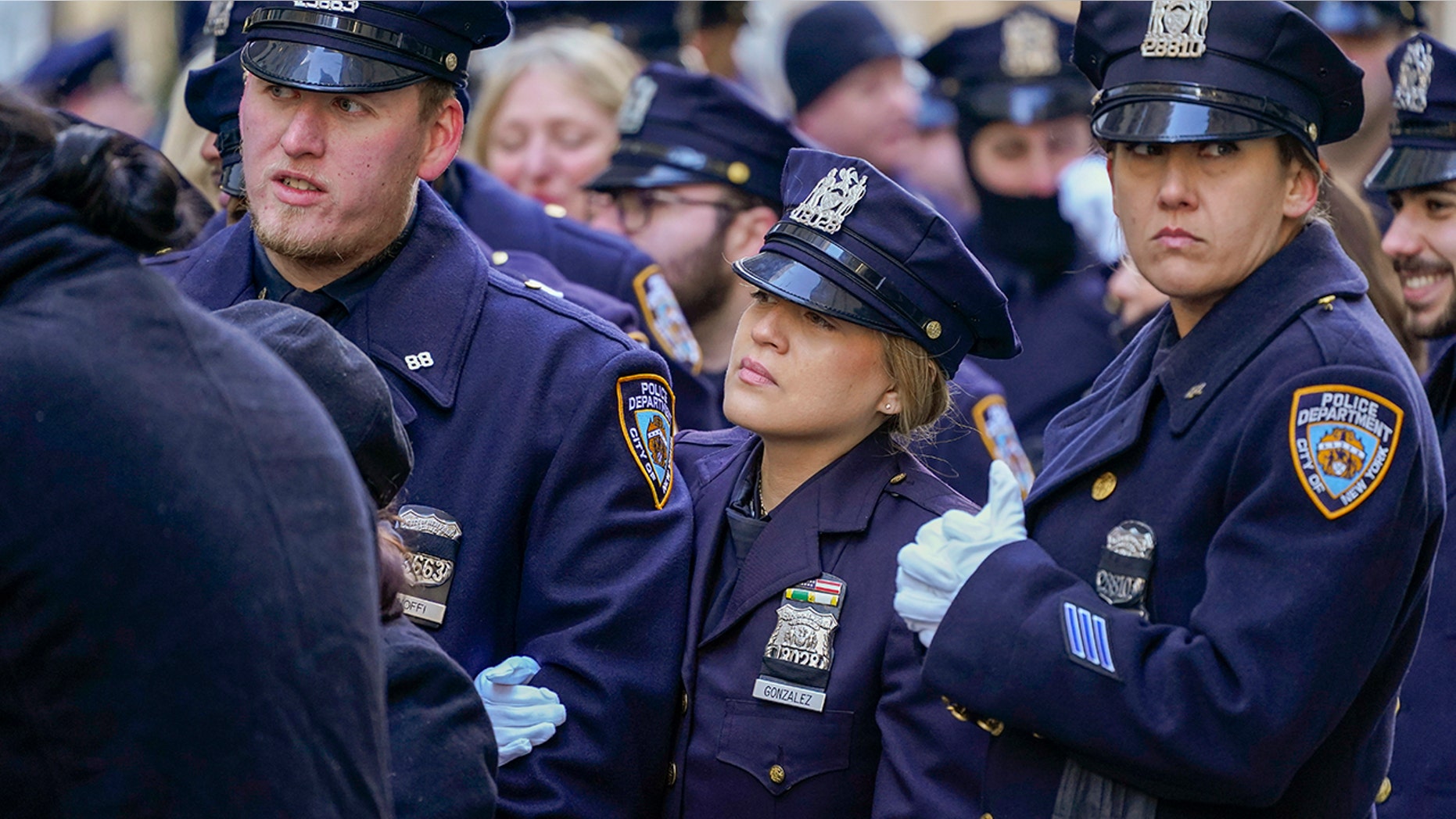 Fifth Ave filled with NYPD paying respects to fallen office Jason Rivera @nypost photograph by Paul Martinka pic.twitter.com/UZemgM2jVv

— Miranda Devine (@mirandadevine) January 28, 2022
In another NYC cop shooting…
NYP @ FNC: NYC teen charged with shooting NYPD cop walking free on bond: Camrin Williams, who is also known by the rap name C Blu, posted his $250,000 bond
Camrin Williams, who is also known by the rap name C Blu, posted his $250,000 bond after being locked up at a Brooklyn juvenile facility on gun and assault charges in the shooting of a 27-year-old cop in Belmont.

"If anybody wants to know why we have a crisis of violence in this city, or why we're about to bury two hero police officers, look no further than this disgraceful bail release," NYPD Police Benevolent Association President Patrick Lynch said in a statement.

"This individual chose to carry illegal guns twice," Lynch said. "He chose to fight with and shoot a New York City police officer. There's no reason to believe he won't do the exact same thing when he's out on the street tonight.

"Shame on Judge Denis Boyle for allowing this to happen," he said. "The people of the Bronx won't be safe as long as he's on the bench."

Boyle, a Bronx Supreme Court justice, has come under fire in the past amid claims that he's overly lenient, particularly with young defendants…

State lawmakers have also come under fire after passing prohibitive bail reform measures that bar judges from setting bail on misdemeanors and non-violent felonies.

Williams was eligible for bail in his case.

He walked out of the Crossroads Juvenile Center in Brooklyn shortly before 7 p.m. but declined to comment to a reporter from The Post.

But in a statement, his attorney, Dawn Florio, said her client will focus on his music.

"Camrin has been released and will be back to his regular productive life of focusing on schoolwork and his music career," Florio said…
Oh, well, that's good, huh? I mean, now he can hurriedly write and record a rap song about how he 'popped-a-cap in the man'…
Jim Hoft: NYC Teen Rapper Who Shot Police Officer Walks Free from Jail After Posting Bond 10 Days After Shooting — Cut a Video on Jan. 2 Flashing His Gun (VIDEO)
It is as I have said all along; we do not need more and more "sane" (WTF does that even mean?) gun laws. We need the judicial system to uphold and enforce the gun laws already on the books and stop showing misplaced 'mercy' when perps violate them, either in the low or no-bail policies that are becoming so popular with democrat-run cities or when it comes to criminals' lawyers plea-bargaining with prosecutors to drop the gun violation charges. Stop excusing the criminals and deflecting the blame on guns…
Jonathan S. Tobin: Joe Biden can't just tell us how bad guns are when he visits NYC
And the democrat governors in these blue states are totally onboard with these asinine lenient bail policies…
Craig McCarthy, Nolan Hicks, Bernadette Hogan and Sam Raskin: Gov. Hochul won't 'cave to pressure' as NYC Mayor Adams calls for bail changes
Brittany Bernstein: New York Governor Hochul Affirms Her Support for Controversial Bail Reform
Yeah, Hochul started her criminal "reform" of punishing society while excusing convicted criminals not long after taking office from Cuomo.
And these demo-commie governors continue to dump dangerous convicted criminals out of the prisons and into society, devil-may-care…
Daniel Greenfield (12-25-20): Democrat Governors Freed the Criminals and Killed the Elderly: They released criminals to protect them from the virus – and locked nursing home patients in with the virus.
It started with the lame COVID19 excuse, but now has morphed today into the actual leftist agenda of "prison reform"…
Michael Ruiz: Oregon lawsuit decries Democrat governor's clemency push as unlawful after nearly 1,000 convicts freed: Gov. Brown also came under fire last week amid reports she was considering freeing suspect in 2005 Christmas murder of Dale Rost III … Remember, this is the same idiot governor that last year signed a bill ending the requirement for high school students to prove proficiency in reading, writing, and arithmetic before graduation. She is quite the mental midget herself. She is also a George Soros implanted Marxist boob.
However, this ongoing war on cops is not restricted to New York City. Not even a full month into 2022 the nation is already on course to outpace 2021 in the shooting and killing of, not only citizens (and children/babies), but of already under-staffed and under/defunded law enforcement officers across the nation…
Lawrence Richard: Six law enforcement officers shot across US in less than 48 hours as violent crime surges: Two police officers were shot in St. Louis, a sheriff's deputy was shot in Milwaukee; and, three more police officers were shot in Houston
Signed condolence letters for first responders who died in the line of duty in January. And unfortunately, another three officers were shot today in Houston. Prayers. pic.twitter.com/qCCKCb3Gud

— Mike Bouchard (@MikeJBouchard) January 28, 2022
Megan Crepeau: 2 held without bond in shooting of 8-year-old Chicago girl, including teen who was on probation in pair of carjackings
Breitbart: EXCLUSIVE: Accused Texas Cop-Killer in U.S. Illegally, Says ICE: Immigration officials confirmed that the man accused of killing a Harris County Constable's deputy was illegally present in the United States at the time of the alleged murder. The accused is a Salvadoran national who entered the U.S. illegally and was later arrested after fleeing to Mexico… … And this wasn't the first, and it obviously will not be the last.
Jessica Chasmar: Florencia 13: Vicious Mexican American gang linked to LAPD officer's murder, authorities say: Four charged with violent crime in aid of racketeering in killing of LAPD officer Fernando Arroyos
Meanwhile…
Biden's bored with the border:
Anna Giaritelli: 14 illegal immigrants on terror watchlist stopped at border in 2021, former Border Patrol chief says
Law enforcement intercepted 14 illegal immigrants at the U.S.-Mexico border who were on the terrorist watchlist, a former top official said, more than the four stops that the Department of Homeland Security had disclosed…
The terror watchlist stops in 2021 are significant because they are higher than in previous years. U.S. Customs and Border Protection, the parent agency of the Border Patrol, declined to comment or release data on terror watchlist encounters.

Last summer, Scott told agents in a farewell address that the agency was encountering people on the terror watchlist "at a level we have never seen before."…

Any person in Border Patrol custody and flagged by the terror watchlist during background checks would be immediately transferred to and picked up by the FBI, said Scott, a distinguished senior fellow for border security at TPPF in Austin, Texas.
And then what? Oh, yeah…
The Biden Regime just released an illegal alien on the Terror Watchlist into the interior of the United States. The FBI knew he was on the list, interrogated him and then released him. He was last seen in Michigan.

— Charlie Kirk (@charliekirk11) January 28, 2022
Adam Shaw: Abbott says enough fentanyl seized in Texas to kill 222 million Americans, Biden 'does not care': 10,586 lbs of the deadly drug were seized in FY 2021.
Adam Shaw: Only 59% of single adults encountered by Border Patrol expelled via Title 42 in December: Biden has kept Trump-era policy in place, but its use has decreased … And that is tactical in that they can claim that Trump border policy didn't work.
Russian Roulette:
Liz Sheld: Morning Greatness: Ukraine Official Says Biden Call 'Did Not Go Well'
Twitchy: Whoever is running Biden's Twitter account's attempt at damage control with Ukrainian phone call just makes things WORSE
MORE:
Yaron Steinbuch: Ukrainian mom buys powerful hunting rifle, vows to 'fight for Kiev' … God bless her.
Michael Lee: Navy SEALs to stop using Washington state parks after residents voice fears of seeing 'armed men'
Big Bucks for "The Big Guy" and his drug addled, whore-mongering greasy-skid son …
Peter Schweizer: Chinese elite have paid some $31 million to Hunter and the Bidens
Breitbart: 'Red-Handed': How the Bush Family Cashed In on Friendship with Chinese Official Involved in the Tiananmen Square Massacre
Joe Hoft: HORRIBLE: Democrats' 'China Bill' Includes Millions of Dollars Going to Organizations to Push Racist Policies in the US that Have Nothing to Do with China
COVID Panic Porn and the teachers unions must go…
Twitchy: Randi Weingarten assures us that masks are one of the best tools we have to keep kids safe
We all want to be done with this pandemic. I get it. But masks are one of the best tools we have to keep people safe – especially kids who are too young to get vaccinated. https://t.co/36m0EmJKg4

— Randi Weingarten (@rweingarten) January 27, 2022
Nothing after the "but" is based is science. Not a word. https://t.co/cPmWRV92qp

— Stacey – Gen X – The Sleeper Generation (@ScotsFyre) January 27, 2022
And they (and others) keep getting away with repeating/pushing this fake narrative in the face of even the CDC's report just to the opposite. If you're on FaceBook anything you post regarding direct CDC info is always flagged as inaccurate/you need to read 'our' info click here.

— Maggie (@drillanwr) January 28, 2022
We've seen photos and videos of teachers taping or cord-tying masks to little kids' faces. How long before they start with the staple guns? Oh, please, don't put anything past these collective comrade assholes in our classrooms.
Goldie Hawn Op-Ed @ USAToday: COVID trauma is hurting a generation of kids. We've failed them as a nation: We will survive the COVID pandemic, but I'm not sure we can survive an entire generation whose collective trauma sends them hobbling into adulthood.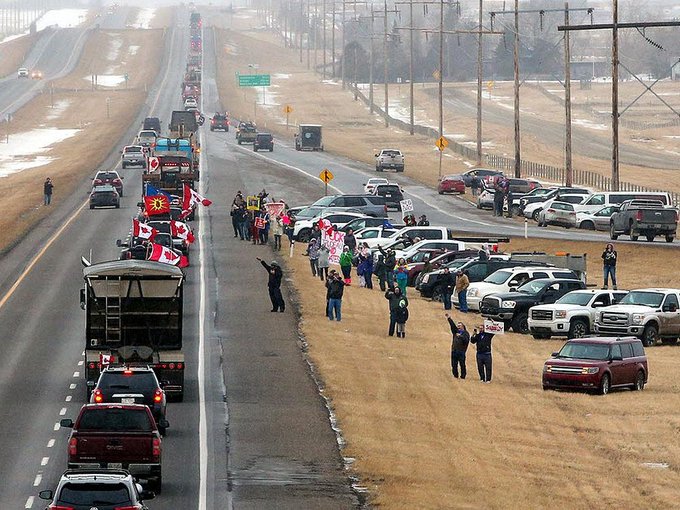 Jim Hoft: Canadian Freedom Convoy 2022 Is Now the Longest Truck Convoy on Record at 43 Miles Long! TENS OF THOUSANDS Line Highways to See History — MUST SEE VIDEOS
Crying as I watch footage of the truckers freedom convoy, I am realizing how much trauma our canadian government has caused, continues to cause and how broken I am. It is unforgivable. pic.twitter.com/4fq7p5q8w1

— Unacceptable E-co Fashion 👠 (@EcoFashionByBG) January 24, 2022
Swamp politics makes a cesspool look like potable water…
Time for Manchin and Sinema to dump the dem party and atleast claim they're "Independents", if not joining the GOP…
Ronn Blitzer: GET IN LINE: Dems turn to extreme tactics, bullying to pressure moderates to advance their agenda. Far-left bullies use in-your-face tactics against fellow Democrats. The left wing of the party has had its sights set on the middle … If these two stand their ground against the left's bullshit they will not be getting any DNC support or funding anyway. Leave the busted and rotted dem party behind, and sooner rather than later, especially in the face of Biden's coming SCOTUS nominee hearings and voting.
What third world and communist fascist countries do…
Victoria Taft: 'Walk Away' Activist Brandon Straka Can Finally Speak About Being Under the FBI's Thumb After Jan 6
Jason Snead, Scott Walter: The left-wing dark money behind the push to kill the filibuster
WEATHER ALERT:
Stay cozy, warm and safe, Fellow Spectators!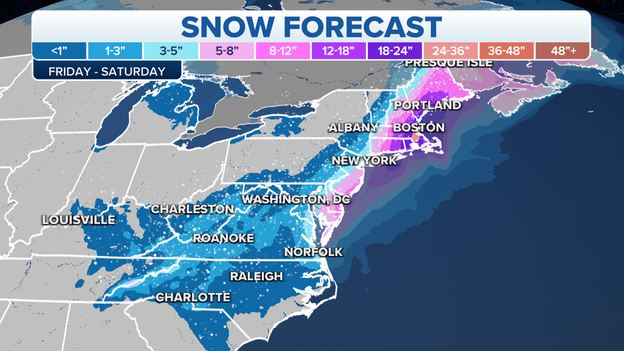 FNW: Nor'easter, winter storm to threaten millions along East Coast, New England: LIVE UPDATES – Heavy snow, strong winds and potential blizzard conditions are being forecast starting later today for the East Coast.
Twitchy: 'This is a REALLY dumb comment': David Frum's smug dig at meteorologists over snow forecast BACKFIRES painfully
1-6 inches of snow predicted tomorrow? Can you imagine if any other profession allowed itself a similar range?

"Your plane will depart tomorrow between 1 and 6."

"We've bought you a dress between size 1 and 6."

"Best to limit your daily wine intake to between 1 glass and 6."

— David Frum (@davidfrum) January 28, 2022
Seriously very lame gripe in the face of last 2yrs of "two weeks to flatten the curve" & the past yr of "You're not going to get COVID if you have these vaccinations" lousy forecast(s) from 'those' "The Science" experts. But you go ahead pick on the weather science folks. https://t.co/wtdy4focN0

— Maggie (@drillanwr) January 28, 2022
Snowplowing is racist and sexist, or some bullshit…
Howie Carr: Woke snowplowing? Boston's new hire swears by it
Yeah, good luck with that this weekend, you idiots.
And I don't necessarily mean things not being 'plowed' in a timely manner, but the self-imposed anger sh*tstorm coming from the public, again, you F*cking idiots…
Record low temps forecast for Florida in all of this.
~~~
~~Many thanks to Maggie and The Universal Spectator for reprint permission.
Posted by Maggie on January 28, 2022 in From the editors New York City is burying one of their rookie police officers today. His partner's funeral will be held soon as well. The New York Post's centerfold today is the above banner that they have printed for NYC civilians to hold up if they are lining the funeral route, or to…
Posted by Maggie on January 28, 2022 in From the editors New York City is burying one of their rookie police officers today. His partner's funeral will be held soon as well. The New York Post's centerfold today is the above banner that they have printed for NYC civilians to hold up if they are lining the funeral route, or to…