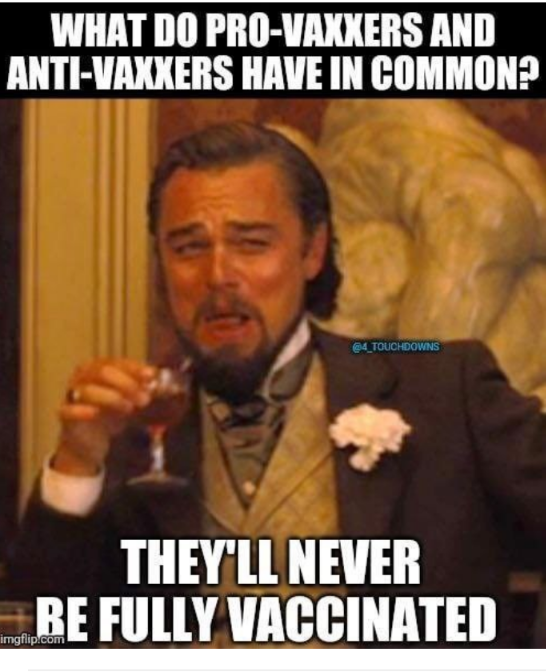 Major Cracks Opening in "The Science" COVID Narrative and Lies…
Posted by Maggie on January 27, 2022 in From the editors
A huge number of Americans who had gotten sick from COVID19 and then refused the vaccines because they believed they were now naturally immune (and didn't need the experimental vax) were fired from their jobs and careers in medicine in the nation's now short-staffed and at capacity hospitals. Other much needed first responders careers, police, firefighters and EMS, we're also punished. Many in our military ranks were, and continue to be, dishonorably discharged from our military. And everything from supply chain truck drivers, airline pilots, factory workers, and on and on have been purged of the unvaxxed, most of whom have previous COVID infection antibodies. What this nation needs are massive class action lawsuits against their civilian and industry employers, the military branches, city government employers, the federal government's CDC and NIH, etc.
The high cost of disparaging natural immunity to COVID. "Vaccines were wasted on those who didn't need them, people who posed no risk lost jobs…first responders and others who have been denied their livelihood should be reinstated. Everyone is essential."https://t.co/rp6nNAYYXl

— Michael P Senger (@MichaelPSenger) January 26, 2022
Dr. Marty Makary @ WSJ: The High Cost of Disparaging Natural Immunity to Covid: Vaccines were wasted on those who didn't need them, and people who posed no risk lost jobs.
Public-health officials ruined many lives by insisting that workers with natural immunity to Covid-19 be fired if they weren't fully vaccinated. But after two years of accruing data, the superiority of natural immunity over vaccinated immunity is clear. By firing staff with natural immunity, employers got rid of those least likely to infect others. It's time to reinstate those employees with an apology.

For most of last year, many of us called for the Centers for Disease Control and Prevention to release its data on reinfection rates, but the agency refused. Finally last week, the CDC released data from New York and California, which demonstrated natural immunity was 2.8 times as effective in preventing hospitalization and 3.3 to 4.7 times as effective in preventing Covid infection compared with vaccination.

Similarly, the National Institutes of Health repeatedly has dismissed natural immunity by arguing that its duration is unknown—then failing to conduct studies to answer the question. Because of the NIH's inaction, my Johns Hopkins colleagues and I conducted the study. We found that among 295 unvaccinated people who previously had Covid, antibodies were present in 99% of them up to nearly two years after infection. We also found that natural immunity developed from prior variants reduced the risk of infection with the Omicron variant. Meanwhile, the effectiveness of the two-dose Moderna vaccine against infection (not severe disease) declines to 61% against Delta and 16% against Omicron at six months, according to a recent Kaiser Southern California study. In general,Pfizer's Covid vaccines have been less effective than Moderna's.

The CDC study and ours confirm what more than 100 other studies on natural immunity have found: The immune system works. The largest of these studies, from Israel, found that natural immunity was 27 times as effective as vaccinated immunity in preventing symptomatic illness.

None of this should surprise us. For years, studies have shown that infection with the other coronaviruses that cause severe illness, SARS and MERS, confers lasting immunity. In a study published in May 2020, Covid-recovered monkeys that were rechallenged with the virus didn't get sick.

Public-health officials have a lot of explaining to do. They used the wrong starting hypothesis, ignored contrary preliminary data, and dug in as more evidence emerged that called their position into question. Many, including Rochelle Walensky, now the CDC's director, signed the John Snow memorandumin October 2020, which declared that "there is no evidence for lasting protective immunity to SARS-CoV-2 following natural infection."…
I saw Dr. Marty Makary this morning discussing his WSJ piece, and stating that when you confront the current "The Science" leadership about natural immunity will come back at you with, "Well, we don't know the value of natural immunity, there aren't studies on it…" … To which Makary snaps back, "Why not?!? Why are there not ongoing studies and research on natural immunity with COVID?". To which I will add, why the Hell are there not ongoing studies and research on existing drugs for therapeutic use for people sick with, and dying from, COVID???? These "The Science" shitheads are 110% concerned only with a vaccine??? Vaccines that have not proven effective enough to continue mandating them! WHY?
Kevin Downey, Jr: Woman Sneaks Ivermectin Into Hospital, Saves Husband's Life
How many times was this denied by "experts." And how many fired nurses, police, fire fighters, Marines, etc, whose natural immunity was superior to the vaccinated deserve to be reinstated! https://t.co/sjwZo35I4z

— David Asman (@DavidAsmanfox) January 20, 2022
The data are now abundantly clear. Natural imm is more effective than vax imm.

Sadly, tens of thousands Americans lost their job & livelihood because the Ab circulating in their blood are Ab the govt does not recognize. Sci group think ruined their careers. Agree to Re-instate👇🏼 https://t.co/k0twDp3VMx

— Marty Makary MD, MPH (@MartyMakary) January 20, 2022
Fox News Radio (audio): Dr. Marty Makary On Johns Hopkins Led Covid Natural Immunity Study
Fox News Radio (audio): Dr. Marty Makary: Time to Reinstate Medical Workers Fired Over The Vaccine Mandate
Katie Pavlich: Top Doctor Calls For Reinstatement of People Fired Over Vaccine Mandates
I refer you back to yesterday's previous post about the high-level criminality in all that's gone on at the highest seats in our government in this country over these last two years of the CCP China plague, especially in 2021 under this administration…
The Crime Against Humanity of the 21st Century and "The Science" Protecting the Perpetrators
Developmental delays take time to manifest. What Dr. Meissner & I warned about is now evident:

Jaclyn Theek, speech-lang pathologist director @ the Speech & Learning Institute, reporting "a 364% increase in patients who were babies and toddlers"

We should have seen this coming. https://t.co/ClDDKvPJWR

— Marty Makary MD, MPH (@MartyMakary) January 22, 2022
Johns Hopkins' Dr. Marty Makary: "We're gonna have spikes every year in perpetuity during a winter season of some respiratory pathogen with a similar or worse CFR, so the question is do we keep masks on children K-12 their entire childhood or do we learn to live with the virus?" pic.twitter.com/H8smXQAlsD

— Scott Morefield (@SKMorefield) January 24, 2022
As is always said, the cover-up is as bad as, if not worse than, the crime. And as the original crime of the bio-weapon begins to wane, the frantic manipulation and abuse of the population and the silencing of real scientific evidence continues at breakneck pace.
FNC (transcript 1-26-22): 'Special Report' All-Star Panel on COVID lab leak theory
DJ Summers @ KDVR: CDC: Natural immunity stronger than vaccines alone during delta wave
Natural immunity was six times stronger during the delta wave than vaccination, according to a new report from the U.S. Centers for Disease Control and Prevention.

The report, published Jan. 19, analyzed COVID outcome data from New York and California, which make up about one in six of the nation's total COVID deaths…
Rick Moran: It's Time to Get Angry at Those Who Refuse to Recognize Natural Immunity
Chris Pandolfo: Fauci: Children aged 4 and younger will likely need three-dose COVID vaccine regimen … This has been nothing short of a graduated/phased lab rat experiment, and our youngest are next.
Jason Chaffetz: Fauci, Feds tried to quash COVID lab leak origin theory–protecting Chinese interests over American lives: The effort to suppress the truth behind the coronavirus pandemic is unmistakable
Israel 🇮🇱: The only quadruple-vaxxed country in the world (which also uses mask mandates and Covid passports) breaks new records for daily cases and leads the world by a wide margin 💪 pic.twitter.com/BfnSWV6gtO

— Dr. Eli David (@DrEliDavid) January 26, 2022
Repeated boosters lead to desensitization of the immune system. Allergy desensitization shots are based on this theory. Repeated injections of a foreign protein turns OFF the immune response to that protein.

— ClemsonMeditation (@ClemTig86) January 26, 2022
Perhaps sort of similar to the over-use of antibiotics have made resistant bacteria. I said 'sort of'.

— Maggie (@drillanwr) January 27, 2022
CR: EXCLUSIVE: 'He is hungry, isolated, cold': Parent of Ohio U student sounds alarm on quarantine dorm experience: Emanuel Seybolt was quarantined in university-provided housing for three days at the beginning of the spring semester, and is accusing the university of not providing adequate food service. The university is currently facing a lawsuit challenging COVID-19 mandates.
Meanwhile…
As usual, Biden carries on the Obama Era philosophy of "leading from behind"…
The pressure is on in the US!
Stop the fear, increase common sense.

— C. St. James🐺 (@wolfgang_sj) January 27, 2022
Leah Barkoukis: Nordic Country Declares Covid-19 No Longer 'Socially Critical Disease,' Drops All Restrictions
As some countries double down on punishing the unvaccinated and continue with draconian Covid-19 restrictions, Denmark has taken the opposite approach, announcing Wednesday that all safety measures will be lifted next week.

Prime Minister Mette Frederiksen said the Nordic country is reclassifying Covid-19; it will no longer be considered a "socially critical disease." …

"In only a few days, Denmark will be open again, completely open."

Denmark will end all virus restrictions, says PM Mette Frederiksen. The country will no longer categorize #Covid19 as a "socially critical disease" despite record infections https://t.co/hJaHBzLkmp #Covid19DK pic.twitter.com/LUq9T9RQ3f

— Bloomberg Quicktake (@Quicktake) January 27, 2022
Twitchy: Justin Trudeau addresses the 'small, fringe minority' headed toward anti-mandate protest who 'hold unacceptable views'
"In Canada we have one of the biggest revolutions happening. Right now there's 50,000 truckers and 1.4M people headed to the parliament in Ottawa. And they're going to stay there until Trudeau resigns, or they give us back all of our freedoms and rights." 🇨🇦 @TheoFleury14 pic.twitter.com/VybSq0PAT2

— Chief Nerd (@TheChiefNerd) January 26, 2022
From the truckers!!! The truth the whole truth and nothing but the truth. pic.twitter.com/fx9jmGlEAF

— Theo Fleury (@TheoFleury14) January 25, 2022
Prime Minister Trudeau says the "small, fringe minority" on their way to Ottawa "hold unacceptable views" and are undermining the rights, freedoms and values of Canada.

See more: https://t.co/DEN7zzSz9G pic.twitter.com/PDciuJyLC4

— Rebel News (@RebelNewsOnline) January 26, 2022
STFU and GFY, Castro Junior.
Listen to this guy… Dismisses anyone who disagrees with him as "extreme". Not fringe, not extreme, and not a minority. And he dares talk about freedoms… @JustinTrudeau's legacy is going to be a stain on Canada that will take years to rub clean. pic.twitter.com/pnfsADSTKK

— Viva Frei (@thevivafrei) January 26, 2022
VIDEO: Truckers driving across Canada protesting vaccine mandate
The Blaze: "You're TOAST, Justin": Canadians standing for freedom rally against government mandate
Twitchy: WATCH: Rep. Alexandria Ocasio-Cortez takes mask theater to an absurd new level
Hi, @AOC. You're triple vaccinated, you *just* recovered from COVID, and you can drive a truck through the gap between your outdoor KN95 & your face.

Do progressives even bother pretending that they follow science anymore? pic.twitter.com/KhSZCQWGI5

— NYC Angry Mom (@angrybklynmom) January 27, 2022
Rick Moran: Prominent Doctors Argue Masks for Kids Should Be Optional: 'Give Them Their Childhood Back'
Ben Shapiro: COVID-19's Impact of Expressive Individualism … And that is it, right? Abolishing individualism and privacy in order to shove and jam all of us into a faceless one-size-fits-all collective with absolutely no personal thought/opinion/choice. And here we are. I just re-watched the sci-fi fascist futuristic movie "THX 1138". The humans were dictated over by a race of BS-spewing faceless robots … that they themselves went to work and built daily in their underground emotionless utopia … that beat and tortured them into full compliance when they dared stray from the collective norm. The humans all dressed in the assigned cover-alls, shaved bald (males and females) and constantly popped mood-suppressing, mind-controlling pills.
VIDEO: Greg Gutfeld: Our government unleashed authoritarianism with the slow creep of authoritarian COVID policies.
wake up, parents. pic.twitter.com/N8hgFUFPHN

— Corey A. DeAngelis (@DeAngelisCorey) January 27, 2022
Michigan legislature passed two bills to fund students instead of systems in 2021

But Governor Whitmer sided with the teachers union monopoly.

Families can fight back and sign a petition to override her vetoes.

Sign up here to receive a petition packet:https://t.co/HjRLSEWxXI

— Corey A. DeAngelis (@DeAngelisCorey) January 27, 2022
I bet private schools in MI are not closed, and I bet all the local lockdown politicians send their kids to open schools

— Christina Pushaw 🐊 (@ChristinaPushaw) January 27, 2022
Alex Nitzberg: Smithsonian's National Portrait Gallery to add portrait of Dr. Anthony Fauci
~~~
~~Many thanks to Maggie and The Universal Spectator for reprint permission.
Posted by Maggie on January 27, 2022 in From the editors A huge number of Americans who had gotten sick from COVID19 and then refused the vaccines because they believed they were now naturally immune (and didn't need the experimental vax) were fired from their jobs and careers in medicine in the nation's now short-staffed and at capacity hospitals. Other much…
Posted by Maggie on January 27, 2022 in From the editors A huge number of Americans who had gotten sick from COVID19 and then refused the vaccines because they believed they were now naturally immune (and didn't need the experimental vax) were fired from their jobs and careers in medicine in the nation's now short-staffed and at capacity hospitals. Other much…