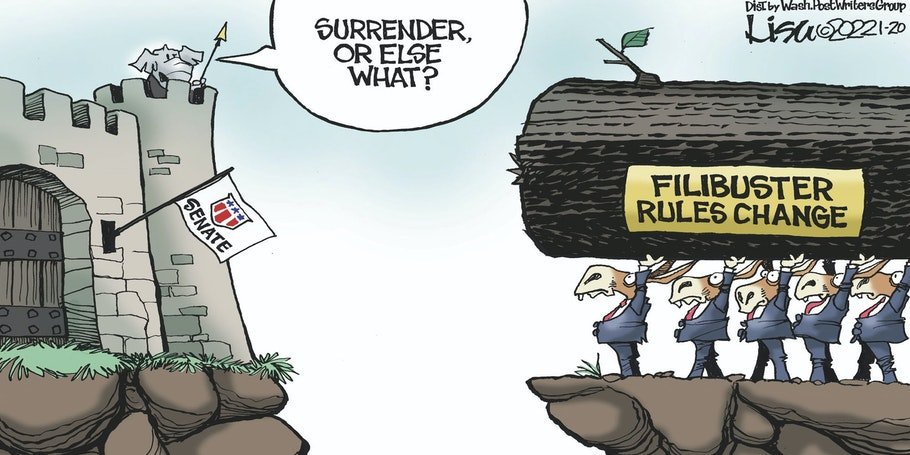 'Voting Rights' and the Filibuster, Unpacked
Our nation thrives on representative government. We chose that path 234 years ago, adopting a Democratic Republic form of government, in which elected executive and legislative leaders act on behalf of the American citizenry. Its success hinges on fair elections.
Now, in 2022, imagine one American political party so intent on "protecting democracy" that it proposes to set aside established democratic process in order to safeguard it. In other words, this party wants to do away with democracy to save it.
That is precisely the Democrats' position right now, and they're flogging their own members to get on the bus. Look no further than the Arizona Democratic Party (ADP), which last week censured its own senator, Kyrsten Sinema, for "her failure to do whatever it takes to ensure the health of our democracy."
It's hard to find anything factually sound, logical, or even politically sensible in that statement.
Sinema's cardinal sin was her unwillingness to support a Senate initiative to unilaterally (Democrat votes only) eliminate the filibuster rule, which in turn might have made it possible for those same Democrats to unilaterally pass a federal "voting rights" bill — in both cases, with true representative government nowhere in sight.
The underlying premise of the ADP's allegation — that passage of that bill, which would effectively nationalize U.S. elections, is somehow central to "saving American democracy" — is pure nonsense.
That premise stems from President Joe Biden's repeated insistence that new election laws in Georgia, Texas, and 17 other states constitute a return to the rampant discrimination and systemic minority voter suppression of a century ago. Biden's "Jim Crow 2.0" claim is patently absurd — it's shameful that the president keeps saying it, and it is journalistic malpractice for the media to pass it on without challenge.
The president is correct — although for the wrong reasons — that now is an opportune time for a thorough recalibration of the voting process. Sweeping changes were rushed into place before the 2020 election (nominally for COVID response reasons, but in many cases with strong partisan undertones), leading to a substantial increase in voter turnout, a doubling of ballots by mail, new standards for acceptance of late ballots, and the like. It's important now to examine carefully what worked and what didn't.
That's exactly what individual states have been doing, as is their assigned constitutional responsibility. Last year, 44 states enacted new voting laws. The shorthand classification of these as either laws making it "harder to vote" (in 19 "red" states) or "easier to vote" (in 25 "blue" states) is superficial and misleading. Collectively, these state legislatures are addressing, in different but responsible ways, key issues such as:
Strong voter ID requirements (favored by a large majority of Americans)
Ways to facilitate mail-in voting without sacrificing election security
The importance of maintaining accurate voting rolls
In dealing with these important issues, there is no compelling reason to nationalize federal elections and very good reasons not to. First and foremost, our Constitution assigns primary responsibility for conducting elections to the states, not the federal government. Moreover, the extraordinary diversity within the American populace, geography, culture, and tradition argues for flexibility, not a one-size-fits-all mandated nationwide process.
In short: The right to vote in America is solidly established and in the right hands (the states). New federal "voting rights" legislation is neither needed nor helpful.
And on the related matter of the filibuster: It is a rusty, clunky, flawed Senate process, always ripe for abuse — but at the same time an important mechanism for engaging a broadly representative group of U.S. senators in critical decision-making. It has been in place, in various forms, for nearly two centuries.
In 2004, at an event in which then freshman Republican Senator Lindsay Graham was a featured speaker, I stumbled upon an unexpected opportunity for a one-minute chat with him. At the time, Republicans held a solid Senate majority. The filibuster was getting in their way, and there was much talk among Republicans of nuking it. I asked Senator Graham about that.
His answer sticks with me still. "That would be the dumbest thing we could ever do," he said, "for two reasons: one, the filibuster is a pain, but it's the only part of our Senate process that gives voice to the minority, and two, we Republicans will not always be running this show."
How right he was. Democrats Sinema and Manchin get it. Their party, sadly, does not.
Senator Sinema did, in fact, "do what it takes" to preserve democracy, standing firm in a position that required far more courage than bowing to her critics. She deserves thanks, not censure.
~~~
~~Reprinted with permission. See the original article here and leave some comments! 
Our nation thrives on representative government. We chose that path 234 years ago, adopting a Democratic Republic form of government, in which elected executive and legislative leaders act on behalf of the American citizenry. Its success hinges on fair elections. Now, in 2022, imagine one American political party so intent on "protecting democracy" that it…
Our nation thrives on representative government. We chose that path 234 years ago, adopting a Democratic Republic form of government, in which elected executive and legislative leaders act on behalf of the American citizenry. Its success hinges on fair elections. Now, in 2022, imagine one American political party so intent on "protecting democracy" that it…