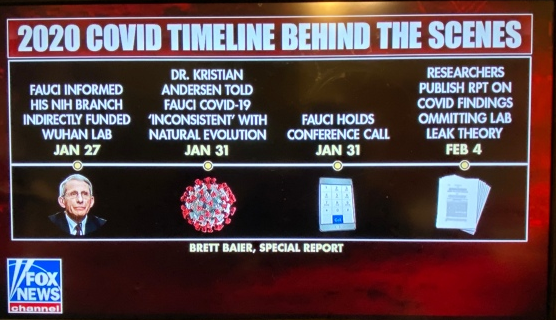 Hump Day: The Crime Against Humanity of the 21st Century and "The Science" Protecting the Perpetrators
Posted by Maggie on January 26, 2022 in From the editors
As you see, Collins's and the group's primary concern was not in scientifically investigating the origin, source and process of this virus, or in protecting the population. No, these people's primary concern was with protecting communist China and its CCP bio-lab in Wuhan. And it continues to this day, two years later.
VIDEO: Bret Baier: New internal documents reveal COVID origins downplayed
Andrew Mark Miller: Fox News Special Report outlines fresh questions on what Fauci, government knew about COVID origin: Special Report obtained documents showing what was happening behind the scenes in the early days of the pandemic
According to the timeline of events laid out by Baier, Fauci was told on January 27, 2020 that his NIAID had been indirectly funding the Wuhan lab through EcoHealth– a US-based scientific non-profit that had been working with novel coronaviruses.

On January 31, Dr. Kristian Andersen, a noted virologist at the Scripps Lab, privately told Fauci that after discussion with his colleagues some of COVID-19's features look possibly engineered and the "genome is inconsistent with expectations from evolutionary theory."

Andersen added that the situation needed to be looked at more closely, at which point Fauci organized an all hands on deck conference call with colleagues where he was told that risky experiments with the novel coronavirus may not have gone through proper biosafety review and oversight.

Hours later, Fauci hastily organized a call with dozens of worldwide virologists, and notes from the meeting obtained by Special Report reveal that suspicions of the lab leak theory were suppressed over concerns of how the public would react to news of possible Chinese government involvement.

In the meeting, fears were raised by then-National Institutes of Health Director Francis Collins that "science and international harmony" could be harmed and accusations of China's involvement could distract top researchers.

Another scientist in the meeting dismissed the possibility that the virus jumped from a bat to a person in nature and pointed out that the virus could be generated in a lab much easier.

Fauci and others in the meeting pointed to evidence that the virus originated in a seafood and wild animal market in Wuhan, which was complicated by the market being shut down and scrubbed clean by Chinese authorities.

A consensus was reached in the call that the lab origin should not be mentioned in a paper because it will add "fuel to the conspiracists," and Collins appeared convinced that natural origin of the virus was "more likely."…

Over the next few months, Fauci and Collins worked behind the scenes to squash the lab leak theory and communicated to each other the day after President Trump declined to dismiss the wet market theory, discussing "something NIH can do to help put down this very destructive conspiracy."

The email from Collins to Fauci contains a link to a Special Report segment on the issue, and Fauci urged Collins to ignore the story, referring to it as a "shiny object that will go away."

Fauci continued to push against the lab leak theory for months, and Special Report has learned that two authors of the scientific report Fauci touted were in close contact with Fauci and awarded millions in grants from his agency…
VIDEO: New documents reveal how scientists downplayed Wuhan lab leak: W.H.O adviser Jamie Metzl on the need for more investigation after Dr. Fauci received an email from scientist that the virus appeared to be engineered
Fauci thinks he has had a hard time of answering for and explaining himself, especially with Sen. Rand Paul, in these last two years? Imagine if he was in front of a criminal court…
Houston Keene, Kelly Laco: Rand Paul continues pressing Fauci for answers on NIH gain-of-function funding: Paul and Fauci got into heated exchange during doctor's latest appearance before Senate HELP Committee
"The American people deserve to know how this pandemic started, to know if the NIH funded dangerous gain-of-function research that may have caused this pandemic, and to remove from office anyone, such as Dr. Fauci, who let this happen," Paul told Fox News Digital in a Monday email.

"In these questions, I am demanding simple 'yes' or 'no' answers that aim to get us closer to the truth about the origins of COVID-19," he continued.

Paul's questions for Fauci probed the doctor on the NIH gain-of-research funding, starting with the grant providing funds for "bat SARS-related coronaviruses to EcoHealth Alliance with a subcontract to the Wuhan Institute of Virology" (WIV)…
The silencing of data, information and opinion continues, and social media networks are all too happy to do the dirty work…
El American: YouTube Censors Rand Paul's Interview with Conservative Radio Show: In the interview, Senator Paul expresses his rejection of vaccine mandates and questions the adverse effects of COVID-19 vaccines
YouTube has refused to post our @clayandbuck interview with @RandPaul. Think about this for a moment: YouTube is disallowing a doctor and sitting US senator's interview to be shared. This is madness.

— Clay Travis (@ClayTravis) January 24, 2022
Sitting US Senator Rand Paul talked to @clayandbuck last week about covid and masks, and YouTube is censoring it- listen to the interview herehttps://t.co/jdi1Zz82dR

— Buck Sexton (@BuckSexton) January 24, 2022
The Buck and Clay interview with Sen. Rand Paul on January 21, 2022…
VIDEO: Clay Travis: YouTube censorship of Rand Paul interview on vaccines is a 'massive issue'
Leslie Eastman: Sen. Ron Johnson Hosts "Second Opinion" Panel on America's Problematic Pandemic Response: Media promptly smears it as a panel of "vaccine skeptics and promoters of unproven early treatments."
Joy Pullmann: If Parents Pulled Their Kids From School For Covid Insanity, It Would Already Be Over: Parents' main strategies don't provide relief to the children they claim are being abused, taught racism, and denied their right to an education.
Kylee Sempel: Sen. Ron Johnson's Latest Covid Panel Reveals 800,000 People And Counting Want 'A Second Opinion': A second opinion is long-overdue, and the hundreds of thousands who tuned in to Johnson's panel proved people are starving for it.
MORE:
In addition to the powers-that-be in this country protecting China, they are also behind the silencing of other scientists/doctors/virologists who have information, data, and stark differing opinions about the vaccines, lack of treatment with therapeutics, and mandating our behavior as a society…
VIDEO: Florida shuts down monoclonal antibody treatment sites after FDA halts use: Gov. Ron DeSantis tells Laura Ingraham that what President Biden is doing is fundamentally wrong.
VIDEO: Dr. Siegel on COVID facts vs. fiction: Fox News medical contributor Dr. Marc Sigel on why the vaccines work despite rising cases, masks, and the need for more treatment options
Reminder…
Edmund DeMarche (4-8-2020): Dr. Marc Siegel opens up about his father, 96, and his use of hydroxychloroquine … There is no scientifically (REAL science, that is) sane reason not to be treating COVID patients with Ivermectin and/or Hydroxychloroquine
VIDEO (4-8-20): Do media pundits want potential coronavirus treatment to fail? Media slam President Trump over his support of hydroxychloroquine; reaction from Fox News medical contributor Dr. Marc Siegel.
Journalists who are blowing up my phone demanding "evidence that monoclonal antibodies work," why don't you ask the FDA for evidence they don't work? Isn't the onus on the FDA to prove it?

And BTW — what evidence does the Biden Administration have for remdesivir or Merck pills?

— Christina Pushaw 🐊 (@ChristinaPushaw) January 25, 2022
Why did the Biden administration say equity demanded that monoclonal antibodies be shipped to states other than Florida and Texas if they didn't work?

— Kyle Beckley (@Kyle_Beckley) January 25, 2022
If the government is trying to ban monoclonal antibodies because they supposedly don't work against Covid, why don't they go ahead and ban Tylenol, Motrin, Nyquill, and Theraflu. All those have been recommended for use if you have Covid, and none of them cure it either.

— Aldous Huxley's Ghost™ (@AF632) January 26, 2022
Get your 4 "free" COVID test kits yet? BTW, it will be the same source as those almighty one-use N-95 masks Joe's allegedly sending out too…
I don't know about you…..

But if anyone sends me a Covid test kit in the mail made in, China the last thing I am going to do is stick that swab of my nose.

You have to be a special type of stupid to do that.

— Tired of being politically correct (@USBornNRaised) January 26, 2022
Normally, the MSM and even social media would be demanding more free and open information and professional opinion(s) on these issues of COVID, but not only are not but are silencing and 'canceling' anything and/or anyone doing so. Now, imagine if this were going on regarding AIDS treatment(s).
DM: Loudoun County School District 'punishing' students who won't wear masks – despite new Republican Virginia governor overturning the state's mandates in an executive order
Republican Virginia Governor Glenn Youngkin signed an executive order within hours of entering office rescinding mask mandates for schools from Monday
However, some districts chose not to follow the revised rules including the Loudoun County School district which saw pupils taught remotely at school
At some schools parents protested outsider but a District spokesman said that overall the day passed without incident
Supporters say the state law is not in conflict with Youngkin's executive order because the CDC only recommends mask-wearing and does not mandate it
Loudoun County School District previously made headlines last year after they 'covered up a sexual assault on school grounds for political gain' 
The district was also at the center of woke school board arguments over the teaching of critical race theory, or CRT, in classrooms
A Virginia high school has reportedly been segregating masked and unmasked students since @GlennYoungkin's new masking order took effect.
Here a teacher tells the unmasked group that they will only get a 15 minute lunch while the rest of the school gets 30 minutes: pic.twitter.com/IF9EsUXcYl

— Libs of Tik Tok (@libsoftiktok) January 25, 2022
Twitchy: Unmasked students segregated at Virginia high school apparently given an abbreviated lunch break … This has nothing to do with "science", and everything to do with the pissed-off teachers union striking out not only at Virginia's newly elected republican Gov Youngkin, but payback to the parents that voted for and support him.
They're punishing kids for obeying the law.

This is not about public health or safety, this is about control and power.

And every ONE of these tax-funded employees doing this to children should be fired and investigated. @JasonMiyaresVA https://t.co/eHL3X83844

— The🐰FOO (@PolitiBunny) January 25, 2022
YEP!
VIDEO: University of Chicago student Audrey Unverferth blasts 'caste system' wrought by booster mandate
VIDEO: Military could lose hundreds of pilots over vaccine requirements: Lt. Col. Scott Duncan vows to appeal the religious exemption denied by the military
VIDEO: Clay Travis: The pandemic doesn't go away even if everyone is vaccinated
Twitchy: Palm Beach speech therapist reports a '364% patient increase in patient referrals of babies and toddlers from pediatricians and parents' … There is a reason why a good speech therapist uses a mirror in sessions, and tells parents to get a mirror to have their children practice speech at home. Young children learn mouth movements in order to make formations that control sound/speech. Also, this is bad enough, but imagine our nation's deaf community that depends on lip reading and mouth movement in order to be involved in communicating in society.
Why is the left all-in with this bullshit? Because it is part of the master plan…
Tristan Justice: New York Times: Snitch On Your Unvaccinated Colleagues Who Are Sick: Poetic Justice is an advice column that offers counter-advice to submissions at other publications whose contributors have failed the reader.
Twitchy: Atlantic writer blames conservatives for *literally* bringing the US 'ritual human sacrifice on a mass scale'
~~~
~~Many thanks to Maggie and The Universal Spectator for reprint permission.
Posted by Maggie on January 26, 2022 in From the editors As you see, Collins's and the group's primary concern was not in scientifically investigating the origin, source and process of this virus, or in protecting the population. No, these people's primary concern was with protecting communist China and its CCP bio-lab in Wuhan. And it continues to this day, two…
Posted by Maggie on January 26, 2022 in From the editors As you see, Collins's and the group's primary concern was not in scientifically investigating the origin, source and process of this virus, or in protecting the population. No, these people's primary concern was with protecting communist China and its CCP bio-lab in Wuhan. And it continues to this day, two…