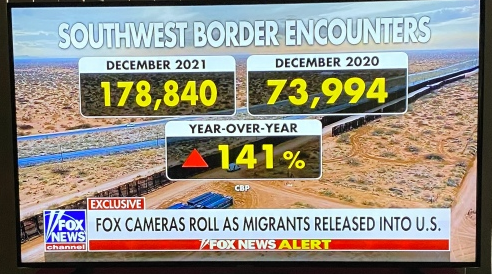 DEVELOPING: Biden and His Handlers are Verklempt Over the Russia Invasion Threat of Ukraine
… He/They Continue to Aid and Abet Our Border's Invasion
Posted by Maggie on January 25, 2022 in From the editors
The Biden administration plays Russian roulette with our border security against the ongoing mass invasion as it diddles with its best political self-serving plan to get involved in the Ukraine-Russia growing conflict.
This past December (2021) were higher than the previous Decembers COMBINED … jumping 141%!!! And we are right now on track to shatter the previous fiscal year's record-breaking encounters of illegal aliens on our border…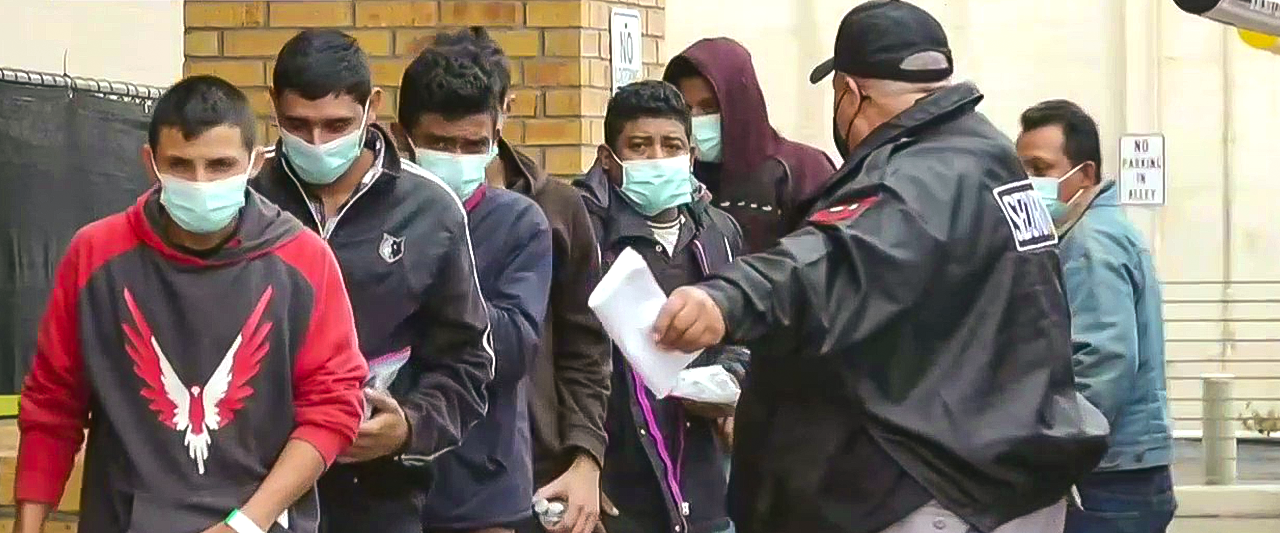 Bill Melugin , Adam Shaw: EXCLUSIVE: FREE TO GO – Fox News footage shows mass release of single adult male migrants into US: More than 178,840 migrants were encountered in December
Large numbers of single adult illegal immigrants are being released and transported into the U.S. in Texas via a small, unmarked office in a parking lot, video caught by Fox News on Sunday shows.

Fox News footage shows several federally contracted buses dropping off dozens of mostly male migrants at a parking garage in Brownsville, Texas. Black tarps were set up with a makeshift sign said "Border Patrol drop-off" above it.

Fox witnessed men go into a small, unmarked office, then re-emerge moments later as multiple taxi cabs then showed up to collect the migrants — who were then shuttled off to nearby Harlingen Airport. There were no children or migrant families among the groups.

Several of the migrants told Fox that they had crossed illegally that morning, paying approximately $2,000 per person to cartel smugglers. They also said they were flying to destinations including Miami, Houston and Atlanta.

Single adults are typically being expelled via Trump-era Title 42 public health protections. The Biden administration kept Title 42 in place but is not applying it to unaccompanied children or most migrant families. However, single adults have long been the easiest category of migrant to deport.

In a statement to Fox News, the city of Brownsville said its Office of Emergency Management, through federal assistance from the Federal Emergency Management Agency (FEMA), works to facilitate "the transfer of these migrants to their final destination by allowing them to use services to contact their families, NGOs, or a taxicab."

It confirmed that the parking garage serves as a staging area for migrants to be given travel information to "facilitate their transfer to their final destinations." Migrants can also be given a health screening there, a spokesperson said.

Customs and Border Protection (CBP) said its agency was not involved in the release. An Immigration and Customs Enforcement (ICE) source who viewed the footage said they believed it was an ICE release…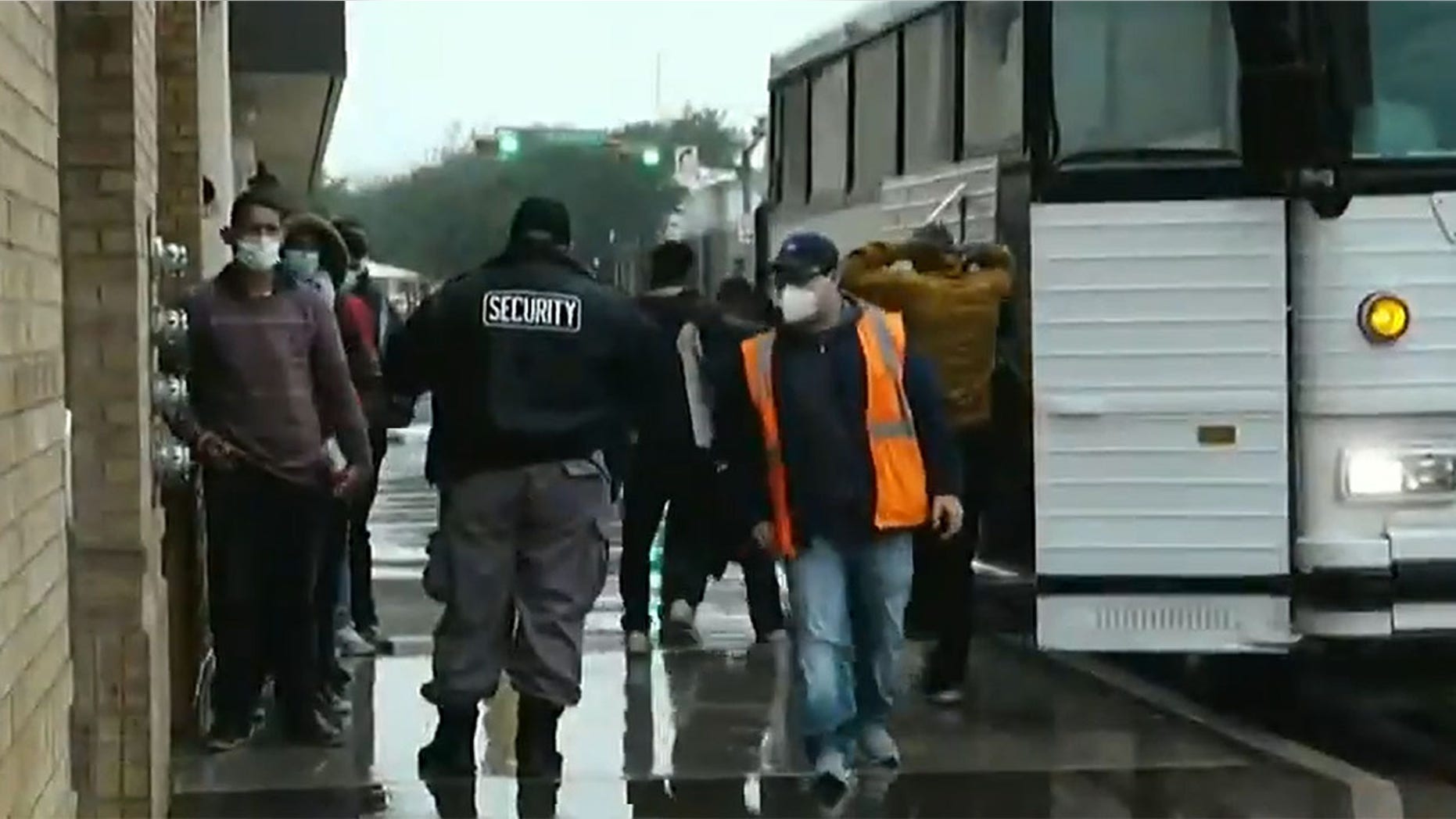 VIDEO: Fox News cameras catch mass migrant release in Texas – The mass release of single adult male migrants being released from federal custody in a Brownsville, Texas parking garage; Bill Melugin has the exclusive footage. … No children. No family units. Single (mostly male) adults who are supposed to be expelled from our country under Title 42 … and they are not being expelled but enabled and even taxpayer dollars being used to transport and dump them across the country.
Ryan Saavedra: DISASTER: Biden's December Illegal Border Crossing Numbers Worse Than 3 Previous Years Combined
Barn door meet's the dumb-ass in the White House— well, his 'open border' puppet masters…
Adam Shaw: Biden admin expands Trump-era 'Remain in Mexico' to Rio Grande Valley sector, citing court order: The Biden administration had sought to end MPP, but was ordered to revive it by a federal court
DOOCY TIME: "Why is it that large numbers of single adult men are being released into the United States just hours after being apprehended at the southern border?"

Psaki: "Well I'm not sure the specifics of what you're referring to, Peter…." pic.twitter.com/HYvmC1XhqX

— Curtis Houck (@CurtisHouck) January 25, 2022
Doocy: "You mentioned…they're supposed to check in at a local ICE office, but we know that just between large and August…DHS says more than 47,000…migrants that were given notices to report did not show up. So, why let them into the U.S. unsupervised in the first place?" pic.twitter.com/QUxCPRXTfK

— Curtis Houck (@CurtisHouck) January 25, 2022
Twitchy: Jen Psaki is clueless as feds in Brownsville, Texas caught releasing single adult migrants into the U.S.
MORE:
Ryan Saavedra: Psaki: Biden Has No Plans For Using Military To Evacuate U.S. Citizens Out Of Ukraine If Russia Invades … Old Joe's handlers sure do love leaving Americans behind.
Brooke Singman: Biden administration weighing 'severe' Russia sanctions in case of Ukraine invasion: Economic sanctions on Russia would have 'immediate and visible' effects, senior officials said
~~~
~~Many thanks to Maggie and The Universal Spectator for reprint permission.
… He/They Continue to Aid and Abet Our Border's Invasion Posted by Maggie on January 25, 2022 in From the editors The Biden administration plays Russian roulette with our border security against the ongoing mass invasion as it diddles with its best political self-serving plan to get involved in the Ukraine-Russia growing conflict. This past December (2021) were higher than the previous Decembers COMBINED…
… He/They Continue to Aid and Abet Our Border's Invasion Posted by Maggie on January 25, 2022 in From the editors The Biden administration plays Russian roulette with our border security against the ongoing mass invasion as it diddles with its best political self-serving plan to get involved in the Ukraine-Russia growing conflict. This past December (2021) were higher than the previous Decembers COMBINED…