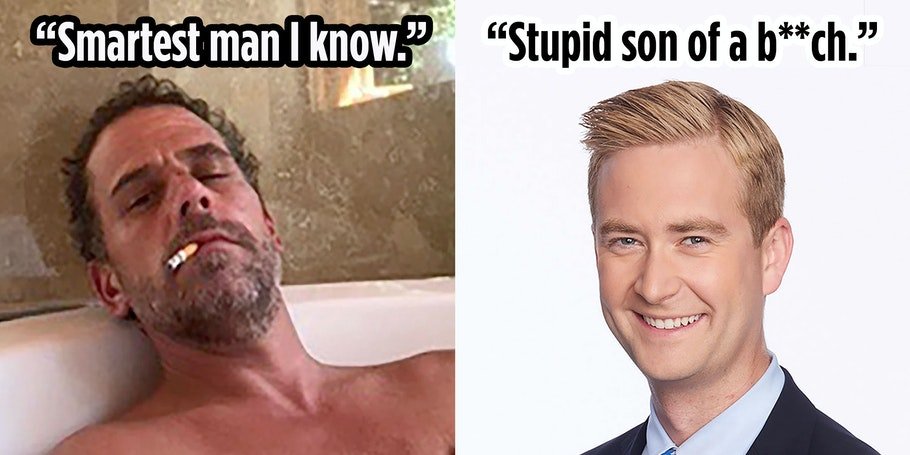 Mean Joe Biden 'Forgets' Presidential Norms
Calling a Fox reporter a "stupid son of a b**ch" doesn't exactly restore dignity and decorum.
"Newspapers," Thomas Jefferson once wrote, "serve as chimnies to carry off noxious vapors and smoke." In other words, presidential animus toward the press — and vice versa — is as old as the Republic itself. To hear the modern media tell it, however, there was one president who was uniquely a big meany: Donald Trump. Well, to those who were just glad to get rid of President Mean Tweets, we'd like to remind you that Joe Biden's no gentleman or scholar — and he never has been.
"What a stupid son of a b**ch," Biden muttered at Fox News reporter Peter Doocy on Monday. Now, that wasn't nice, but we're also not exactly traumatized.
Neither was Doocy, for that matter. "Nobody has fact-checked him yet and said it's not true," he quipped. He acknowledged that Biden followed up with him later to "clear the air," and even though Biden doesn't seem to have apologized, Doocy didn't treat it as some kind of big scandal.
We do, however, see some points worth making about this otherwise ridiculous flap.
First, the setup: Biden allowed reporters in to hear him make a few remarks on rising prices. Primarily, he was boasting about all the wonderful things he's doing to fight the evils and excesses of capitalism that are supposedly the true causes of inflation. He didn't take questions, instead having staff usher reporters out of the room. Nevertheless, a few journalists shouted questions about Ukraine, which had nothing to do with the topic at hand. Doocy, however, asked something relevant: "Do you think inflation is a political liability ahead of the midterms?"
Biden responded, "No, it's a great asset, more inflation. What a stupid son of a b**ch."
Admittedly, Doocy's question was a "gotcha" one. Of course inflation, which is at a 40-year high, is going to be a liability for Democrats. Contrary to the gist of Biden's remarks, and to Doocy's point, high prices are happening largely because of government policies. If Biden gets irritated with questions about inflation, we'd like to see how he'd feel having kitchen-table conversations like normal Americans do about things the family can no longer afford to buy.
The conventional framing of Biden's sarcastic retort is that he was "caught on a hot mic" that he didn't realize was still on. Perhaps that's exactly the case — Biden was practically muttering his response as if he didn't expect anyone to hear. Maybe this fits the pattern that reveals Biden isn't exactly doing well cognitively. He clearly doesn't have command of his own thoughts or what he's trying to say at any given time. Dementia doesn't always make people nicer, either. Among the mental faculties lost can be the normal social inhibitions that prevent people from saying any old thing that pops into their heads. Short tempers grow even shorter.
Ultimately, though, we don't buy that this was an accident. He was still at the podium where he had just replied to other questions with answers indicating he knew the mic was still on, and his contemptuous cursing at Doocy is actually in the White House transcript. He was also cogent enough to realize that inflation is going to be a problem for Democrats.
Moreover, Biden has a long history of angry and sneering outbursts toward those who challenge him. He's never been shy about being the "tough guy" who won't take flack from anyone. In this case, he just gets to play the nice guy after the fact, having magnanimously reached out to Doocy to smooth things over.
In truth, this story ought to disabuse anyone of the notion that we've somehow restored norms and decorum to the White House after the mean and nasty horrors of Donald Trump. We took Trump to task many times over the years for his ridiculous and counterproductive meanness. But, like his former boss Barack Obama, Joe Biden is not and never has been a nice man. He's arrogant, condescending, and deceitful, and he exudes scorn for people who dare to disagree with him. He's the guy who said of Trump, "If we were in high school, I'd take him behind the gym and beat the hell out of him."
Joe Biden was never the guy who was fit to bring back dignity to the Oval Office. This episode with Doocy doesn't reveal that as brand new information. It confirms the pattern.
Oh, and by the way, early in his administration, Biden made this threat: "If you're ever working with me and I hear you treat another colleague with disrespect or talk down to someone, I promise you, I will fire you on the spot." Just sayin'.
Calling a Fox reporter a "stupid son of a b**ch" doesn't exactly restore dignity and decorum. "Newspapers," Thomas Jefferson once wrote, "serve as chimnies to carry off noxious vapors and smoke." In other words, presidential animus toward the press — and vice versa — is as old as the Republic itself. To hear the modern…
Calling a Fox reporter a "stupid son of a b**ch" doesn't exactly restore dignity and decorum. "Newspapers," Thomas Jefferson once wrote, "serve as chimnies to carry off noxious vapors and smoke." In other words, presidential animus toward the press — and vice versa — is as old as the Republic itself. To hear the modern…