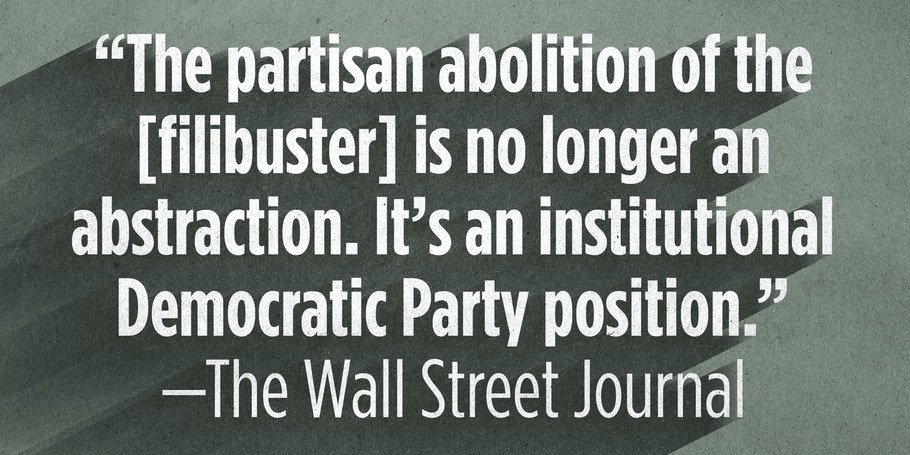 In Brief: What the Senate Filibuster Assault Means
By  POLITICAL EDITORS January 25, 2022 in Government
Wednesday's narrow vote changed Senate races, starting in 2022.
Senate Democrats failed to do away with the legislative filibuster last week, but that doesn't mean they haven't changed the rules of partisan debate. Democrats want fundamental election changes, as well as Build Back Better socialism, and they've all but told voters to boost their majority by two and they'll change the rules to get 'em done. The editorial board of The Wall Street Journal says this is a profound election issue.
Washington wisdom once held that while Sens. Joe Manchin and Kyrsten Sinema were the public faces of Democratic reluctance to breaking the Senate filibuster, others in the caucus quietly supported the duo. But on Wednesday night, 48 out of 50 Senate Democrats voted to use the "nuclear option" in an attempt to overturn election laws in most states.

That means the partisan abolition of the Senate's 60-vote requirement for most legislation is no longer an abstraction. It's an institutional Democratic Party position — a trigger that Majority Leader Chuck Schumer has committed to pull as soon as he has 50 votes and a co-partisan as Vice President. Democrats may have failed to ram their legislation through [last] week, but they have changed the nature of the U.S. Senate merely by trying to make it a majoritarian body for the first time. The fallout should start in this year's midterms in competitive states.
Schumer demanded an on-the-record vote for a reason — he wants to highlight this as an election issue. And never mind the past positions held by virtually every Democrat. The Journal highlights recent opposition from Dianne Feinstein and Chris Coons, but Chuck Schumer and Joe Biden used to regularly wax eloquent about the virtues of the filibuster. Now, the battle lines are redrawn:
When rules constrain Senate partisanship, voters in swing states can view candidates as independent figures rather than partisan foot-soldiers. Now that changes: To elect even a 50-50 Senate with a Democratic President could be to authorize much of the progressive agenda.

This will be a hard perception to shake on the 2022 campaign trail for Maggie Hassan in New Hampshire and Michael Bennet in Colorado, both of whom also signed Mr. Coons's 2017 letter [supporting the filibuster], and Catherine Cortez Masto of Nevada. Raphael Warnock of Georgia benefited in his 2021 runoff election from Mr. Manchin's 2020 promise that he wouldn't eliminate the filibuster in a 50-50 Senate. Now voters need to keep in mind that Mr. Manchin's commitment means nothing if Democrats pick up two seats in 2022.

As for Republicans, the next GOP Senate majority will now be under much more pressure to eliminate the filibuster as a pre-emptive procedural strike. Populist Senators will point to this week's vote to say that Democrats are planning to change the rules as soon as they get back into power. GOP leader Mitch McConnell and other institutionalists will have more trouble talking them down.
Ultimately, the editors conclude:
[Last] week's filibuster vote undermines checks and balances in the U.S. political system. With the rise of straight-ticket voting, Presidents are increasingly elected with congressional majorities. The limitations on what those majorities can do is rapidly attenuating, and if voters don't send a contrary message, the result will be a combustible mix of greater polarization, partisan brinkmanship and heightened election stakes.
~~~
~~Reprinted with permission. See the original article here and leave some comments! 
By  POLITICAL EDITORS January 25, 2022 in Government Wednesday's narrow vote changed Senate races, starting in 2022. Senate Democrats failed to do away with the legislative filibuster last week, but that doesn't mean they haven't changed the rules of partisan debate. Democrats want fundamental election changes, as well as Build Back Better socialism, and they've…
By  POLITICAL EDITORS January 25, 2022 in Government Wednesday's narrow vote changed Senate races, starting in 2022. Senate Democrats failed to do away with the legislative filibuster last week, but that doesn't mean they haven't changed the rules of partisan debate. Democrats want fundamental election changes, as well as Build Back Better socialism, and they've…